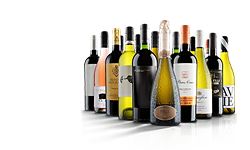 Free case from
Virgin Wines with selected TV bundles
Flash sale! Ends 4th July Ends today

Free case from Virgin Wines worth £210 or £125 bill credit
Choose between a 16 bottle Virgin Wines Summer Selection case (worth £210) or £125 bill credit when you order one of our amazing Mix, Full House, Full House Movies, Full House Sports, or VIP bundles until 4th July.
Your free case from Virgin Wines is packed with premium, hand-crafted wines. Red wine fans can enjoy silky-smooth Spanish Gran Reserva, a premium Cabernet Blend from Chilean winemaking legend Germán Lyon, a classic ripe Aussie Shiraz and a character-packed Rioja Tempranillo that oozes strawberry and deep black cherry flavours, to name just a few. For the white wine lovers, there's a highly-rated Sauvignon Blanc from the Adelaide Hills, a refreshing and ripe Viura, a classic Italian Pinot Grigio and a citrus fresh Marlborough Sauvignon Blanc, among others. Top that all off with a bottle of ever-popular Prosecco and a fruity Aussie Rosé, and I think you'll agree this case deserves a big thumbs up!
Don't want to miss out? You'll need to be quick! This offer ends 4th July.
About Virgin wines
Virgin Wines' ethos is simple: they sell wines that are mass approved, not mass produced. They follow this ideal every step of the way, from their valued relationships with talented winemakers through to their happy customers pouring their first, fifth, or fourteenth glass. You'll taste this dedication in every drop, sip, slurp and gulp from your case.
Virgin Wines were recently named the Online Drinks Retailer of the Year for the second year running. It's a huge accolade to receive this recognition from the Drinks Retailing Awards, and to be able to beat out some of the brightest and best innovators in the sector is always special.
Who will deliver my wine case?
The wonderful people at Virgin Wines will arrange delivery with UK Mail.
How long after ordering will I receive my wine?
Virgin Wines will dispatch your special package 28 days after your Virgin Media services are installed.
Will I get an email notification?
Yes; we'll send you an email to let you know your wine case will arrive 28 days after installation. The email should arrive two days after you place your order, so keep an eye out. 28 days after installation we'll send another email to let you know your wine case is on its way.
What about SMS?
UK Mail will send you a text message to confirm your delivery and provide updates as long as you've provided us with a valid UK mobile number.
Who should I speak to if I have any questions about my delivery?
Any questions, feel free to email Virgin Wines at help@virginwines.co.uk or give them a call on 0343 224 1001.
What's in the box when I get my wine?
The 16 bottle Summer Selection case includes:
The Fizz
1 x Solpiantez Spumante Brut Millesimato
The Rosé
1 x The Black Pig Rose
The Reds
1x Pizo Gran Reserva
1x Reino de Altuzarra Navarra Reserva
1x Gran Villa Gran Reserva
1x Perez Cruz Single Vineyard La Higuera Block
1x Albacore Longfin Shiraz
1x Pizo Reserva
1x Targa Rioja Tempranillo
The Whites
1x The Black Pig Pinot Grigio
1x Marsc Wine Co. Tasmanian Chardonnay
1x Savvie Marlborough Sauvignon Blanc
1x El Zumbido Viura
1x Beneficio Adelaide Hills Sauvignon Blanc
1x Brio Pinot Grigio
1x El Satiro Sauvignon Blanc
Where will my wine be delivered to?
It'll go straight to the name and address you gave us for your installation details. Please note that the person who signs for the delivery must be over 18 years old. If the courier is in any doubt about the age of the recipient on delivery, they'll request some form of ID.
Can I return the wine to a Virgin Media store if there are any issues?
Virgin Media stores aren't able to process returns. If there's anything wrong with your case, please get in touch with Virgin Wines who'll be happy to help.
Can I change the delivery address or customer name?
Your contact details are the same as your installation details and can't be changed.
How much is the wine case worth?
The RRP of the wine case is £210.
Can I exchange the wine case for cash?
Sorry, we're afraid that's not an option. Please see the full T&Cs for more information.

How much bill credit do I get?
If you choose to receive a bill credit instead of the wine case, our Mix, Full House, Full House Movies, Full House Sports, and VIP bundles include a £125 bill credit.
How do I get my Virgin Media bill credit?
The Virgin Media bill credit will be applied to your first bill.
What happens if the Virgin Media bill credit is larger than my first bill?
Any remaining balance will be applied to subsequent bills until the credit is used.
What happens if I don't see the Virgin Media bill credit applied to my first bill?
Please head to the Contact Us page http://www.virginmedia.com/contact-us.html and engage in Chat. The agents will be happy to help you.
Is it a one off credit?
Yes, the Virgin Media bill credit will be applied in full to your account.
Legal T&Cs
Virgin Wines Summer Selection or £125 bill credit: New customers taking Mix, Full House, Full House Movies, Full House Sports or VIP bundles online only during the offer period between 2nd July 2018 and 11.59pm on 4th July 2018: 12-month minimum term contract applies. May not be used in conjunction with any other offer unless stated by Virgin Media. Availability subject to stock and colour of the device may vary. One reward per household. We reserve the right to withdraw the offer at any time. Prices are subject to change. You must provide an email address when you sign-up. If your email address is not provided or is not valid you will not receive the reward. You will not be entitled to your reward if you cancel your services or downgrade to a bundle lower than Mix prior to installation or before the end of your 14-day Customer Satisfaction Guarantee period. No cash or other alternative. Virgin Wines Summer Selection case: RRP £210. If stated wines are unavailable then wines of equivalent value will be sent. Virgin Media £125 bill credit: The Virgin Media bill credit will be applied to your first bill. Any remaining balance will be applied to subsequent bills until the credit is used.