If we're being honest, one of the main reasons we love Matt Smith's Doctor is his companions: most notably the fiery Scottish redhead Amy Pond. That's not to say that Rory wasn't amazing too, but he wouldn't become the Centurion badass that we know and love until much later.
Some of the aliens in David Tennant's series were a little… rubbish. Series 5 saw that flipped on its head, with more terrifying monsters than a Hammer Horror special. Some of our favourites include the Smiler, the Venetian vampires, and the weeping angels… Don't blink guys!
Steven Moffat was in charge
Taking the reins from Russell T Davis, Steven Moffat bought a staggering amount of talent to the scripts of Doctor Who. Going for a more adult, darker vibe, Moffat's episodes are well known for being genuinely scary – not just rubber monster escapades.
From the first moment Matt Smith bounded into Amy Pond's kitchen, we knew he was going to be amazing. With a dash of David Tennant's eccentricity and a touch of Christopher Eccleston's dry wit, Matt was the best of both, bringing a whole new feel to the ancient Time Lord.
Matt Smith's Doctor had a considerable TARDIS upgrade in series 5. Rather than just being one room, the TARDIS came to encompass multiple floors, including a library, several bedrooms, and even a swimming pool!
The mysterious River Song reappeared in series 5 to get us Doctor Who fans all worked up with mystery and intrigue. Was she the Doctor's wife? Was she really a master criminal? We found out the answers to these questions much later, but we'll never forget the hours of pondering that series 5 gave us.
Series 5 of Doctor Who had some great guest stars, including Bill Nighy, Sophie Okonedo, Meera Syal and James Corden. Of these, James Corden surprised us the most, being both genuinely lovable and wholly relatable (what would you do if The Doctor turned up on your doorstep?).
Film director Richard Curtis, Being Human creator Toby Whithouse (who previously wrote School Reunion) and League of Gentlemen's Mark Gatiss (who also wrote Who episodes The Idiot's Lantern and The Unquiet Dead, and starred in The Lazarus Experiment) all penned episodes for series 5. No wonder it was so good!
EXTERMINATE! Once again we had to hide behind the sofa when these plunger-armed pepper shakers returned to our screens. They were given a whole new colour scheme for series 5 too, that saw them looking meaner than ever before…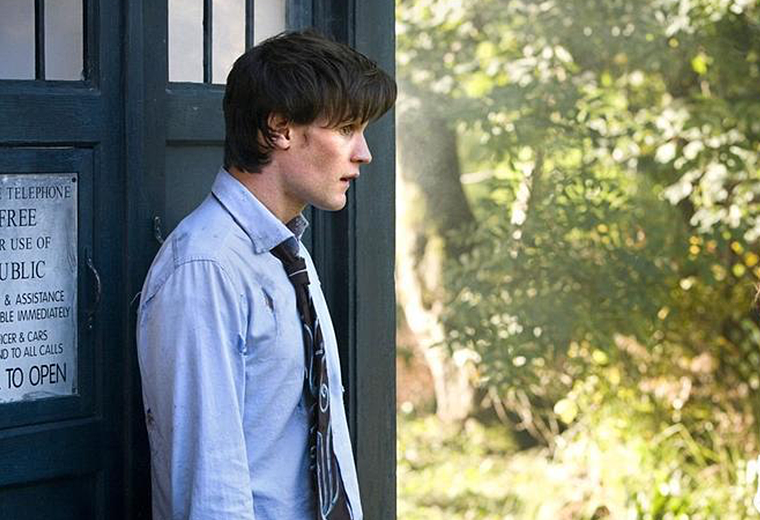 Series 5 was the first time we heard this ominous message… What did it mean? Was it related to Bad Wolf? The answers came slowly, leaving us so close to the edge of our seats that we fell on the floor multiple times. And trust us, if you haven't seen the big payoff, it was totally worth waiting for.