10. The freeway bus jump – Speed (1994)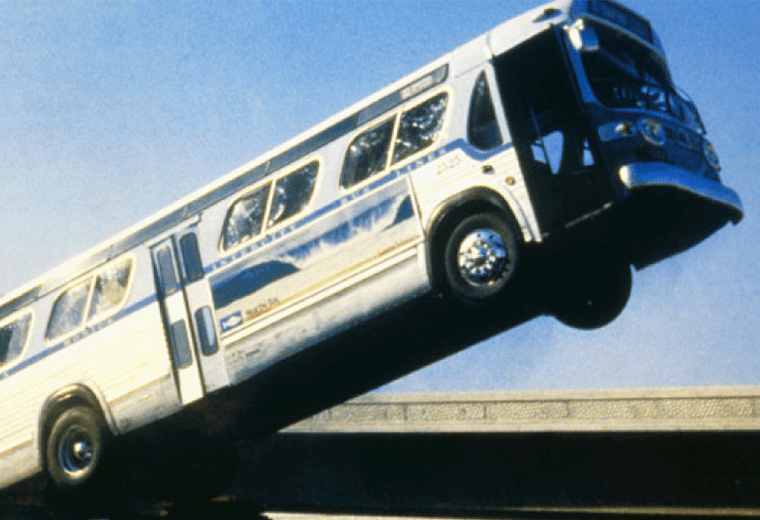 Trapped on a bus rigged to explode if its speed drops below 50mph, Sandra Bullock and Keanu Reeves successfully leap a 50-foot gap in the unfinished road. It really is quite an impressive scene.
How was it done? Stuntman Jophery Brown executed the jump for real in a specially modified version of the bus. There was never a gap, however… That section of the freeway was digitally removed! We can't help but feel that Mr Brown cheated a bit there.
9. The chariot race – Ben-Hur (1959)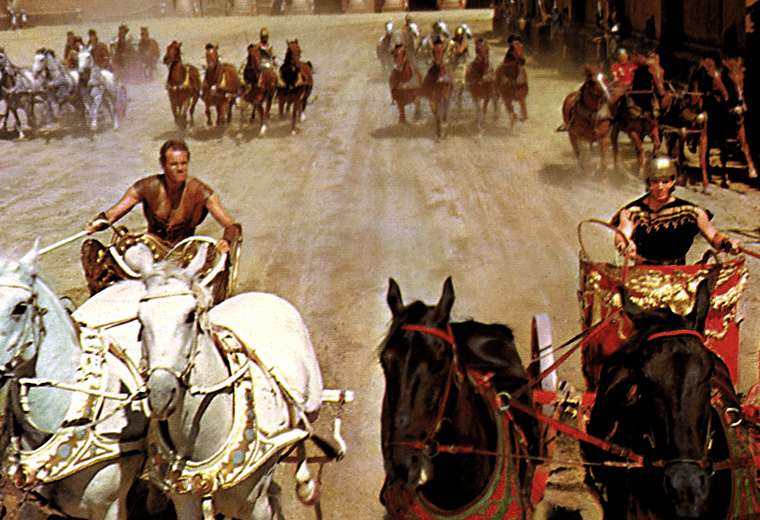 Forced to drive his chariot over the wreckage of another, Ben-Hur is flung up and over the front, almost falling beneath his own wheels. Nobody said gladiatorial chariot combat was easy…
How was it done? The most impressive part of this stunt was an accident. Stuntman Joe Canutt intended to just drive over the downed chariot, but his unexpected ejection over the front was so spectacular that director William Wyler cut in a shot of Heston clambering back in to make it part of the scene.
8. The truck flip – The Dark Knight (2008)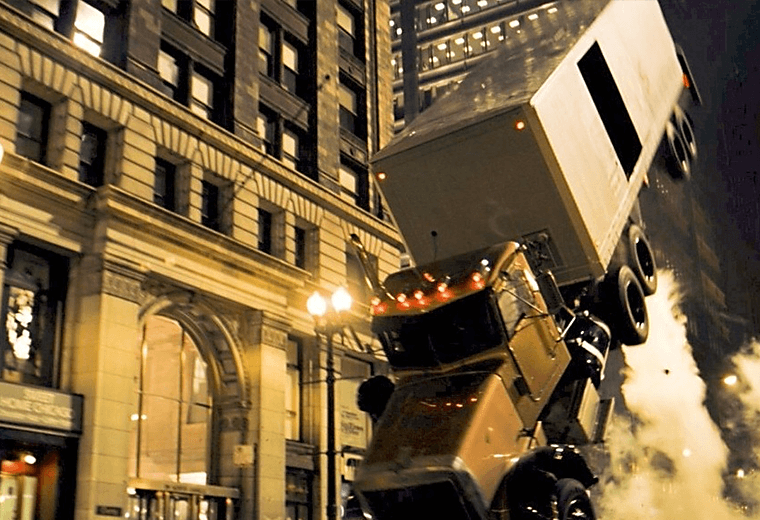 In an attempt to stop the Joker's 18-wheeler lorry careening through the streets of Gotham, The Dark Knight lassoes it with cables tied to lampposts, flipping it over 180 degrees to land on its roof.
How was it done? SFX supervisor Chris Corbould and his team designed a massive air ram, which was fired out of the bottom of the truck, launching its back end 50 feet into the air and over the front. Blimey.
7. Pants on fire – Ong-Bak (2003)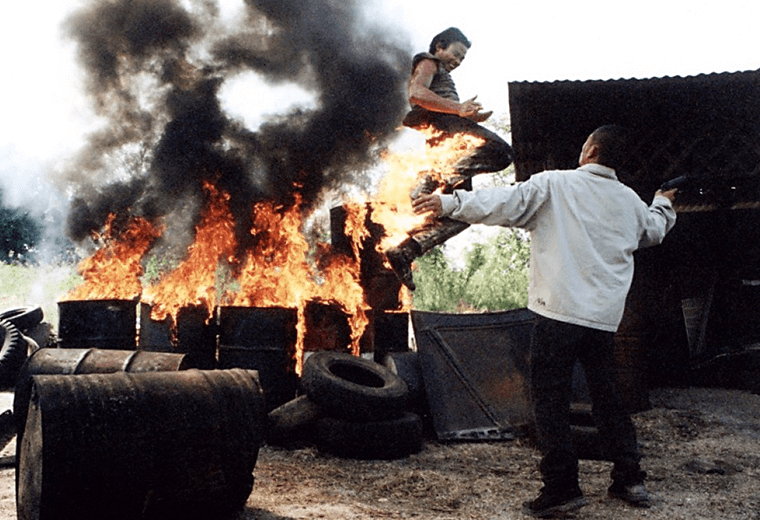 Leaping from a raging inferno, Tony Jaa spins through the air and delivers a sound kick in the chops to a bad guy while his legs are still aflame.
How was it done? Jaa, a highly skilled martial artist, choreographer and stuntman, performed all his own stunts in Ong-Bak without wires or CGI. And yes, those pants really are on fire!
6. The zero-g corridor fight – Inception (2010)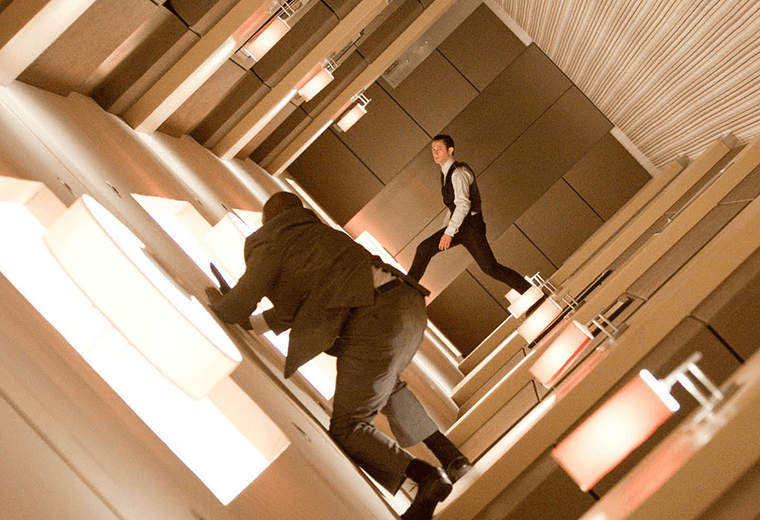 On some insane level of Cillian Murphy's consciousness, Joseph Gordon-Levitt takes on a thug in a corridor where the law of gravity isn't just broken, it's utterly obliterated.
How was it done? Inception's corridor set was built on a huge rotating rig, while the cameras rotated at the same speed to give the impression of the actors defying gravity. Once inside the corridor, Gordon-Levitt had to stop himself from looking outside to avoid becoming disorientated and throwing up on his beautiful suit.
5. The corkscrew jump – The Man with the Golden Gun (1974)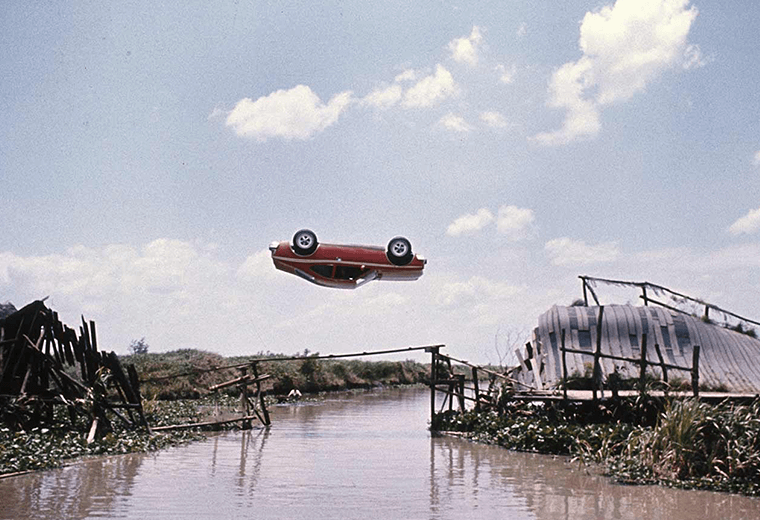 In pursuit of The Man with the Golden Gun, James Bond leaps a car over a river with the aid of a rickety bridge, which twists it through 360 degrees.
How was it done? Well first of all, months of computer calculations were undertaken by aeronautical engineers in order to determine the exact specifications of the car and ramps. Then stunt driver "Bumps" Willard had to perform the jump… Which he nailed in one take! Impressive…
4. The mall scene – Police Story (1985)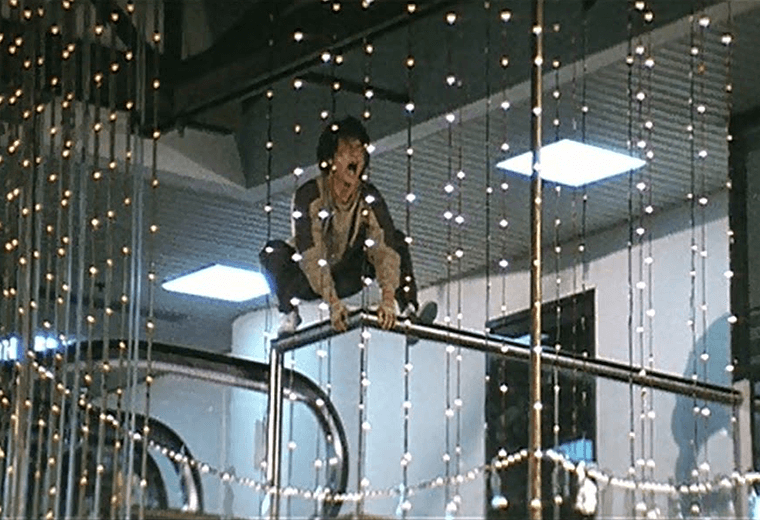 Jackie Chan jumps from the top floor of a shopping mall, sliding several storeys down a curtain of hundreds of light bulbs, before smashing through a glass ceiling. Yes, it hurt.
How was it done? Chan performed all his own stunts, often with bone-crunching results, and Police Story was no exception. As with most stunts involving glass, sugar glass was used to prevent injury. However, he still suffered second degree burns to his hands from the bulbs, dislocated his pelvis and damaged his back on landing. Yep. It definitely hurt!
3. The falling house – Steamboat Bill, Jr. (1928)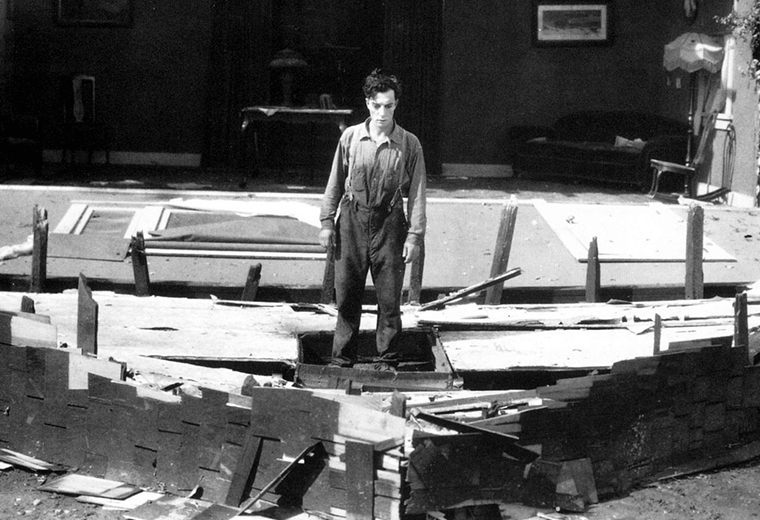 Seeking shelter from a hurricane, Buster Keaton pauses outside a house… Just before the whole front wall falls on him. Fortunately he's standing right where the attic window is. Phew!
How was it done? Steamboat Bill, Jr.'s hurricane sequence is full of Keaton's trademark inventive stunts. For this scene a real house – not a lightweight set – was used, and Keaton nailed his shoes to the floor to ensure he was in the right spot. There were just two inches' space on each side between him and certain death.
2. The truck chase – Raiders of the Lost Ark (1981)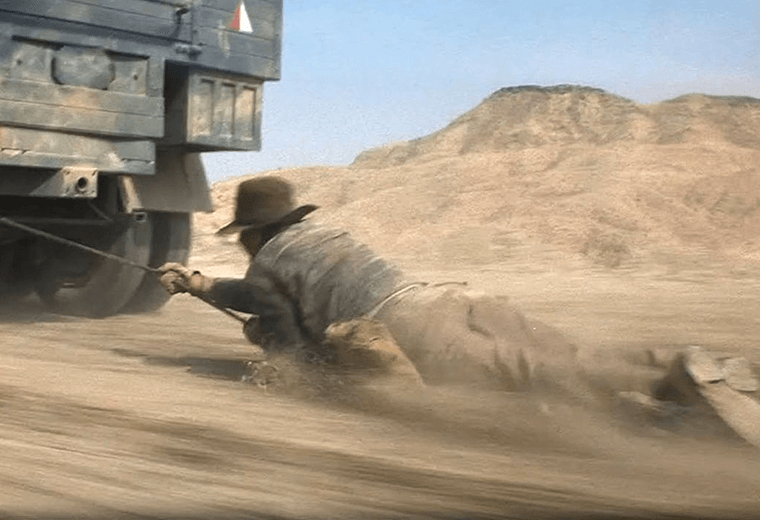 Indiana Jones is flung through the windscreen of a moving truck, then manoeuvres his way underneath before being dragged behind it. All in a day's work.
How was it done? Stuntman Terry Leonard navigated the underneath of the truck in this classic scene with a trench dug along the road for him to lie in. Harrison Ford was actually hauled behind the truck for some shots, bruising several ribs in the process. Still managed to keep his hat on, though!
The ski jump – The Spy who Loved Me (1977)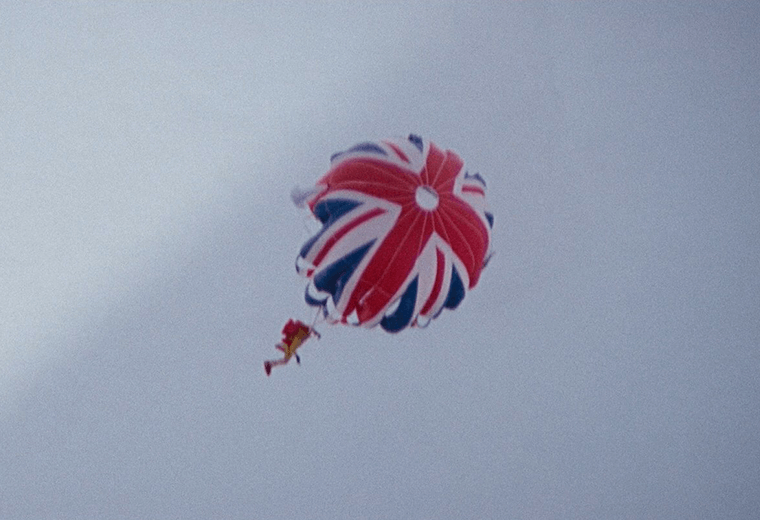 Escaping from Russians in yellow and black jumpsuits, James Bond skis straight off the edge of a cliff, apparently to his doom. Fortunately, he's come equipped with a Union Flag parachute. Phew!
How was it done? The stuntman Rick Sylvester had to wait days for the right conditions to perform the jump off Canada's Asgard Peak. Disaster was narrowly averted when one of his detached skis almost ripped the parachute – you can see how close it came in the finished film.