1. Orange and blue contrast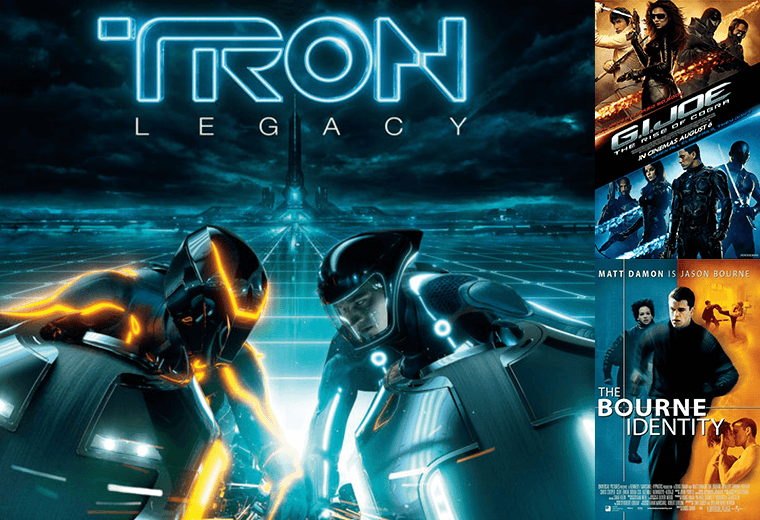 Orange and blue are the most common pair of complimentary colours in film posters, because blue represents 'cool' and orange suggests 'fiery enthusiasm'. It seems that marketing departments for film studios have taken this one concept and applied it to every action film ever. Eventually you won't even read film titles like 'GI Joe' any more, you'll just see these bright colours... and believe us, now that you know about this, you'll see them everywhere!
2. Actors seen through a pair of legs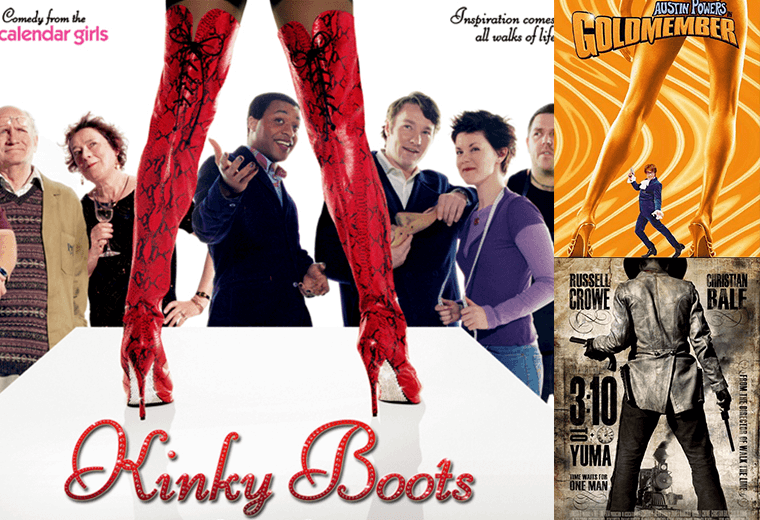 Whether it's cheeky comedy or deadpan drama, legs are often used to frame actors in a poster, often to suggest that they are being targeted. However, it also plays with your perspective and can sometimes look like the film features a huge giant with really long legs. In the case of 3:10 to Yuma, it looks like a man is staring down a tiny toy train set.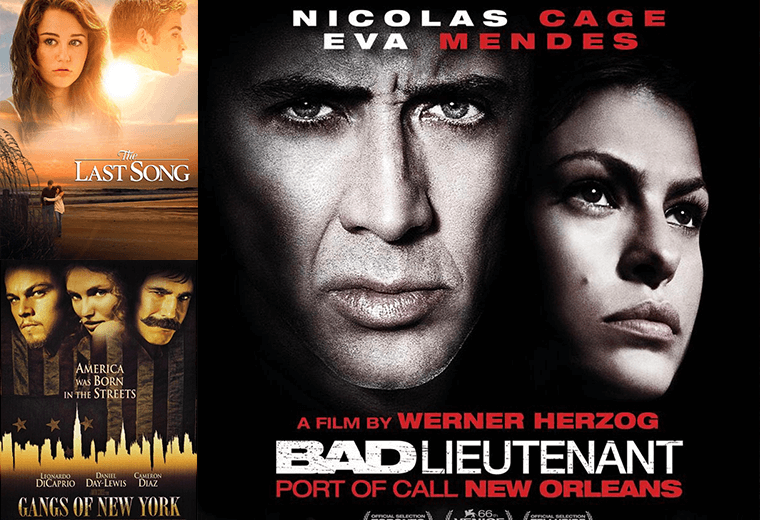 We get it. Heads floating majestically above some important scenery suggests big dramatic themes. But do you know what else it suggests? A terrifying invasion of giant scary faces! And in many ways that's mis-selling the film. Imagine how many people went to the cinema to see the Gangs of New York get gobbled up by Leo DiCaprio's disembodied head. Omnomnom.
4. Leaning rom-com couple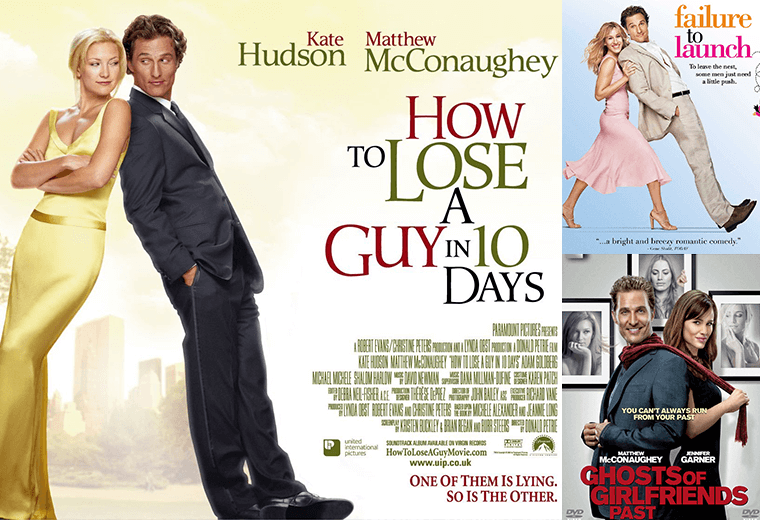 It seems that starring in a cheesy rom-com can often lead to an inner-ear imbalance. Well, how else can we explain the diagonal stances in these uninspiring posters? And the worst culprit is easily Matthew McConaughey. Just look at him! In How to Lose a Guy in 10 Days, he's leaning on his co-star at such an angle that we think he's misunderstood how to win an Oscar for Best Supporting Actor.
5. Red text on white background = zany LOLs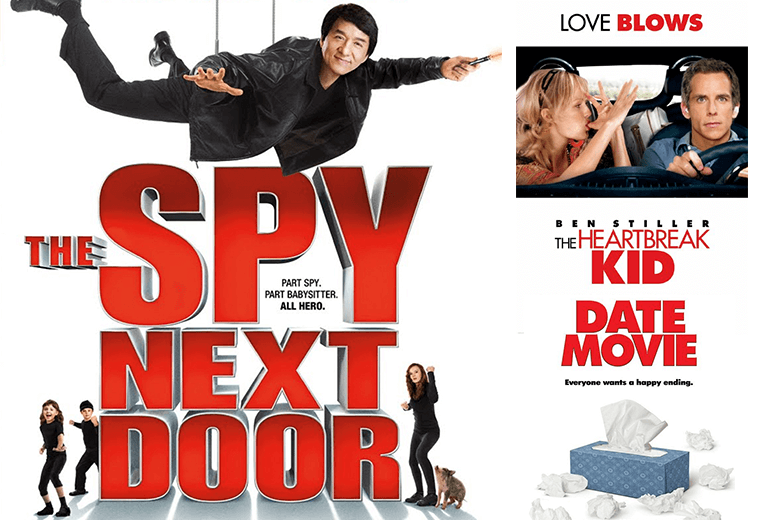 Somewhere along the line, a marketing executive decided that the best way to convey wacky, zany humour was with big bold red letters on a white background. And now it's become standard for every outrageous comedy going, from Jackie Chan's The Spy Next Door to the American Pie films. So if you like funny family pets and people getting hit in the groin (and honestly, who doesn't?), look out for this tell-tale sign.
6. Stencilled movie title = Indie film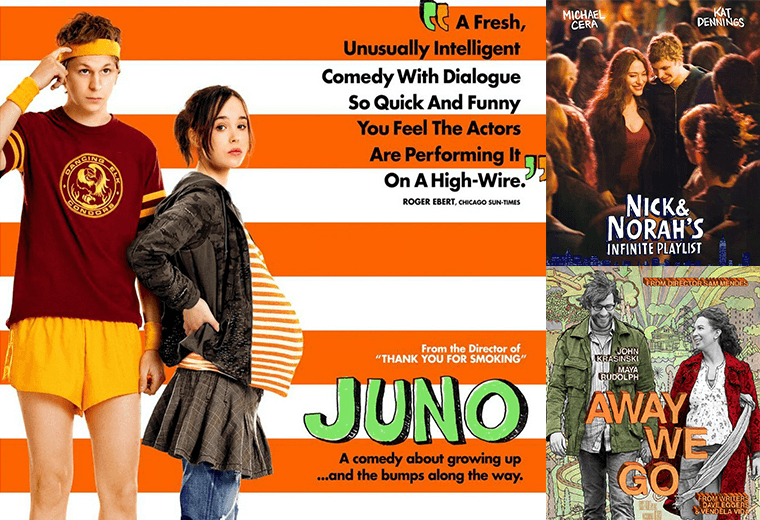 Most indie films are made on a very low budget, so it seems fitting to have their titles look as though they were drawn in crayon by a schoolchild. Just as with the huge hit Juno, this helps to suggest that the film is about young adolescents and also means that the filmmakers can save money on an expensive poster designer by just buying a stencil at a stationery store instead.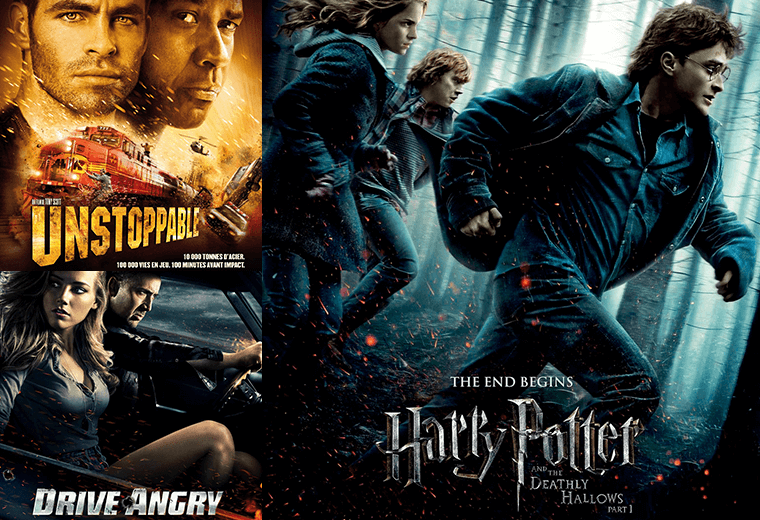 The most recent trend in posters seems to be the inclusion of dynamic sparks, either from a fire, explosion, or, for Harry Potter and the Deathly Hallows, from apparently nowhere at all. As Harry and pals run through a forest, sparks can clearly be seen but the source remains a mystery. Maybe they're sparks of sorcery and magic? Or maybe the young wizards are running so fast their feet are on fire? Run Harry, run!
8. Names that don't match up to the pictures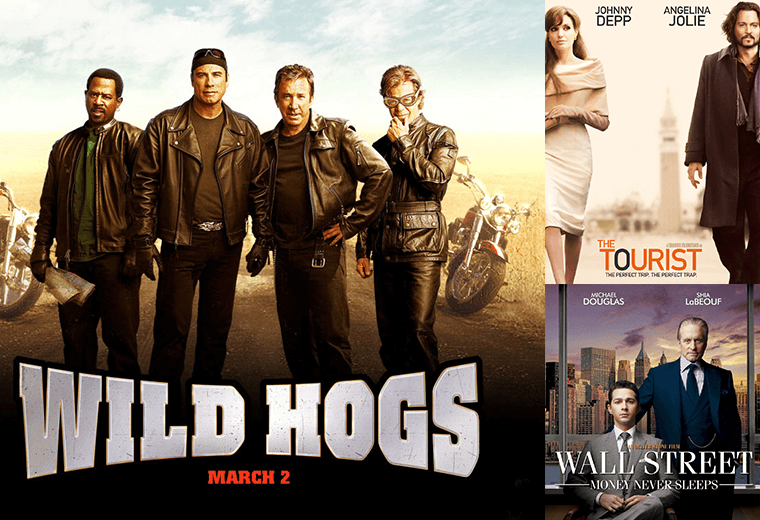 By far the most annoying poster crime is listing actors' names in a different order to how they appear in the picture. Wild Hogs makes the mistake on confusing Tim Allen with Martin Lawrence (they must get it all the time), while the Wall Street 2 poster manages to get Shia LaBeouf and Michael Douglas the wrong way round. How hard can it be to make that mistake – there are only two of them!
9. Comically oversized hands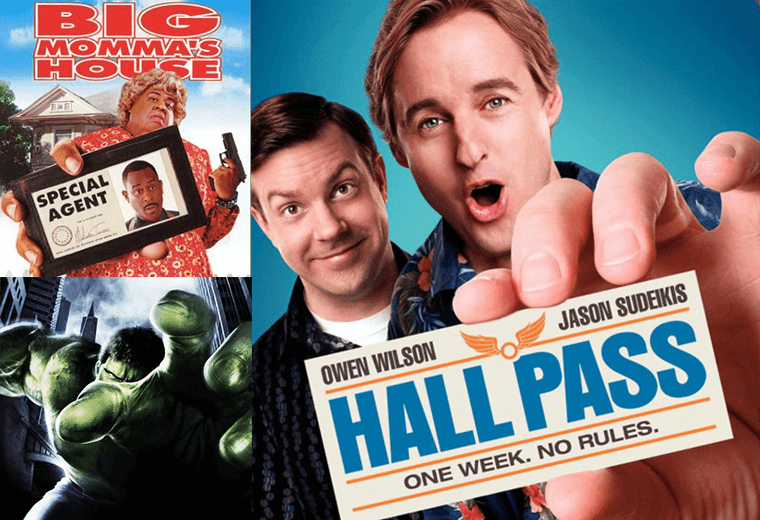 Trying to show three dimensions on a two-dimensional poster never comes across well, so when one-sheets have a character reaching out towards the audience, it just looks like they have a grotesque massive hand. Case in point, in the Hall Pass poster, Owen Wilson looks like he is holding a giant comedy prop while wearing a big foam hand glove.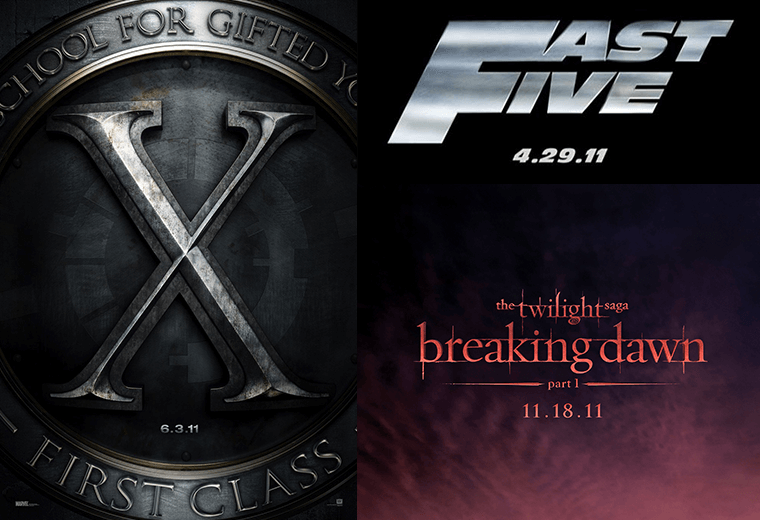 Just as a trailer can act as a tease for an eagerly anticipated film, it's recently become customary for a big movie to have an early poster, which in most cases just consists of the title. But if we're honest, we do love that X-Men: First Class poster. It's kind of making us want to watch it right now…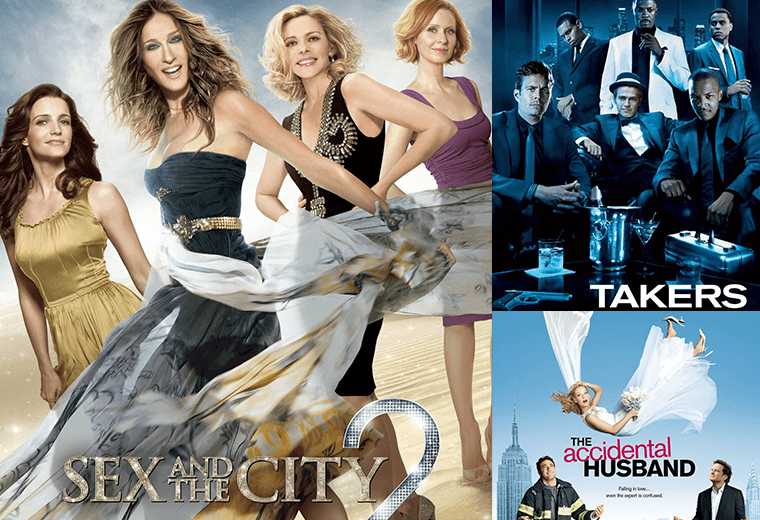 Apparently it's really difficult to get the stars of a film all in one place to pose for a photo, and this leads to some digital tinkering in the graphic design department. This doesn't always come out well. We've seen some horrible deformities because of photoshop, such as bobble-heads, giraffe necks and even mismatched skin colour. The Takers poster is particularly appalling. It looks like the star of the film isn't Paul Walker but some guy wearing a Paul Walker mask.
12. Heads in square boxes at bottom of poster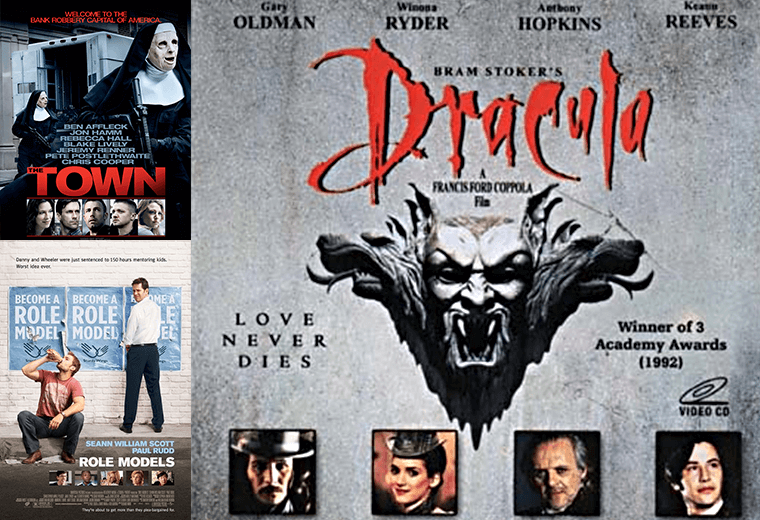 What to do when your film's poster includes the leading stars and the title but there's no room to include other famous actors in smaller roles? Well, film studios have managed to come up with the masterstroke idea of inserting tiny square boxes at the bottom, so that films can show an exciting scene and show off their main stars. Genius!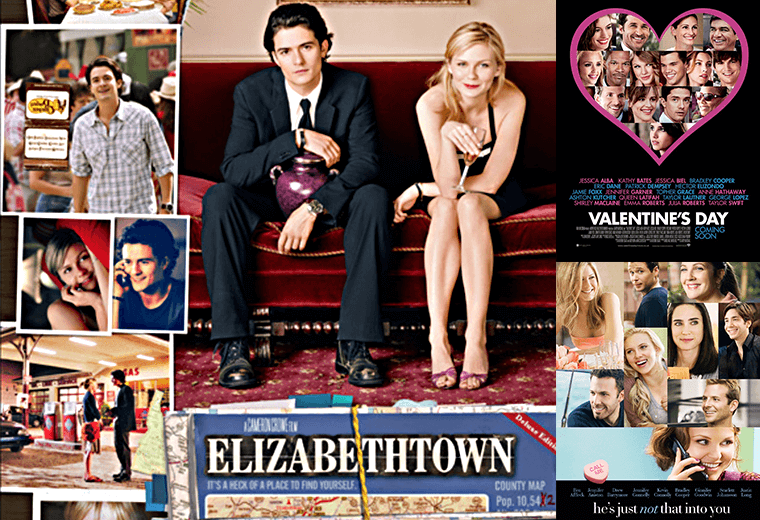 Got a film with lots of interweaving storylines and characters? What better way to illustrate that than to jumble a load of scenes and pics together in one place? These posters always end up looking a bit messy, and quite a lot like a teenage girl's bedroom wall.
14. V formation arrangement of cast
There are only so many ways that the faces of a film's cast can be arranged on a poster, but the 'V' formation is the most popular, probably because it lets us know who the lead actors are. They'll be the large faces at the front! The Scream poster played on this trick by prominently featuring Drew Barrymore, making her early death in the film all the more surprising. Well played, marketing department. Well played.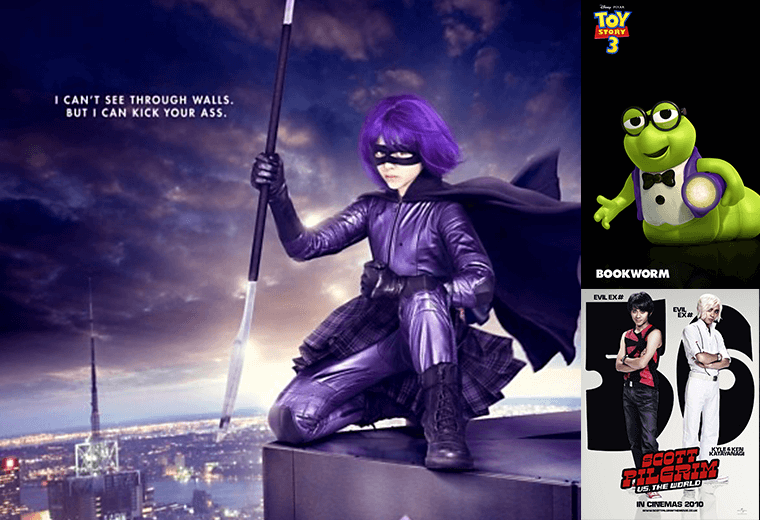 Films often release different posters for each character, as if fans will want to collect the lot and display them proudly in their bedrooms. For example, poster sets were released for Scott Pilgrim Vs the World that highlighted each of the film's evil exes. It's the Toy Story one that confuses us though. We've seen that film loads of times, but we don't remember seeing that Bookworm character!