1. Kevin Pillar reveals his Spidey skills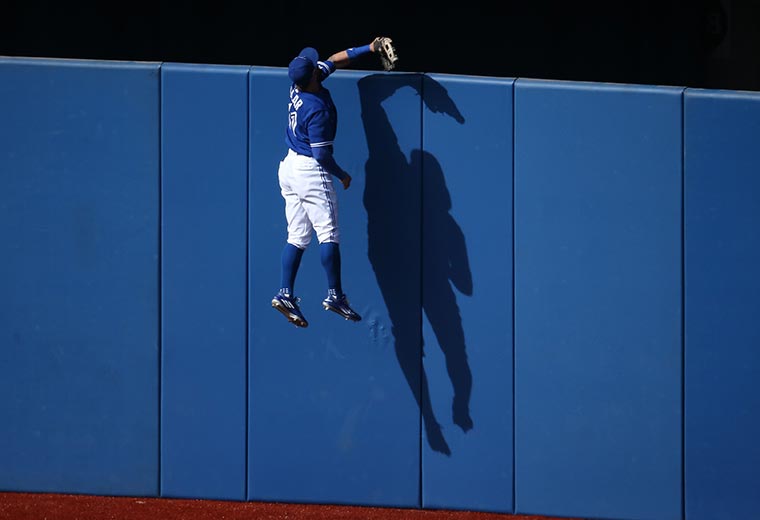 Baseball fans almost choked on their corn dogs when Toronto Blue Jays' outfielder Kevin Pillar climbed a 10ft wall to rob Tampa Bay Rays' Tim Beckham of a home run. The MLB star ogled it on his phone straight after and admitted he was "pretty amazed." So were we Kev!
2. Max Whitlock horses around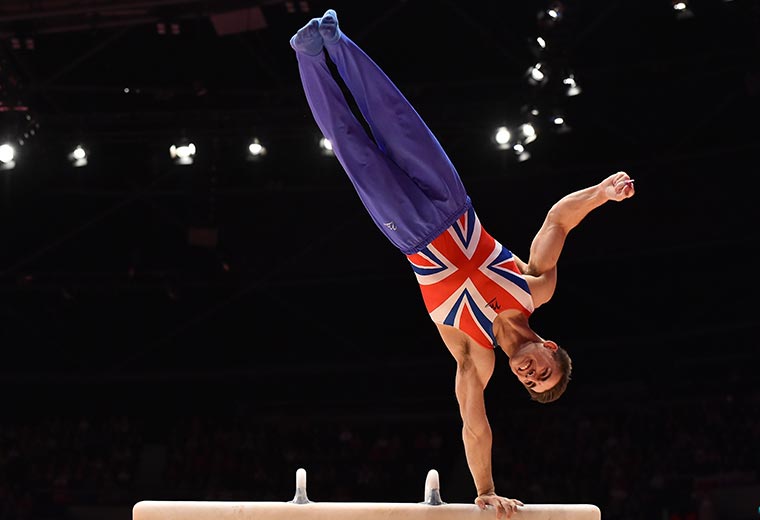 How the? What the? Is his leg above his head? Super-bendy gymnast Max Whitlock tamed the pommel horse to become the first British man to win a gold medal at the 2015 World Gymnastics Championships. Warning: do not try this at home, it tends to hurt (trust us on this).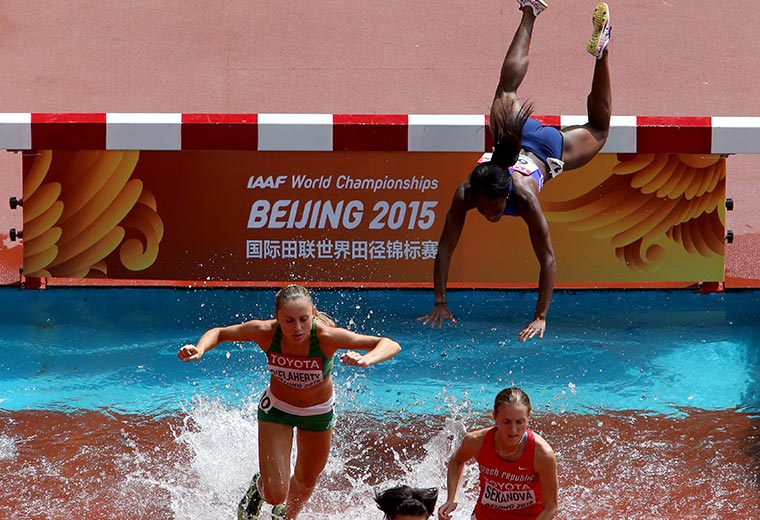 Forget Gareth Bale and Tom Daley, the most spectacular dive of the last decade was performed by Rolanda Bell. The Panamanian runner executed a head first leap into the water during the women's 3,000m steeplechase at the 2015 IAAF World Championships. And yes, she finished last.
4. Roger Federer's little tweener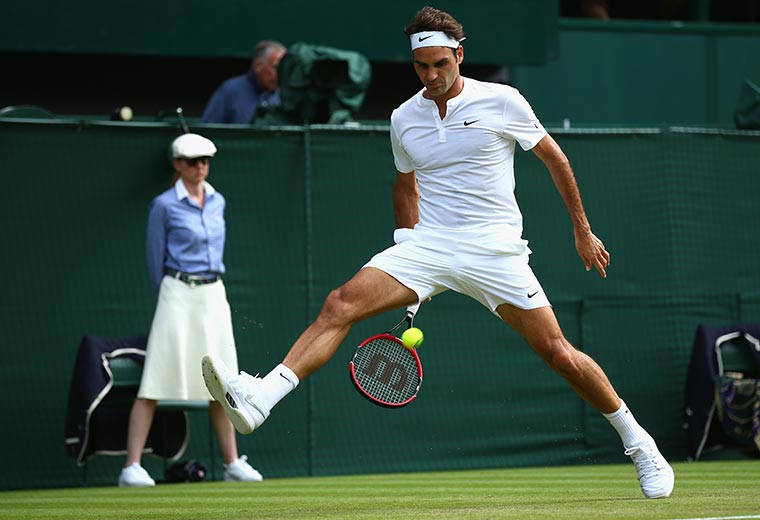 Swiss tennis king Roger Federer totally schooled his American opponent Sam Querrey with a cheeky forehand 'tweener' (a between the legs shot) during their match-up at Wimbledon. Fast-serving Querrey hit back with a very angry ace.
5. Carli Lloyd does a Beckham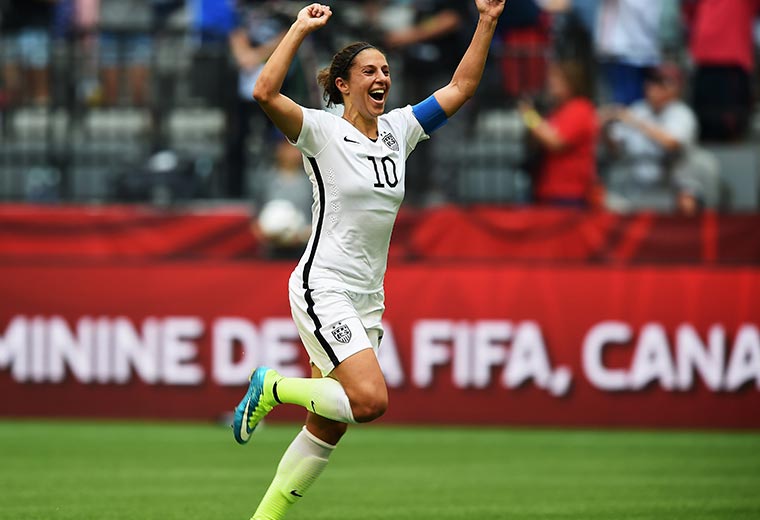 In last year's FIFA Women's World Cup Final, USA midfielder Carli Lloyd netted a stupendous chip from the halfway line to complete a 13-minute hat-trick. Why bend it like Beckham when you can lob it like Lloyd?
6. Lewis goes Lucha Libre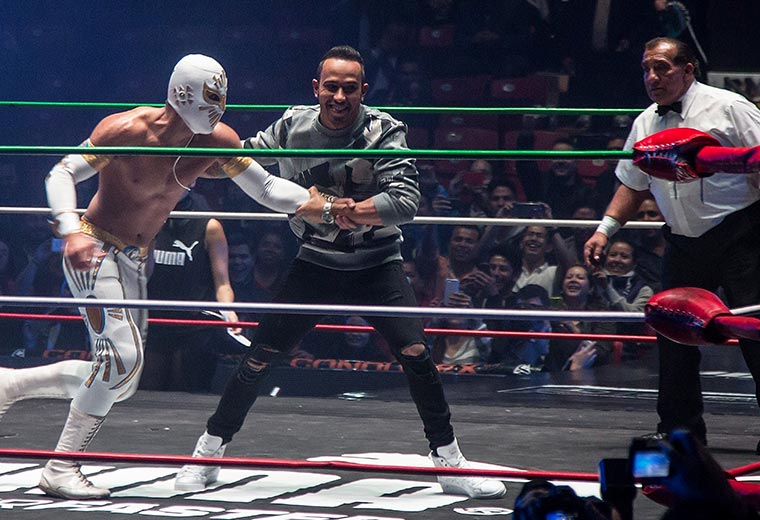 Not content with being a triple world champion, British racing driver Lewis Hamilton took down Lucha Libre star Mistico in a wrestling contest before the grand prix in Mexico. Hamilton's kick in the conkers was underhanded but his flying clothes line was pure gold.
7. Thomas tangles with a telegraph pole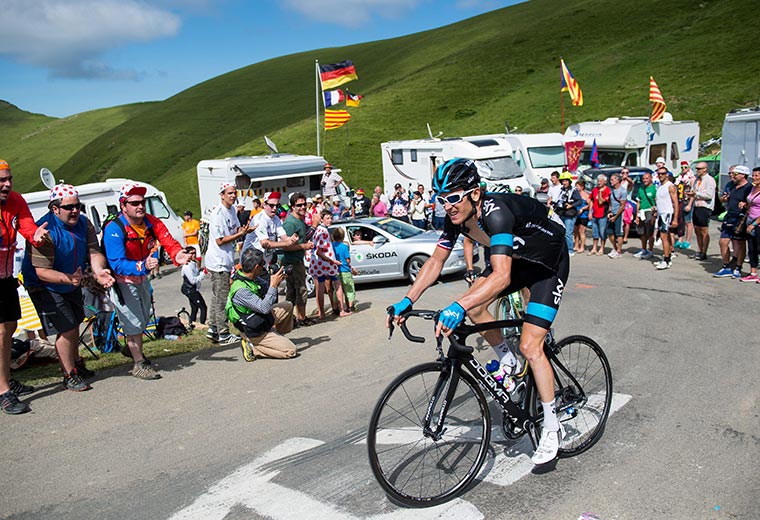 When Team Sky cyclist Geraint Thomas crashed during the 2015 Tour de France, he managed to miss all the soft bushes and grassy verges and collided head-on with a telegraph pole. The Welshman has previous here – a few months earlier in Belgium he got blown off his bike by a gust of wind!
8. Glenn Maxwell's kangaroo catch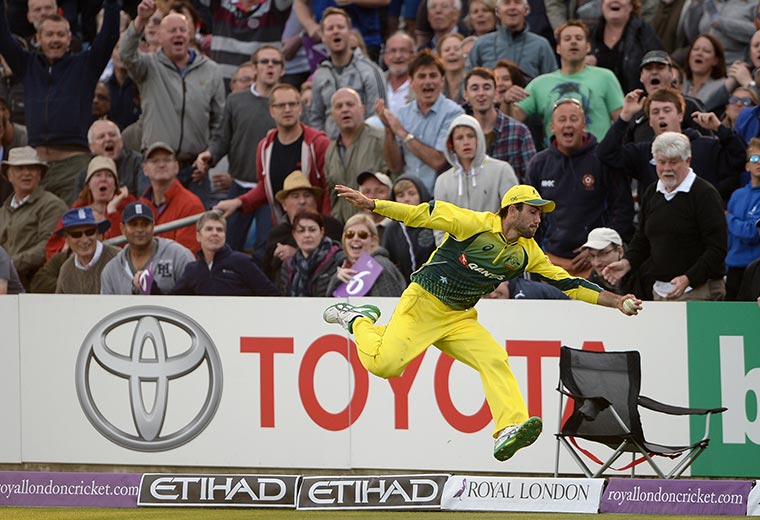 Aussie cricketer Glenn Maxwell caught England's Liam Plunkett with a stunning boundary catch in an ODI at Headingley, cleverly tossing the ball back into play while off balance before jumping onto the pitch like a wallaby to pocket the ball. Weirdly, he later said the rules should be changed and it shouldn't count. Spoilsport.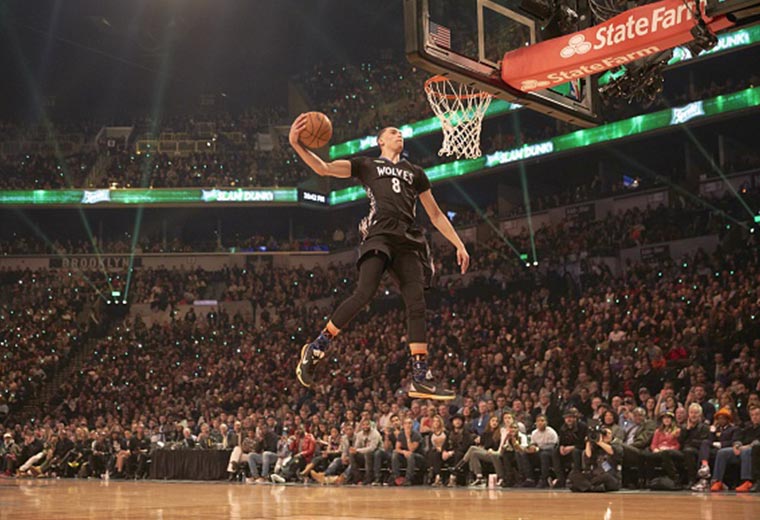 Spring-heeled Zach LaVine of the Minnesota Timberwolves dominated the NBA Sprite Slam Dunk contest with an array of gravity-defying leaps worthy of an X-Men comic. On one jump his chin finished level with the 10ft high hoop. He must have Flubber under his sneakers!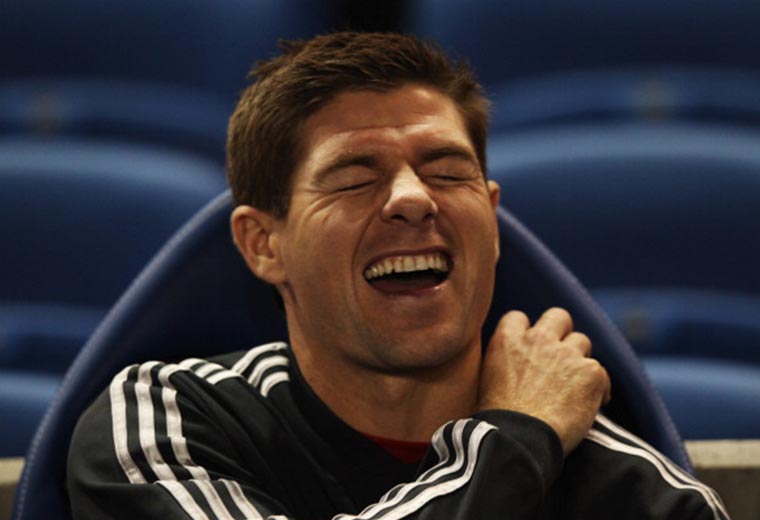 Fancy a rumba, Stevie lad? Yes, he does actually. Last summer in a Dubai hotel, Stevie Gerrard led his former Liverpool teammates in a wild dance procession to the tune of the popular Kolo and Yaya Toure chant.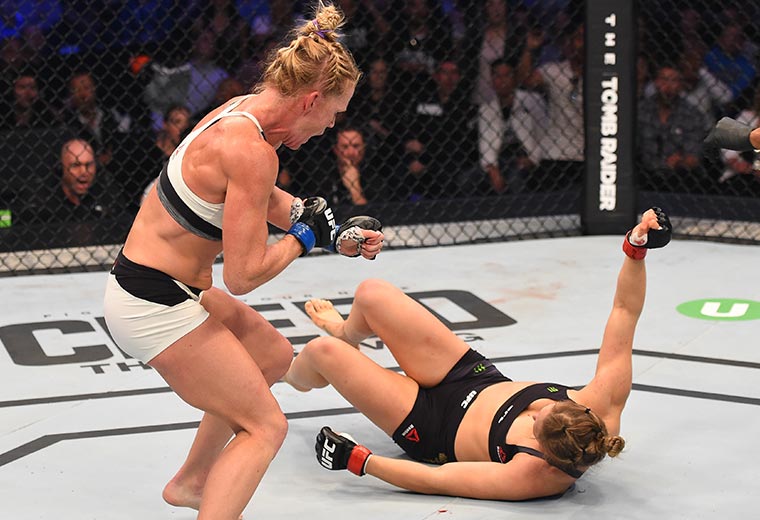 In one of the most shocking sporting upsets of all time, Holly Holm knocked UFC superstar Ronda Rousey out with a brutal kick to the head. The grizzly image of foot slapping face sent the GIFosphere into meltdown.
12. Tarik Cohen's double-catch-flip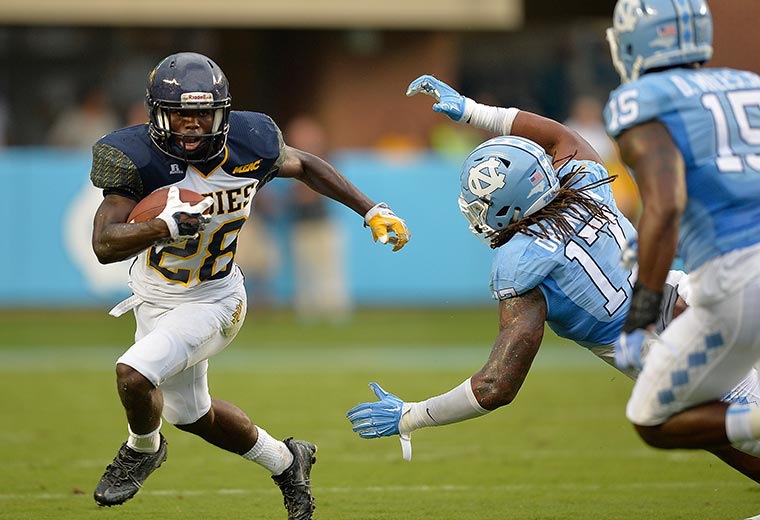 College football is big business in the USA, and it's no surprise when you see the obscene skills of North Carolina A&T Aggies' Tarik Cohen, who was filmed catching two balls while doing a back-flip!
13. Carter's Cheeky back-hander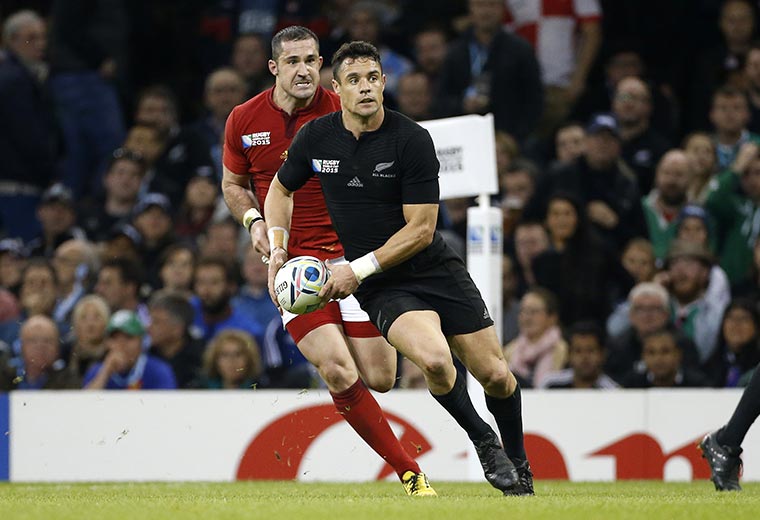 All Blacks superstar Dan Carter electrified the 2015 Rugby World Cup with his deft back-of-the-hand offload to Julian Savea in New Zealand's clash with France. Now we know why the Racing Metro pin-up is the best-paid rugby player on the planet!
David Ball of League One minnows Fleetwood Town found himself named alongside global icons like Lionel Messi and Carlos Tevez when his screamer against Preston North End was shortlisted for the FIFA Puskas Award for 'goal of the year'.
15. Odell's one-handed grab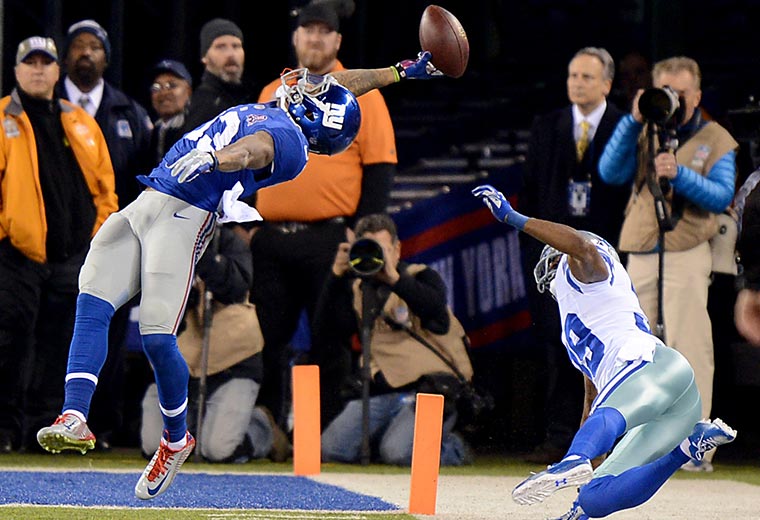 Anything NFL superstar Odell Beckham Jr can do, NFL superstar Odell Beckham Jr can do better. We're serious. In November 2014, the New York Giant made a stupendous one-handed catch. In November 2015, he repeated the trick. "Only and I mean only Odell Beckham Jr could make that catch," screamed the commentator.
---
The Wii U might have been out for a while, but Nintendo's original Wii still holds a special place in our hearts.
Top 10 Nintendo Wii injuries