1. Vito Corleone In The Godfather (1972)

We love a family man. And for Vito Corleone (Marlon Brando), family is absolutely everything: his life, his business, his pride and joy. His puffy cheeks, soft accent, and proclivity for elegant clothes just add to his awing presence. Do we believe him when he says "I'm going to make an offer he can't refuse"? Yes we do. By the end of the film, we're almost sorry that his son Michael (Al Pacino) is poised to take over.
2. Brick Top In Snatch (2000)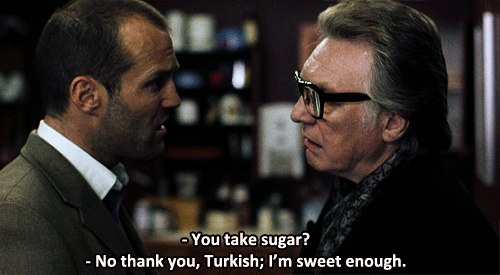 In Guy Ritchie's overlapping stories of a diamond theft and boxing fraud, we meet our favourite British gangster villain, Brick Top (Alan Ford). He may look like a harmless old man with a penchant for fancy scarves, but his favoured method of body disposal is feeding corpses to pigs (Oink! Oink! His henchmen say to their victims). Nonetheless, he remains superbly courteous, sipping tea with his associate Turkish (Jason Statham) before robbing him blind.
3. Frank Lucas In American Gangster (2007)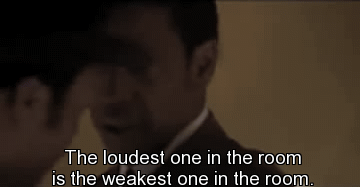 In this 70s crime caper based on a real-life figure, Frank Lucas (Denzel Washington) is his own brand of gangster: staid, polite, collected. He interrupts a conversation on traditional values over breakfast to murder an money-owing partner - and then coolly returns to finish his eggs and bacon. It'd be easy to mistake him for a normal nine to five office worker and model father: he even gives tips to his cleaner on how to remove bloodstains from a carpet.
4. Tony Montana In Scarface (1983)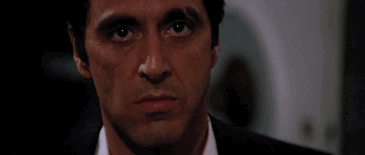 Brian de Palma's Scarface follows Tony Montana (Al Pacino) and his extraordinary rise from Cuban refugee to kingpin narco. Montana's eighties style light suits and gold watches already had us taken in, but it's when he convinces fellow mobster Sosa (Paul Shenar) to collaborate on his first international drug deal that we see his magnetism shine - helped by his gorgeously rolling Cuban accent. We also have him to thank for the unforgettable lines "Every dog has his day" and "Say hello to my little friend!"
5. William "Bill the Butcher" Cutting In Gangs of New York (2002)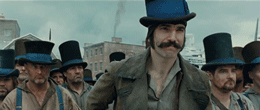 Our top period costume crime boss has to be Bill Cutting (Daniel-Day Lewis). "Bill the Butcher" has the best top hats, a mean attitude with knives, and a remarkable ability to arouse crowds. Day-Lewis gives his usual excellently nuanced performance as the gang lord, switching between curses, tears, and earnest orders in a matter of instants. He owns the town, and he owns us. "I want you to punish the person responsible for murdering this poor little rabbit. Is that understood?"
6. Dignan In Bottle Rocket (1996)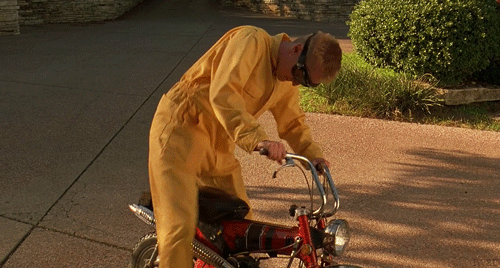 Probably the least effective gangster of all time, Dignan (Owen Wilson) is nonetheless beguiling. Bailing his friend Anthony (Luke Wilson - the two are brothers in real life) out of his psychiatric unit, the duo embark on a 75-year crime plan, involving heists and a future collaboration with small-time criminal Mr Henry (James Caan). It's fair to say that not everything goes as hoped, but Dignan is (almost) always there to rally the troops with his over-prepared, optimistic and long-winded ideas.
7. Frank Costello In The Departed (2006)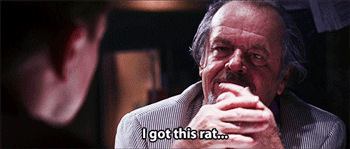 Based on real-life Boston crime boss Whitey Bulger (the same man also inspired recent film Black Mass) Frank Costello is all charm, smiles and oblique threats - and no one can carry off pinstripe suits, pink shirts, leopard pattern ties, and bob hats better than he does. Costello has a mole among his ranks, and is set to root him out. When he airs out his suspicions to Billy Costigan (Leonardo DiCaprio, who is in fact the mole), the conversation flicks from pleasantries to a gun face-off in seconds.
8. Marsellus Wallace In Pulp Fiction (1994)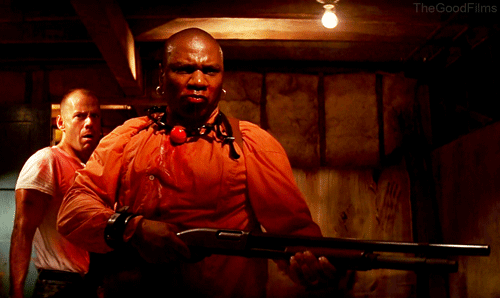 Who talks better than a Tarantino villain? No one. Jules (Samuel L. Jackson) is the undisputed star of Pulp Fiction, but we're equally taken in by his boss Marsellus Wallce (Ving Rhames). Marsellus has it all: a diversified operation in LA, a trustworthy associate to take his wife Mia (Uma Thurman) out when he's away, and a reputation for colourful language. And after a rather traumatic encounter in a pawn shop, he manages to keep his sense of style when articulating his revenge.
9. Keyser Söze In The Usual Suspects (1995)

Who is Keyser Söze? Following a bizarre crime, the police are desperate to catch this criminal mastermind, and witness Verbal Kint (Kevin Spacey) shows himself more than willing to cooperate. Keyser Söze, he says, is worse than the devil - the only thing in the world that thing that scares him at all. After the big reveal, we can only bow to Söze's brilliance, and admit that he might just be the most persuasive of them all.
10. The Kray Brothers In Legend (2015)

Twin mobsters Ronnie and Reggie Kray (here both played in a extraordinary performance by Tom Hardy) are as terrifying as they are appealing. Reggie is cold, calculating and seductive, while Ronnie's cool veneer barely hides his terrifying bloodlust. In the backdrop of 1960s London chic, the duo woos and bullies their way to the top of the East End's gambling scene - until Ronnie's pathological violence forces Scotland Yard to investigate.
---
With a bunch of Star Trek movies hitting the big screen, we can't help wondering whatever happened to the stars of the many TV series…
Star Trek – where are they now?