The legend that is Bruce Campbell returns to strap on the chainsaw, load the boomstick and, after drunkenly re-activating the Necronomicon to impress a lady, trek across the US back to the cabin where it all started. The horror is messy and silly, with a lot of impaling, but it is also genuinely terrifying (episode 3 brings a particularly nasty demon into the mix).
Find Ash Vs Evil Dead in TV On Demand > Box Sets
The horror anthology has continued to surprise us all. Season 5 (Hotel) has just finished, and there's speculation as to the setting for the next. Viewers recoil at the twisted, surreal and often horrifying series dreamed up by Glee's Ryan Murphy and Brad Falchuk. The opening episode marked a high-point in its explicitness (New Girl's Max Greenfield, a malevolent evil and a rusty drill anyone?). It also gave us Lady Gaga, sinuously vamping on the small screen, and picking up a Golden Globe for it.
It seems to have finished on season 3, but producer Bryan Fuller has suggested that if the story was right, it could come back. A masterful, and downright murky exploration of art, horror and psychological suspense, it featured some particularly inventive and increasingly bizarre tableaux. A human totem pole will scorch the retina forever, among others.
You can't discuss TV horror without mentioning The Walking Dead. Now in its sixth season, the zombie survival series has given us strong characters, excellent writing, and a seemingly inexhaustible set of scenarios where the horror doesn't just come from the shambling "walkers", but the horrors mankind will commit on its own kind. We're particularly fond of the (always excellent sound FX) slice, shot or stomped head shot. Crunch.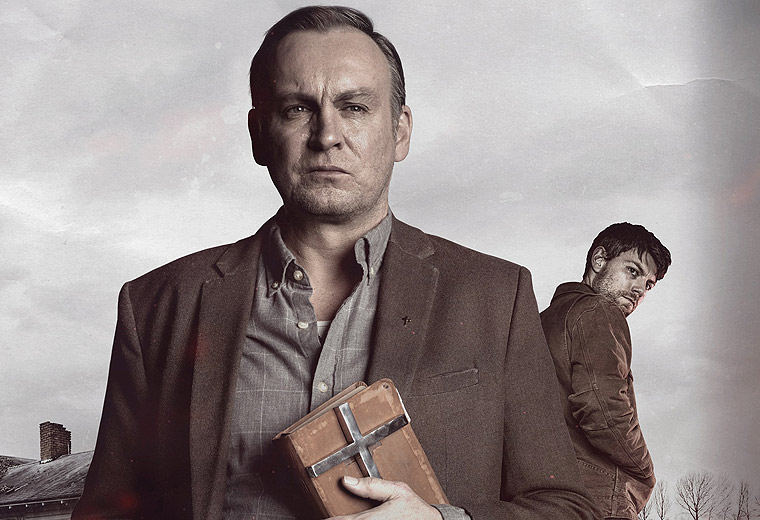 Fox's terrifying demonic possession show has been a lesson in scary and disgusting sights that were beyond anything in our worst nightmares. From the creator of The Walking Dead, Outcast follows a young man haunted by very literal demons who unravels terrifying truths about himself and events that will threaten the whole of humanity. Worse than that, the first episode features a possessed child, who slams his head against the wall to crush a bug, and then licks up the remaining bloody leftovers. Ewwwwwww.
To quote the most excellent Ted "Theodore" Logan: "It's your MUM, dude!" We know the deal between Norman and Norma, but watching Bates Motel, you don't need lashings of blood to be truly unsettled. There are some grisly horror moments though as Norman gradually loses it over the course of three seasons so far. Most students just give their teacher an apple...
There must be magic afoot (or a legion of devoted fans) because Supernatural heads into its 11th – yes 11th – season. Bleeding eyes and truly open heart surgery are just a couple of the countless horrific moments as the Winchester brothers battle all manner of demonic creatures and hideous monsters causing death and mayhem all over the US.
It has been predicted in the entertainment scriptures. The Antichrist will be among us. In the US, Damien Thorn (from the Omen movie franchise) became aware of his daddy issues on 7th March in the year of our lord 2016, but there's no UK broadcaster announced yet. It's probably gonna get messy though. We hope it's less Dawson Creek meets the Devil and more like the original films.