8. The bloodbath – Django Unchained (2013)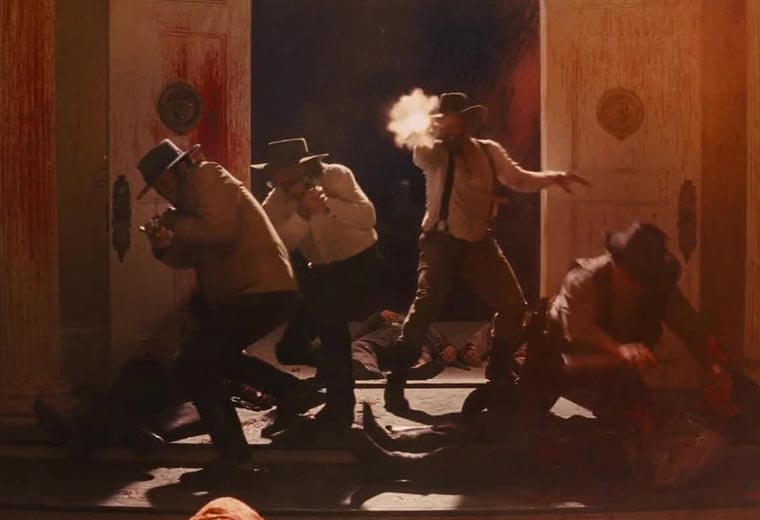 The whole movie has been leading to it: Jamie Foxx's slave-turned-avenger Django finally indulges his itchy trigger finger and starts painting the walls of Calvin Candie's mansion red with the blood of his enemies. It's a superlative piece of action cinema, probably Tarantino's greatest gunfight (and that's saying something) and it comes at the end of a hugely redemptive arc for Django – the gore is gratuitous but you can't say it isn't deserved. Scenes like this were the reason Will Smith turned down the lead role – all we can say is thank goodness he did
7. 'Get in the trunk' – Jackie Brown (1997)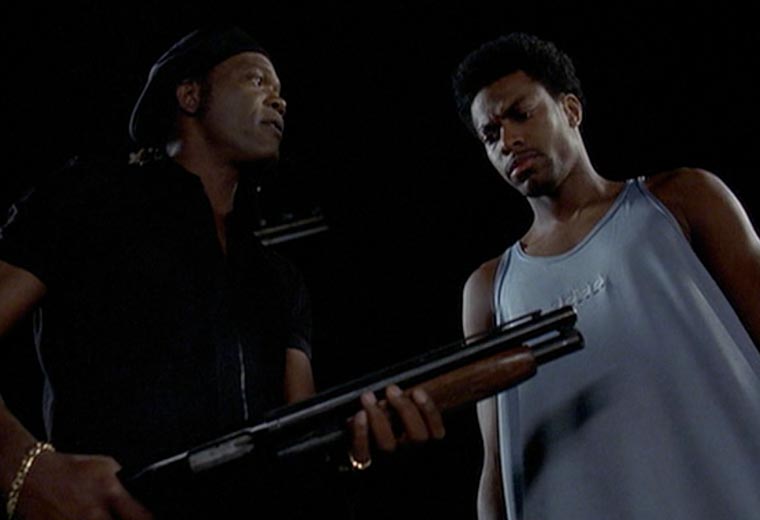 Tarantino's 'blaxploitation' thriller wasn't his most well-received movie, nor was it his most commercially successful movie, but it had attitude up to the eyeballs and swagger to spare. Most of that came from badass lead Pam Grier as the air hostess with the mostess, but Samuel L Jackson's braided-goatee-wearing bad guy Ordell Robbie has a sleazy charm that's second to none. It's never more evident than the scene in which Ordell convinces newly-bailed petty crook Beaumont (Chris Tucker) to voluntarily get in the boot of his car by selling him a convincing story about Korean gun traders, before he drives around the block, pops the trunk and puts a bullet in his head. Voila! One instant corpse, ready for disposal.
6. Dangerous driving – Death Proof (2007)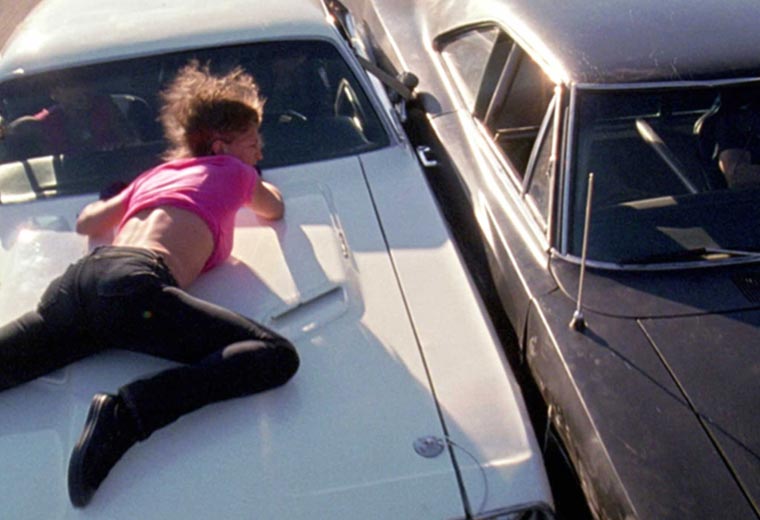 Quentin Tarantino has gone on record as saying Death Proof is probably his weakest movie, perhaps because it was only ever designed to be half of Tarantino/Rodriguez double-feature Grindhouse, which bombed in the US and was split into two separate movies in the UK. It only consists of a few scenes, but the final sequence – in which Zoë Bell performs an outrageously dangerous trick on the bonnet of a moving car – is a total jaw-dropper. Bell, a real-life stuntwoman playing herself, performed the stunt for real, so every squirm and wriggle she does on top of that car is happening at upwards of 60mph. The clincher of the scene is the kicker: having first been run off the road by Kurt Russell's psychopath Stuntman Mike, Bell and the girls eventually catch up with him – and stomp his ass into the ground. Then the movie ends.
5. Tears of The Bride – Kill Bill Vol. 2 (2004)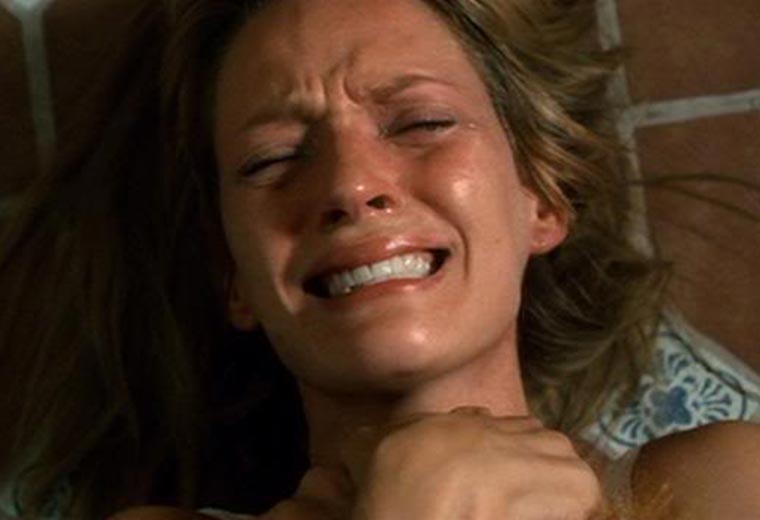 Volume 1 of Kill Bill, Tarantino's homage to the grindhouse movies he saw growing up, is all about revenge: there's broken promises and bashed-in brains and lots and lots of blood loss. But there had to be a pay-off for all the carnage to be worth it, and you had to wait until the end of Volume 2 to get it. With Kung fu master and expert orator Bill fallen victim to the Five Point Palm Exploding Heart Technique, there's nothing left for The Bride aka Beatrix Kiddo to do, other than scoop up her daughter B.B. in her arms and lay sprawled on the bathroom floor, weeping a lifetime's worth of tears – a moment of joy, relief and horror all rolled into one.
4. La Louisiane – Inglourious Basterds (2008)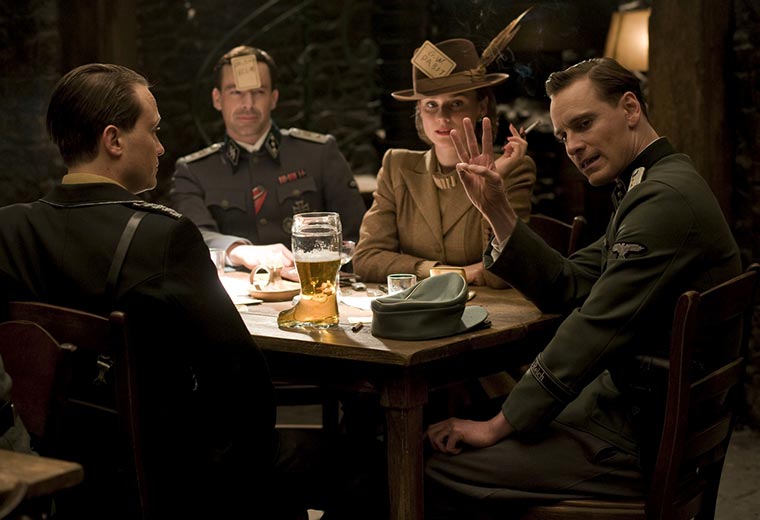 Tarantino's war movie is a lesson in sustained tension: the opening scene, in which Christoph Waltz became a star as Hans Landa as he interrogates a French family about the Jewish family stashed beneath his floorboards, positively crackles with tension, but it's trumped later on in the movie by the sequence in the La Louisiane tavern. Michael Fassbender trades well on his Teutonic heritage as British spy Archie Hicox, masquerading as a German for a key rendezvous, only to find himself given the third reich degree by a Nazi officer out celebrating. The interrogation is brutal and Hicox holds up, until he lets himself down with an incorrect hand gesture that ultimately takes his life – and many others. The scene is 15 minutes long and not a single second is wasted.
3. Mr Blonde – Reservoir Dogs (1992)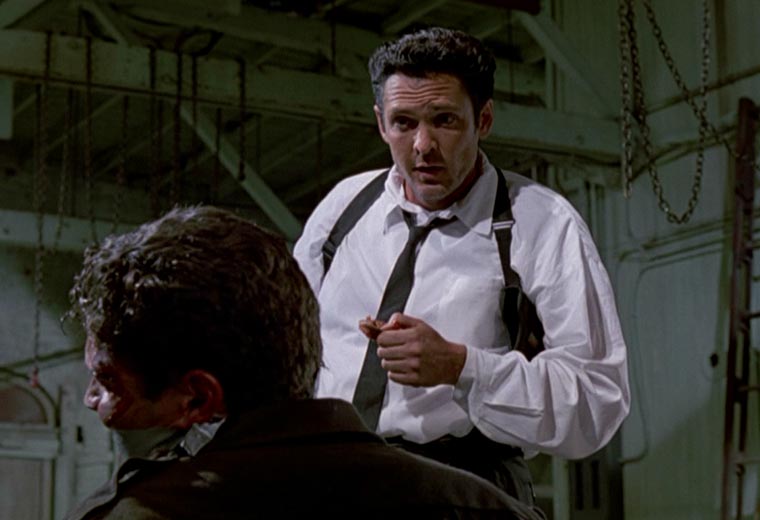 And the song 'Stuck In The Middle With You' was never to be the same again. Tarantino came in for huge criticism for his debut movie, principally because of this torture scene. Michael Madsen's sadistic Mr Blonde gets some alone time with a cop, which he uses to stick on some Stealer's Wheel and get slicey. It's a tough scene to watch, not because you see anything particularly repulsive – the much-discussed ear-slicing scene happens off screen, you just see what's left – but because it puts you through the emotional wringer. Madsen, for his part, is mesmeric; Mr Blonde is completely without empathy or feeling and secured his place as one of cinema's biggest bastards in just one short scene.
2. Ezekiel 25:17 – Pulp Fiction (1994)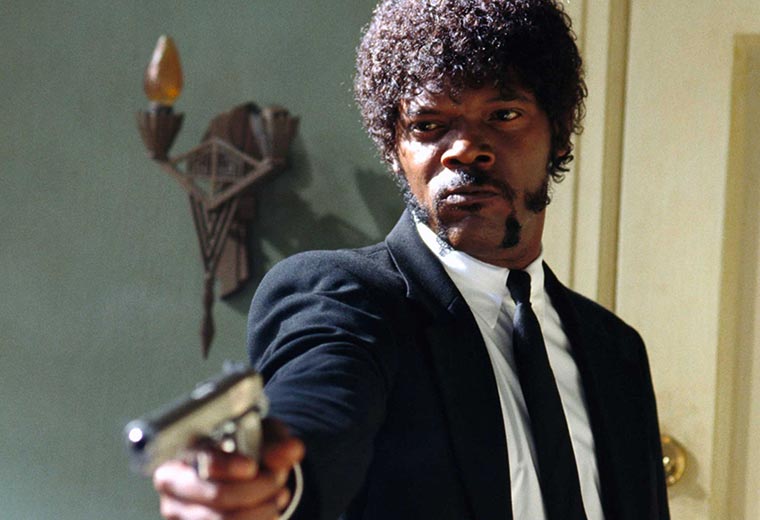 You know how it goes. "The path of the righteous man..." etcetera etcetera. The fact it's not even a real scripture quote is meaningless (leave it to Quentin to rewrite the Holy Bible): almost everybody knows this scene from Pulp Fiction off by heart from top to bottom. It marked a star-making turn for Samuel L Jackson as Jules, the sass-talking, Bible-quoting, jheri-curl wearing hitman who got religious in the line of fire. With a hand cannon pointed squarely at his seated target, Jules comes on all spiritual and rattles off a few memorised passages of the good book, pausing only to take a bite of a Big Kahuna Burger and a slurp of Sprite. The intensity is off the charts: this scene is why Samuel L Jackson is in every movie ever released since 1994.
1. The Crazy 88s – Kill Bill Vol.1 (2003)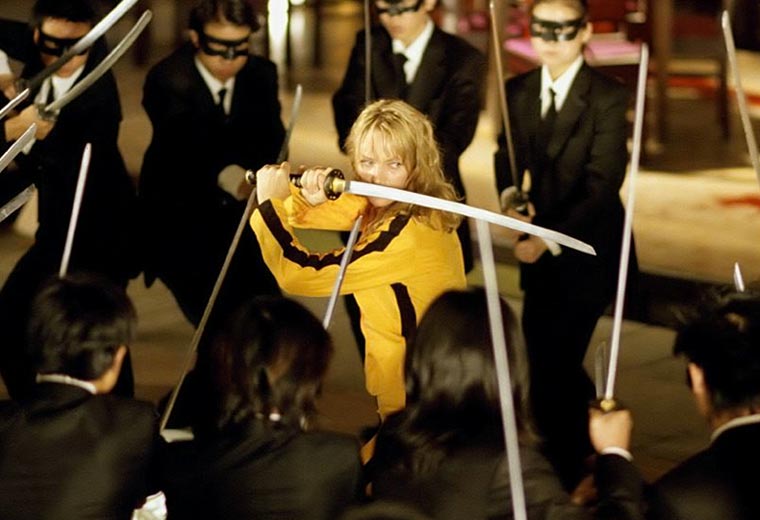 "A rip-roaring rollercoaster of revenge" is how Tarantino himself sold his martial arts masterpiece: a pure, unfiltered revenge thriller with a side order of revenge and revenge served cold for dessert. Uma Thurman's Bride, left for dead on her wedding day, wasn't left dead enough: she wakes up from her coma and immediately starts making a hit list. In pursuit of Lucy Liu's O-Ren Ishii, The Bride travels to Tokyo but before she can knock off the crime boss, she has to deal with her goons. The resulting battle royale is the most spectacular and thrilling sequence Tarantino has ever shot: The Bride scythes through henchman after henchman in increasingly grim and gory ways using her Hattori Hanzo steel, her Bruce Lee-inspired yellow jumpsuit slowly turning red. The Crazy 88s scene took six hours to rehearse and was shot over 17 takes. It was worth it.
The Hateful Eight is available now on Virgin Movies via your Virgin Media set top box. Press Home on your remote, then On Demand > Movies.
---
With a bunch of Star Trek movies hitting the big screen, we can't help wondering whatever happened to the stars of the many TV series…
Star Trek – where are they now?