Deadpool does... The Hunger Games: Mockingjay – Part 2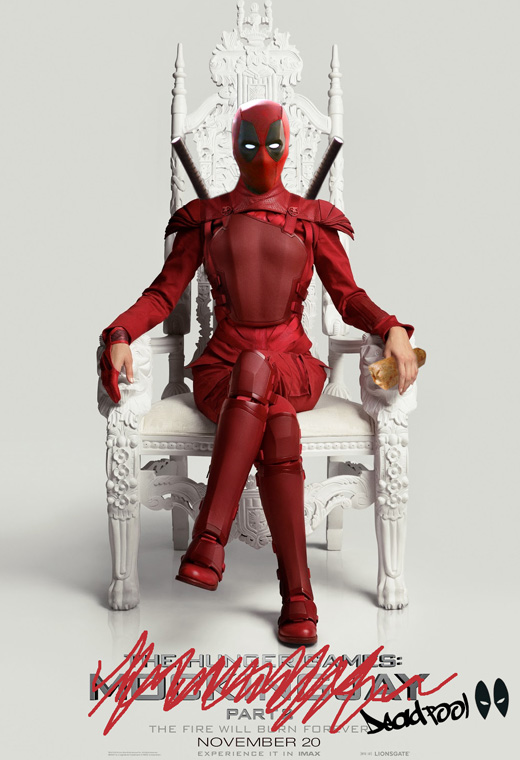 The marketing team behind Deadpool deserve the highest honours at whatever the marketing equivalent of the Oscars is. The movie's posters have been consistently top notch; first came this Hunger Games rip-off, tweeted by Ryan Reynolds, which is literally just a head transplant onto the Mockingjay: Part II poster; then came the amazing fake weepie posters created to lure unsuspecting women to the cinemas. Kudos, Deadpool marketing guys. Kudos.
Shaun the Sheep does... Mission: Impossible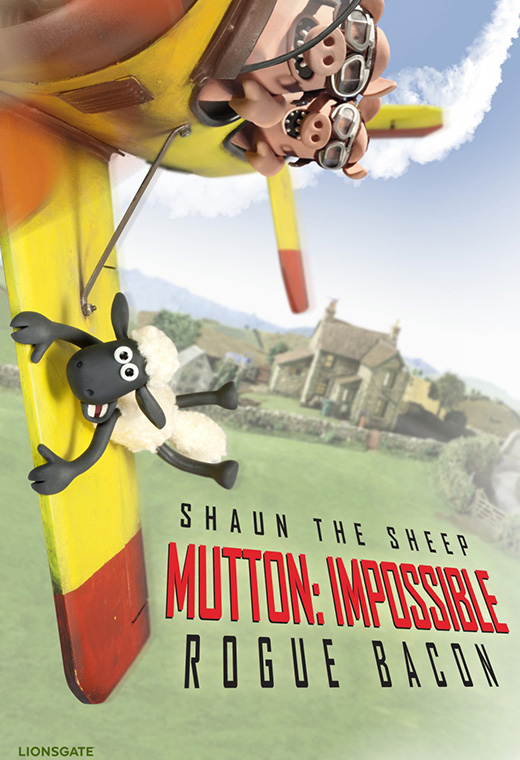 Cheeky chappy Shaun the Sheep released a whole host of parody posters last year to celebrate the release of his movie. The best of the bunch was this pastiche of the latest Mission: Impossible movie Rogue Nation, here renamed Mutton Impossible: Rogue Bacon. One can only imagine how long it'd take Shaun's stop-motion animators to recreate Tom Cruise's plane stunt in full.
SpongeBob does... Fifty Shades Of Grey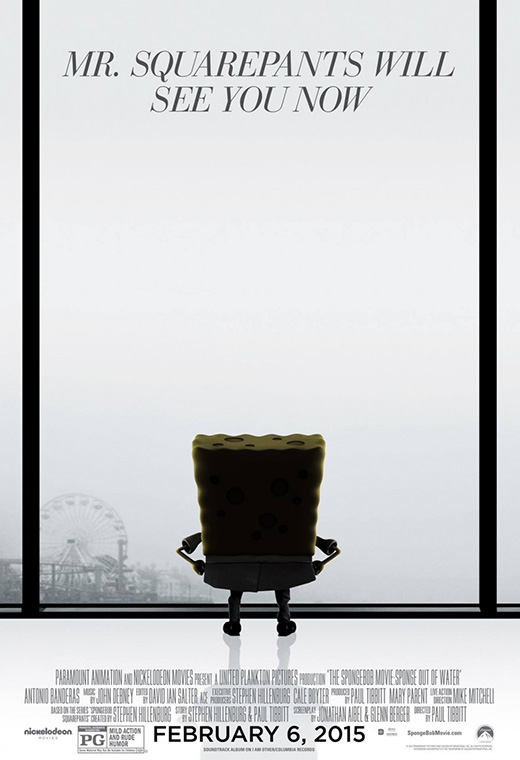 Taking the jockey out of Fifty Shades Of Grey quickly became a national pastime, but there's something inherently funny about seeing the super-silly SpongeBob assuming the role of super-serious sex fiend Christian Grey. Would kids even understand this reference? Has SpongeBob got a Red Room of Pain in his pineapple under the sea?
Zootropolis does... Star Wars: The Force Awakens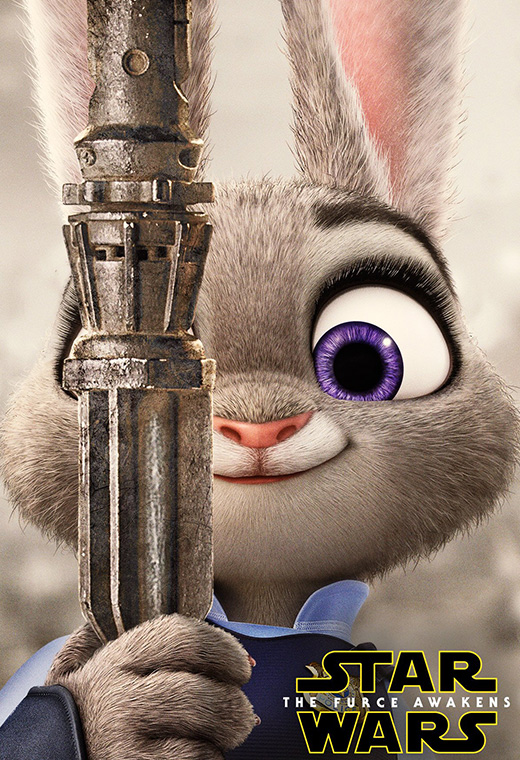 Disney's new animation Zootropolis (named Zootopia in the US) is set in a giant city home to all manner of animals, so there was plenty of potential for parody when it came to mimicking more recognisable movie posters. We particularly liked seeing star Judy Hopps play Star Wars (Star Paws, surely?) but the other posters for Straight Otter Compton and Ex Yakina are just as funny.
The Muppets does... Twilight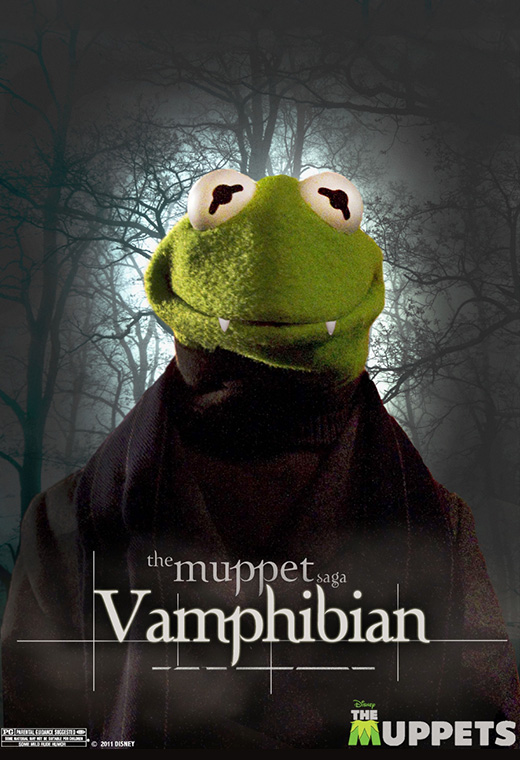 The Muppets have always taken a sideways view at the entertainment industry so it was no surprise when their 2011 comeback movie produced a batch of poster parodies. Twilight, of course, was practically begging to be spoofed, and Kermit and friends were only too willing.
The Muppets does... Captain America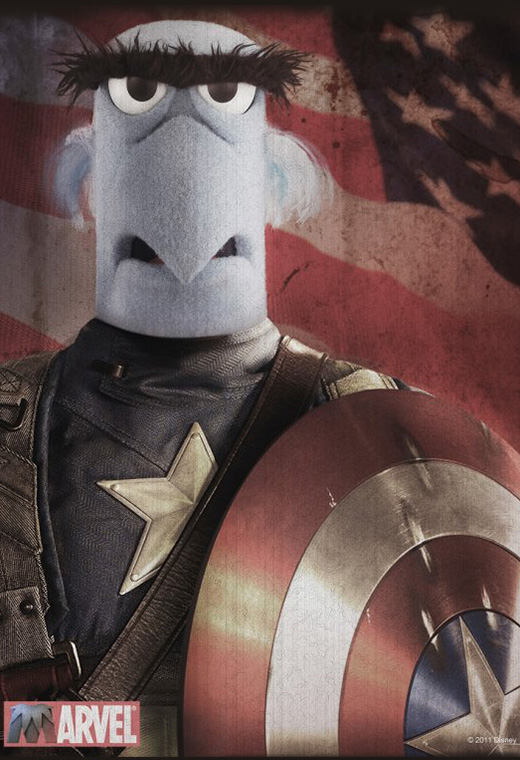 Even though they're both technically owned by Disney, we wonder if there was any bad blood between the Muppet and Marvel camps - if only because Sam the Eagle clearly makes a way better Captain America than Chris Evans does. Maybe we should petition Disney to add Kermit and the gang to the new Avengers roster.
The Hangover Part III does... Harry Potter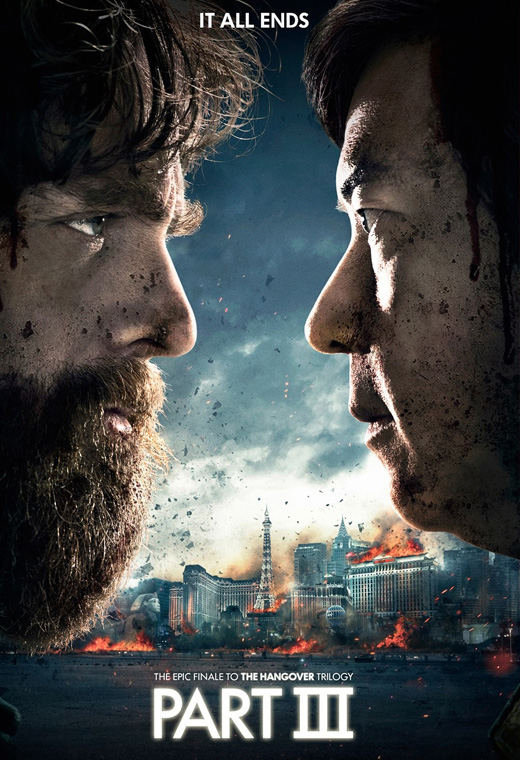 A very odd poster indeed, we enjoyed this Hangover III spoof poster very much, perhaps because of how random it is, not in spite of it. The Hangover lads have very little in common with the Hogwarts crowd, and Part III rarely features scenes where Zach Galifianakis and Ken Jeong share the screen... Still, it's instantly recognisable as a Potter pastiche, so full marks.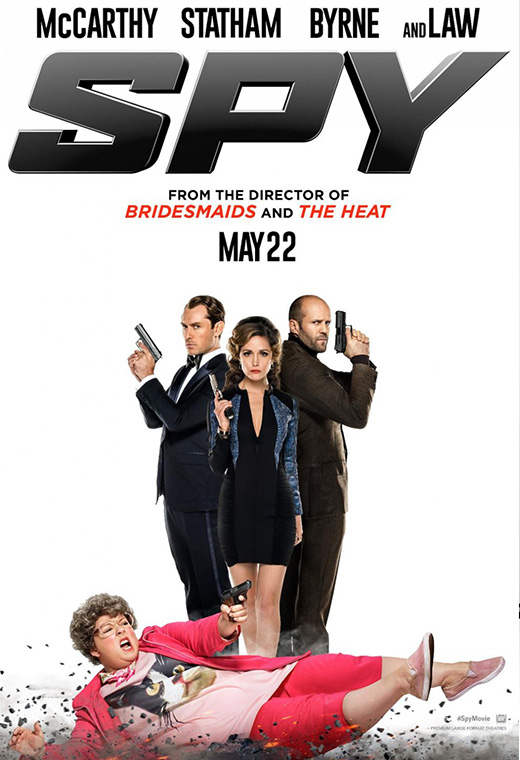 The entire concept of Paul Feig's action comedy is based on one gag: wouldn't it be funny if Melissa McCarthy were a spy? The Bond connection was an obvious one to make, but the all-action pose by former desk jockey Susan Cooper in full-on 007 mode is an absolute joy - it's the facial expression that seals it.
Scott Pilgrim Vs The World does... The action genre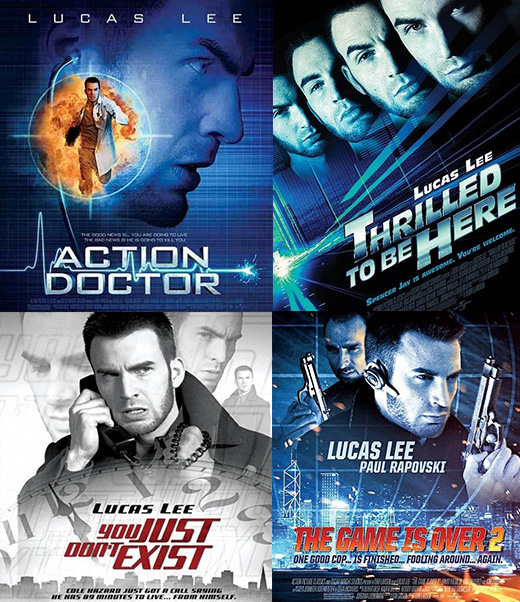 One small delight in a movie jam-packed with joy was the eventual reveal of all of the fake movie posters from the resume of action star and Evil Ex-Boyfriend #2 Lucas Lee, played by Chris Evans. Lee is something of an old hand in the action genre, and his posters - released online after the movie opened - spoof the likes of Mission: Impossible and Fast & Furious. We would totally watch Lucas Lee's movies if they were real.
Dumb And Dumber To does... Lucy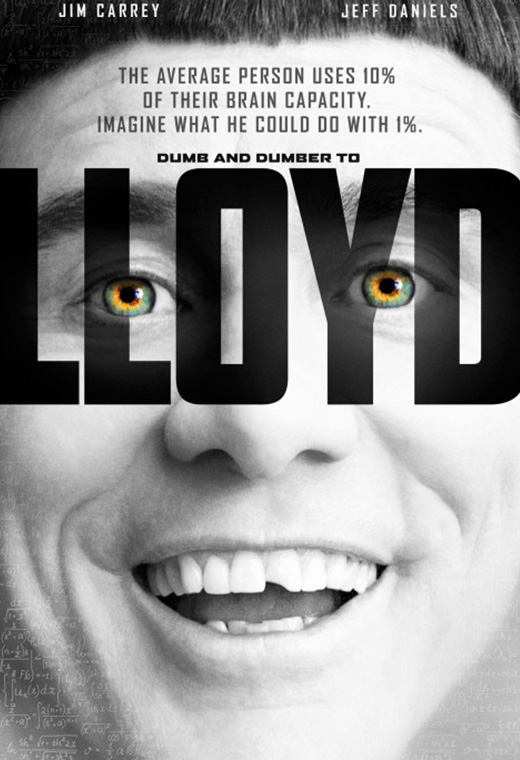 Diane Lane maintains her dignity in this schlocky thriller about a twisted kidnapper torturing victims live on the net. She's the FBI agent trying to trace the source, but as the title suggests, it's easier said than done. There's some suspense and a whole heap of nastiness but Lane remains convincing as the bright, concerned agent in charge who is, refreshingly, not of the male persuasion. Colin Hanks co stars.
Madea's Big Happy Family does... Black Swan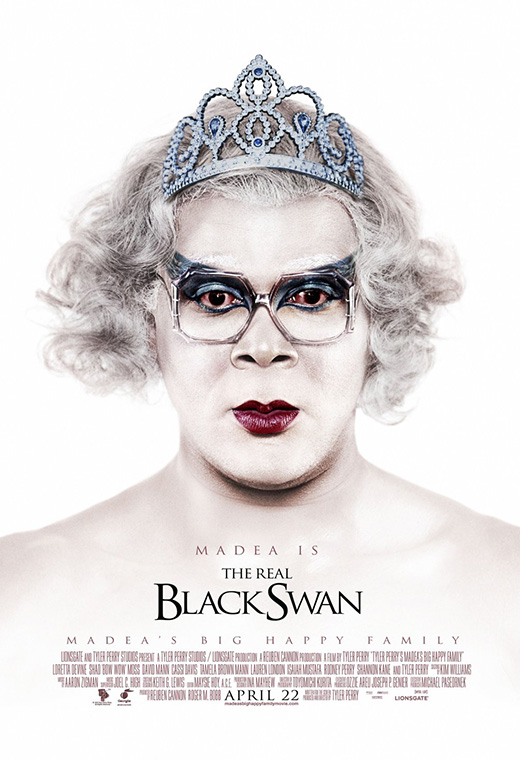 Tyler Perry lives a double life: on one hand he's a talented and credible actor/director who works with filmmakers like David Fincher and Lee Daniels; on the other hand, he occasionally dresses up like an old lady called Madea. We're not quite sure what Madea's Big Happy Family has in common with Natalie Portman's Black Swan but let's hope it's not a sex scene.
Fanboys does... The 40-Year-Old Virgin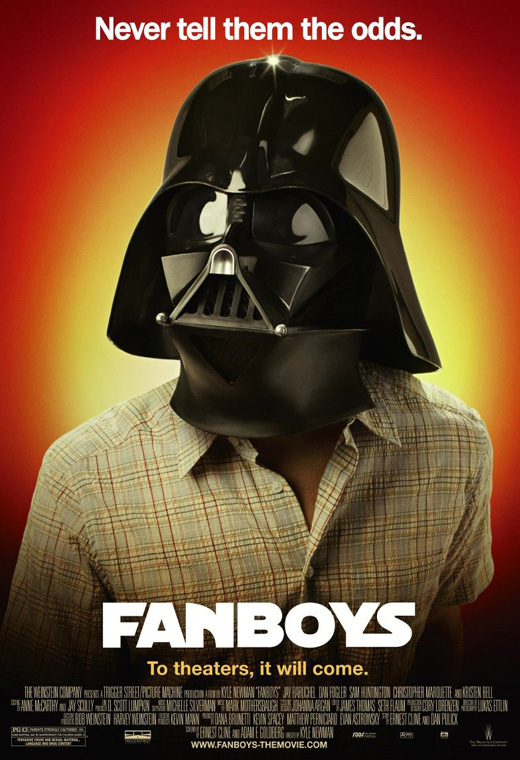 What we like in this simple one-sheet, which parodies Judd Apatow's sex comedy, is the unspoken connection made between Star Wars fans and virginity. Stick a Darth Vader helmet on any movie character and it'd get a chuckle, but this one is particularly effective if you imagine the 40-Year-Old Virgin himself Steve Carell underneath the mask, still grinning his goofy grin. Maybe he'd get lucky at Comic-Con.
Walk Hard does... The Doors
Another Judd Apatow comedy, only this time it's his film that's doing the spoofing. If you're under 25 you might not recognise the iconic pose pulled by country star Dewey Cox, but if you're over 25 and you still don't recognise it then shame on you: go and rent Oliver Stone's The Doors and don't come back until you've finished it. Who's in it? Val Kilmer. What do you mean, who's Val Kil... Oh, forget it.
A Haunted House 2 does... The Conjuring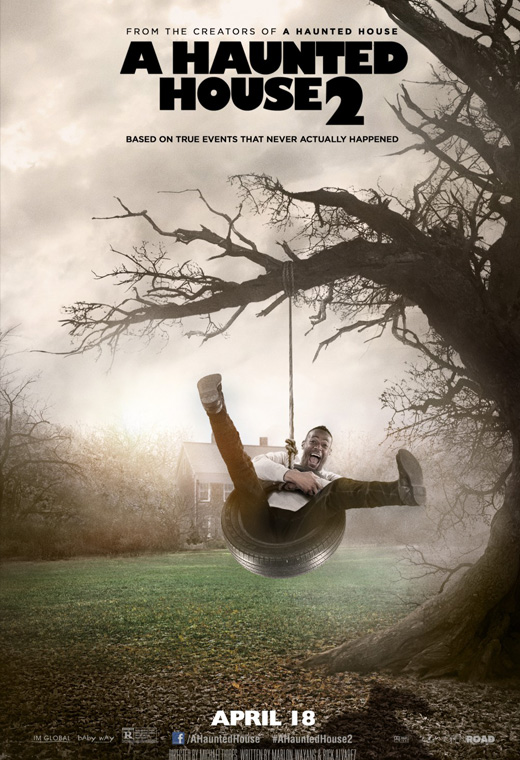 Granted, the Haunted House movies are themselves parodies, so you expect a certain amount of homage in the posters. And yes, even though the spoof movies of the Wayans brothers are aren't usually up to par, this poster - a mickey take of The Conjuring - is an effective parody: simply adding a swing to the ghostly vista renders it null and void in horror terms.
Ice Age: Collision Course does... The Martian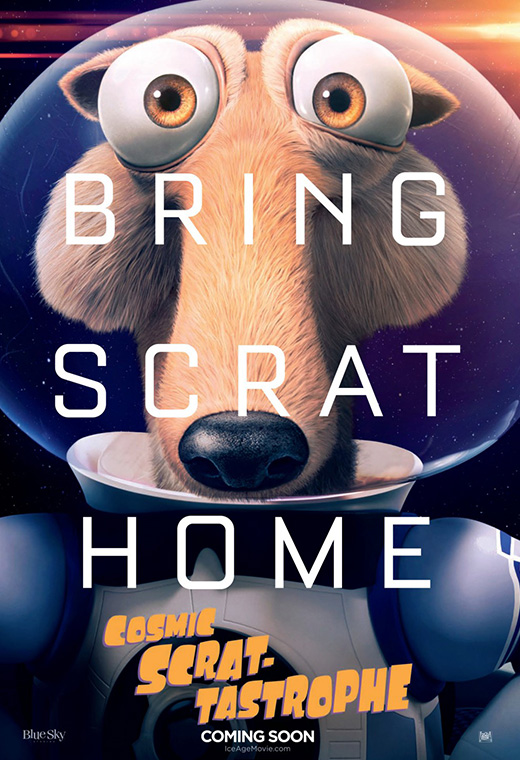 Poor old Scrat can't seem to catch a break – he thought his problems were big when he couldn't catch an acorn, now he's marooned off-planet and is in desperate need of rescue. At least, that's what this Ice Age parody poster would have us believe: in mimicking Ridley Scott's The Martian, Scrat has taken the Ice Age series to the furthest reaches of space. Here's hoping it stays there.
Muppets Most Wanted does... Face/Off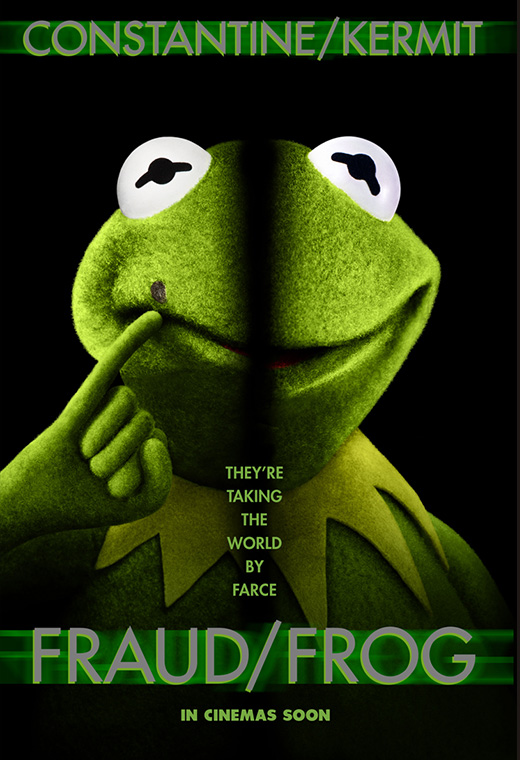 2013's Muppety movie Most Wanted didn't skimp on the poster parodies either, although you wouldn't exactly call the targets it chose to skewer topical or relevant. Skyfall? Fair game. Tinker Tailor Soldier Spy? Okay then. But Face/Off? The Nicolas Cage vs John Travolta action thriller directed by John Woo from 1997? The familiar typeface and punctuation is unmistakeable, but is Fraud/Frog supposed to rhyme with Face/Off?
Pineapple Express does... Pirates Of The Caribbean: At World's End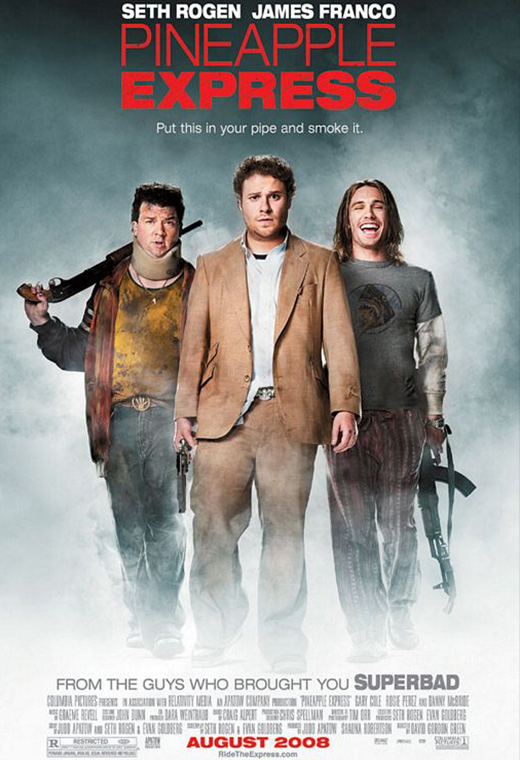 Subtlety isn't something people often accuse Seth Rogen movies of, but the poster for stoner comedy Pineapple Express is actually a clever take-off of the previous year's Pirates Of The Caribbean movie. Instead of mist, it has smoke from suspicious-looking cigarettes and instead of Johnny Depp it has James Franco with a machine gun, but it's clear the intention for parody was there. In fact, 'Pirates Of The Caribbean' even sounds like it'd be a strain of something that Franco's drug dealer would sell in the movie...
Kill Keith does... Kill Bill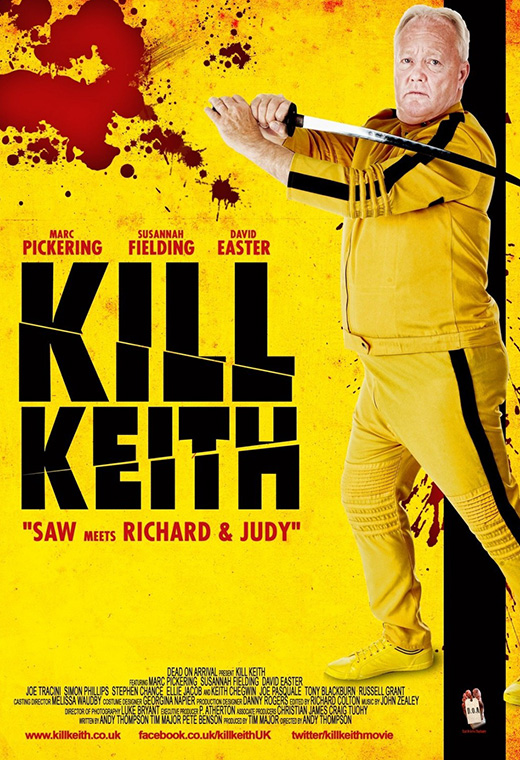 If you've ever seen Kill Keith – and generally, only paid professionals and masochists have made it through to the end – you'll know that the movie isn't exactly a laugh-a-minute chucklefest. However, maximum points for getting Cheggers into the iconic yellow and black jumpsuit, so famously worn by Uma Thurman and Bruce Lee among others. It's Keith's facial expression – one of utter humiliation – that makes this poster a winner.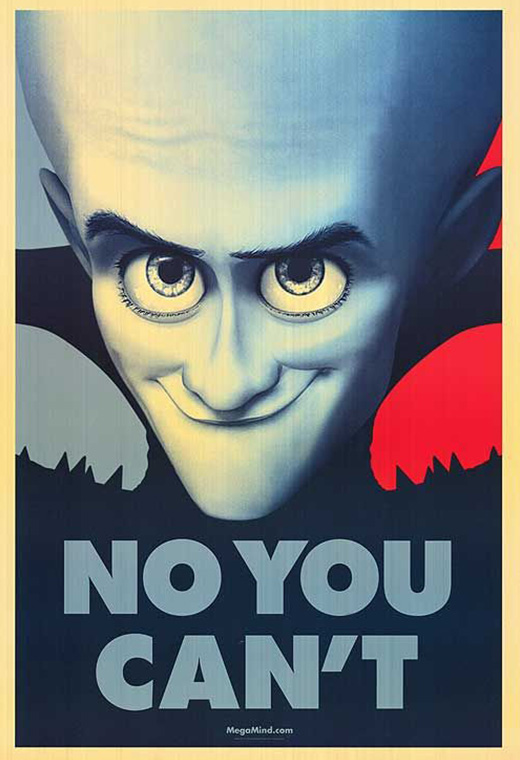 This is not the place for politics, but it is the place to appreciate a good bit of poster parody, and this one-sheet for DreamWorks' otherwise forgettable super villain comedy Megamind is a great take on the Obama campaign's iconic 'Yes We Can' poster series by artist Shepard Fairey. Who knew that less than 10 years later, a real-life super villain named Donald Trump would be trying to unseat Obama from the White House?
Shaun the Sheep does….The Hunger Games: Catching Fire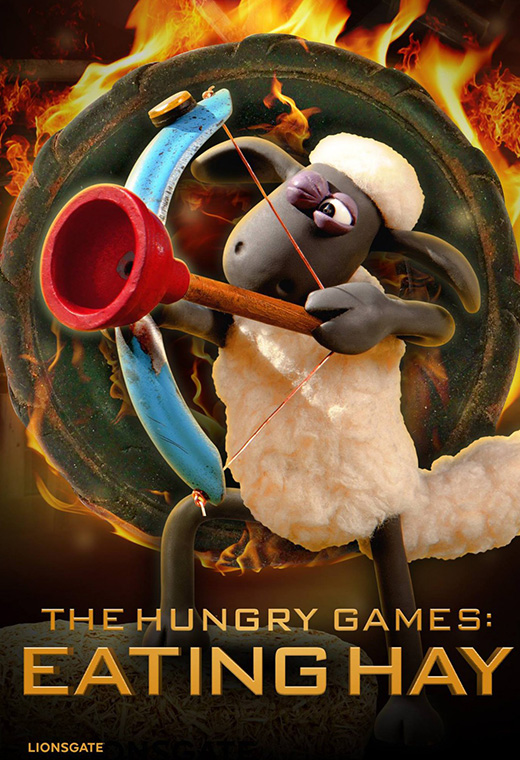 Here's Shaun again with his riff on The Hunger Games' final instalment. Do sheep even eat hay? Does the joke even work? Don't worry about it. By the time the animators finished setting up this shot they probably realised it wasn't all that funny and just took the photo regardless.