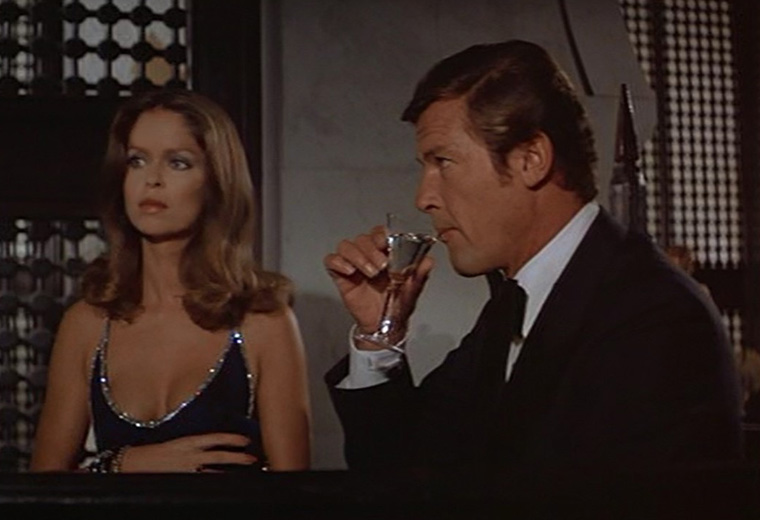 If James Bond has a defining drink, it's the vodka martini - shaken, not stirred. It's fairly straightforward: splosh a measure of vodka (current product placement insists upon the hideously expensive Belvedere brand, but any good quality vodka will do) into a cocktail shaker with a tablespoon of dry vermouth and a handful of ice, shake till it's cold, add a slice of lemon peel, strain into a cocktail glass and chug it down, preferably without wincing.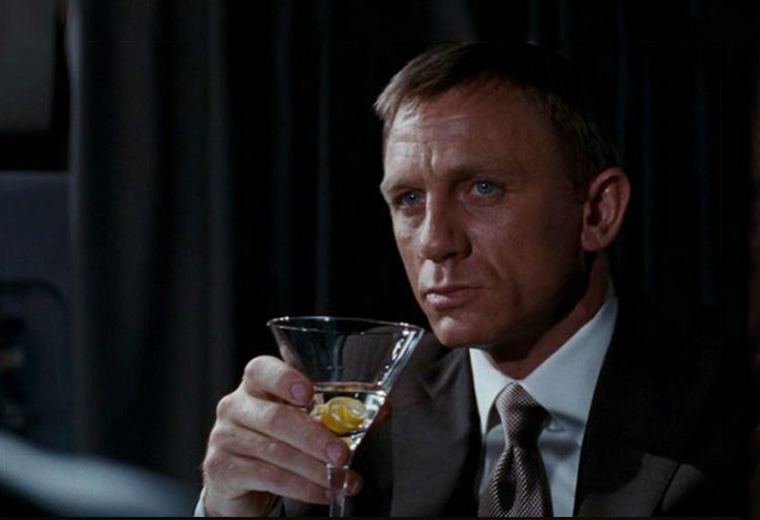 A variation of the martini appears in Casino Royale, and was invented by Bond author Ian Fleming. The Vesper, named after that story's Bond girl, adds gin to the vodka and vermouth in a 6:2:1 ratio. Also shaken, it's not as nice as a classic gin martini (stirred and without vodka), but Bond seems to enjoy it. In fact he necks six on a plane in Quantum Of Solace, much to the disapproval of a Virgin Atlantic barman.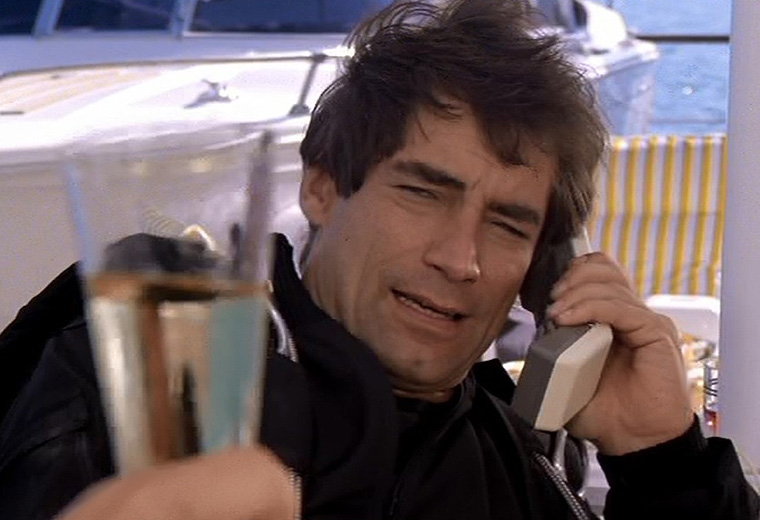 An easier - although pricier - drink to prepare would be champagne, and Bond has two favoured brands: Dom Perignon and Bollinger. The year of the Dom Perignon apparently isn't important: Bond expresses a preference for the '52, '53, '55, '57, '59 and '62 vintages over the years, presumably having drunk so much he's forgotten which he likes the most. 007 has polished off a Bolly in thirteen films to date, and will do so again in Spectre - if you want to follow suit, he'll be going for the rare prestige cuvée Bollinger R.D. 2002 this time (a snip at £250 a bottle).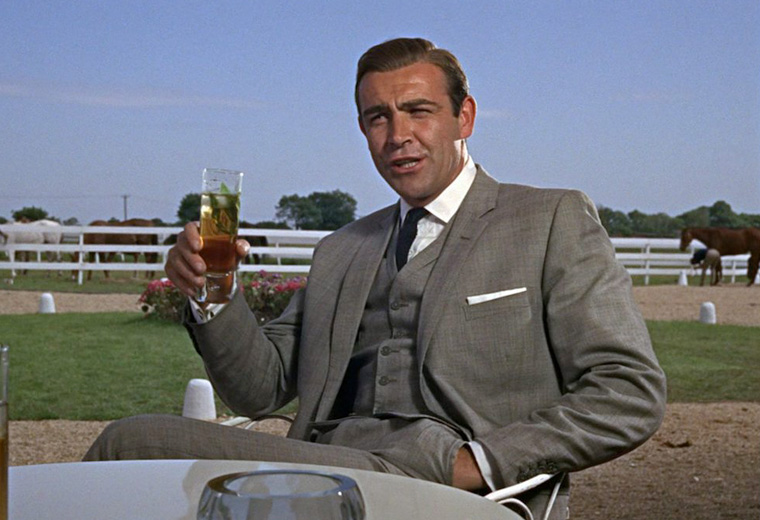 Bond accepts a mint julep from Goldfinger, which requires a little more work: gently bash (muddle) a few mint leaves, a teaspoon of sugar and two teaspoons of water in the bottom of a long glass. Fill the glass with ice, pour over a good measure of bourbon and stir. In Thunderball, he's offered a rum collins by bad guy Largo: mix your own by shaking a measure of your favourite rum with almost as much sugar syrup, the juice of half a lime and ice. Strain into an ice-filled glass and top up with soda water. Do not attempt to swim with sharks afterwards.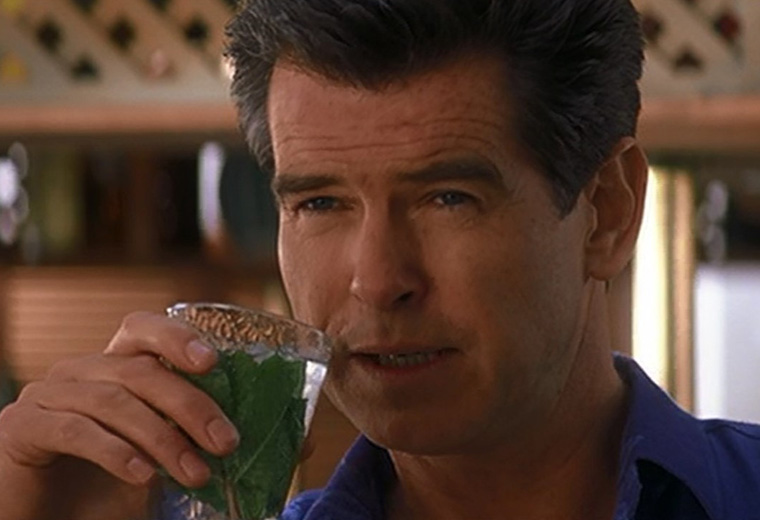 It's not until Die Another Day that Bond is next seen enjoying a cocktail, when he indulges in a mojito - as anyone who ever visits Cuba should, as often as possible. This delicious drink is made by muddling a handful of mint leaves with two teaspoons of sugar and the juice of half a lime in a long glass. Fill the glass with ice, add a good measure of white rum, top up with soda water and garnish with a lime wheel and a sprig of mint. Guaranteed to get you into bed with Halle Berry*.
* Not guaranteed at all
The rest of the drinks cabinet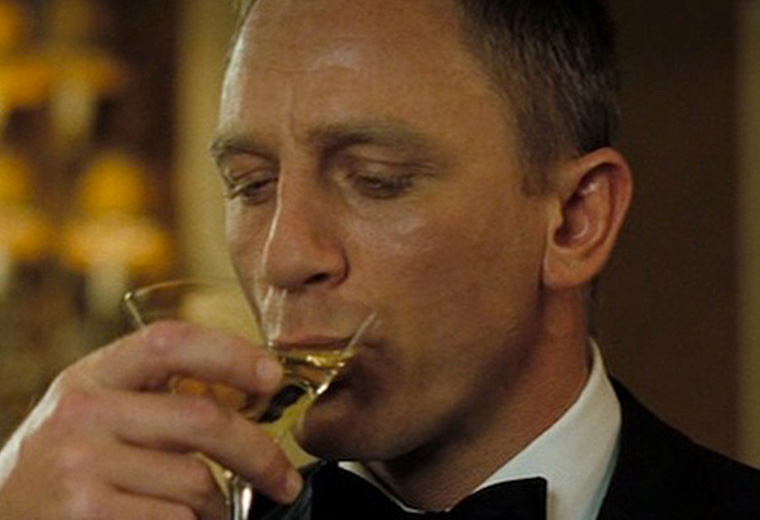 For completists, Bond is also seen drinking Turkish raki in From Russia With Love, brandy in Goldfinger, Japanese sake (served at 98.4 degrees fahrenheit, natch) in You Only Live Twice, ouzo and glüh wein in For Your Eyes Only, sherry (based on an 1851 vintage, obvs) and a Mouton Rothschild '55 (which is a claret, as bad guys Mr Wint and Mr Kidd fatally fail to realise) in Diamonds Are Forever, and various other wines, bourbons, whiskeys, vodkas and - yes - lagers throughout the series. You can try and match him if you like, but trust us: sneaking around the house drunk in your pants, pointing your finger-gun at the cat, will not make you look like Daniel Craig. We know this only too well.