Dr. No, no, no no no nooooo!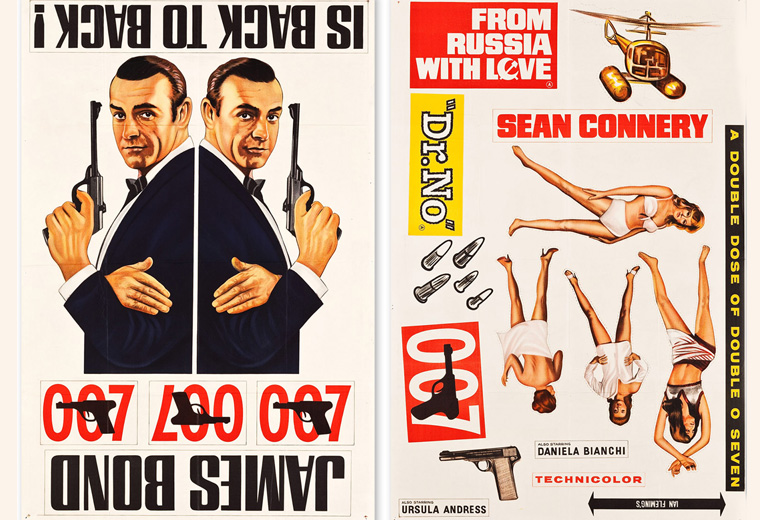 Double-bills were all the rage in the '60s, and Dr. No / From Russia With Love shows were sell-outs in the days before Bond films were on ITV2 every five minutes. This poster advertising such an event not only opts for the questionable "A double dose of 007" tagline, as if you might catch something unpleasant by attending, but also has no apparent sense of where up and down are. Bonus points for the five vibrators though.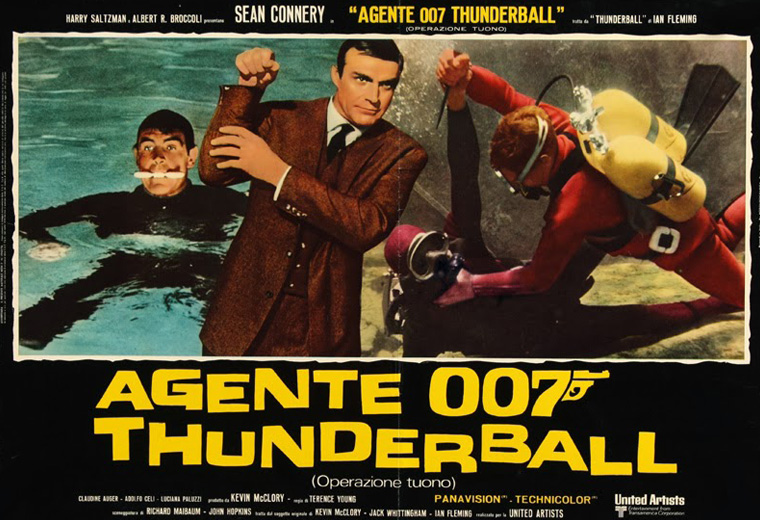 This eye-poppingly colourful Italian lobby card for Thunderball wins points for a cool typeface, but immediately loses them for that central image of Sean Connery. In the film, he's pinned to a wall by a knife in his sleeve, but here - cut out of the shot and completely removed from all context - he just looks like he's struggling to stop his uncontrollable right arm from knocking on an invisible door, the weirdo.
On Her Majesty's Secret Shadow-face
After Sean Connery quit (the first time), early posters for On Her Majesty's Secret Service really didn't want to scare people away with a picture of James Bond looking a bit different. The answer? Just hide Bond's face completely! That'll definitely ease the public into getting to know new guy George Lazenby. In fact, surround him with acres of female flesh and nobody will even notice he's got words all over his face.
Live And Let Me Die, Please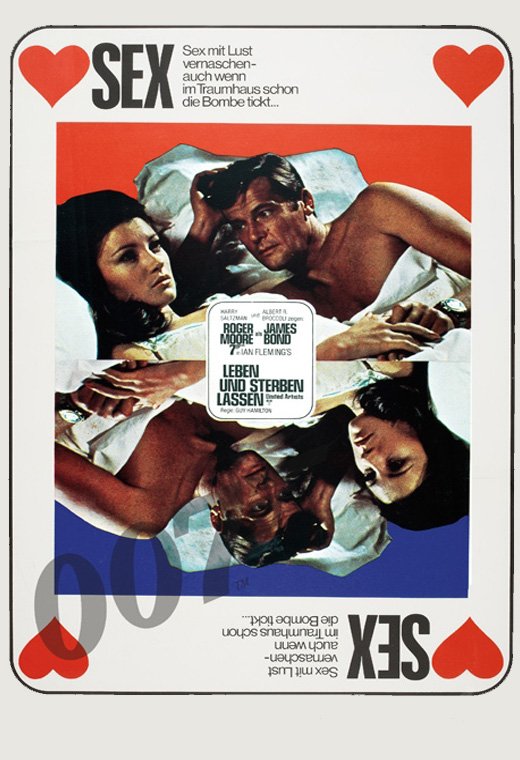 This German poster for Live And Let Die plays on the film's tarot card motif, but does it quite badly - after all, that's just a normal playing card, not a tarot card. Still, that tagline must explain things, right? Well, according to our online translatobot (nobody here speaks German), it reads: "Sex with lust after their daughters - even if the bomb is ticking in the dream house". So that's cleared that up then.
The Man With No Idea What's Going On
Here's a liberty-taking Italian lobby card for The Man With The Golden Gun. The pile-up of cars in the background - which doesn't happen in the film - is one thing, but the spectacular sight of Roger Moore apparently wielding two Japanese katana swords is something else entirely. Partly because the film's set in Thailand, not Japan, but also because at no point does Bond even so much as glance at a sword.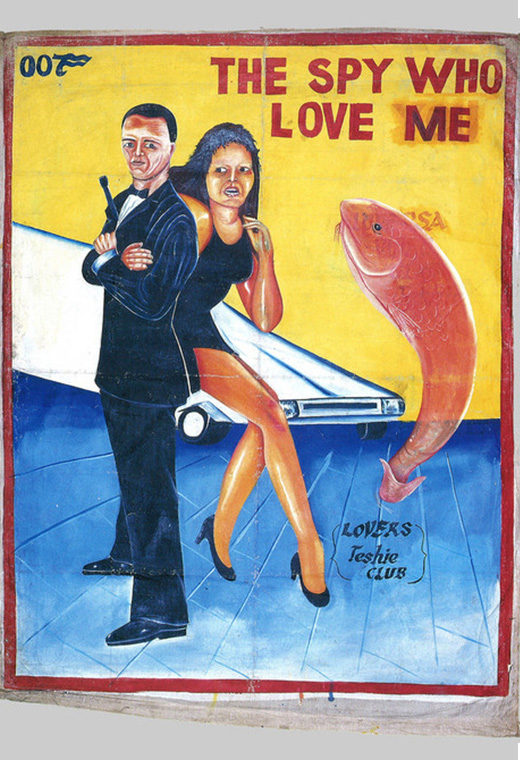 It's hard to know where to begin with this one. Apparently from Ghana and absolutely not sanctioned in any way, shape or form by Bond producers, this home-made ad for The Spy Who Loved Me has gained a sturdy rep on the internet for being absolutely, unassailably crackers. Look at the car! The faces! The penis-tailed fish-monster! But the worst thing? Bond's RIGHT-HANDED, Ghana, deerrrrrrr.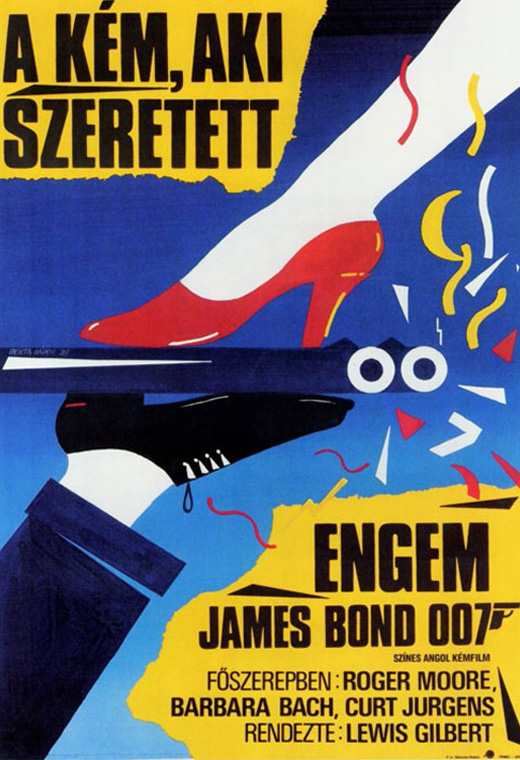 The Spy Who Loved Me seemed to attract the maddest posters, and this Hungarian effort is another winner in the world of weird. We're not sure exactly what the significance of the two legs meeting in such a peculiar fashion is, but we do know this: if that bottom leg is meant to belong to James Bond, then Ian Fleming would turn in his grave at the sight of those white socks.
The Star Of The Movie Is Not Enough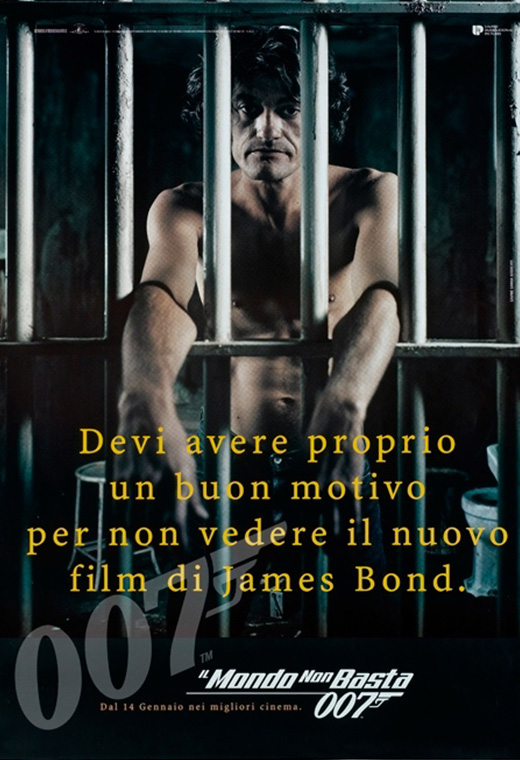 What did Italian marketers choose to put on their posters for The World Is Not Enough? Pierce Brosnan in a speedboat? Sophie Marceau in a slinky dress? Robert Carlyle looking all evil and villainous? Nope, too radical. Instead they went for the old 'random-bloke-in-prison' shot, and the tagline "You have to have a really good reason not to see the new James Bond film". Obvious really.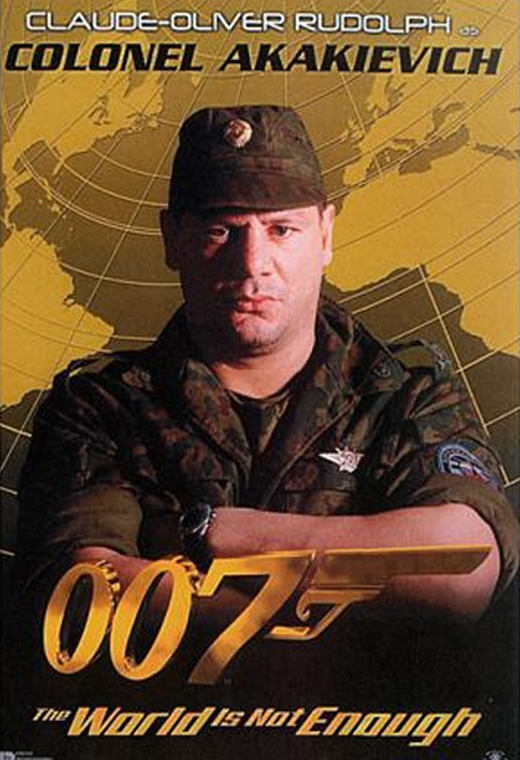 Character posters first became popular in the late 1990s, and Bond joined the party with The World Is Not Enough. This character poster is classically misguided: Colonel Akakievich is a character nobody remembers, played by an actor nobody had heard of, unless they'd been raised on German TV in the 1980s and '90s. Still, few can forget his iconic quote: "Oh, by the way, do you have the transport documents?" Legendary.