Fred O'Bannion (Dazed & Confused, 1993)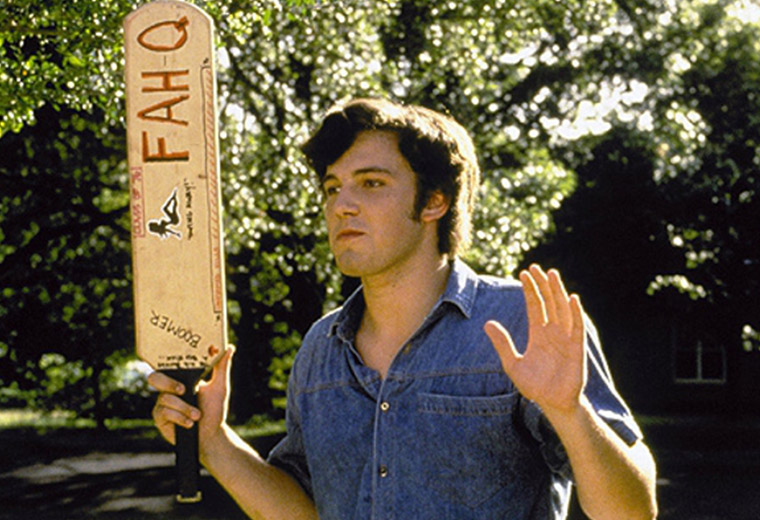 Every school has one. A lunk-headed bully that genuinely enjoys laying on the pain to cover up his own insecurities. Affleck's first major role, he's essentially Dazed & Confused's big bad, starting the last day of term revelling in the hazing ritual that allows him to paddle the asses of the incoming freshmen and ending it by getting a bucket of paint poured on him in revenge.
Shannon Hamilton (Mallrats, 1995)
The start of a beautiful friendship: Affleck's first movie for Kevin Smith saw him give it some convincing douchebag once again as the slick guy who runs the Fashionable Male clothing store. Shannon dislikes: the slackers who have "no buying agenda"; Likes: sex in 'an uncomfortable place' – and we're not talking about the back of a Volkswagen.
Holden McNeil (Chasing Amy, 1997)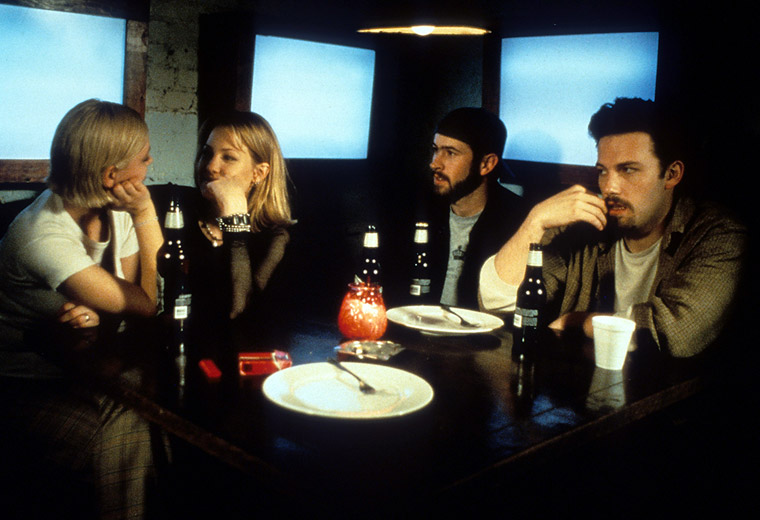 Kevin Smith's best movie gives Affleck his 'moment' with stardom. The actor gives the Bluntman & Chronic funnybook author honest layers of sweetness, sensitivity, wit and naïve overconfidence as he careens haphazardly through the ego-minefield of 'dating a sexually experienced bi-babe' and inevitably ends up in pieces.
Chuckie Sullivan (Good Will Hunting, 1997)
If you've just written one of the best scripts of the '90s, why wouldn't you want to take a plum role it? Affleck plays Hunting's rough-neck pal, quietly willing his genius best bud onto better things, a role that put him – and his writing abilities - under Hollywood's collective nose. They liked those apples a lot.
AJ Frost (Armageddon, 1998)
The chin has landed. The actor makes the astro-leap from indie cool to mainstream stardom in Michael Bay's mega-blockbuster about space-miners saving the Earth, playing the romantic lead – memorably giving Liv Tyler an oiling – and looking every inch the future big action hero.
Ned Alleyn (Shakespeare in Love, 1999)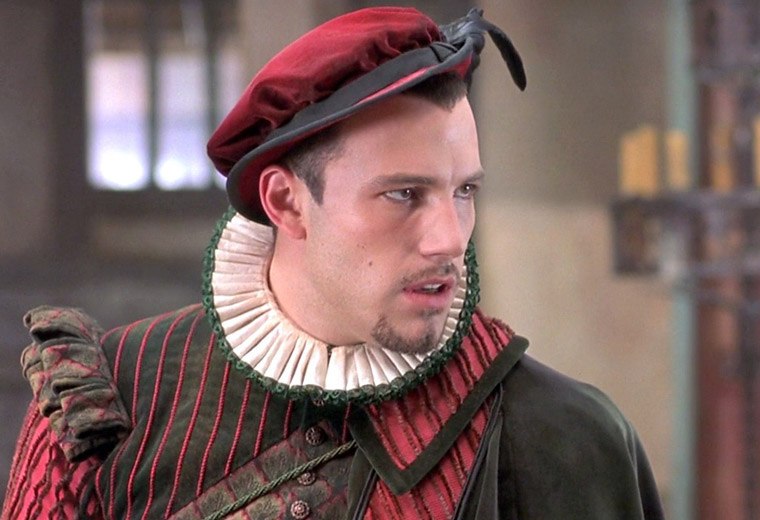 As Miramax's studios new golden boy, Affleck dutifully turned up for a barrel-chested cameo in Shakespeare in Love – starring his then-girlfriend Gwyneth Paltrow – and practically rugby tackles the whole movie. As the leading thesp-of-the-day, Affleck offsets Alleyn's actorly self-regard with a wry affection for his star-crossed scribe.
Jim Younger (Boiler Room, 2000)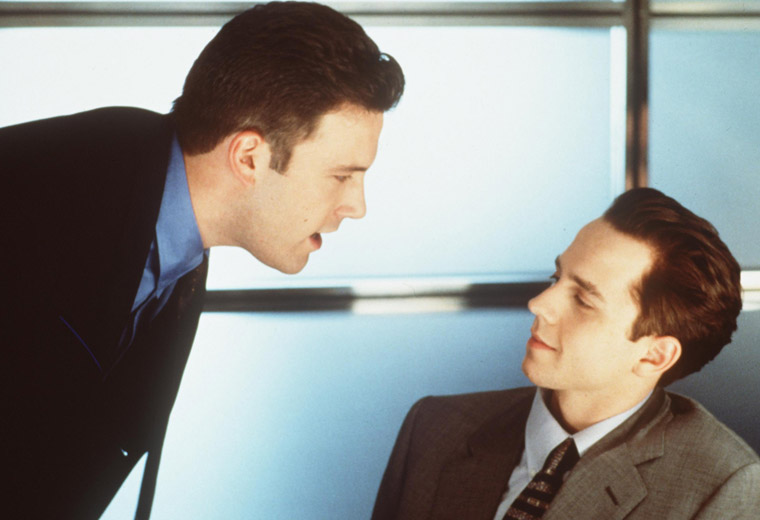 "You will make $1 million within three years." Affleck gets his one-shot, drop-the-mic cameo as the flash broker trainer in Boiler Room, matter-of-factly bragging about his house and car and casually dumping any talent that doesn't fit into the company vision. In an oh-so movie-literate flick, this is his Alec Baldwin-Glengarry Glen Ross moment.
Jack Ryan (The Sum of all Fears, 2002)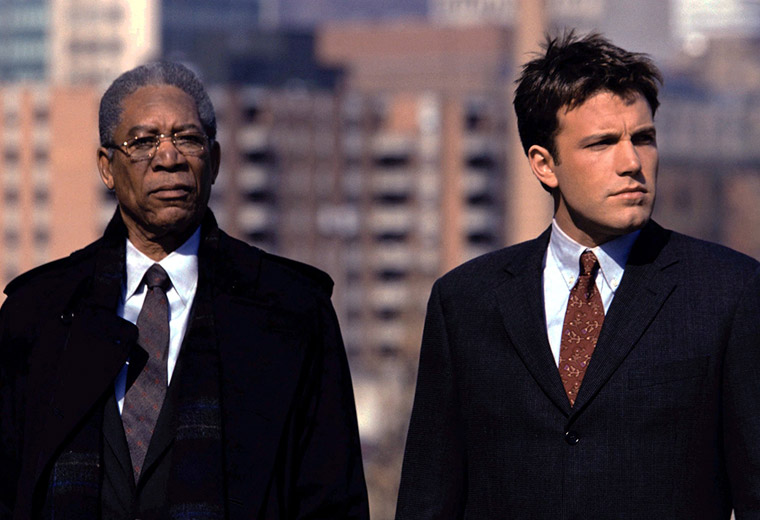 Of all the Jack Ryan movies, Affleck's is easily the most underrated. A prequel to the previous Baldwin and Ford installments, Affleck gives his earnest CIA-newbie a savvy sharpness to undercut his greeness. Memo to studios: releasing a movie about a cataclysmic terrorist attack soon after 9/11 isn't a great idea.
Jack Dupree (Smoking Aces, 2006)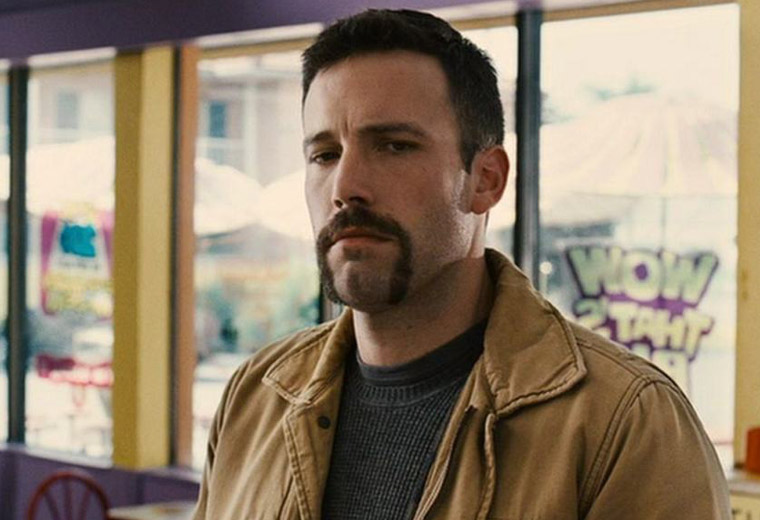 Worthy of a mention, not just for the awesome set of facial fuzz that frames that legendary jaw, but more so for the nifty bit of stunt casting: arguably the biggest highest ranking card in Smoking Aces' huge, starry deck, Affleck's grizzled bail bondsman finds himself played within seconds by a trio of Neo-Nazis. Fold.
George Reeves (Hollywoodland, 2006)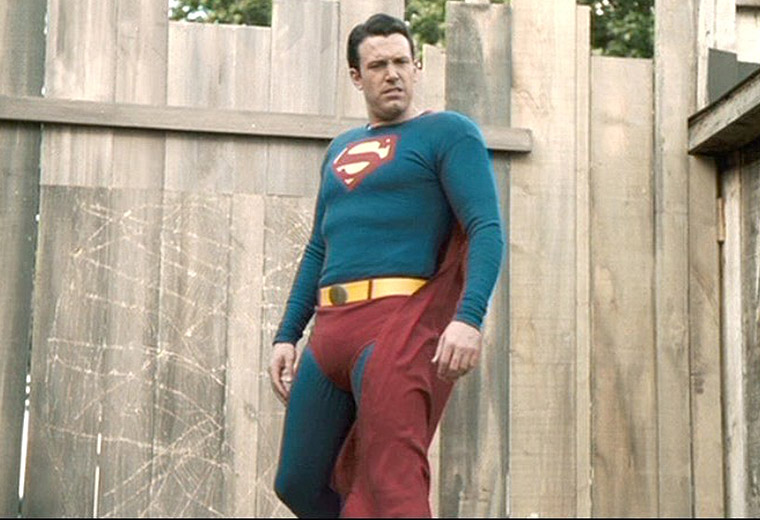 Before he was Batman, Affleck was Superman… kinda. At the height of his tabloid notoriety, Affleck delivered his best performance as the troubled, bitter George Reeves – TV's original 1950s Superman, tortured by type casting. It's a naggingly sad performance, layered with pathos, and gives a superhuman finger to his critics.
Stephen Collins (State of Play, 2009)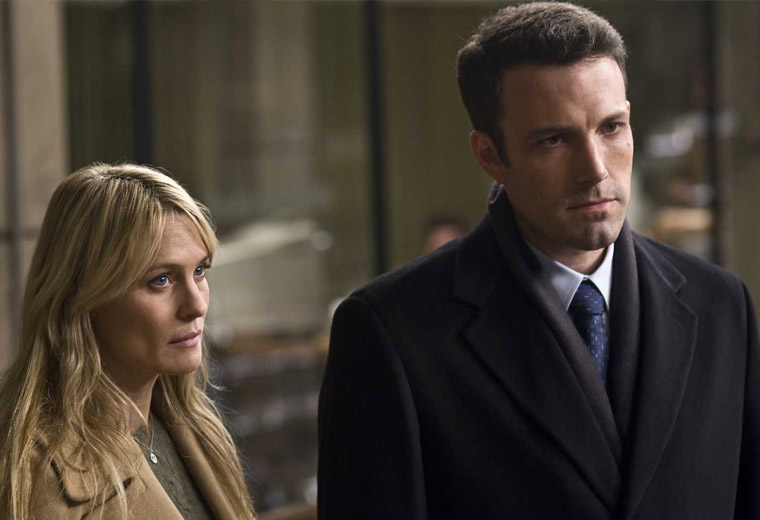 Earnest political firebrand or ambitious, duplicitous love-rat? The archetypal Affleck role has a mix of high flying success undercut by hidden flaws, so it's easy to see why he easily nailed down the slippery centre of this Washington thriller – the congressman engulfed by scandal after his lover is murdered.
Doug MacRay (The Town, 2010)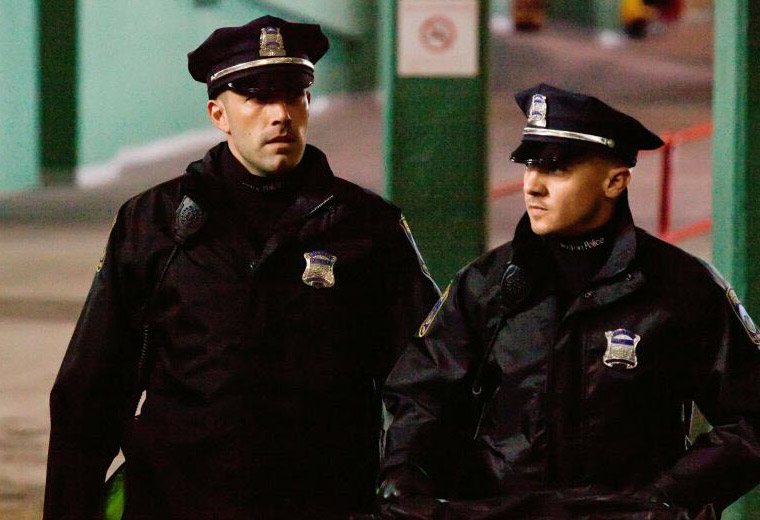 Jeremy Renner might steal the film, but Affleck anchors it. Having sat out his excellent directorial debut Gone Baby Gone, Affleck does triple duties in The Town: writer, director and starring too, as the conflicted Boston bank robber failing to disentangle himself from the criminal knots that threaten to leave him in cuffs or a coffin.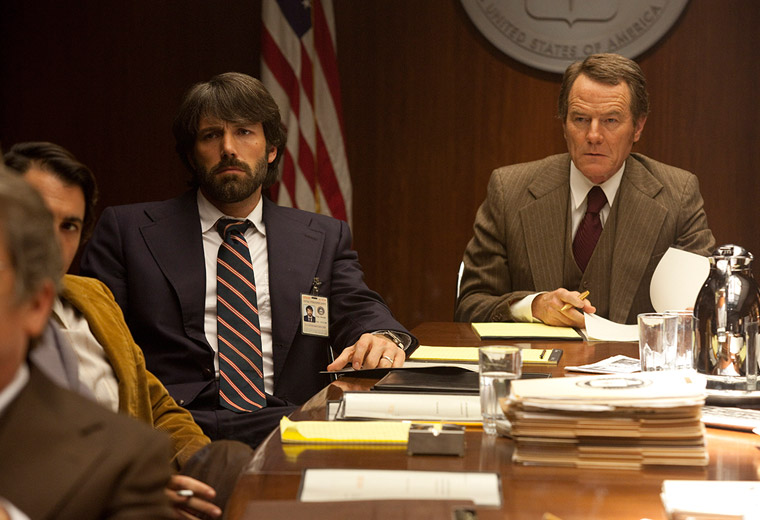 Smashing an old-school hero role with a straight bat, Affleck hits it out the park and all the way to the Academy Awards. His CIA operative is the cool head on the ground during the outrageous – and very true – story of sneaking out of Iran under the guise of being a film crew. Decent, charming and suitably intense, he's the solid spine of his Oscar-winner.
Neil (To The Wonder, 2012)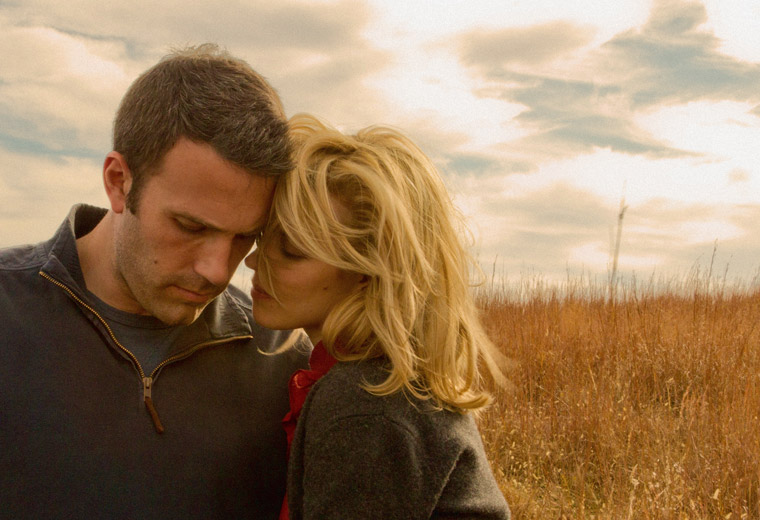 Sheen. Weisz. Chastain. Many big names ended up on the cutting room floor of Terrence Malick's philosophical meander through love, religion and forgiveness, with the arty director instead hazily focusing the film around the near-mute Affleck – his quiet dignity and expressive features pull the whole movie together.
Nick Dunne (Gone Girl, 2014)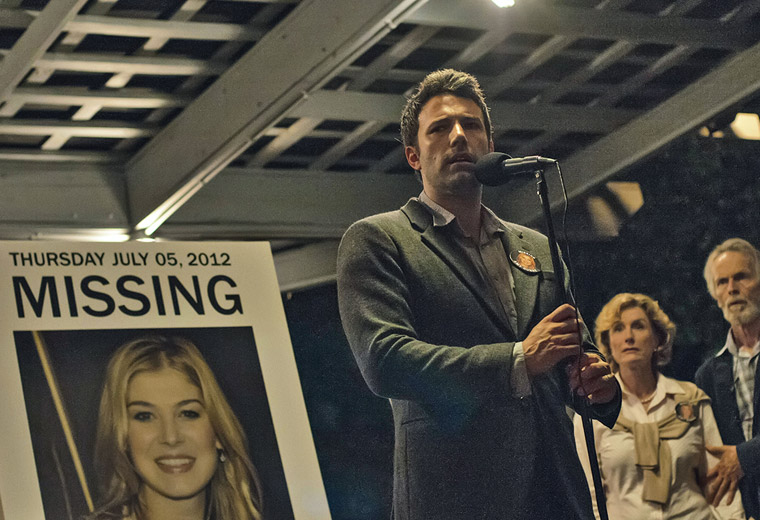 Could smug philandering jerk Nick Dunne have murdered his missing wife? Playing the darker notes of his public image, the actor veers into dislikable territory. As Nick's charming facade quickly crumbles, it exposes long-rotten foundations underneath – bruised ego, bitter disappointments and ferocious male pride – making the movie's central question very, very believable.
Bruce Wayne/ Batman (Batman v Superman: Dawn Of Justice, 2016)