Brain bashing badge
As seen in: Scouts Guide To The Zombie Apocalypse (2015)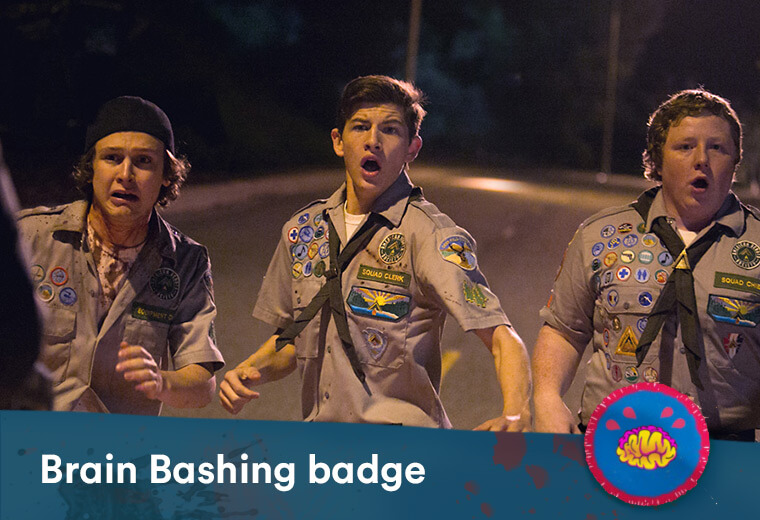 Destroying the brain, whether by bullet, blade or bludgeon, is the best way to drop your monstrous enemy. It's vital that the boy scouts manning up in Scouts Guide To The Zombie Apocalypse have perfected the kill shot come the finale, and would get them the first of their dead-dodging badges they should add to their arm.
Barricading badge
As seen in: Night Of The Living Dead (1968)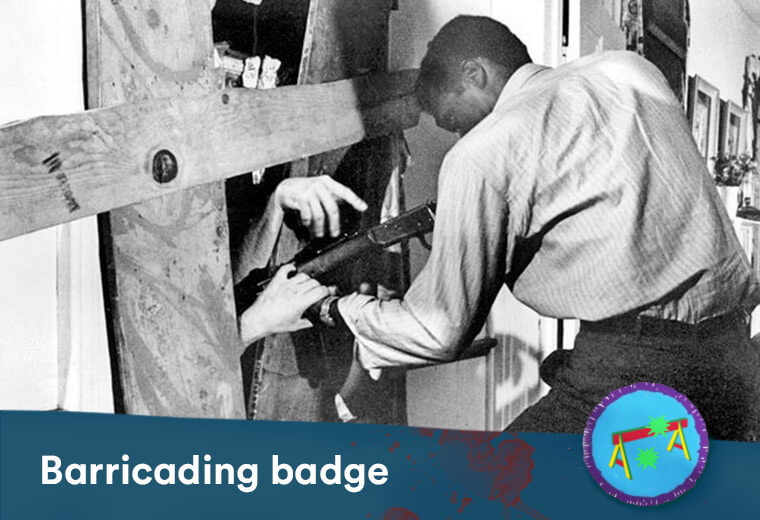 Some hasty DIY skills can put a semi-secure barrier between you and your basic walking dead, though this may only buy you time against its more aggressive modern counterpart. Nick Knowles can shove 'craftsmanship' up his tradesman's entrance, as quick and nasty is the name of the game here, using whatever wood you can get your hands on and as many nails as you can recycle. And did we mention be quick?
Hiding badge
As seen in: Shaun Of The Dead (2004)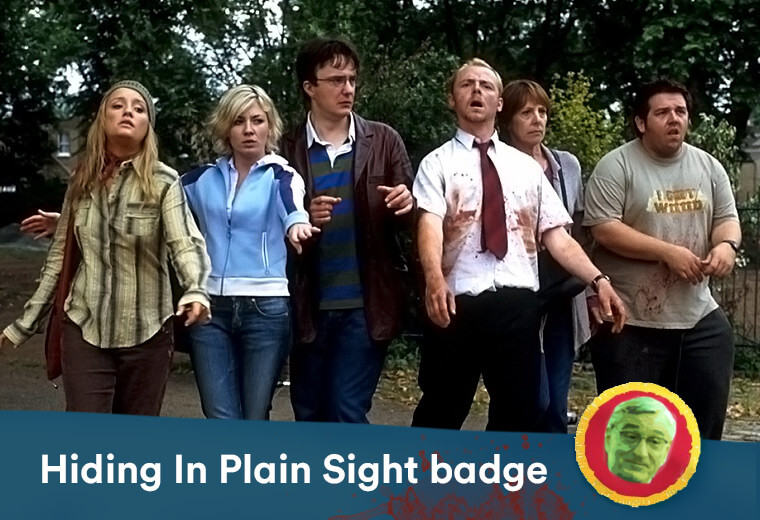 Why cower behind the barricades when you can just hide in plain sight? Pretend to be a zombie with the Shaun Of The Dead method with some basic acting skills: staggering, groaning and grimacing, while discreetly slipping past the horrible hordes. Though maybe turn your phone off as it's a bit of a getaway. Interestingly some great thespians have been pretending to be zombies for years: did you see De Niro in The Intern?
Heroic Sacrifice badge
As seen in: I Am Legend (2007)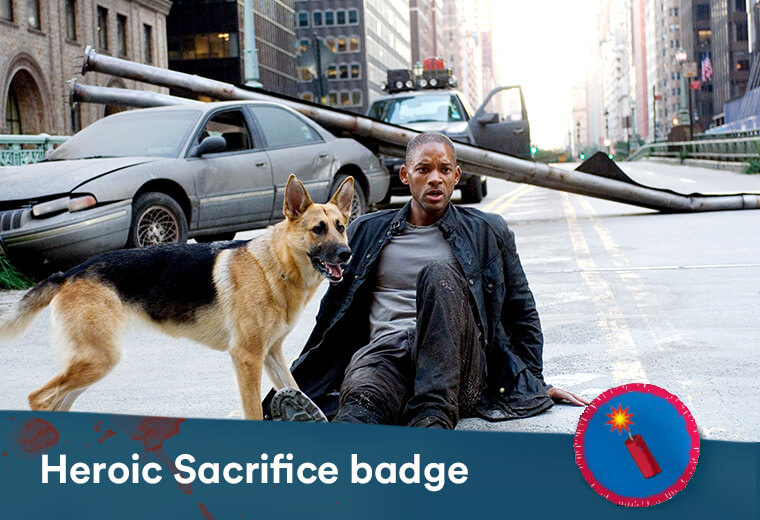 This one might have to be a posthumous badge, but there's no greater honour than to lay down your life for your friends, providing a distraction – and also a meal – for the zombie hordes in order to let your pals get away. Of course, make sure you do need to sacrifice yourself first, unlike Will Smith at the end of I Am Legend who blows himself and the zombies up with a grenade when he could have just as easily thrown the explosive at them, escaped in the chute with his pals and, you know, survived. #toostupidtolive
Humanitarian badge
As seen in: Land Of The Dead (2005)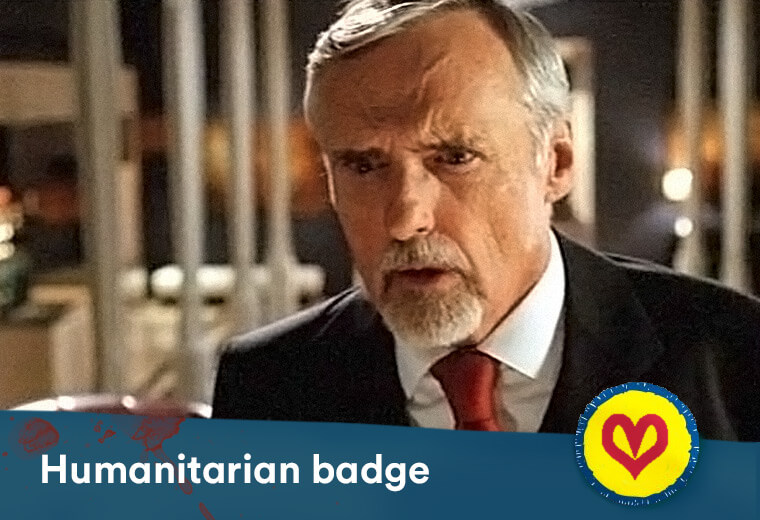 "So I ask you, who's the real monster? Is it us humans, with our desperate selfish ways, screwing over your fellow survivors and revealing our very worst instincts, like Dennis Hopper in Land Of The Dead? Or is it the zombies, who are mythical undead creatures that like to gorge on our intestines and have the intellect of the average reality TV star? Well, it's probably them, really? But you're still a jackass."
First Aid badge
As seen in: Planet Terror (2007)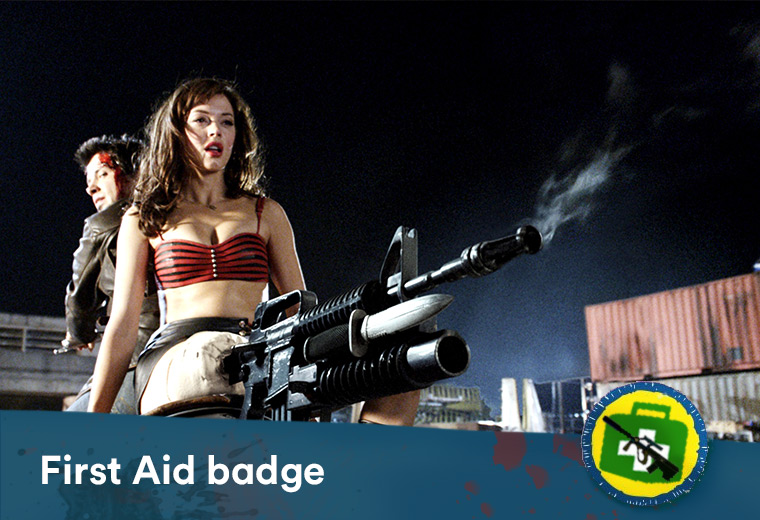 Hey kids, a bandage isn't going to cut it when hell starts overflowing. If you want to earn your first aid badge in the battle against zombies, you're going to need to start looking at battle-ready body modifications. First out of the medical textbook would be Planet Terror's Cherry, who lost leg gets pimped out with something with a bit more bang to it: a machine gun. And if all else fails, just kick it Ash-style and get the duct tape and a chainsaw.
Motor skills badge
As seen in: Zombieland (2009)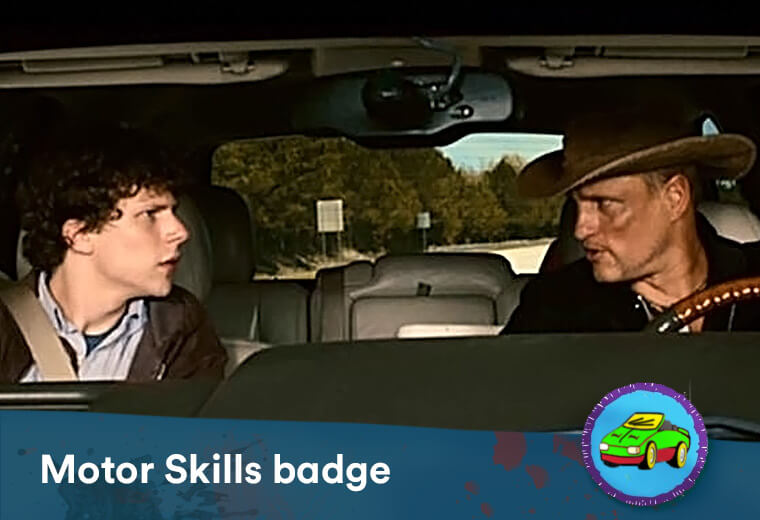 While you're unlikely to be getting your license checked, you'll need to be handy behind the wheel to get from A-to-B without arriving at Z. While MacGyvering your new ride into a zombie-scything leviathan is also helpful, your key survival skill is finely attuning your nose to sniff out a vehicle that a) works; b) still has petrol in it; c) has the keys conveniently stashed behind the sun-visor (who does this?) and; d) looks totally kickass. If in doubt, just aim for d and the rest falls into place.
Bite-hiding badge
As seen in: Dawn Of The Dead (2004)
Maybe that wound will get better of its own accord, so there's no need to tell anyone just yet. Especially as the group will snuff the infected party – whether you, your mum, or your pregnant partner in Dawn of the Dead ­– when they find out. So, it's probably better to hide the suspiciously teeth marked injury and lie a lot. Because what they don't know can't hurt them. Unless they don't know that a group member's about to turn into a zombie.
Mercy killing badge
As seen in: Maggie (2015)
This is the toughie. When the time comes, will you have the stones to put an infected loved-one out of their misery and prevent another walking dead roaming the streets? This is the conundrum facing Big Arnie in Maggie (out this month on VOD). When his teenage daughter becomes infected, he takes her home to transition in peace before she starts tearing him to pieces. Taking care of the family has never sounded sadder.
Pet training badge
As seen in: Day of the Dead (1985)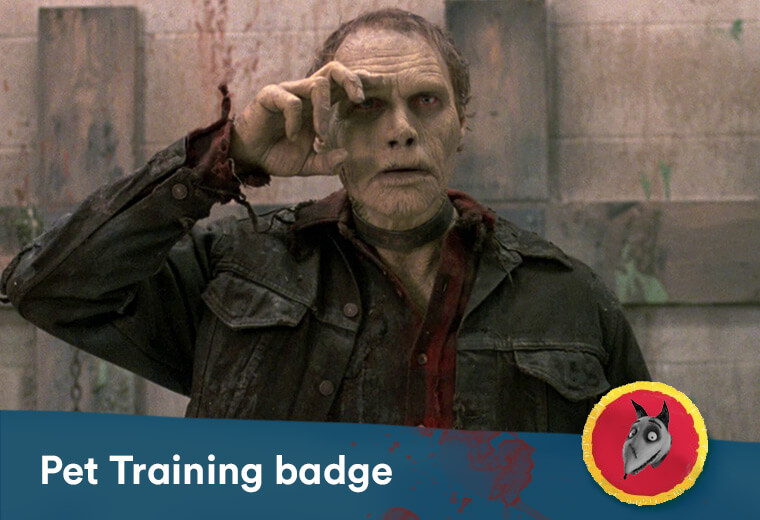 Chained up all day. Leaving loads of mess. Constantly trying to eat you. Let's face it, keeping a goldfish would be easier. However, trapping and keeping your own zombie – like the semi-sentient Bub in Day of the Dead – is the first step towards understanding the enemy, towards sending them all back to hell. Maybe don't give it a gun though.