When he surprised Damian Lewis on his birthday
Damian Lewis had worked with Hanks on the Band of Brothers miniseries, and invited him to his 30th birthday party in LA. Hanks couldn't make it, but when Lewis went to pay the sizeable bar tab at the end of the night, he was told: "It's been taken care of." So he was like: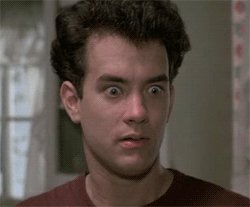 And then the barman said: "Happy birthday from Mr Hanks."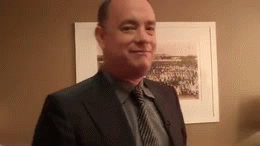 When he played along with a fan's prank
When the internet was introduced to these pictures it looked like Hanks had spotted a guy passed-out drunk in a bar and got some pictures for him to boggle at when he woke up and checked his phone. In fact the fan was in on the joke: he asked the great man to pose for the pictures and of course he obliged because HANKS.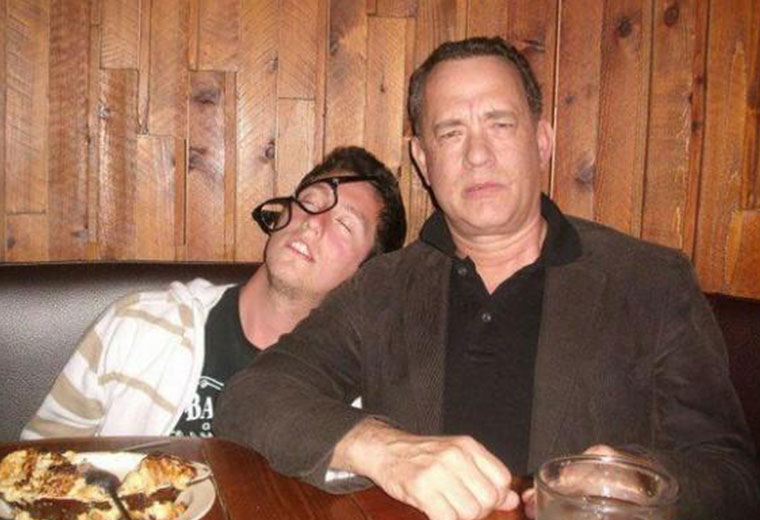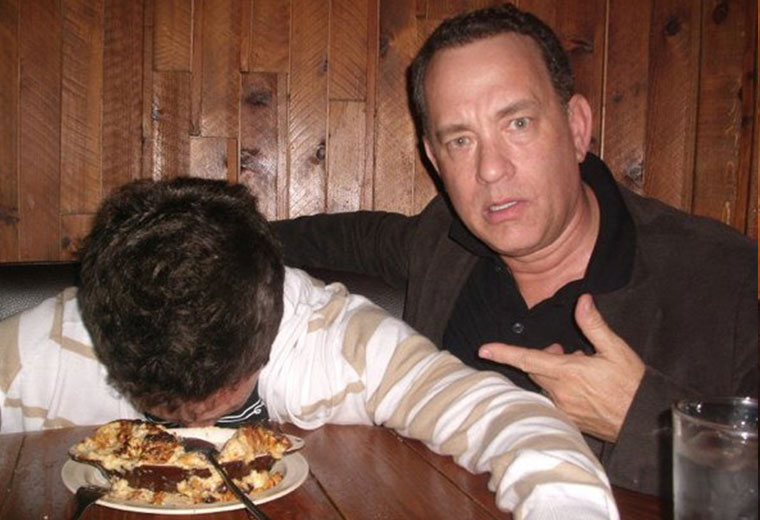 When he found someone's ID and returned it to them via Twitter
Hanks conducts his own Twitter feed, and occasionally uses it to right wrongs, like if Batman was your favourite uncle with an iPhone. Once he was walking in Central Park and found a student's ID card, so tweeted a picture of it.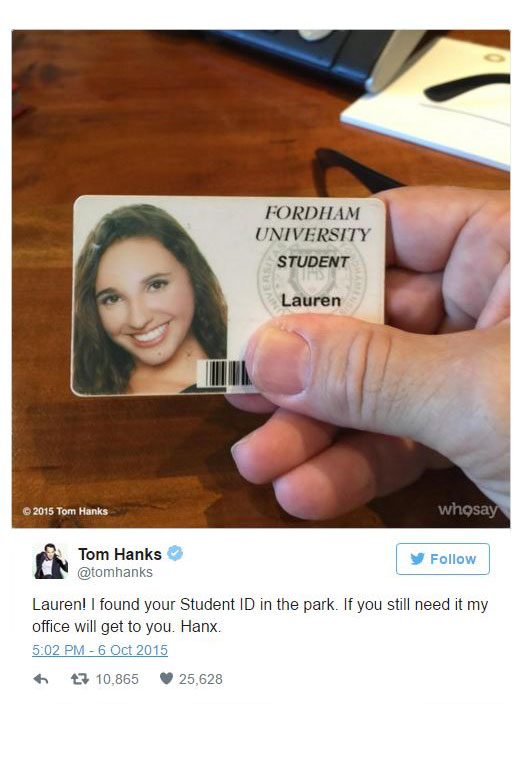 His office managed to get it back to the student. He later paid her college fees and bought her a puppy, or at least that's the sort of thing he definitely would do.
When he's 100% cool with everyone shouting "Wiiillllsonnnnn!" at him the whole time
Ever see a band refuse to play their hit single because they think it's too commercial? If Hanks were a band, which he totally could be, he'd be ... well, not that band. Anyway, you all know who Wilson was: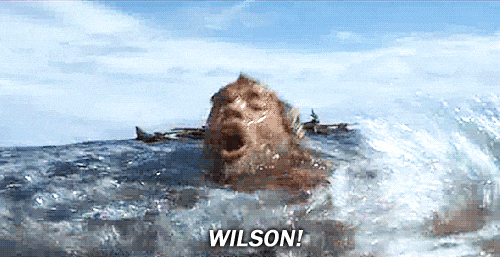 So imagine being Tom Hanks, and having to deal with everyone you meet saying that to you every day. Drive you nuts, wouldn't it? NOT THIS GUY.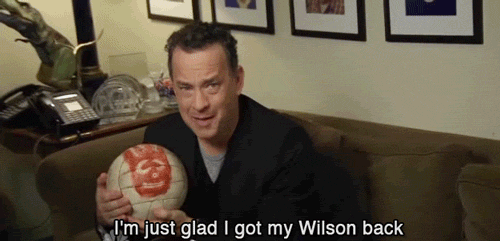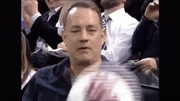 He even laughed his head off when a New York cab driver shouted it at him while driving him through Manhattan, then later tracked the guy down to give him tickets to his Broadway show where they hung out backstage.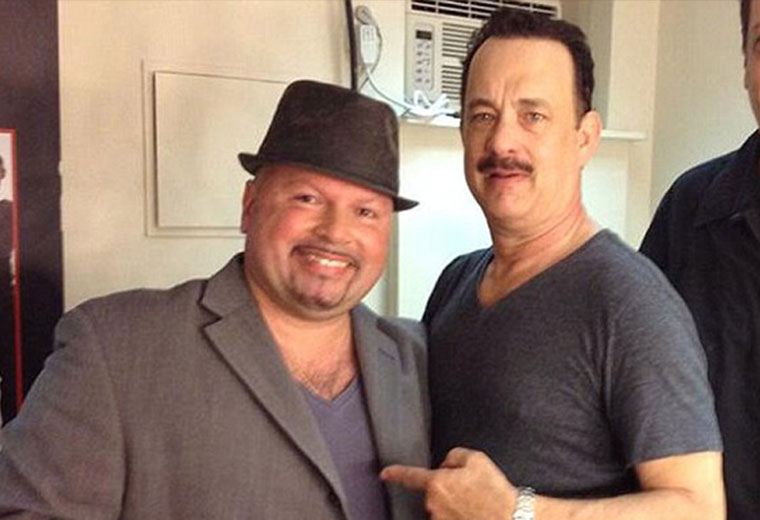 When he decided he'd document every lost glove he found on the streets of New York
Hanks just can't stand to see a glove separated from its owner, perhaps empathising with their helpless isolation because of that time he was stranded on a desert island for four years with only a volleyball for company. So he makes it his mission to tweet a picture of each one he finds.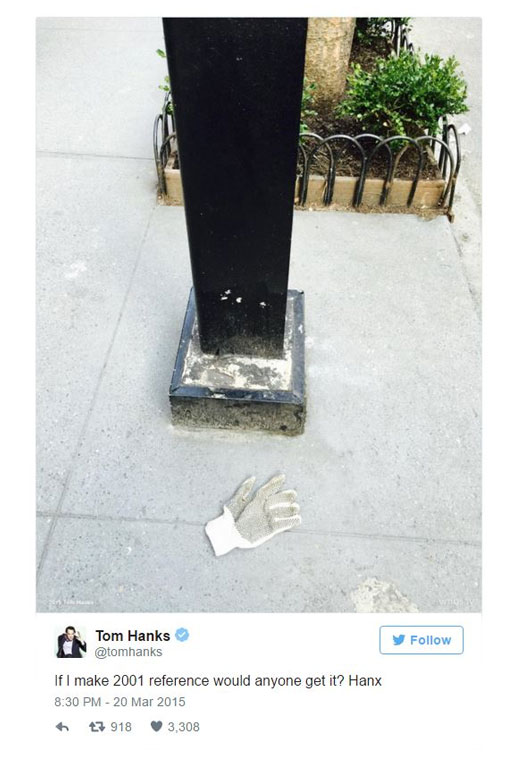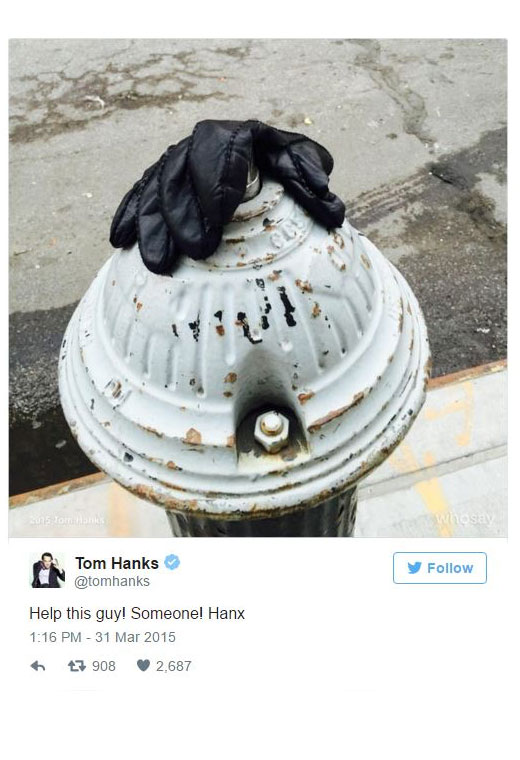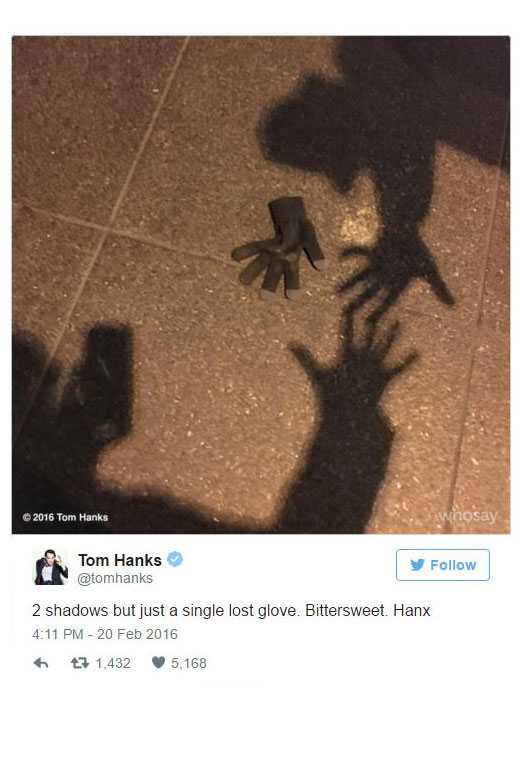 The gloves of New York City can rest easy knowing someone's in their corner. What a guy.
Watch Tom Hanks in Cold War thriller Bridge of Spies, available now on Virgin Movies via your Virgin Media set top box. Simply press Home on your remote, then On Demand > Movies.