Alongside the familiar faces of Harrison Ford, Mark Hamill and Carrie Fisher, Abrams has assembled an outstanding cast of fresh talent, including Daisy Ridley in a star-making performance, Adam Driver, Oscar Isaac, Lupita Nyong'o, Domhnall Gleeson and John Boyega, who won the 2016 BAFTA Rising Star Award.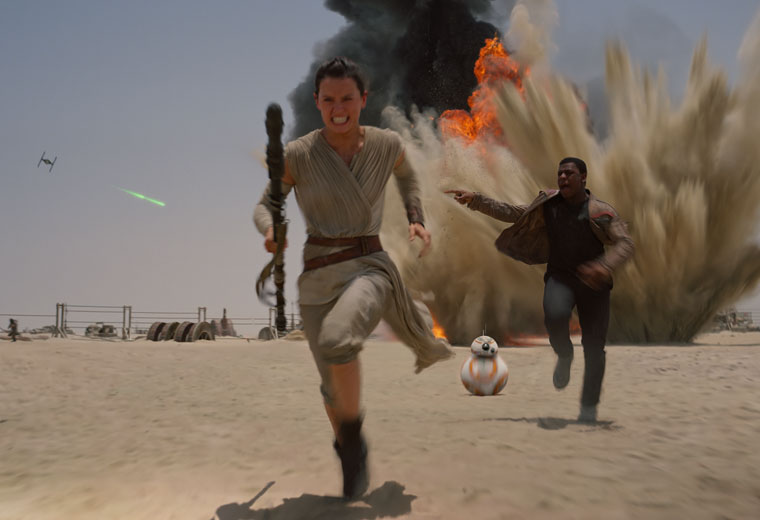 At its heart, Star Wars: Episode VII – The Force Awakens is a good old fashioned adventure story full of daring deeds, mind-blowing action sequences and witty one liners. Even the most hardened film critics have gushed over what a triumph it is. It brims with infectious energy and affectionate nods to Star Wars mythology. Fans of the original films will be flooded with nostalgia as soon as those familiar yellow letters start scrolling through the starry backdrop of outer space. With the bar set so high by Episode VII, Episode VIII has much to live up to.
Star Wars: The Force Awakens is available to rent now on Virgin Movies via your Virgin Media set top box. Press Home on your remote, then On Demand > Movies.
Star Wars: The Force Awakens trivia
While filming, 73 year old Harrison Ford broke his ankle on the door of the Millennium Falcon, forcing production to halt while Ford recovered. The Star Wars production company is now being prosecuted for health and safety breaches.
George Lucas likened the experience of watching The Force Awakens to attending an ex-wife's wedding.

Michael Fassbender and Hugo Weaving were considered for the role eventually taken by Adam Driver.
Legendary composer John Williams received his 50th Oscar nomination for his score for Episode VII.

Steven Spielberg enjoyed the film so much he saw it three times before it was even released.
Star Wars: Episode VIII is scheduled for release on 15 December 2017 with Rian Johnson, director of Brick, The Brothers Bloom and Looper at the helm.

The director of Jurassic World, Colin Trevorrow, is set to direct Star Wars: Episode IX, due to be released in May 2019 (sadly on May 23rd not May 4th).
Watch hundreds of films including the latest home entertainment releases on Virgin Movies via your Virgin Media set top box. Simply press Home on your remote, then On Demand > Movies. And may the Force be with you!