1. Baby Mowgli and tiny wolves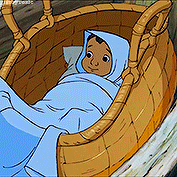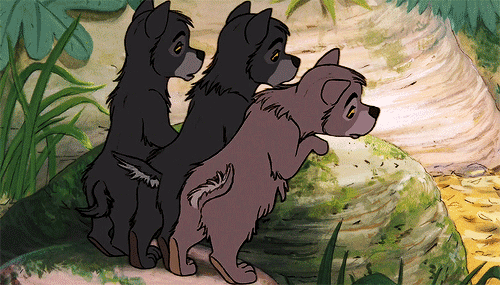 Cuteness alert! The film starts off with Bagheera finding baby Mowgli abandoned in the middle of the jungle. And just like Baghee (Baloo's nickname for the panther), we're also entranced by this little bundle. And if the sight of Mowgli is not enough to melt your heart, there's the adorable wolf cubs as well. Even the stoic Bagheera smiles watching Mowgli's adoptive family welcoming him into their fold.
2. Mowgli's encounter with Kaa the snake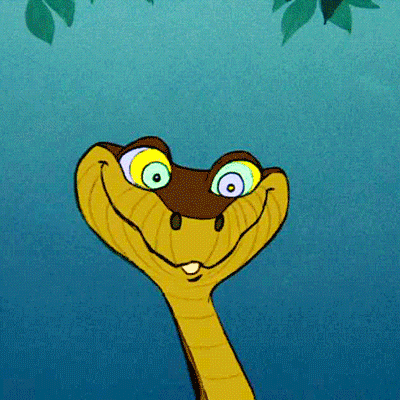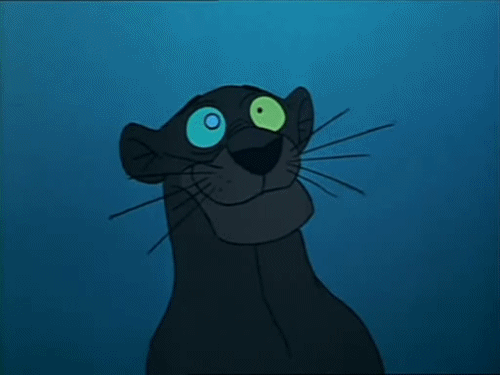 The wolf council has spoken: Mowgli is no longer safe in the jungle. Bagheera is tasked with taking him to the nearest 'man-village'. On the first step of their journey, we meet Kaa the snake, his slithering words, and his devilish power of hypnosis. Are the hypnotic eyes hilarious? Yes. Can we stop watching Bagheera and Mowgli making those silly sleepy smiles? Afraid not. The scene ends on a high note when the indignant Kaa walks off huffing and puffing with a knot in his tail.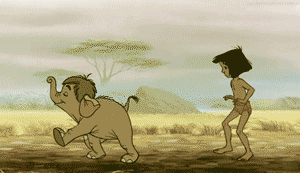 We're not sure why the elephant jungle patrol is marching, but here they go - and at their head is the unforgettable Colonel Hathi. It's the film's first song, and it's no wonder that Mowgli joins the ranks - we would have too, with that awesome rhythm. Meanwhile, the Col. is a fun spoof of a pompous British general. Just listen to him mumble away under his trunk.
4. Baloo Teaches Mowgli how to fight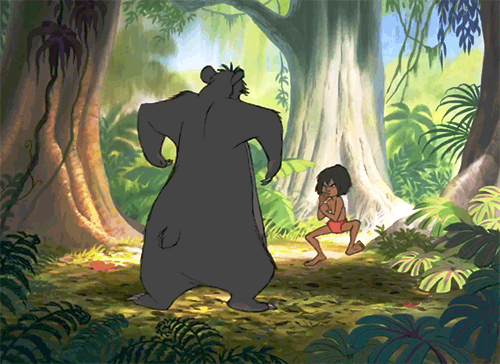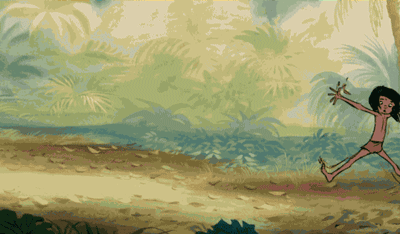 Let's first say that Baloo is by far our favourite character. What's not to love about his affectionate and easy-going attitude? When he and Mowgli first meet, he takes it upon himself to teach him how to fight. It starts with harmless enough punches and roars, but when the bear sends Mowgli cartwheeling across the clearing, it's a bit odd. You probably wouldn't see this in kids' movies these days (health & safety and all), but hey, Mowgli picks himself back up all right.
5. The Bare Necessities' surprisingly modern message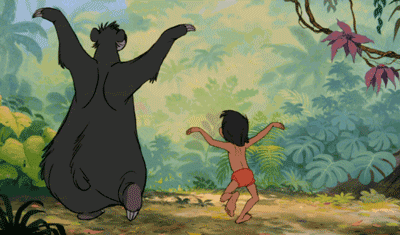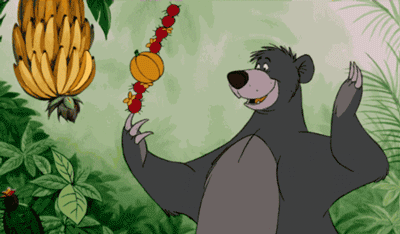 Who said that minimalism was a new fad? Baloo had it all figured out way back then. Bare Necessities says that you only need a very few things and a relaxed attitude, to be happy. Anything beyond is too much worry! We love the message, but perhaps Baloo takes it too much to heart… at the end of his song, Mowgli gets stolen away by a group of monkeys while the bear micro naps.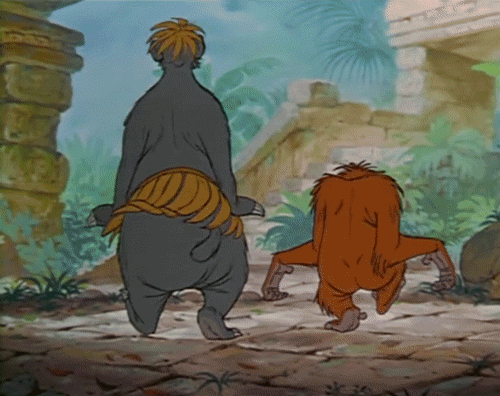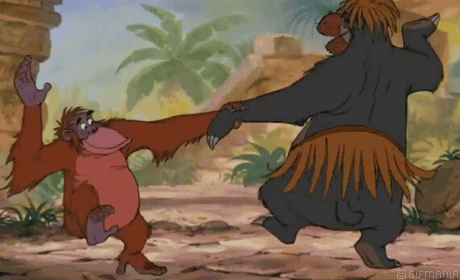 King Louie's got a great beat. In his scene, we're so caught up by the music that it's difficult to find him sinister - although his intentions surely are, if he wants to get his hands on fire. What does he plan to do with it? And what will he do to Mowgli when he finds out that our hero can't help him?
We also love the moment when Baloo, spying on the scene with Bagheera, loses himself so much to the song that he steps in, impromptu. His costume, though, is terrible - and it's all the weirder that the monkeys fall for it.
7. Shere Khan's beautiful, beautiful voice
Say all you like about the villain tiger Shere Khan, but he's got a gorgeous voice (courtesy of George Sanders). Boy are we tempted to swap sides when we first hear his charmingly deep tones. Here, he eavesdrops on the elephants and Bagheera, who are looking for Mowgli. It's also this magnetism that makes him threatening: under his mask of mock politeness, he hides a capacity for ruthless violence.
8. The Beatles and their barbershop quartet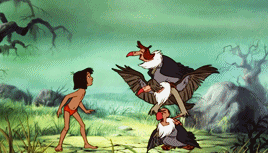 Did you know that The Beatles inspired the vulture characters? Initially, the band were meant to voice them. Just imagine how amazing that would have been. Unfortunately, it was not to be, but there's still the reference to enjoy. Also, each of the birds of prey have awesome Liverpudlian-like accents. On discovering that Mowgli is alone, they decide to adopt him into their group - and sing him a swell song about friendship as a welcome.
9. Mowgli Leaving The Jungle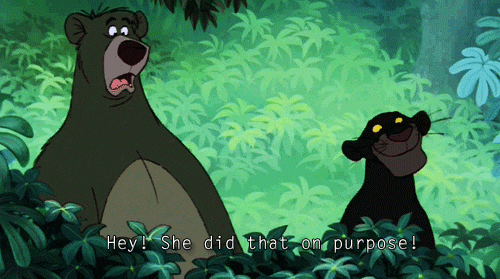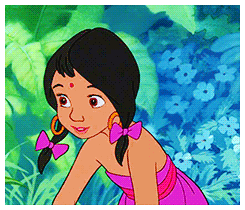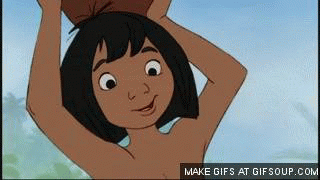 Shere Kahn is no longer a threat. But when Mowgli stumbles on the man-village and sees Shanti, he's drawn in. The whole moment is a little bizarre: Shanti drops her vase on purpose, prompting Mowgli to fill it again with water and follow her. It's all a bit silly, and like Baloo, we're tempted to feel betrayed by Mowgli's choice. But deep down, we know that the annoyingly wise Bagheera is right - Mowgli is now where he belongs.
10. Baloo and Bagheera dancing away into the sunset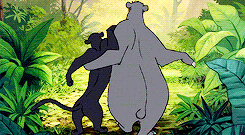 Seeing the two reconcile at the end could just be the film's best moment. Baghee had spent the film griping about Baloo's laid-back and irresponsible ways. Knowing that the two remain friends after Mowgli's departure, and that the panther finally relaxes and gets into the groove, is a perfect ending. And it's all on the background of a 'Bare Necessities' reprise. We simply dare you not to dance along.