1. Independence Day (1996)
The film that sealed Will Smith's leading man status. Independence Day was an instant classic that still holds strong - a good bet if you want to pump up a rainy Wednesday evening. Smith's charm as our resident hero, Bill Pullman's everyman's President and Jeff Goldblum as the resident genius, defeated the aliens by infamously using a laptop to hack their technology. Remember, the year was 1996 and laptops were a lot different to what they have evolved to now.
When Cloverfield was released in 2008 it was a sort of revelation. Presented as found footage from a hand-held camera, the film defiantly avoids all of the pitfalls of a gimmick. Instead, it brilliantly conveys terror while keeping the mythical monsters shrouded in mystery and delivering the chills. The casting of the film is strategic and creative as T.J.Miller, an established comedian, is our main cameraman and commentator, delivering lines that will crack you up even as you're sweating in your seat.
3. War Of The Worlds (2005)
First of all, Steven Spielberg directs this film. Secondly, it stars Tom Cruise serving up his best every-man-Joe depiction of an estranged, hardworking father in the middle of an alien war. Cruise's performance is phenomenal as he struggles to protect his children from the alien warfare while facing every possible human reaction to a war. Bonus: Morgan Freeman narrates and Tim Robbins has a nuanced role, with the memorable line, "Dead set on living." Amen to that.
Knowing is the kind of film that Nicolas Cage is now infamous for. The creepy scrawling of a little girl is unearthed in a time capsule and predicts every disaster that has occurred since the capsule's burial. As fate would have it, it falls in the hands of an MIT professor, proficient enough in numbers to discover their real meaning. But will he have enough time to try to prevent the inevitable doom of the planet?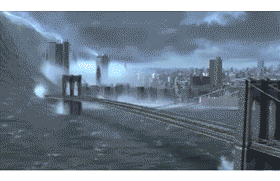 Another hurling threat from space that Earth has to worry about: destructive comets on a collision course. This 1998 gem touches upon the "who is worthy to board the arc" issue, or in this case, descend into a cave. With stress levels reaching maximum velocity, survival becomes the equivalent of winning the lottery. What with scientific stories popping up every so often to predict deadly comets, this film will have you petitioning for NASA funding to increase. And maybe look into hiring Robert Duvall.
6. The Day After Tomorrow (2004)
The inconvenient truth of the end of the world at the hands of Mother Nature becomes a lot more urgent with Roland Emmerich's impressive visual effects of cities obliterated by climate change. Dennis Quaid is the paleoclimatologist (try saying that three times fast) with a critical message, and baby-faced Jake Gyllenhaal is his son stranded in the new Ice Age that took hold of the earth because humanity is too careless with natural resources. By the end, the irony of the situation is admitted to, as first world citizens flee to the third world for salvation.
The Mayan calendar pinpointed the end happening in 2012, prompting epic last-day-on-earth parties and of course a whopping film. The film starts with the end of the world just as the Mayans predicted and the premise is set by jaw-dropping visuals. Emmerich successfully made yet again, a compact two and a half hour film with probably one of the strongest casts in such a production, from John Cusack, Danny Glover and Tom Platt to Chiwetel Ejiofor, Thandie Newton and Woody Harrelson.
This is the film that revived the undead in cinemas. Danny Boyle introduces zombies as victims, deranged by a mysterious virus and unconventionally able to move at high speeds. Jim wakes up from a coma to find that the world had changed in 28 days. The images of a perished London are little masterpieces of harrowing proportions and as a small group of survivors struggle against these super-hungry super-zombies, your heart will pound non-stop in your chest.
Whether or not you were a fan of the horror novel, this is a film that you can't help but be captivated by - and not just because the most handsome man in the world is the lead. Once again, the spread of a virus turns patients into brain-hungry zombies - and these zombies are of the Danny Boyle School of high-speed capabilities. It is a tremendous production, despite countless alleged problems during filming, all of which did not deter it from serving up breath-taking results.
6. Seeking A Friend For The End Of The World (2012)
For the eternal and hopeless romantic, survival may not be the goal but rather, a way to make the end meaningful. Steve Carell at his melancholic best and Keira Knightley as the manic pixie dream girl, unite to show us that just because the world is ending, doesn't mean your world can't be changed for the better. With delicious appearances from Amy Schumer, Connie Britton, T.J.Hall and many others, the vulnerability of these people coming to terms with the absolute end, is infectious and indeed a form of salvation.