Michael Keaton as Batman in Batman (1989)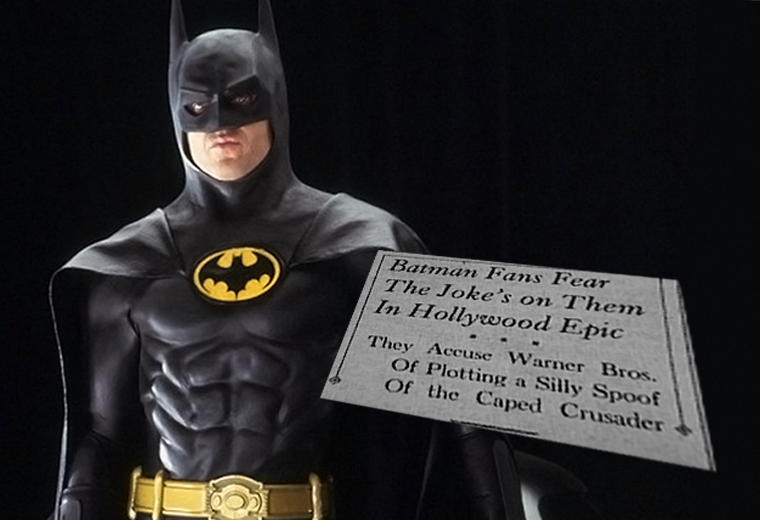 How could Batfans massively overreact in the days before the internet? With a good old-fashioned writing campaign of course. The object of their ballpoint crusade? Michael Keaton, fearing that Tim Burton's casting of the comedian meant a throwback to the campy ker-powing 60s TV show. Warner Brothers and DC Comics were inundated with 50,000 complaints, with the uproar hitting the national news. On the PR back foot, they released an emergency teaser trailer – duly turning Tequila Sunrise into an unexpected hit – that showed Keaton giving it the full moody cowl. Wait 'till they get a load of him…
Jennifer Lawrence as Katniss Everdeen in The Hunger Games (2013)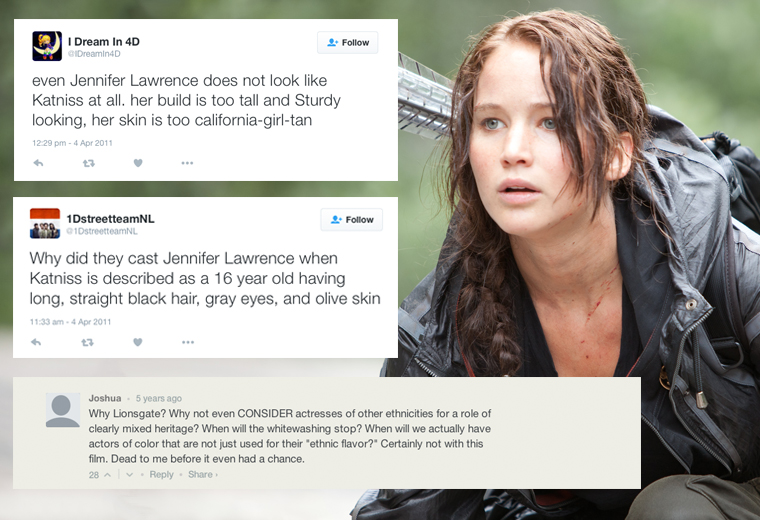 Olive skin. Dark hair. Grey eyes. Admittedly, this doesn't sound much like Jennifer Lawrence, which explains why fans of Suzanne Collins' books cried 'whitewash' when it was announced that the actress would be becoming the Mockingjay of roughneck District 12 – they obviously hadn't caught Lawrence's phenomenal performance in the similarly coal-smeared Winter's Bone. Instead, by the time JLaw had clearly bullseyed the role like Katniss with an arrow, Twitter had moved on to moan that they'd cast African-Americans in other key roles.
Hugh Jackman as Logan in X-Men (2000)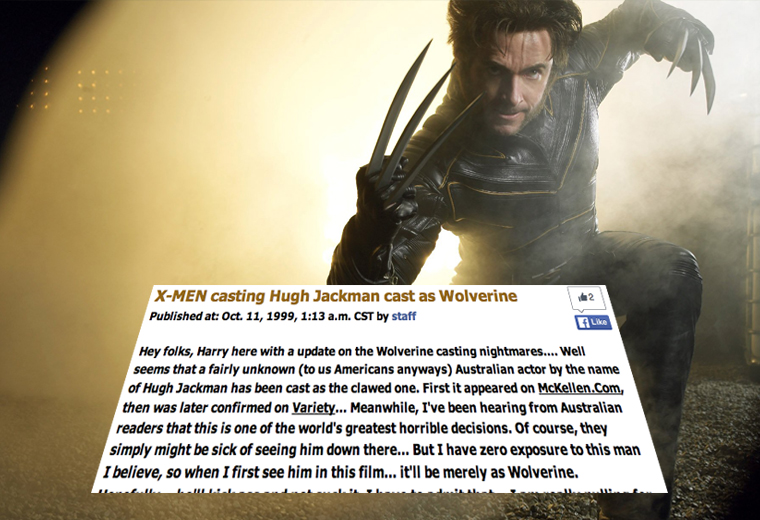 More like 'Who Jackman'? X-Men fans were already nonplussed by the on going casting clusterfuddle that meant that this key role hadn't been filled a month into filming, so they were ready to go full berserker rage when they discovered that one of the most beloved – and legendarily stocky - superheroes was being played by a 6.1ft nobody who was best known for prancing and warbling in musical theatre. Surely he couldn't play the adamantium hard icon? Thankfully Hugh Jackman, with the aid of daily ice-cold showers to help 'get him in the mutant mood', proved to have real claws.
Tom Cruise as Lestat in Interview With The Vampire (1995)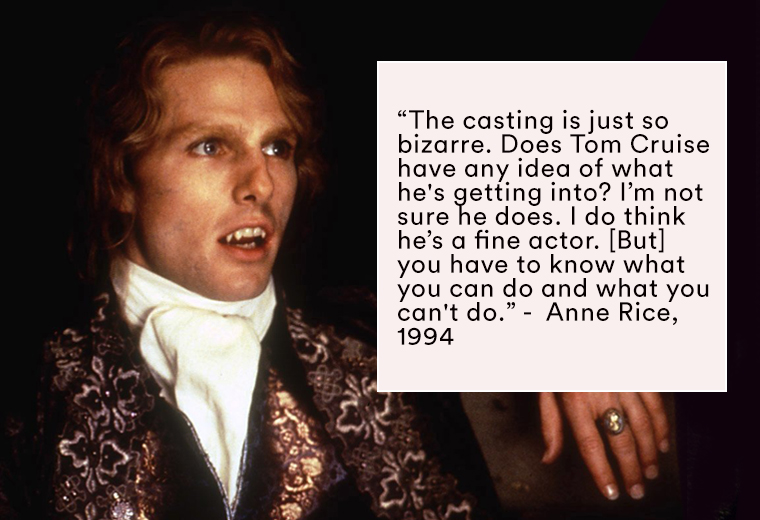 It's tough enough when you've got to please a sceptical fan base, but it's a total PR disaster when you've even got the character's creator throwing a bucket-load of shade on you. "Tom Cruise is no more my Vampire Lestat than Edward G Robinson is Rhett Butler," declared Anne Rice, getting the expensive, risky movie's production off to a warm, jolly start. By the time of Vampire's release, she'd undergone a timely, convenient and splendidly grovelly u-turn, even taking out a whole page ad out in Variety to announce it. "From the moment he appeared, Tom Cruise was Lestat for me…"
Heath Ledger as The Joker in The Dark Knight (2008)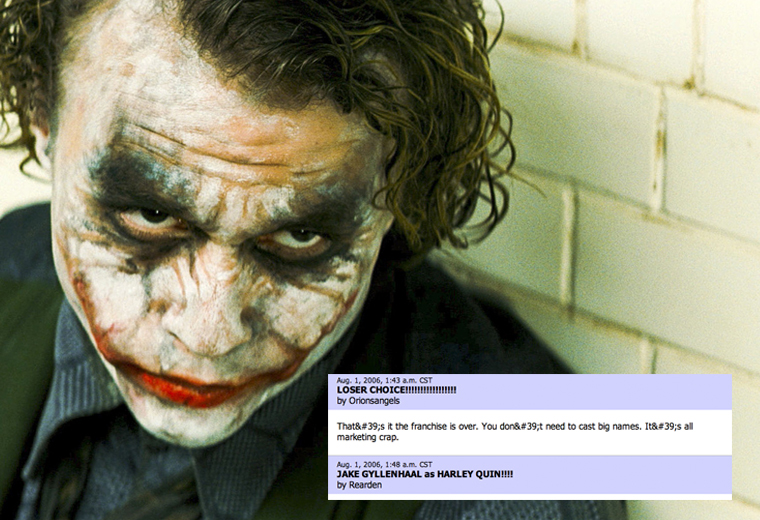 Why so serious? If Christopher Nolan wanted to understand what civilized people descending into chaos looked like for The Dark Knight, he certainly got a ringside seat of it when he announced that Heath Ledger would be his new Joker. The brave keyboard warriors went fully nuclear, outraged that the heartthrob was playing the clown prince of crime – the fact that he'd just earned plaudits aplenty for Brokeback Mountain only meant the below-the-line abuse had a nasty homophobic tang to it. Tragically, the actor's untimely death meant that he didn't get the chance to laugh last, loudest and longest.
Robert Pattinson as Edward Cullen in Twilight (2008)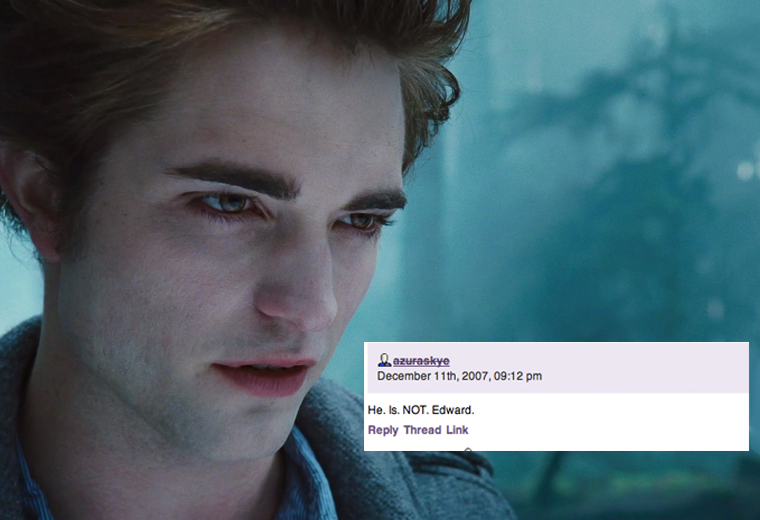 As written, Twilight's central hunk was the ultimate teen BF, the perfect misunderstood outsider with the soul of a poet, looks of a romantic idol and be-calming self-knowledge of a 100-year-old man, which isn't at all creepy. But actually casting the Cullen involved taking a Robert Pattinson-shaped pin to the dreamy bubble that Twilight's legion of readers had inflated around their hero, and their reaction was deflating for the actor to say the least. The fans certainly came around to RPatz as Edward – and how – though the actor certainly gives the impression now that he really wishes they hadn't.
Daniel Craig as James Bond in Casino Royale (2006)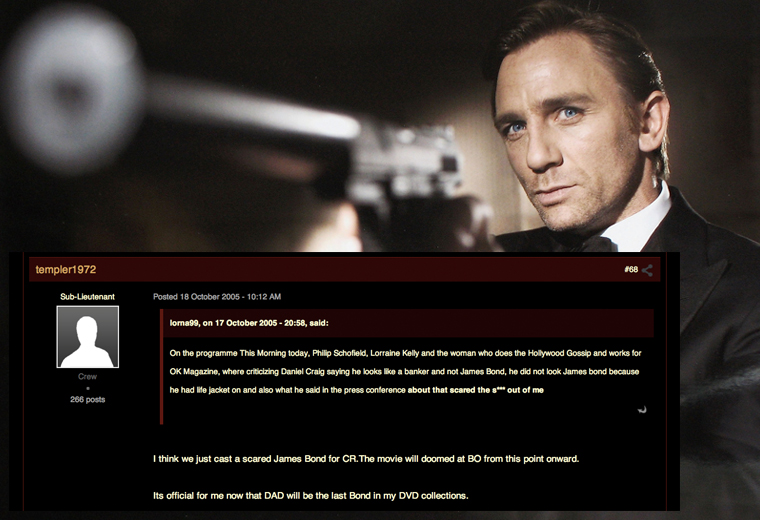 There's 'making an entrance' and there's making an entrance. Sadly, Daniel Craig's pubic unveiling as 007 was neither. 'James Blond' had already caught some short-arsed, follicle-related flack but when he was speedboated over the Thames to meet the press, they only cared about one detail. Thanks to health and safety rules, the pinnacle of British manliness had bowled in wearing a life-jacket, thereby earning himself a year of sniping coverage both below the line – a protest website Daniel Craig is not Bond was launched – and in the vicious tabloid press... all until the opening sequence of Casino Royale happily drowned all the negative voices.
Michael B Jordan as Johnny Storm in Fantastic Four (2015)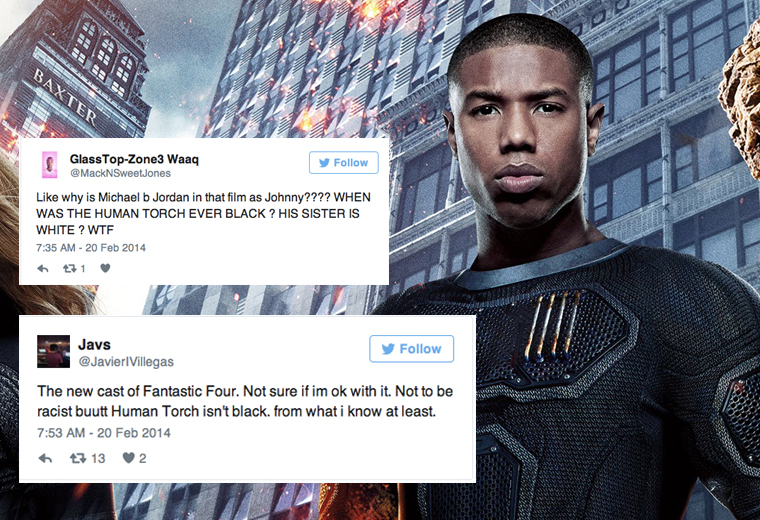 OK, the FF reboot didn't exactly Flame On at the box office but the canny casting of rising star Michael B Jordan as The Human Torch was certainly its hottest move. However, the future Creed discovered it was Clobbering Time below the line as the fans of the Baxter-bunch wailed that the African-American Jordan was playing the usually blond-haired, blue-eyed Storm – turning "I'm not racist, but..." into a terrible Twitter mantra – clutching the original comics to their heaving chest as though it was the Bible. Like there couldn't possibly be an African-American Spider-Man, or a female Thor…. Oh.
Renée Zellweger as Bridget Jones in Bridget Jones's Diary (2000)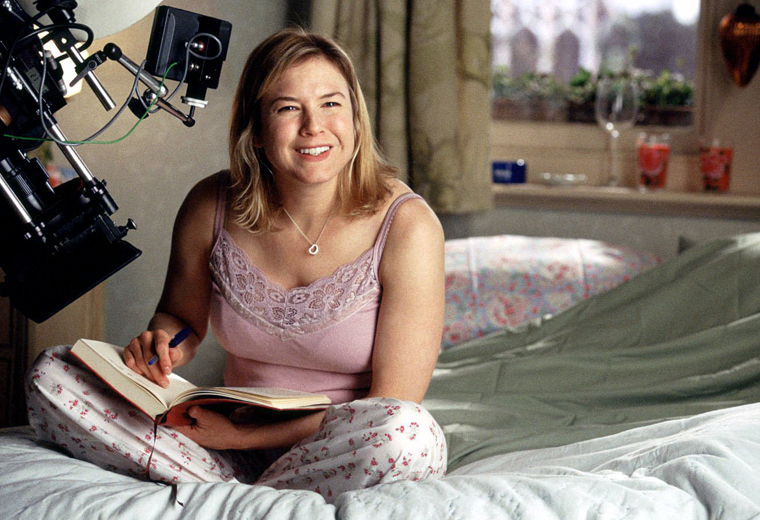 "Of all the clunking Hollywood idiocy," moaned the Evening Standard. "Casting Bridget as a young and perfect thing is like remaking The Elephant Man with Jude Law." If you'd judged by the media outrage when they cast an American in the role of Helen Fielding's hapless British icon, you'd have thought Renée Zellweger had personally broken into the Buckingham Palace and pebbledashed the Queen's toilet. Instead, Zellweger kept calm and carried on, nailing the accent, the cellulite and the shambling to winning effect: we liked her very much as she was.
Tom Cruise (again) as Jack Reacher in Jack Reacher (2012)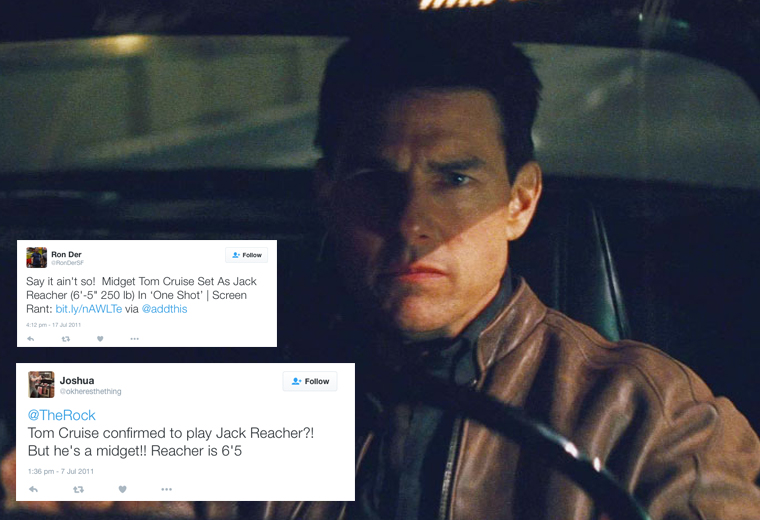 Tom Cruise is notorious for a few things: doing his own stunts, being a Scientologist and being popular with his lawyer. The Cruiser is also famously very, very, very not tall, which made him taking the role of Jack Reacher – who's legendarily a 6.5ft man mountain – a bit of a tall order for perplexed fans. But while Cruise may be unfamiliar with the supermarket top shelf, the haters hadn't counted on that famously giant superstar charisma: small actor, big performance.
Jack Reacher is available now on Netflix