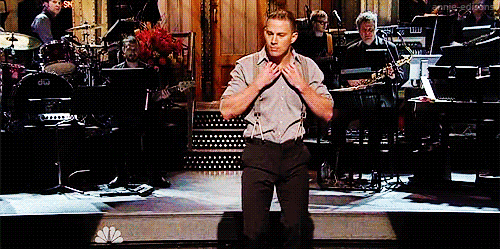 In more exciting news, we also hear that his 22 Jump Street co-star Jillian Bell will be taking over the Tom Hanks role. We CANNOT wait. The new Splash will be just the latest in gender-flipped reboots, following Paul Feig's all-girl Ghostbuster's earlier this year. But why stop there? We've come up with seven gender-reversed movie reboots that switch the chromosomes of both genders with interesting results.
The Godmother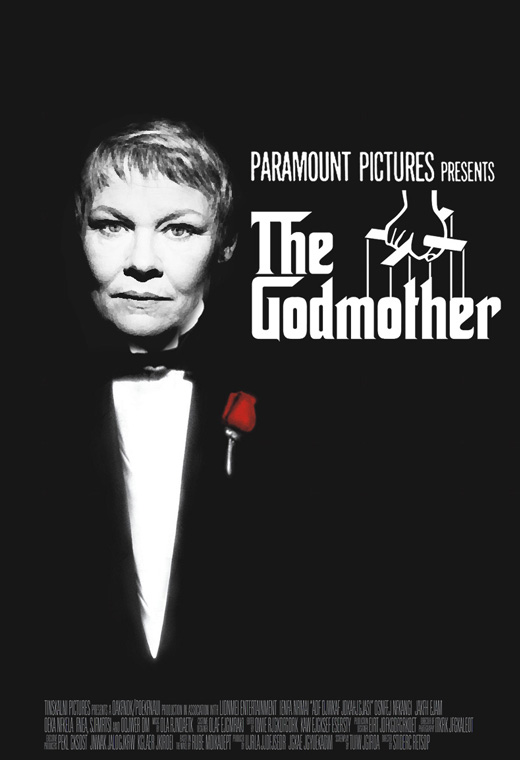 You thought the mafia got results when men ran it? Say hello to a really organised crime syndicate. Donna Corleone (Judi Dench) is the Godmother of America's most notorious family, with daughter Michelle Corleone (Emily Blunt) tasked with running the day-to-day affairs of the business. As we know, hell hath no fury like a woman scorned: the Corleone girls stop at nothing to get what they want, although they do respect horses and their heads more than their male counterparts.
Sample dialogue: "I'm going to bake him a muffin he can't refuse."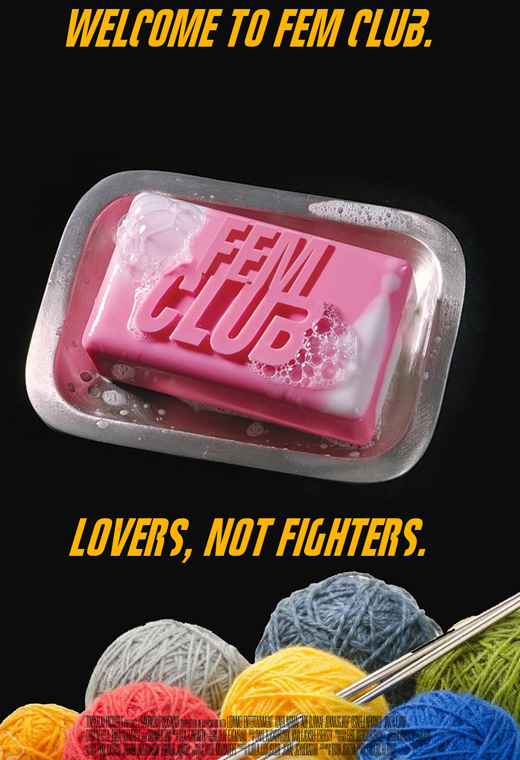 Deep underground, away from the accusatory eyes of society, disillusioned young women find a way to express their rampant femininity – not by fighting each other like idiotic, testosterone-fuelled dudes, but by fostering a supportive atmosphere of sisterhood. Activities include bare-knuckle sewing, hardcore back-slapping and making cute little scented bars of soap. The first rule of Fem Club is: have fun, girls! We all face an uphill struggle in today's patriarchy so let's club together as one!
Sample dialogue: "I want you to knit me... a scarf if you can."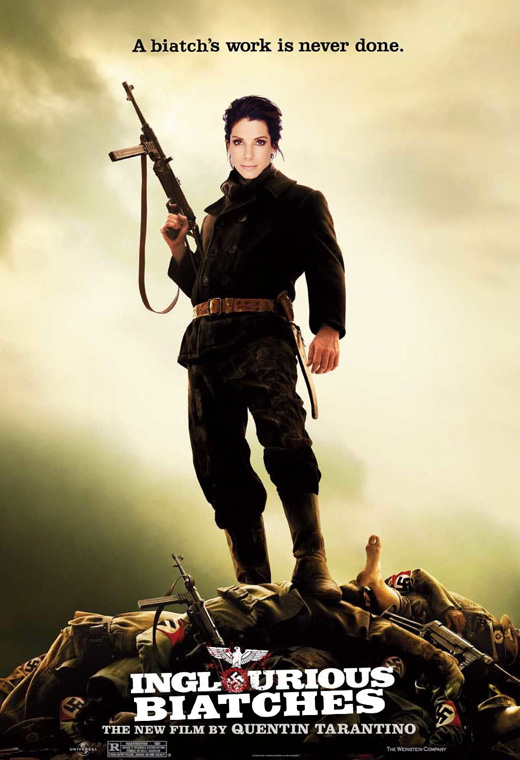 In an alternate-universe World War II, where Adele Hitler's forces still occupy strongholds throughout Europe, a band of ragtag female mercenaries team up to claim the scalps of the mad dictator's all-girl Nazi army. First in line to pick off the Führ-her is Lt Alba Raine (Sandra Bullock), who – along with her colourfully-named crew of 'Biatches' – must first contend with the fearsome Colonel Helen Landa (Meryl Streep), also known as The Jewess Hunter. Quentin Tarantino directs, so the Biatches all wear bare feet.
Sample dialogue: "Say goodbye to your Nazi boobs!"
PredatHer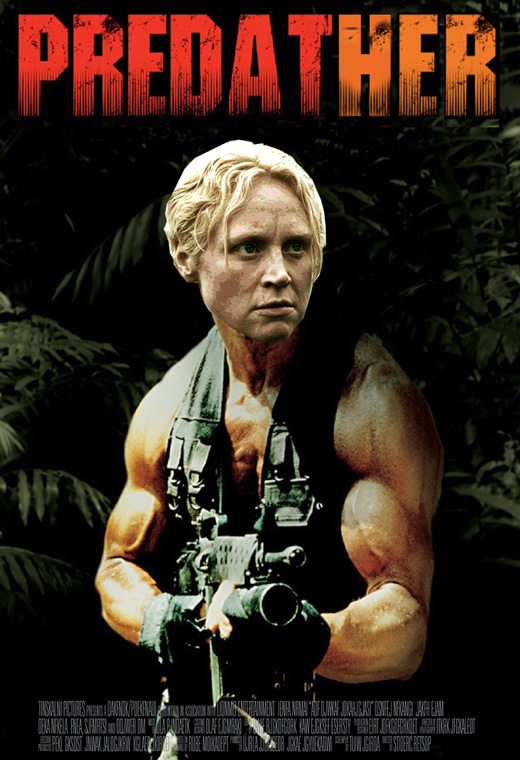 A group of badass female soldiers band together deep in the South American jungle to fight the ultimate alien: the PredatHer. Dutchess (Gwendoline Christie) leads her all-girl crew – including Michelle Rodriguez, Gal Gadot, Lupita Nyong'o and Jessica Chastain – into jungle warfare with the extra-terrestrial hunter, which wears fetching braids and has a gaping mouth many will compare to male genitalia. This is just the first movie in Christie's effort to remake all Arnie films: movies coming soon include The TerminatHer, ErasHer and Total Shecall.
Sample dialogue: "Dillon! You daughter of a b**tard!"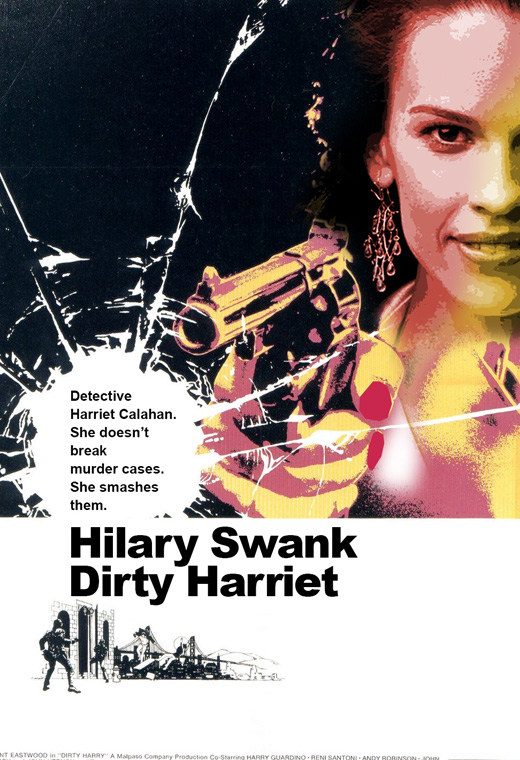 How badly is cinema crying out for a badass lady cop? Too long have the women of San Francisco had to uphold the law from behind a desk at the precinct. Not with Dirty Harriet in town (Hilary Swank, herself not unaccustomed to playing a man's role, plays the lead). A tough, no-nonsense cop who doesn't care how many rules (or legs) she breaks, Harriet must track down a psychopathic killer, and she does it without any macho posturing or gravel-voiced proclamations.
Sample dialogue: "I know what you're thinking. Did she fire six shots or only five? That's the problem with you men: you never LISTEN."
Mean Boys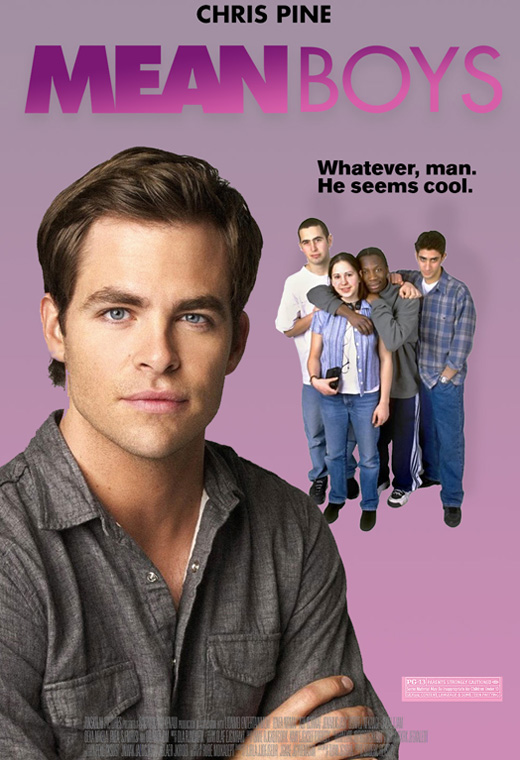 High school teen comedy about a new boy in school Brady (Chris Pine) who has absolutely no problem fitting in with the cool clique because he's good-looking and athletic and boys really don't care about how they choose their friends or waste any time talking behind each other's backs or worrying about how they're perceived because as long as the guy likes football, has cool trainers and maybe is into Pokemon or Xbox or whatever, he's cool, but at least they can all agree that girls are gross, eww.
Sample dialogue: "Oh my God, Miriam Margolyes! I love your work!"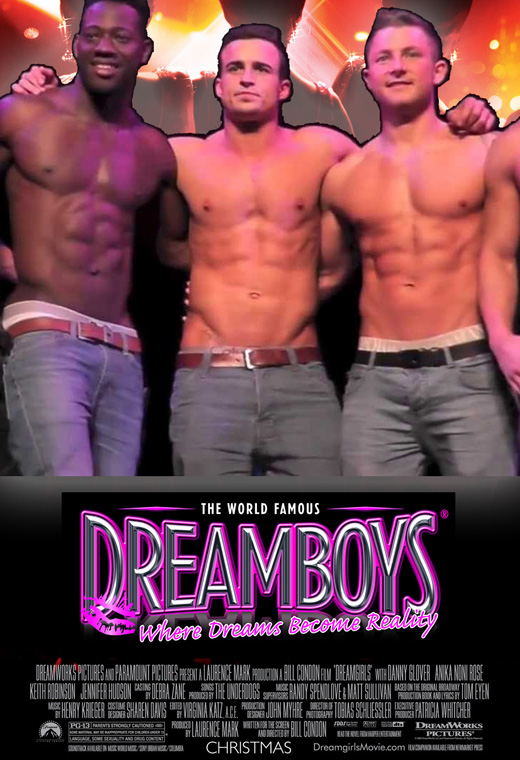 Ill-advised reboot of the 60s-set Motown-era musical extravaganza, gender-flipped and relocated to Staffordshire, with all-girl black soul group the Dreamettes now the white all-male stripper troupe the Dreamboys. Containing triumphs over adversity and pelvic thrusting, think Magic Mike meets The Full Monty, with classic sexy tunes from the likes of The Troggs and Manfred Mann (or Womanfred Womann, if we're to follow this tortured gender gag to completion).
Sample dialogue: "What does R&B stand for? Rough as b..."