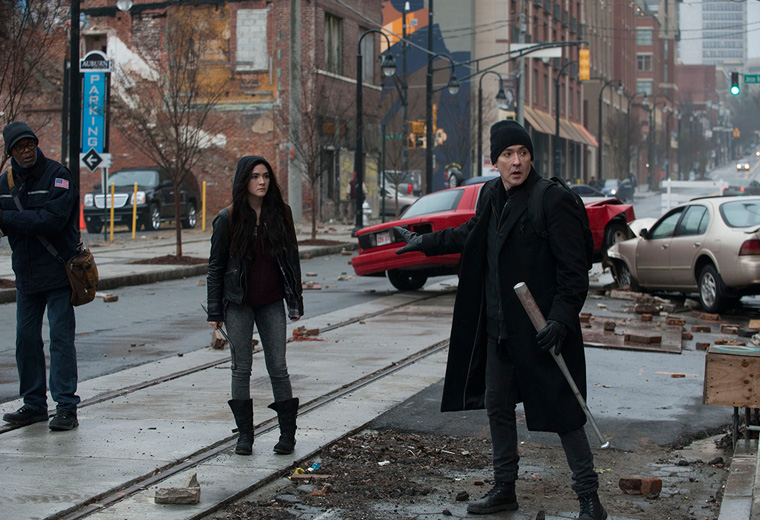 It's a truth universally acknowledged that mobile phones have turned us into zombies of the not-looking-where-we're-going, slightly-dazed variety. Cell takes this idea rather literally. The film is all about an attack via a network signal that actually transforms people into murderous revenants after they've used their mobile. The undead also have access to whatever information was available on people's phones, and in the bargain also develop the capacity to eerily imitate voices. Who knew that Whatsapping could be so risky?
Best line: "Don't use your cell phone!"
Cell is available on Virgin Movies the same time as cinemas on Friday 26th August. To watch, press Home on your Virgin Media remote, then On Demand > Movies.
2. Night of the Lepus (1972)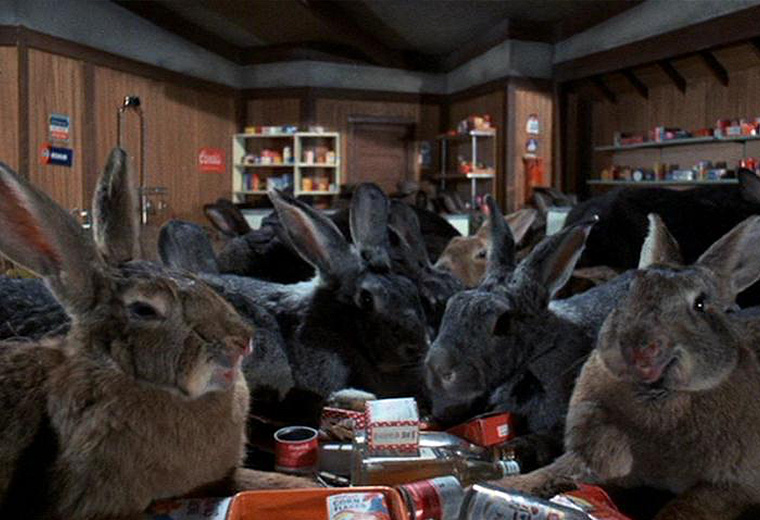 This title sounds serious enough, you might think. A Lepus could refer to a scary mythical creature. A terrifying ghost. A type of zombie. Anything. Well, we're sorry to disappoint (but not really). This film is about a small town in Arizona which finds itself under attack from… rabbits. Well, mutant carnivorous rabbits, but still. The evil creatures hopping to action might be the funniest thing we've seen in a while.
Best line: "Attention! Attention! Ladies and gentlemen, attention! There is a herd of killer rabbits headed this way and we desperately need your help!"
3. Snakes On A Plane (2006)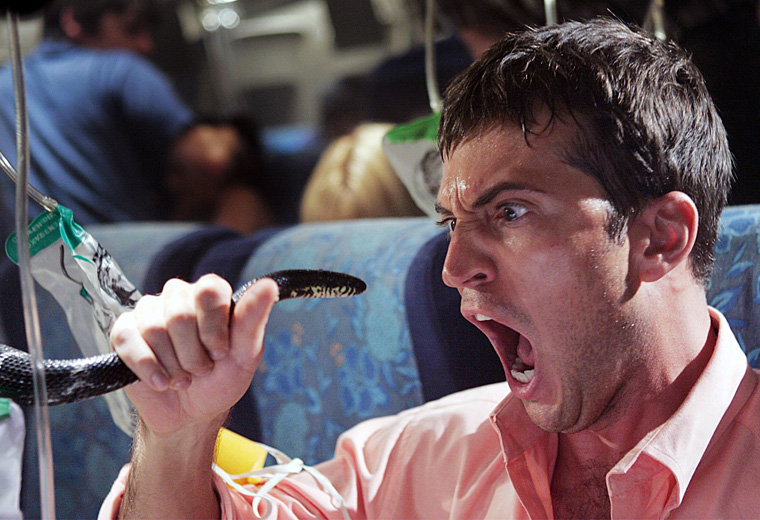 There's something we really admire about this movie: it does what it says on the tin. We are promised snakes on a plane, and snakes on a plane is what we get. The reptiles are all part of an elaborate plan to kill a trial witness who is a passenger on the flight. You would have thought the assassins could have come up with something simpler than releasing a bunch of these creatures 30,000 feet in the air - but hey, maybe they were aiming to be original as well as deadly.
Best line: "Why exactly are there snakes on this plane?"
4. Maximum Overdrive (1986)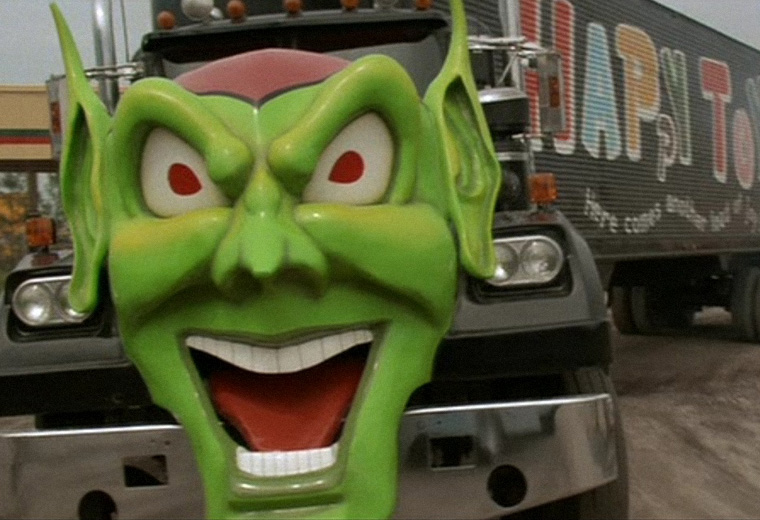 Stephen King's first and last directorial effort is quite something. Earth passes through the tail of a comet, and as a result, machines come to life, all with a murderous intent. (It ends up having something to do with aliens wanting to take over the Earth. Don't ask). ATMs turn rude, while lawnmowers, hairdryers, radios and vending machines run amok gruesomely killing hapless citizens. And to top it all off, trucks unite in a pack, running over their former masters. Their leader? A lorry conveniently decorated with the face of a Green Goblin. Watch this and you'll never look at your electric toothbrush the same way again.
Best line: "You can't! WE MADE YOU!"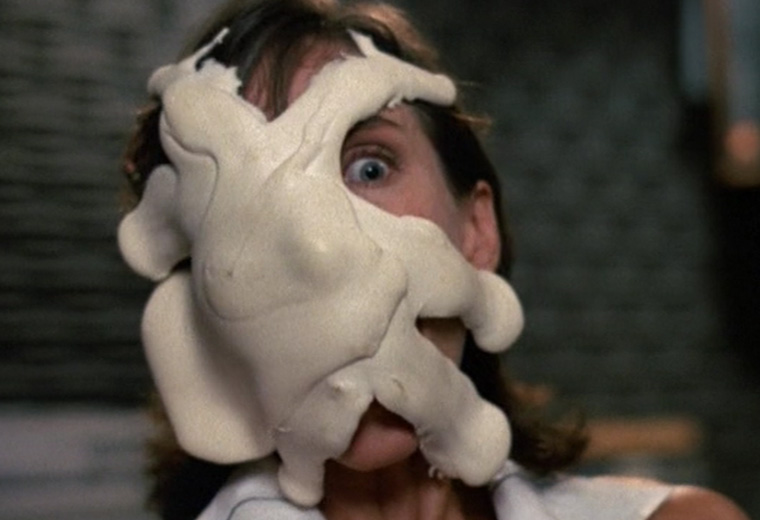 This is perhaps the only horror movie we've ever heard of in which the villain principally dwells in the fridge. The Stuff, a substance that looks and tastes a lot like yogurt or ice cream, is discovered in the wild. It's soon commercialised and becomes a sell-out product. Little do people know that 'the stuff' is in fact addictive, and alive: it contains a parasitical organism that eats people up from the inside. A representative from the ice-cream/junk food lobby (we kid you not - the business is upset about their sales being undercut) teams up with a kid and an advertising executive to rid the earth of the product. Look out for lots of shots of bubbling liquid looking threatening and people writhing on the ground holding yogurt pots.
Best line: "Are you eating it or is it eating you?"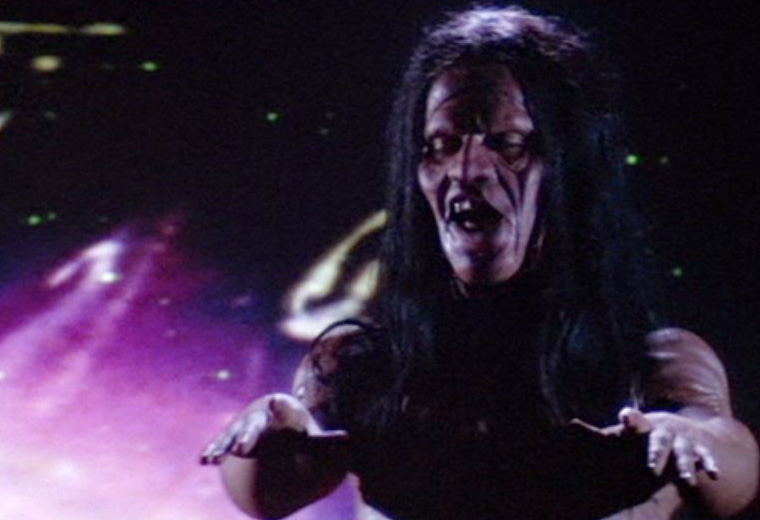 The Manitou is both gross and entirely, utterly wacky. Karen, a young woman, notices a growth on the back of her neck. It turns out to be some sort of foetus, which in fact hosts the spirit of Native American shaman Misquamacus. The shaman is attempting to come back to life to wreak revenge on anyone ethnically white as payback for the invasion of North America several hundred years ago. Meanwhile, Karen's boyfriend, who just happens to be a psychic, tries to invoke other spirits to stop the shaman's plans.
Best line: "Normally I wait three risings of the sun before I take on a job."
7. The Happening (2008)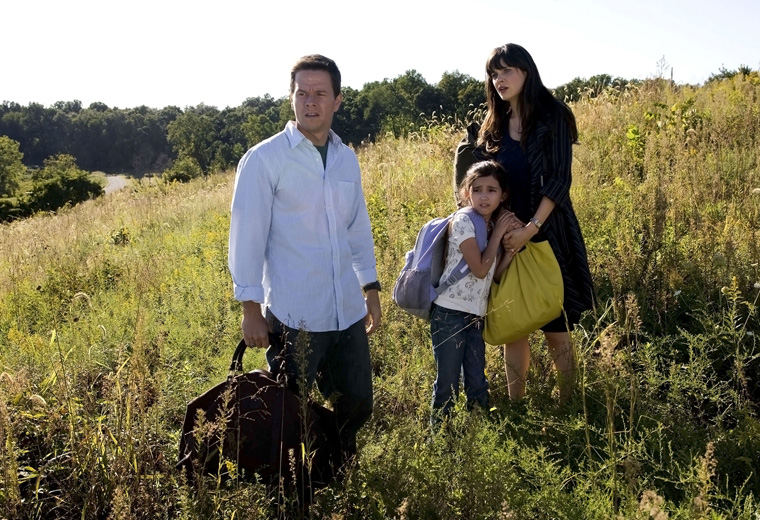 All across the world, people start committing mass suicides. Creepy, right? Unfortunately, it all goes wrong from here on in for The Happening. As it turns out, the suicides are provoked by neurotoxins released by plants. Yup, our green, oxygen-producing friends are tired of humans messing with the natural world and are fighting back. If that's already sounding not too exciting, you won't be happy to hear that the climax of this film is… leaves and blades of grass rustling in the wind. But at least there's something quite soothing about watching Mark Walhberg and Zooey Deschanel running around pretty fields looking vaguely preoccupied.
Best line: "It's the plants. They can release chemicals."
8. Bubba Ho-Tep (2002)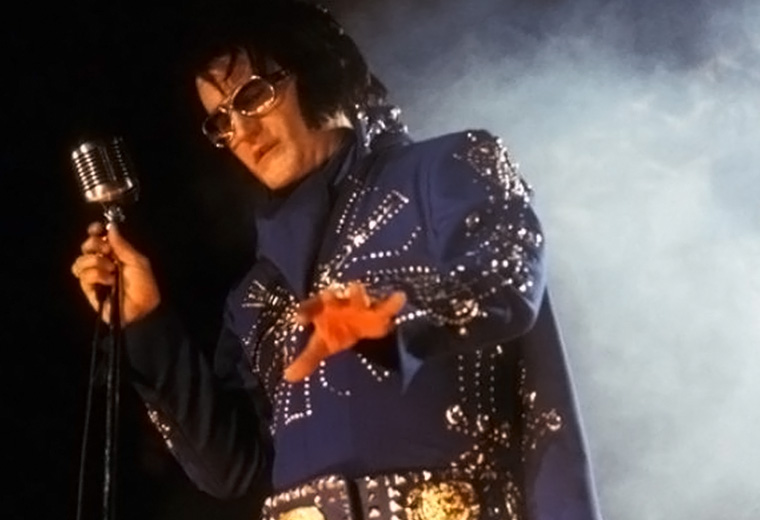 Two BBFs living in a retirement home in East Texas are utterly convinced that they are Elvis Presley and JFK respectively. Rather randomly, when an ancient Egyptian mummy (that inexplicably likes to dress like a cowboy) named Bubba Ho-Tep starts to haunt their residence, it's down to them to defeat it. The mummy, incidentally, happens to be too slow to go after anyone but the elderly. If you're imagining an epic showdown involving a motorised wheelchair and a flame thrower, you're not far off the mark.
Best line: "Ask not what your rest home can do for you. Ask what you can do for your rest home."
9. Leprechaun (1993)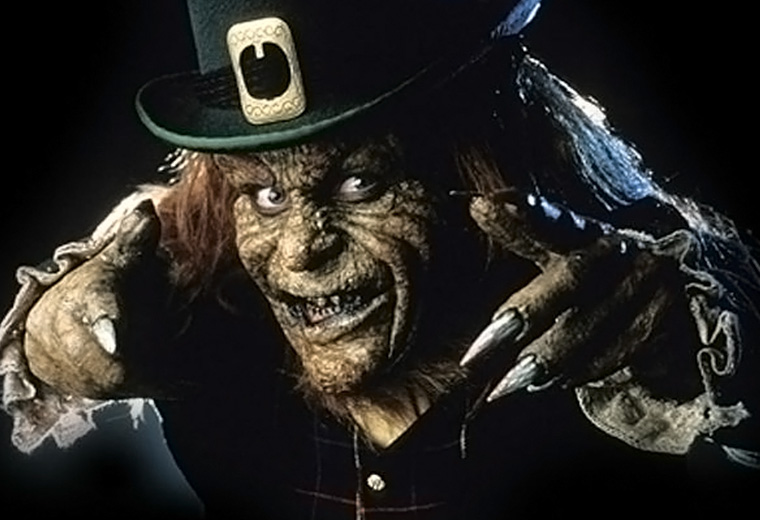 Say hello to your new St Patrick's day favourite. This one tells the story of a leprechaun trapped in a crate in a farmhouse in North Dakota (we'll spare you the long-winded explanation as to why it's there). It manages to escape and promptly starts attacking the house's new residents. The creature is convinced that they've stolen his pot of gold (they have). It's all as silly as it sounds, and the leprechaun has an awful Irish accent to boot. But hey, Jennifer Aniston, who stars in this, hasn't done any horror films since, and it's rather fun to see her prior to her Friends days. And if after watching this you're left wanting more, don't panic - it's got five sequels.
Best line: "We're, like, really scared."
10. From Dusk til Dawn (1996)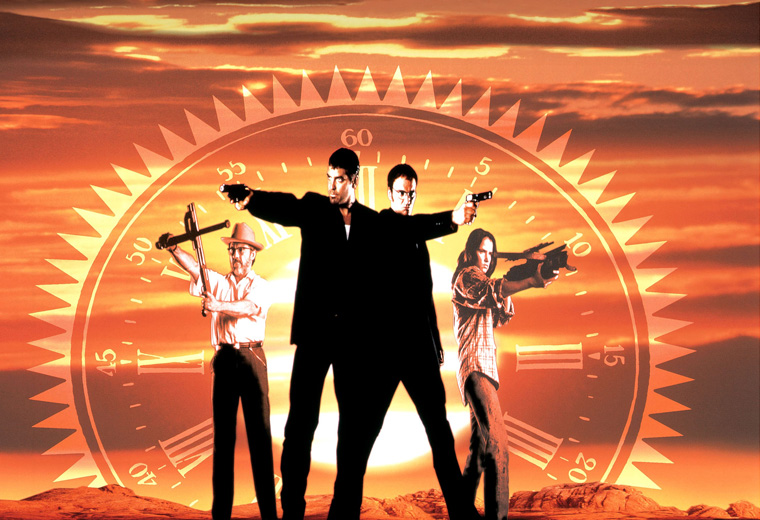 If you haven't yet seen From Dusk til Dawn, you'll wonder how you ever missed this gem. George Clooney and Quentin Tarantino play the Brothers Gecko, who kidnap a pastor and his family and drag them to a strip club. Wacky enough story, you might think. But here's the real twist. All of the establishment's' employees are vampires… The film inspired the TV series by the same name, now available to watch on Netflix.
Best line: "Psychos do not explode when sunlight hits them."
11. Sharknado (2013)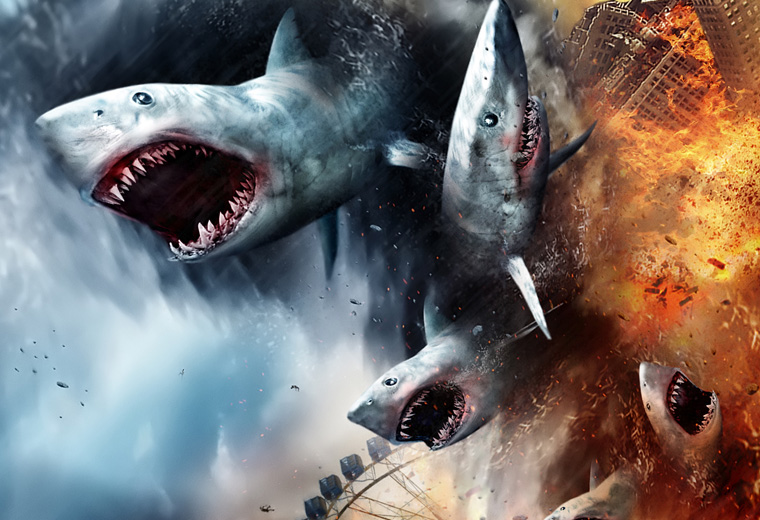 Ah, Sharknado. That great contemporary classic. For the uninitiated, it's all about a mega-cyclone that scoops up sharks in waterspouts and dumps them all over LA, thus leaving the city under attack from the sea predators. Let's just say that thanks to its remarkably absurd plot, Sharknado has given new meaning to the phrase 'it's so good it's bad'. There are three sequels.
Best line: "Now I really hate sharks, too."