I Am Bolt promises to be just the thing if you're dying to know how the world's fastest (and coolest) man became what he is. In celebration of his arrival on Virgin Movies, we took a look at our favourite Bolt moments thus far:
1. This really random Christmas song
Where did this come from? We have no idea, but we love its utter randomness and the sure sign that despite his retirement, Usain is here to stay. In the words of the video: "With the holidays coming up it's time for this gifted man to gift the world of another incredible gifting gift." Hear, hear.
And Bolt is bringing his winning attitude to this new enterprise too. The accompanying comment on his Instagram reads 'Gold. Gold. Gold. Platinum.'
2. That race against Prince Harry
In a visit to Jamaica, Prince Harry foolishly challenged Bolt to a race. We were all set up to see the royal lose… but Harry had thought this through. The Prince jumped the gun and got a head start, leaving a startled Usain behind. We're still giggling, and it's brilliant to see just how sheepish Harry looks after he's crossed the finish line. The two have been challenging each other to a re-match on social media since.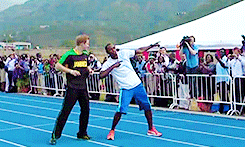 Sadly, James Corden and Owen Wilson decided to race against Bolt by the rules… and got their comeuppance. In this race of Bolt vs. Corden vs. Wilson vs. the whole cast of the Late Late Show, the Olympic champion left everyone biting the dust. The whole clip is hilarious, and we just love watching him taunt Corden after the race.
4. Aaaand against a bus
Bored with racing against boring slow humans, Bolt decided to measure himself against a bus in this event in Bueno Aires. And he also beats it fair and square. The sporting handshake with the bus driver at the end is just a awesomely cute moment.
5. This victory dance
Usain is known for his epic victory dances, but we think this one is by far one of the best. And, to top it all, it's technically accomplished. Honestly, we're not sure we could even do that squat without practising first - let alone just after partaking in a world-class competitive race.
6. The funny faces
Need we say more? Bolt makes the best faces ever. Sports competitions have never been so much fun.
7. Yup, ALL the funny faces
You're welcome.
8. Adopting a cheetah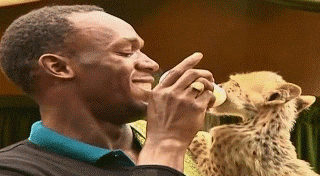 While visiting an animal sanctuary in Kenya, the fastest man in the world decided to adopt one of the fastest animals in the world. He named the baby cheetah Lightning Bolt. Yup, it was a match made in heaven. Is there anything cuter than him bottle-feeding this tiny, scary, cat?
9. This lightning bolt with Barack Obama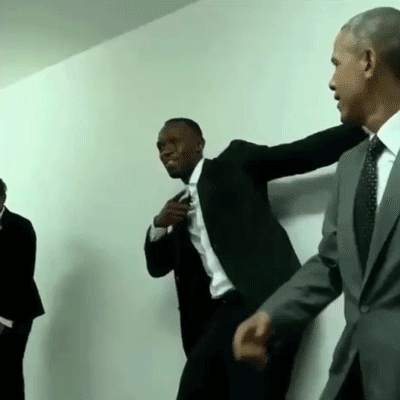 Usain Bolt and the current leader of the free world striking a pose? That's got our smiles covered for the day.
10. And for that matter, all the lightning bolt moves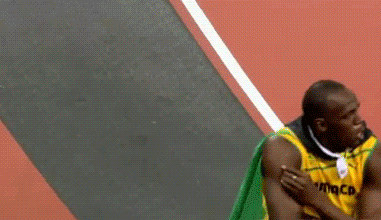 He totally looks like a caped superhero. That's probably because, well, he is. Isn't the lightning bolt, hands down, the best thing ever? Whenever we're feeling low, there's nothing like taking the stance to get our energy going again.
11. Finally, we heart him in these ads. If we may say so ourselves.
Okay, okay, we'll gladly admit that we're being really cheeky here. But we do love Usain in the Virgin Media ads: just check out those dance moves!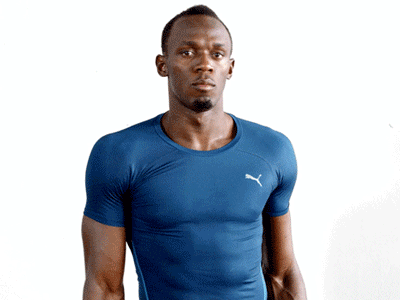 Watch brand new movies on demand every week with Virgin Movies. To find out the latest releases, press Home on your Virgin TV remote, then On Demand > Movies.
Not a Virgin Media customer? Hit the button below to find out more: