If you start thinking about all the movies Samuel L. Jackson's been in, it actually gets kinda scary. The super-prolific actor has pretty much starred in everything cool over the past two decades, from action classics such as Snakes on a Plane and Die Hard to epic franchises of the likes of Star Wars and the Marvel Cinematic Universe. Yet, we'd argue that while Samuel L. Jackson brings pure concentrated awesomeness to whatever he does, he particularly shines when he's playing a villain. He turns his bad guys into compelling and complex characters who aren't just reduced to a silly motive and a costume.
And we're going to have the pleasure of seeing him again soon on the big screen, doing another turn as the grumpy NSA Agent Augustus Gibbons in xXx: Return of Xander Cage. The movie is landing in cinemas this month. In anticipation, we've decided to take a look at some of the very baddest of his bad guy moments.
1. Mr Barron, Miss Peregrine's Home for Peculiar Children (2015)
In Miss Peregrine's Home for Peculiar Children Mr Barron hunts down peculiar children in order to consume their eyeballs. Brrr. For starters, Jackson here wins hands down for best villainous look. He owns it like a pro, and those creepy eyes and the crazy hair and the sharp teeth have us in total terrified awe. And yet we love that despite all of the scary make-up going on, he still manages to make Mr Barron quite funny (he's got killer one-liners. Sorry).
2. Richmond Valentine, Kingsman: The Secret Service (2014)
Kingsman: The Secret Service is an awesome riff on the Bond movies, and we can't wait for its upcoming sequel (October this year!). Here, Jackson plays the hip villain Richmond Valentine, a tech billionaire who's decided that the solution to global warming is to get rid of a good percentage of the world's population. We'll spare you the details of his cunning and chilling plan, but let's just say it's grim stuff. Jackson perfectly balances Valentine's sinister methods with his semblance of good intentions, and it's really fun and fascinating to watch.
Kingsman: The Secret Service is available now on Sky Cinema
3. Stephen, Django Unchained (2012)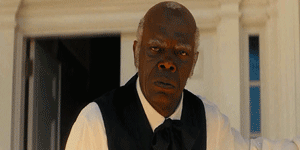 Playing Stephen in Django Unchained must have been a tough job. Jackson had to entirely transform his posture and way of moving in order to do the part… and became, in short, barely recognisable. It's pretty remarkable stuff. And the character itself is unquestionably his most controversial villain. Stephen is the loyal butler-slave to Leonardo DiCaprio's plantation owner Calvin J. Candie, and he cleverly spots Django's plan to rescue his wife miles ahead of everyone else.
Django Unchained is available to watch now on Netflix
4. Jules Winnfield, Pulp Fiction (1994)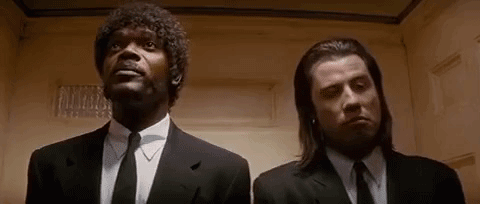 Jules Winnfield needs little introduction. He's Samuel L. Jackson's most famed role, and you're bound to see him on posters in teenagers' bedrooms for decades to come. It's the combination of Jules' mundane obsession with the small details of life (particularly burgers!) along with his extraordinary capacity for violence that makes the character so interesting. And of course, his Ezekiel speech is something to behold (note that Jackson was still able to recite the monologue word for word in 2014, exactly 20 years after the movie came out).
5. Elijah Price, Unbreakable
It's probably fair to say that Jackson really earned his chops as a villain in M. Night Shyamalan's classic movie Unbreakable. Elijah Price is a particularly intense comic-book art gallery owner who appears to place a little too much faith in the truth of what he is selling… until, maybe, we are proven wrong. We won't ruin the ending of the movie (but suffice to know there is a MAJOR twist that gives Jackson an amazing scene).
6. The Hateful Eight

Is Major Marquis Warren a villain? That's the question in The Hateful Eight, a tense, beautifully shot movie that's all about figuring out the true intentions of a whole bunch of ambiguous characters. Jackson is absolutely superb as the Major, a bounty-hunter and former soldier who is looking to make his fortune, all the while dealing with endemic racism after the American Civil War. We think it might be one of his best performances yet.
7. Barely Lethal (2015)
In this small, underrated film, Jackson plays Hardman, the director of a school of teenage superspies (sounds hilarious? That's because it is). Haley Steinfeld is Agent 83, his top student, but she's having a teenage crisis and wants to live a normal life. Hardman, sadly, has no sympathy whatsoever for her The Notebook-fuelled agonies and puts more than one obstacle in her way. And his no-nonsense attitude is bound to make you laugh along to every scene he is in.
Barely Lethal is available now on Sky Cinema