This week sees the release of jukebox musical Sing on Virgin Movies, the happy-clappy animation about a group of assorted animals entering a singing contest and – putting on our best X-Factor voice – going on a journey. On the cast list of this fun kids' movie is a name you might not expect to see: Matthew McConaughey. Correction: Oscar-winning actor Matthew McConaughey. Big Mac is constantly juggling prestige pics but he still found time in his busy schedule to voice a singing koala. How many other big-name actors out there also took on unlikely voiceover roles?
Matthew McConaughey is... a koala! (Sing, 2017)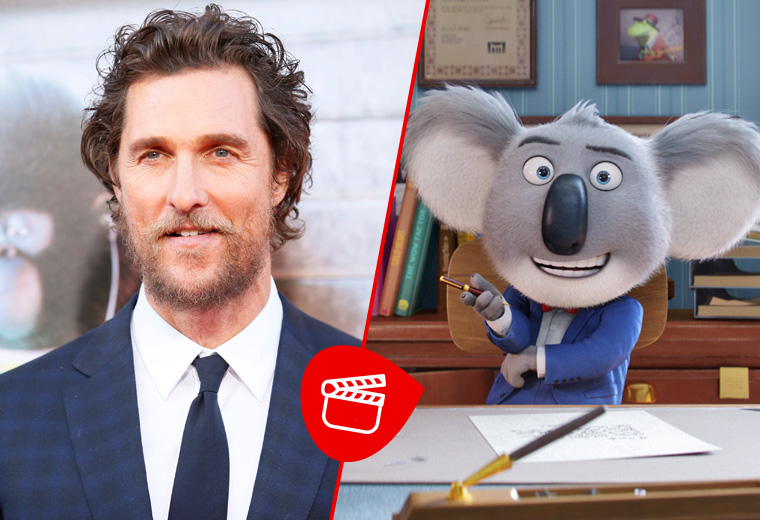 The man has range, of that there's no doubt: he's played a serial killer, a hobo, an astronaut and a stripper, but I don't think any of us expected to see 'cute koala' on that list of challenging roles. McConaughey plays Buster Moon, animated entrepreneur and actual koala who stumbles on the genius idea of holding a singing competition (presumably in the Sing universe, there is no such thing as primetime ITV programming). Though you never quite get the sense that he's truly inhabiting the role of a koala – as far as we can make out, he wasn't smashed off his bonce on eucalyptus leaves while recording – McConaughey's charm sells the movie regardless.
Find Sing in On Demand > Movies > Virgin Movies
Nicolas Cage is... a mole! (G-Force, 2009)
Nicolas Cage has never read a movie script he didn't love: allegedly his voicemail message simply says 'You've reached the phone of Nicolas Cage. I'll do it'. The one-time credible actor, of Oscar-winner Leaving Las Vegas fame, rarely turns down movies, so when the screenplay for guinea pig spy movie G-Force landed on one of his many doorsteps – a film, we should point out, that was literally pitched to a studio executive by his own five-year-old son – he said yes to the role of 'mole' so quickly, he probably didn't realise it was a literal mole and not a Russian spy or something.
Orson Welles is... A giant alien robot planet thing!n (Transformers: The Movie, 1986)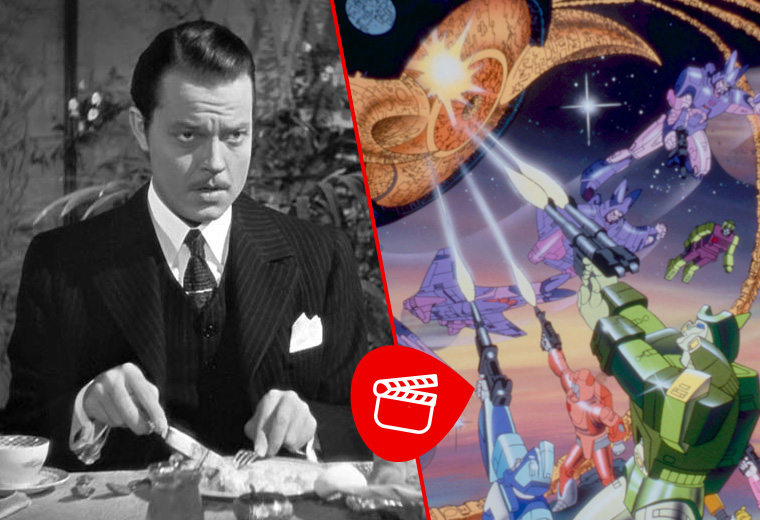 The first movie of his career: Citizen Kane. The final movie of his career: Transformers: The Movie. If you look up the phrase 'How the mighty have fallen' in the dictionary, there's a little picture of Orson Welles, dressed as a Transformer, crying. To be fair, it wasn't any old run-of-the-mill alien-robot-car he was playing – Welles voiced UNICRON, destroyer of planets, generally the be-all and end-all of giant alien robot entities. Legend has it, an ailing Welles could barely string two sentences together owing to ill health, so the makers of the movie had to run his voice through a modulator to mask it.
Meryl Streep is... An ant! (The Ant Bully, 2006)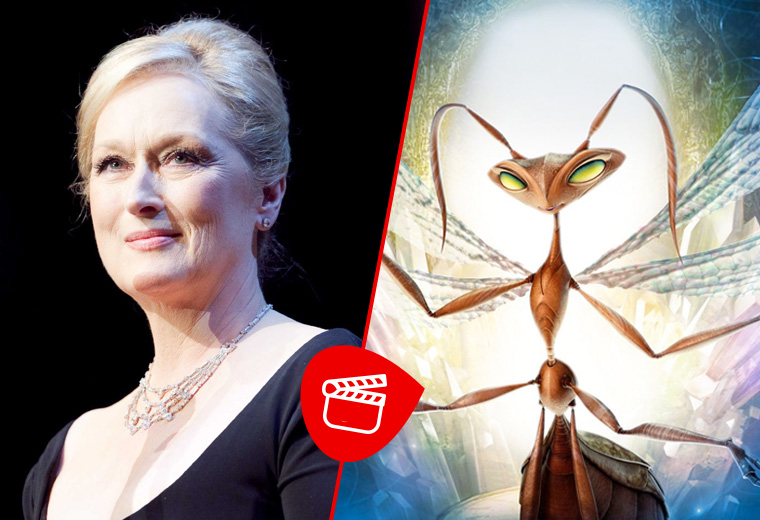 To be fair, if Woody Allen can successfully play an ant, why not Meryl Streep? The actress, who has had more Oscar nominations than you've had successful relationships, lent her dulcet tones to the forgettable 2006 animated movie, The Ant Bully, about a little boy shrunken to the size of an ant. Again, Streep wasn't playing a bog-standard insect: she was the alien queen, a weirdly blissed-out, blank-eyed insect overlord. To be honest, Meryl Streep could play a tapeworm and she'd still get Oscar nominated. This movie also featured the voice talents of Nicolas Cage, but then, so does every movie.
The Ant Bully is available now on Sky Cinema
Robert De Niro is... A shark mob boss! (Shark Tale, 2004)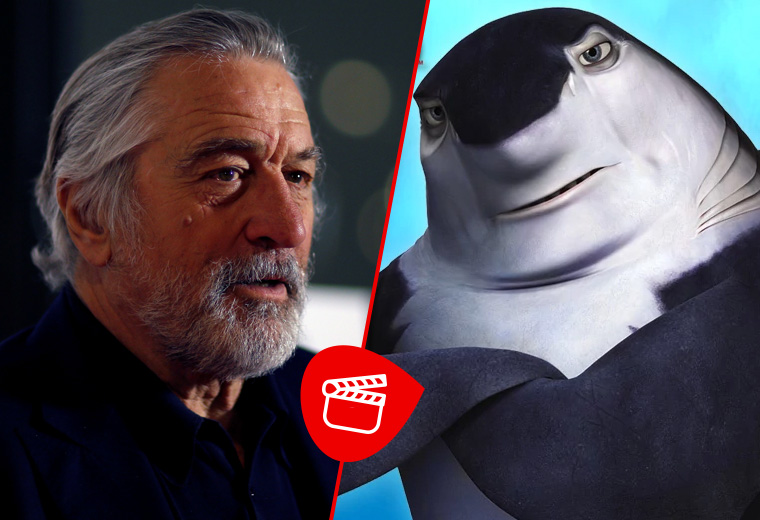 Ha ha, brilliant! An animated movie where Robert De Niro plays a mob boss who's an actual shark! Amazing. What really is incredible is not that this DreamWorks animation managed to so blatantly rip-off Finding Nemo in broad daylight, but that the makers of Shark Tale were able to convince not just De Niro but also his brother-in-arms Martin Scorsese to take vaguely patronising and definitely stereotypical gangster roles.
Shark Tale is available to stream now on Netflix
Madonna is... A garden fairy! (Arthur and the Invisibles, 2006)
Madonna's movie CV has been, what's a nice way to put this... erratic, but let's not forget the brilliant Evita, proof that there is a great actress somewhere deep (deep) down inside her. Her last movie role was her most curious: she voiced the character of Princess Selenia in Luc Besson's none-more-French animation Arthur And The Invisibles, playing a garden fairy. We're going to be honest: nothing about Madonna's persona says 'garden fairy' to us. Not even a little bit. Madonna feels like the kind of person who would pay an exterminator to rid the grounds of her Malibu mansion of garden fairies.
Patrick Stewart is... The Poop Emoji! (The Emoji Movie, 2017)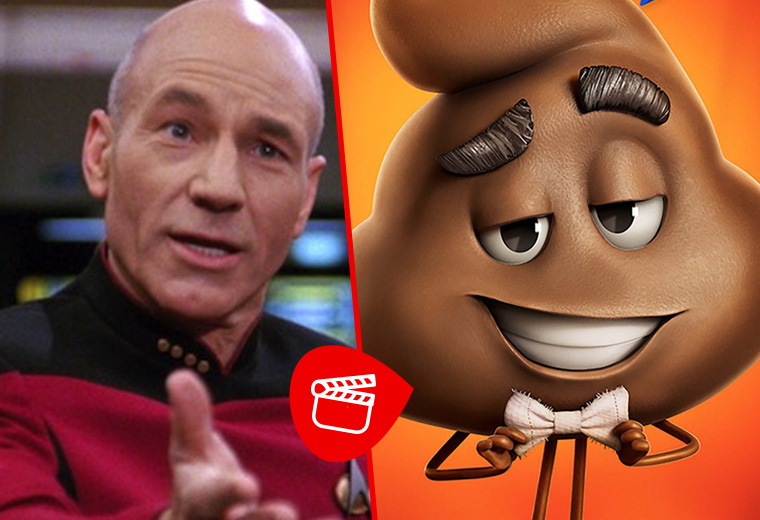 One of the most respected actors of all time, playing... an emoji. Not just an emoji. The poop emoji. The only emoji that is worse than the poop emoji is the 'crying laughing' emoji. But Patrick Stewart, Sir Patrick Stewart, Knight Bachelor of the Order of the British Empire, thespian of stage and screen, beloved by generations, in his infinite wisdom, is lending his name and his voice to a poo. What next? Ian McKellen playing the eggplant emoji? Vanessa Redgrave as the 'painting my nails' emoji?
Jason Statham is... A garden gnome! (Gnomeo & Juliet, 2011)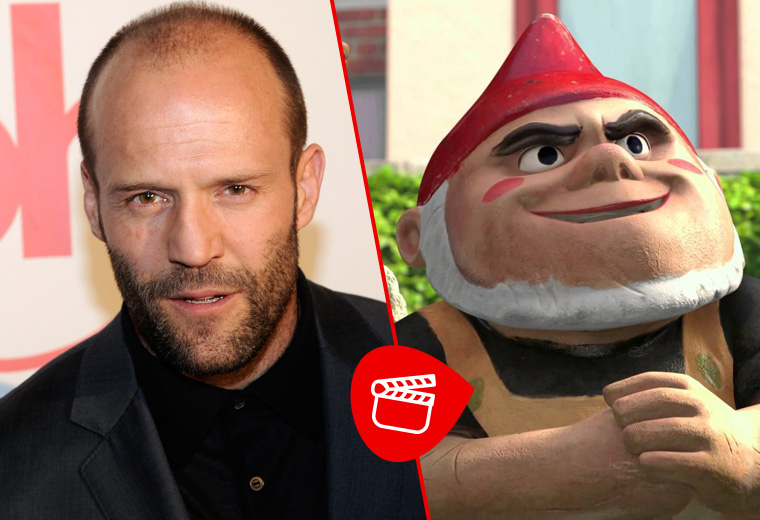 Statham is known for one thing and one thing only: beating people up on screen while speaking in a slightly confusing Transatlantic accent. It was a little odd to say the least to see Jason Statham's name on the cast list for this cutesy animation, but then, there wasn't a single name on the roster that wasn't disorientating. Joining Statham were luminaries such as Dame Maggie Smith, Michael Caine, Ozzy Osbourne, Richard Wilson, Hulk Hogan – pause to get your breath back – Julie Walters, Dolly Parton and many more. So we guess, in this company, the casting of Jason Statham makes perfect sense.
Gnomeo & Juliet is available to stream now on Netflix
Bruce Willis is... a cartoon dog! (Rugrats Go Wild, 2003)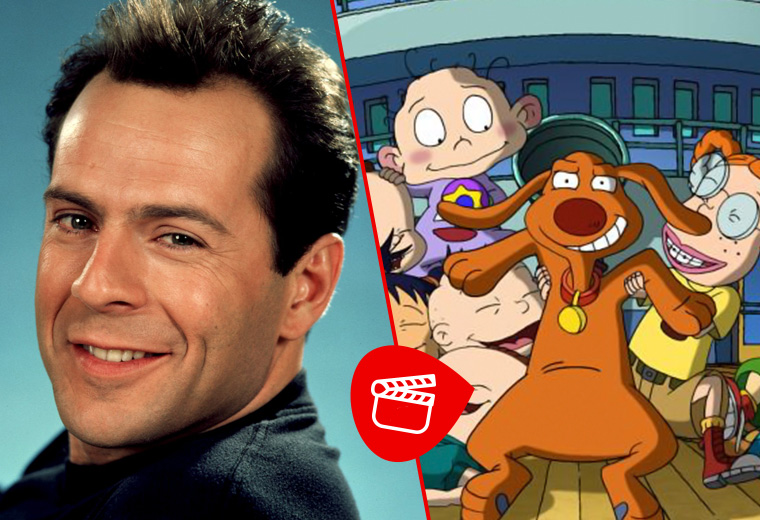 What drives an actor like Bruce Willis? And don't just say money. Professional pride? Care in one's craft? Leaving a legacy? Sometimes actors just like to have their egos stroked. Like dogs! That's it, that's the perfect segue: for here, in the third Rugrats theatrical movie, faithful pet Spike the dog was heard for the very first time, and his voice was provided by none other than Bruce Willis. What a coup! As stunt casting goes, it almost raises an eyebrow, but please: these are post-Look Who's Talking times we're living in here, people.
Brad Pitt and Matt Damon are... Krill! (Happy Feet Two, 2011)
These two bona fide movie stars have two Oscar wins and ten nominations between them, not to mention critical acclaim, billion-dollar franchises and movie star lifestyles. So what on Earth possessed them to sign on to play krill in the sequel to Happy Feet? As Will and Bill, the pair of krill – they're like little shrimpy guys who get eaten by whales – the two best buds are at the bottom of the food chain. Never to be deterred, they use their mere minutes of screen time in this kids animation about a tap-dancing penguin to pontificate about the nature of existence, the meaning of free will and the concept of destiny. Tsk, celebrities.