David Beckham swaps soccer for the silver screen with his upcoming appearance in Guy Ritchie's King Arthur: Legend of the Sword. The 42-year-old former England Captain plays Trigger, a battle hardened pal of the titular king in what is his first dramatic role.
But Beckham isn't the first footballer to appear on film. You see, for years players have been swapping their boots for a shot at the box office. So in celebration of Beckham's big screen breakout, join us as we look back at some of the best footballers on film.
1. Pele and co. - Escape to Victory (1981)

A modern classic, Escape to Victory is perhaps the definitive football film to grace the silver screen. Set during World War II, it follows a team of allied prisoners who use an exhibition match as an opportunity to escape their German captors. The film's littered with A-list actors like Michael Caine and Sylvester Stallone. But it's perhaps best remembered for the troupe of footballers (including Brazilian icon Pele) that helped to bring the on-pitch action to life.
2. Stan Collymore - Basic Instinct 2 (2006)
Sharon Stone seemingly hadn't aged a day when she returned to our screens for Basic Instinct 2, a Razzie award-winning sequel that no-one really wanted to watch. That is apart from former Liverpool and Aston Villa striker Stan Collymore, who was appearing in the first, and last role of his acting career.
3. Vinnie Jones - Lock, Stock, and Two Smoking Barrels (1998)


Former Wimbledon hard man Vinnie Jones is perhaps the most successful star to trade the football field for the film industry. The former Crazy Gang member made his debut in Guy Ritchie's London crime caper Lock, Stock, and Two Smoking Barrels, and was actually pretty good in it too. Sadly his silver screen CV would start to go downhill after that with a series of predictably pantomime roles in films like X-Men: The Last Stand and Mean Machine.
4. Frank LaBoeuf - The Theory of Everything (2014)
Former Chelsea defender Frank LaBoeuf is unique as the only man to have ever won a World Cup and starred in an Oscar-nominated film. Yes, amazingly alongside winning football's greatest prize on home soil, the centre back starred as a Swiss Doctor alongside Eddie Redmayne in this big screen biopic about the life of Stephen Hawking.
The Theory Of Everything is available to stream now on Netflix
5. Various - Goal! Trilogy (2005 – 2009)
Made with the support of the sport's governing body, Goal! follows the rags-to-riches tale of a wannabe soccer star who leaves LA to make it big in the Premier League. The trilogy found a following amongst football fans, thanks largely to the laundry list of greats - including Zinedine Zidane, David Beckham and Cristiano Ronaldo - who crop up in cameo appearances throughout the three films.
6. Eric Cantona - Looking for Eric (2009)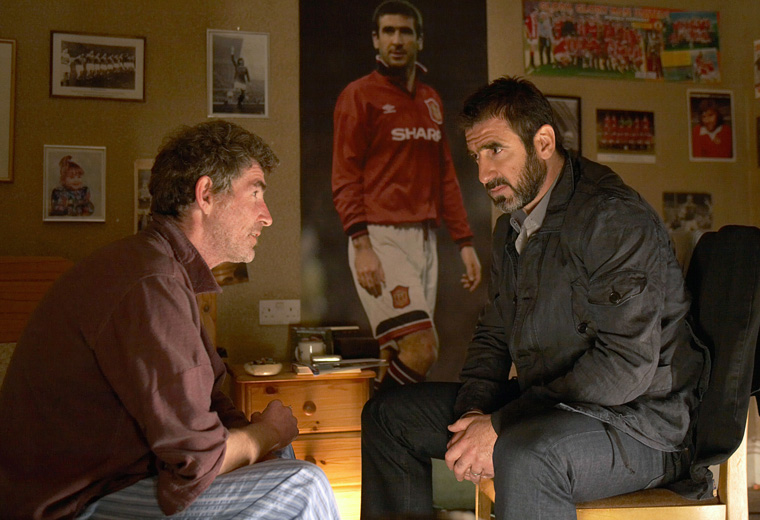 Legendary director Ken Loach stepped behind the camera for this critically adored flight of fancy, which follows a depressed postman who daydreams about former Manchester United legend Eric Cantona in order to escape his humdrum existence.
7. Fitz Hall - The Fifth Element (1997)

It may sound like the stuff of fantasy but former football journeyman 'One Size' Fitz Hall actually made his debut on the big screen long before he stepped onto the football field as a professional. As a 16-year-old Hall had a blink-and-you'll-miss-it moment in Luc Besson's beloved sci-fi flick.