Skip to main content
15,500 homes in Lurgan can now benefit from ultrafast broadband



30 October 2019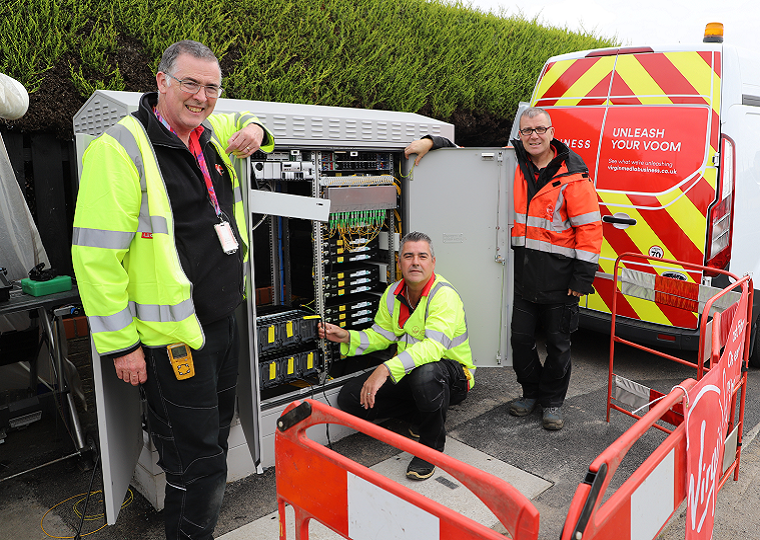 Virgin Media's broadband speeds are more than 18 times faster than the local average
4K movies and computer games downloaded in minutes
Virgin Media's Oomph bundles offer the complete entertainment experience
Virgin Media has completed the rollout of its ultrafast broadband network in Lurgan, Northern Ireland, which will provide more than 15,500 local residents and businesses with the fastest widely available speeds in the UK.
As part of its 'Project Lightning' network expansion programme, Virgin Media is expanding its ultrafast broadband network across the UK, bringing average top speeds of 516Mbps to residents and small businesses in Lurgan.
This will help transform the quality of broadband in the area where the average (median) download speed is 28.5Mbps*.
The company is also bringing next generation gigabit broadband to its entire network of 15 million homes by the end of 2021 as part of its new hyperfast Gig1 service.
During the expansion works, the company faced challenges when it came to cabling the area close to the railway crossing along William Street, Lurgan. Virgin Media surmounted these obstacles by using existing Openreach cable ducts as part of Ofcom's Physical Infrastructure Access (PIA) remedy.
Ofcom's remedy allows other broadband builders to use Openreach ducts and this is the first place in Northern Ireland where the company has used the remedy.
Virgin Media is now available to nearly 27,000 homes and businesses in the borough, with Lurgan the third town following the company's expansion works in Portadown and Craigavon last year.
A 516Mbps connection means files, films and games become unbelievably quick to stream, download and upload:
Download a standard HD movie file (5GB) in less than a minute and a half, compared to more than 25 minutes on the average local connection;
Download a 25GB console game in seven minutes, compared to more than two hours on the average local connection**
Virgin Media also worked closely with the Lurgan community throughout its expansion. The company supported the talented local dance troop, FADD, as they travelled to the USA to represent Northern Ireland in a global dance competition. Virgin Media donated signed Southampton FC shirts that the group could auction to raise money for the trip.
Seamus Mccorry, Regional Director for Northern Ireland at Virgin Media, said: "More than 15,000 homes across Lurgan can now benefit from a broadband boost thanks to Virgin Media's investment in the area. Our ultrafast network makes it easier and faster for people to browse, stream, shop and download without the worry of slow speeds. We're connecting people to the things they love.
Virgin Media's Oomph bundles
By combining broadband, TV, home phone and mobile into one bundle, Virgin Media's Oomph packages offer outstanding value for customers. This includes broadband that's faster than standard packages and a data-rich 4G mobile SIM on a network that's faster on average than Vodafone, 02, Three and Sky.
It's better value for customers to take cable and mobile services together in an Oomph package from Virgin Media rather than taking them separately.
With the Ultimate Oomph bundle, customers can enjoy the ultimate entertainment and connectivity experience at home or on the move.
This includes the UK's fastest widely available broadband with average top speeds of 516Mbps – seven times faster than BT and Sky – as well as a mobile SIM with truly unlimited data, texts and calls.
Plus, there's brilliant TV with two of Virgin TV's latest V6 set-top boxes complete with more than 280 channels including Sky Sports HD, Sky Cinema HD and BT Sport in 4K Ultra HD, as well as inclusive anytime landline calls.
For those interested in Virgin Media's fantastic services, they can go online now to check out our latest deals > http://www.virginmedia.com/
Ends
Notes to Editors
*The average (median) broadband speed in Armagh City, Banbridge and Craigavon Borough Council area is 28.5Mbps. Source: Ofcom, Connected Nations Report 2018, published 18 December 2018.
** Download speeds calculated using www.download-time.com
More information about FADD can be found on their website: http://www.fadd.org.uk/
About Virgin Media
Virgin Media offers four multi award-winning services across the UK and Ireland: broadband, TV, mobile phone and landline.
Our dedicated, ultrafast network delivers the fastest widely-available broadband speeds to homes and businesses and we're expanding this through our Project Lightning programme, which could extend our network to up to 17 million premises.
Our interactive TV service brings live TV, thousands of hours of on-demand programming and the best apps and games to customers through a set-top box, as well as on-the-go through tablets and smartphones.
Virgin Mobile launched the world's first virtual mobile network and offers fantastic value and innovative services with 4G connectivity. We are also one of the largest fixed-line home phone providers in the UK and Ireland.
Through Virgin Media Business we support entrepreneurs, businesses and the public sector, delivering the fastest widely available broadband speeds and tailor-made services.
Virgin Media is part of Liberty Global, one of the world's leading converged video, broadband and communications companies. Liberty Global connects 11 million customers through operations in six countries across Europe subscribing to 25 million TV, broadband internet and telephony services. It also serves 6 million mobile subscribers.
Press contacts
Jamie Clarke, Virgin Media – 0333 000 2984, press@virginmedia.co.uk
Twitter: @VirginMediaCorp