Skip to main content
Christmas surprise for caring Beckenham boy, Mikey
21 December 2020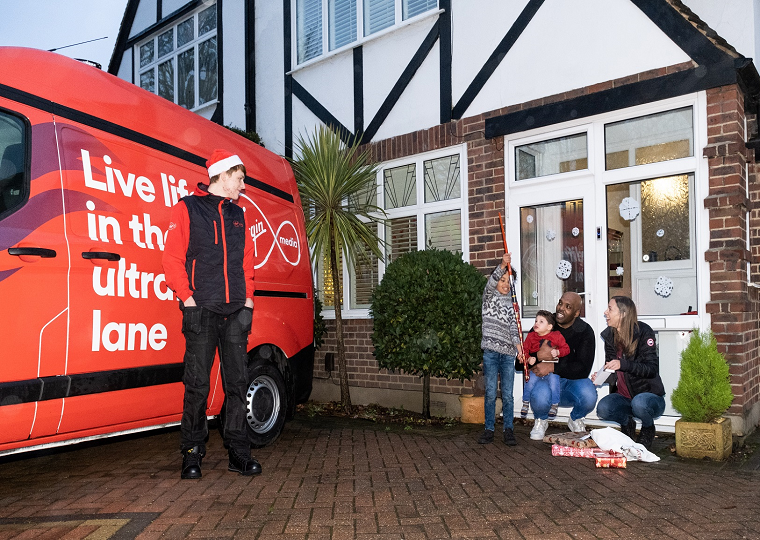 Six-year-old Mikey Williams from Beckenham has received some early Christmas presents from Santa and his helpers at Virgin Media, after supporting his family through a really difficult year.
Big brother Mikey has been helping his parents care for his younger brother, Rhys, aged three and half, who has a rare genetic condition (SLC1A4 syndrome) which will severely impact his growth and development throughout his life.
Mikey's parents, Samantha and Michael, were allocated a slot in Virgin Media's free virtual Santa's grotto, and as part of the application process, explained that Mikey had been a really good boy this year, helping them and Rhys.
Samantha and Michael said: "Mikey is a great big brother to Rhys. He is really caring and loves making Rhys laugh and giving him cuddles. He also helps us care for Rhys, such as helping to wash and dress him, getting nappies and wipes out for us, or rinsing off his dummies when they hit the floor.
"It can be difficult for Mikey as we need to give Rhys a lot of attention since he is unable to do anything for himself. Mikey misses out on the things that other children his age enjoy because for us to get out as a family it is a military operation. To get Mikey out, we usually separate and one of us will be with Mikey while the other stays at home caring for Rhys. Mikey takes everything in his stride and stays positive about everything."
Unfortunately, the Williams family have experienced a very challenging year. As well as having to adjust to Covid-19 restrictions and home-schooling Mikey while working, Rhys' health took a turn for the worse and he has needed an even greater level of support with daily life.
Samantha and Michael continued: "The last two and half years have been an uphill struggle, and the combination of the pandemic and deterioration of Rhys' health, has meant it has been a terribly difficult year. We are so grateful for Mikey for being so caring and helpful and for bringing positivity to our home."
Christmas presents
To help the family make some special memories, and to recognise how Mikey has been a super big brother and son, Virgin Media asked Santa to break with tradition and to deliver some early Christmas gifts to the Williams family.
As a result, Stars Wars fan, Mikey, has received a lightsabre and Lego, while Rhys has been given a sensory light table. The family have been gifted a luxurious food hamper to enjoy over the festive period, too.
In addition, Virgin Media has arranged for Samantha and Michael – who are customers – to receive free broadband services for the next 12 months. Samantha and Michael have said they will put the savings towards a fund to help research Rhys' condition.
Samantha and Michael, said: "We were gobsmacked when we were contacted by Virgin Media. We feel like we are always having to battle for everything that we need, so it's been really nice to have something so lovely come out of the blue to help our family."
Cilesta Van Doorn from Virgin Media, said: "We were so touched when we heard about how Mikey has been such a brilliant, caring brother and son this year.
"We had a special word with Santa, asking him to put Mikey and Rhys at the top of his nice list, which he gladly obliged, delivering some early presents to the family.
"We know this year has been hard for many of our customers, and we're happy we've been able to help the Williams family in a small way, and hope they can all enjoy the magic of Christmas."