Skip to main content
Generous Virgin Media engineers help elderly Darlington couple stay tuned with new TV
27 May 2020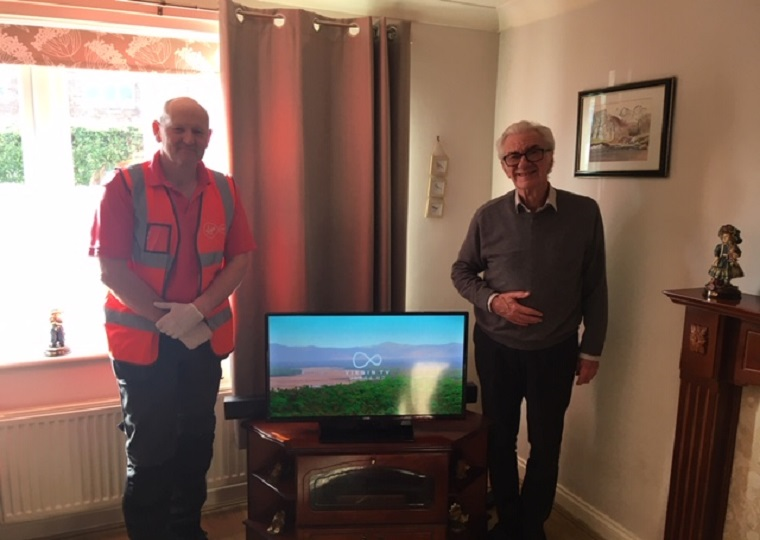 A group of kind-hearted Virgin Media engineers have come to the aid of an elderly couple from Darlington whose TV had broken, by generously coming together to buy them a new one.
After visiting the home of Virgin Media customers Barry and Doreen Hardy to investigate an issue with their TV service, engineer Ian Evans soon discovered there was a fault with the set itself and it was beyond repair.
Unfortunately, Mr and Mrs Hardy - who are both in their eighties and are self-isolating - do not have close family to help them, and were unable to buy a new TV themselves.
Quick-thinking Ian spoke to a manager, Andrew Crossley, who rallied a team of Virgin Media managers from across the North East to help the Hardys, with staff clubbing together to kindly donate their own money to purchase the couple a brand new set.
Ian and Andrew have since installed the new 32" TV for Mr and Mrs Hardy who are once again enjoying their favourite programmes.
Barry Hardy, aged 80-years-old, said: "It was very stressful that we couldn't get the TV to work.
"When the team said they were prepared to buy us a new TV, I was absolutely stunned. I really didn't expect it. It means my wife can watch the soaps again. It has put us back on track."
Virgin Media manager, Andrew Crossley added: "I really wanted to do something to help Mr and Mrs Hardy – especially as they don't have any close family, and because they couldn't buy a new TV themselves.
"It was great to see the team from across the North East club together to buy them a new telly so the couple can keep up-to-date with the news and watch their favourite shows.
"It was our pleasure to help them and restore some normality during these testing times."