Skip to main content
Hyperfast gigabit broadband now available to 4,700 homes in Kensal Green
11 December 2020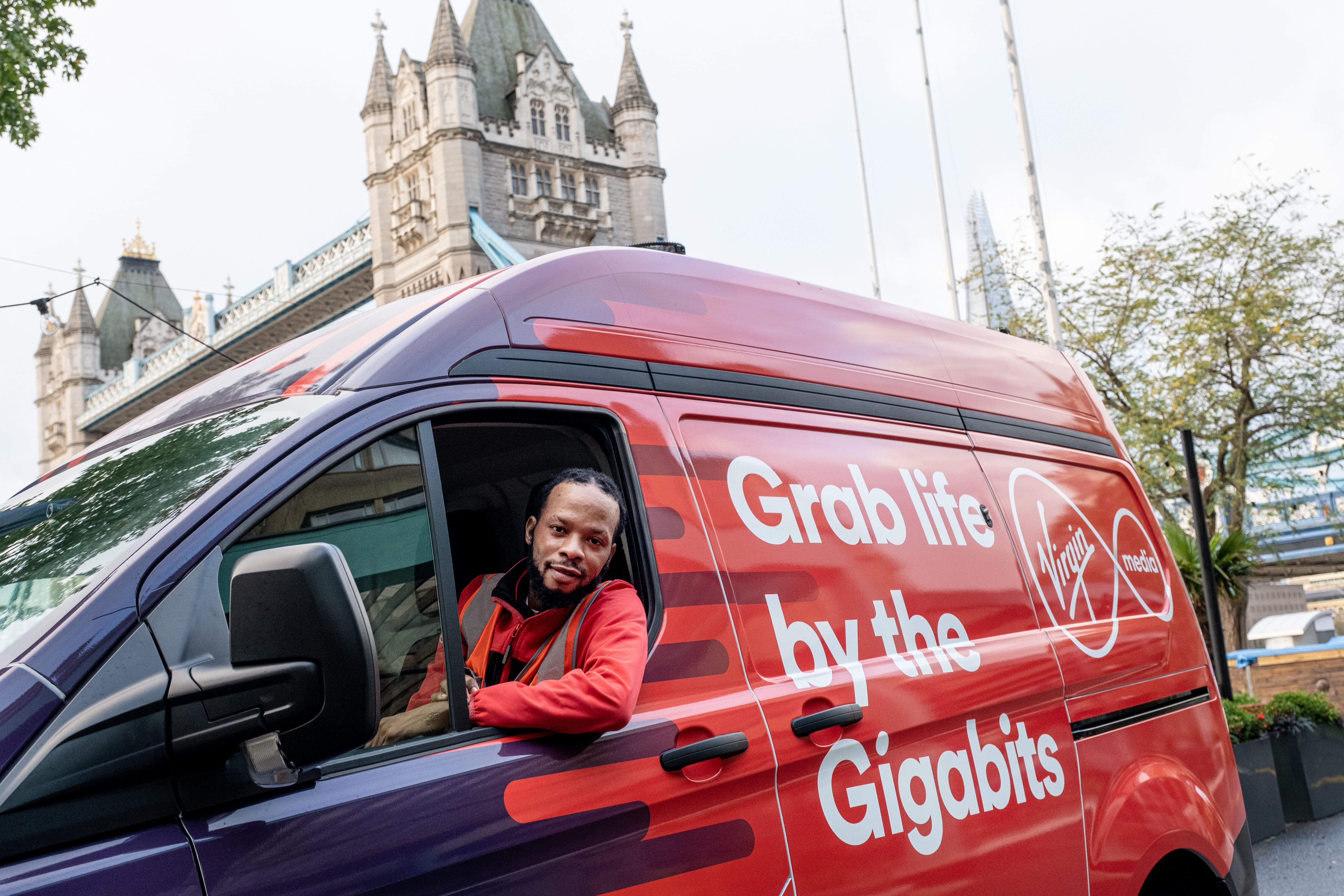 Full fibre to the premises (FTTP) technology with average top speeds of 1,140Mbps
Virgin Media's broadband speeds are 22 times faster than the local average
Computer games downloaded in minutes, 4K movies in seconds
Virgin Media's engineers have worked throughout the Covid-19 pandemic to ensure that new customers have access to vital connectivity when they need it most
Virgin Media has connected 4,700 additional homes in Kensal Green, North-West London, to its broadband network, bringing next-generation gigabit speeds to the area.
As part of its 'Project Lightning' network expansion programme, Virgin Media is expanding its broadband network across the UK, bringing ultrafast speeds to residents and small businesses.
Kensal Green is the latest area to benefit and is able to access Virgin Media's gigabit broadband service – Gig1 – from day one. Gig1 is able to provide homes with average top speeds of 1,140Mbps.
The company is in the process of rolling out Gig1 across to its entire network of 15 million homes by the end of 2021.
Moving forward, all new areas that are connected to Virgin Media's network as part of its expansion programme will be able to access its gigabit speeds providing that they're in an area already served by Gig1.
Virgin Media has continued to expand its network during the global COVID-19 pandemic in order to provide ultrafast connectivity to more homes and businesses across the UK when they need it most.
Hyperfast broadband boost for Kensal Green residents – now 22 times faster than the local average.
Virgin Media's hyperfast broadband speeds are 22 times faster than the local average*. Kensal Green will benefit from fibre to the premises (FTTP) technology which allows for smooth, reliable connectivity in the home. With a 1,140Mbps connection, files, films and games become very quick to stream, download and upload:
Download a standard HD movie file (5GB) in 37 seconds, compared to more than 14 minutes on the average local connection;
Download a 25GB console game in just over 3 minutes, compared to over 1 hour and 11 minutes on the average local connection**
Richard Vivian, Regional Director for the London at Virgin Media, said:
"Our investment plans are bringing ultrafast broadband to more homes and businesses across the UK and we're delighted that residents in Kensal Green are the latest people to benefit from access to London's fastest gigabit broadband from day one."
"This next generation connectivity will allow the whole family to stream, work, game and zoom in the same house at the same time."
Virgin Media's Oomph bundles
By combining broadband, TV, home phone and mobile into one bundle, Virgin Media's Oomph packages offer outstanding value for customers.
With the Ultimate Oomph bundle, customers can enjoy the ultimate entertainment and connectivity experience at home or on the move.
This includes ultrafast broadband, as well as a mobile SIM with truly unlimited data, texts and calls.
They can also access Virgin Media's new TV service, Virgin TV 360. The advanced TV line-up includes a new Mini box, new TV remote with voice control and smart new features which offer a fully integrated, voice activated and personalised service.
Offering the very best entertainment, Virgin TV 360 boasts all of the top TV channels and streaming apps such as Netflix, Amazon Prime Video and BBC iPlayer, all with 4k Ultra-High Definition and HDR viewing capabilities.
Ultimate Oomph also comes complete with more than 280 channels including Sky Sports, Sky Cinema and BT Sport in 4K Ultra HD, as well as inclusive anytime landline calls.
And with Virgin Media's ultrafast broadband, multiple users in the home can stream and watch their favourite shows and content all at the same time in the highest resolution. Gigabit broadband speeds are also being rolled out by the company and are currently available to over 7 million homes across the UK.
For those interested in Virgin Media's fantastic services, they can go online now to check out our latest deals > http://www.virginmedia.com/
Ends
Notes to Editors
More information about how Virgin Media people are helping the country stay connected can be found HERE.
*The average (median) broadband speed in Brent is 50Mbps. Source: Ofcom, Connected Nations Report 2019, published 18 December 2019.
** Download speeds calculated using www.download-time.com
About Virgin Media
Virgin Media offers four multi award-winning services across the UK: broadband, TV, mobile phone and landline.
Our network delivers the fastest widely-available broadband speeds to homes and businesses. We're expanding this through continued investment in our Project Lightning programme, which has seen our network footprint reach an additional 2.3 million premises so far to pass 15.1 million UK premises overall. We are also investing to bring next-generation gigabit speeds to our entire broadband network by the end of 2021, with progress so far making us the UK's largest gigabit network.
Our interactive TV service brings live TV, thousands of hours of on-demand programming and the best apps and games to customers through a set-top box, as well as on-the-go through tablets and smartphones.
Virgin Mobile launched the world's first virtual mobile network and offers fantastic value and innovative services with 4G connectivity. We are also one of the largest fixed-line home phone providers in the UK.
Through Virgin Media Business we support entrepreneurs, businesses and the public sector, delivering a range of connectivity and tailor-made services.
Virgin Media employs around 12,000 people directly in the UK and is part of Liberty Global, one of the world's leading converged video, broadband and communications companies. Liberty Global connects 11 million customers through operations in six countries across Europe subscribing to 25 million TV, broadband internet and telephony services. It also serves 6 million mobile subscribers.
Press contacts
Jamie Clarke, Virgin Media – 0333 000 2984, press@virginmedia.co.uk

Twitter: @VirginMediaCorp