Skip to main content
The unsung heroes shortlisted to be named Northern Ireland's 'Local Legend'

5 March 2021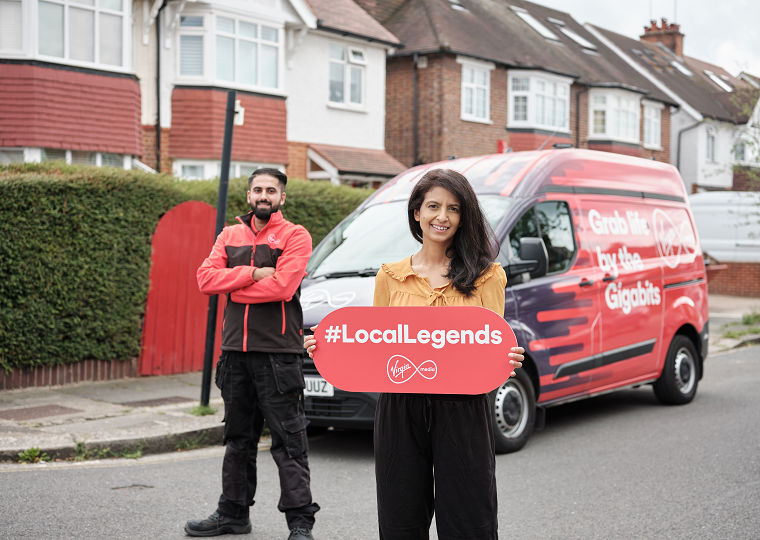 A disability worker and a restaurateur are amongst the five Northern Irish entries shortlisted in Virgin Media's Local Legends competition
They have been nominated as the people who have made a significant contribution to their community during the Covid-19 pandemic
A panel of judges including Konnie Huq and Hannah Ingram-Moore, the daughter of the late Captain Sir Tom Moore, will select Northern Ireland's winner
The winner will receive a tech-makeover worth up to £10,000 including Virgin Media's Gig1 broadband for two years
Virgin Media is revealing the people across Northern Ireland who have been nominated as unsung heroes for supporting their communities during the Covid-19 pandemic.
A disability worker, restaurateur and other residents and community groups have been shortlisted in Virgin Media's Local Legends competition – which is recognising and rewarding the people who have made a significant contribution to the country during the crisis.
A panel of judges including Hannah Ingram-Moore, the daughter of the late Captain Sir Tom Moore, TV presenter and author, Konnie Huq, and others will help select Northern Ireland's winner.
The winner will receive a personalised technology makeover worth up to £10,000 – including Virgin Media's blisteringly-fast Gig1 broadband for two years.
The competition was launched in Northern Ireland last year following the switch on of Virgin Media's next-generation gigabit connectivity in the country. People across the province can now take Gig1 broadband offering average download speeds of 1,140Mbps – 18 times faster than the national average.
To date, Virgin Media has rewarded incredible individuals and charities in Edinburgh, Glasgow, Liverpool and Leeds.
Konnie Huq, a member of Virgin Media's Local Legends judging panel, added:
"It is truly inspiring to read about these individuals who have gone the extra mile and made a difference to other people's lives across Northern Ireland.
"All the nominees are very strong contenders for the Local Legends prize – a tech makeover worth £10,000 including Gig1 broadband, and I can't wait to discuss the entries with the other members of the judging panel to help find our winner."
Northern Ireland's Local Legends
As part of the competition, Virgin Media asked people across Northern Ireland to nominate the people or non-for-profit groups which had supported their community during these challenging months.
The five nominees are:
Raymond Doyle
The nomination reads:
"Despite becoming ill at the onset of the pandemic, Raymond continued to provide therapeutic support for autistic children and vulnerable adults. He had to adopt new skills and training with the shift to everything having to be done virtually. He was able to do this on top of completing the final year of his self-funded eight-year doctorate programme in addition to being a health advocate for his elderly parents - one of which has had several life threatening chronic illnesses."
2. Lifehub NI
The nomination for Lifehub NI reads:
"LifeHub NI has helped more than 1,000 families throughout the pandemic, working every day without private funding. The charity racks up 14,000 miles a year picking up fresh food donated from major supermarkets, food producers, wholesalers, restaurants and cafes which help support on average 400 families a week. They also support other organisations that feed people who do not have access to fresh produce."
3. Wine and Brine
The nomination for Wine and Brine reads:
"For an industry that has suffered as a result of the pandemic, proprietor Chris McGowan of Wine & Brine restaurant has provided NHS staff of Craigavon Area Hospital delicious, high quality meals out of his own back pocket. A true test of anyone's character when they themselves are most likely struggling to support their own business, staff and loved ones but is still thinking of others."
4. Gareth Wright
The nomination for Gareth reads:
"Gareth Wright is an unsung hero and has a brilliant ability to identify gaps in community provision and the needs of residents. He has a warm personality and excellent communication skills which has helped secure large food donations from major food retailers, bakery's and other local businesses across Belfast during the pandemic. Once he established hubs to store goods he was able to mobilise large volunteer groups to distribute packages to the vulnerable and elderly in his community. This work has continued with the promotion of programs to support community wellbeing."
5. Samuel Evitt - Ledley Hall Boys and Girls Club Trust Limited
The nomination for Samuel reads:
"Samuel has been a volunteer for more than 10 years. He recently left the British Army and started his own catering company before the pandemic, leaving him no option but to temporarily close with no financial help as a new business. During the pandemic, he delivered food parcels to the elderly, vulnerable and families in need. He delivered colouring packs to help keep the children busy during the crisis. At Christmas, he spent his own money to give presents to children that may go without. He is a real hero in our community."
ENDS