Skip to main content
Virgin Media offers annual upgrades with new Early Bird mobile plans
04 March 2021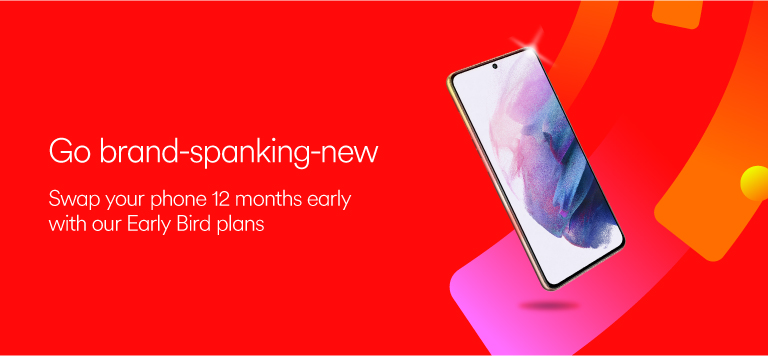 Customers can now upgrade their handset 12 months early with no upfront cost
Early Bird plans are available exclusively on Virgin Media's unlimited 5G data plan
Virgin Media will recycle or restore all handsets that customers trade in so nothing goes to waste
Virgin Media is today introducing new pay-monthly mobile plans, which enable customers to upgrade to the latest devices every year – with no upfront cost.
Customers who like keeping up to date with the most recent mobile phones, or just fancy something new, can now choose Virgin Media's Early Bird plans and are guaranteed an upgrade 12 months early.
New and existing customers who take an Early Bird plan on either a 24 or 36 month contract will be able to upgrade early to a selection of popular handsets including iPhone 12 and Samsung Galaxy S21 5G devices. Virgin Media is also offering unmissable iPhone 12 bundles with Early Bird plans so customers can get themselves a brand new iPhone 12 with AirPods. And, those who buy a bundle won't have to give the AirPods back when they trade in and upgrade, they can simply swap their phone and continue enjoying the sweet sounds of their purchase with their newly upgraded device.
At launch, Virgin Media's Early Bird contracts are exclusively available with an unlimited data 5G plan, so customers can future proof their mobile technology and enjoy worry-free streaming, scrolling and video calling. Prices for Early Bird plans will depend on the handset and contract length chosen, but will start from £42 per month for the iPhone 12 or from £40 per month for the Samsung Galaxy S21 5G.
Annie Brooks, Executive Director of Product at Virgin Media said, "We want to give our customers even more freedom and flexibility to upgrade to a new phone whenever suits them. With Early Bird we're offering exactly that, as well as unlimited data and a powerful 5G mobile connection so our customers can get more from their mobile plan".
Customers can select an Early Bird plan on any eligible handset, and when choosing to upgrade with Early Bird can simply select a new mobile*, send back their existing one and Virgin Media will take care of the rest. All handsets traded in as part of Early Bird will be recycled or restored responsibly so that nothing goes to waste.
Ends
Notes to editors:
Early Bird contracts are available on a 24 or 36 month contract
Early Bird 12 and Early Bird 24 can only be taken with select mobile handsets
At launch, Early Bird contracts are available exclusively on Virgin Media's Unlimited 5G data plan
5G device and coverage required to access 5G services
Prices above for iPhone 12 and Samsung Galaxy S21 represent 36 month contracts
*Eligible Early Bird handsets include (available on 24 or 36 month contracts only):

iPhone 12 Mini
iPhone 12 Mini & Airpods bundle
iPhone 12
iPhone 12 & Airpods bundle
iPhone 12 Pro
iPhone 12 & Airpods Pro bundle
iPhone 12 Pro Max
iPhone 12 & Airpods Pro bundle
Samsung Galaxy S21 5G
Samsung Galaxy S21+ 5G
Samsung Galaxy S21 Ultra 5G

Virgin Media's flexible mobile plans include data-free WhatsApp, Twitter and Facebook Messenger as standard, as well as Roam Like Home in 43 European destinations
Virgin Media customers can also add enhanced Virgin Media Internet Security free for three months and then just £3 per month thereafter, for peace of mind that they can protect all of their devices