Skip to main content
Virgin Media's £10,000 hunt for Northern Ireland's 'Local Legends'

13 January 2021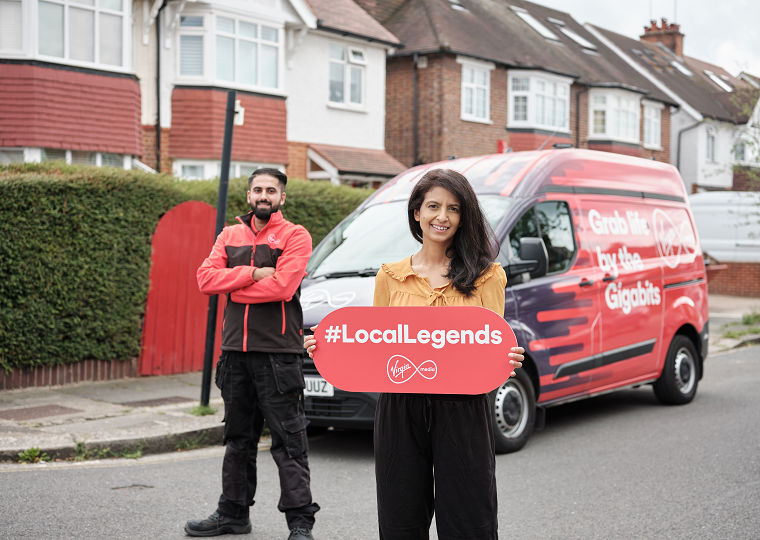 People in Northern Ireland have the power to nominate a 'Local Legend' – someone who has gone above and beyond during the Covid-19 pandemic
The nation's hero, Captain Sir Tom Moore, will join TV presenter Konnie Huq and others to select the winner
The winner will receive a life-changing tech makeover powered by Gig1 broadband – a prize worth up to £10,000
The campaign launches following the recent switch-on of next-generation gigabit broadband speeds across Northern Ireland
Virgin Media is on the hunt for Northern Ireland's unsung heroes; the individuals, organisations or community groups, which has gone the extra mile during the pandemic and made a huge difference to people's lives.
They could be recognised and rewarded for their efforts with an incredible technology makeover worth up to £10,000. The winner will be decided by a panel of judges, including the nation's hero, Captain Sir Tom Moore; TV presenter, Konnie Huq; and others.
Virgin Media is asking people across Northern Ireland to nominate their 'Local Legends' - the individuals, community groups, or not-for-profit organisations who have made a significant contribution to those around them. The company wants to hear about those who have gone above and beyond to help others during the past months, and who deserve to be recognised for their efforts.
Virgin Media is offering a complete tech transformation: the winner will receive Virgin Media's blisteringly-fast Gig1 broadband for two years, as well as a personalised technology makeover so they have the latest gadgets to make the most of their next-level connectivity.
To date, four 'Local Legends' have been crowned across the UK, with Virgin Media awarding individuals and community groups in Edinburgh, Glasgow, Leeds and Liverpool with this incredible prize.
Entries will be shortlisted and a specially selected judging panel including 100-year-old, Captain Sir Tom; his daughter Hannah Ingram-Moore; and TV presenter and author, Konnie Huq, who will be tasked with selecting Northern Ireland's winner.
The campaign has launched in Northern Ireland following the recent switch on of next-generation gigabit connectivity across the country. People across the province can now sign up to Virgin Media's Gig1 broadband offering average download speeds of 1,140Mbps.
Nominate Northern Ireland's Local Legend
We've heard many heroic tales over the past year in communities up and down the country that have come together to help one another through this difficult time. This includes individuals like Captain Sir Tom whose incredible achievement of walking 100 laps of his garden raised £38.9 million for the NHS.
Virgin Media wants to hear from people in Northern Ireland about the 'Local Legends' in their area who deserve to be rewarded and recognised.
It could be a teacher or NHS worker who has stepped up to serve their community, a neighbour who has kept the street entertained with a weekly virtual quiz, a fundraiser who has raised money for a worthy cause, a community group which has rallied together to deliver food parcels for people who are shielding, or a moment of kindness that simply needs to be recognised.
Northern Ireland heroes
As a result of Covid-19, six in ten people in Northern Ireland (58%) say there are heroes in their community who deserve to be recognised for the role they've played during the pandemic.
Seven in 10 (73%) say they have been inspired by those working on the front line, with doctors and nurses, supermarket workers and emergency service workers named as the people who have gone the extra mile during the pandemic who should be recognised for their efforts.
The pandemic has also made people more altruistic, with a third (29%) saying they have helped someone in their community, such as checking on a neighbour or offering to get someone shopping.
As a result, more than a third (35%) say they now feel more connected to their community and a third (32%) of residents say that people have been kinder over the past few months.
Captain Sir Tom, a member of Virgin Media's Local Legends judging panel, said:
"It's been a privilege to be to on the judging panel to find the UK's Local Legends with Virgin Media. We've already recognised some truly inspirational people as part of the campaign and I'm looking forward to finding Northern Ireland's Local Legend. We want to hear from more of those who have witnessed someone in their community who has done something incredible and deserves recognition. It's always tough to pick a winner but I'm looking forward to hearing about people's acts of kindness and hope they will feel suitably special to have been nominated."
Konnie Huq, a member of Virgin Media's Local Legends judging panel, said:
"I'm so excited to be helping to find Northern Ireland's Local Legend with Virgin Media - we're talking about unsung heroes who have gone above and beyond to make a difference to people's lives in these tricky times. We've all witnessed acts of heroism and kindness, and this competition gives everyone a chance to recognise and thank those people for all they've done. I can't wait to see the entries - get your nominations in now."
Seamus McCorry, Regional Director for Northern Ireland at Virgin Media, commented:
"Our Gig1 Local Legends campaign is all about recognising any remarkable feat, whether big or small, that has occurred over the past nine months in Northern Ireland. We are providing some incredible prizes, such as free gigabit broadband for two years, as well as tech gadgets worth up to £10,000. We'll be working with judges so get nominating your Local Legend!"
People can nominate their Local Legend by visiting www.virginmedia.com/locallegends. The competition closes at 11.59pm on Monday 8 February.
ENDS