Skip to main content


What's all this about then?
If you've received a letter from us you will need to swap the SIM in your phone to continue to use our services. It is essential that you swap ASAP as these SIM cards will be completely deactivated in the future. All you have to do is read through the letter that comes with it, and then put the SIM in your phone. It's quick and easy, and if you've got any questions, you're in the right place.
Got questions? This video has the answers...

If you've recently upgraded your phone or changed your plan and we've sent you a new SIM but you need some help, you'll find everything you need to know in our help and support section.
Not received or lost your new SIM? No problem – just call our team on 789 from your Virgin Media phone, or 0345 6000 789* from any other phone, and we'll send you a new one.
I'm need to order my new SIM
Just so you know...
Once you've swapped your SIM, your old SIM won't work. Make sure you copy your contacts and backed up all your data.
Your mobile number will stay the same, but you will need to re-record your voicemail greetings. Some other services are changing. To find out how you'll be affected visit our product change page.
Don't worry if you don't have a Virgin Media handset, your new SIM will still work.
You don't need to be registered to Virgin Media Your Account to request a new SIM.
If you have multiple mobile numbers under one account, you can request a new SIM for them individually. Alternatively, if you want to do them all together, you can do so from Your Account.
You may have received a notification to inform you that our new SIM cards will no longer be supporting certain services. These are legacy services so you will only be contacted if you are a frequent user of these. Services include SMS text to landline services and existing user video calling services. It is important that you swap to the new SIM we sent you to continue being able to use data and make/receive calls and texts.
*Please note standard charges apply, please check with your network operator for rates.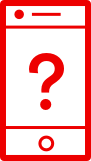 Need a hand?
If you need a little more advice with your phone our help and support section has you covered.