Skip to main content
How to understand Virgin Media monthly bills

As a Virgin Media customer, you pay for your services in advance. For example, you pay in September for October's services.
Sometimes you may notice that the monthly price for your services has changed. To understand why this may have happened, we've listed the reasons you may see a change below.

A promotional or special offer has ended?
When you join us, or when you agree to a new bundle, we may give you a promotional or special offer that reduces your monthly bundle price for a period of time. We show this price reduction on your contract and on your monthly bills. Once your offer ends, your bundle price will increase automatically to the normal monthly price for your services.
Any promotional or special offers you receive will show under the 'Promotional offers' section of your bill, and will show the date your offer is due to end. If the discount is no longer showing there, this means the offer has come to an end.
If you've recently changed your services, you'll notice that your next bill will include an adjustment, which is shown in the 'Package changes' section.

If you've made a change to your services
When you make a change to your service line up, like getting a bigger TV package or lowering your broadband speed, we'll charge you for those changes from the date it was activated right up until the end of your advance billing period.
This can sometimes get a bit confusing, but not to worry, we have an article that explains in more detail how a package change affects things.
How we bill for a change to your package
And if you'd like some more info on your first bill in particular, we've got you covered for that too.

What you can expect from your first Virgin Media bill
Closer look at a typical Virgin Media bill
Bill summary
Bill summary
Bill date
Upfront at the top and centre is your bill date. This is the date your bill was finalised, and the day we'll bill you each month going forward.
Amount due
The amount at the top of your bill is the total amount due this month. It includes all advance charges for the next period, plus any chargeable usage since your last bill.
Payment date
If you've chosen to pay by Direct Debit, this is the date we'll request payment from your bank or building society. If you've not opted to pay by Direct Debit, this is the date that your payment must reach us.
More info on ways to make a payment
Bill timeline
To help you understand how your charges are applied, we've included a timeline. The pink bar shows you the period your last bill covered, the purple bar is the month in advance for the services you're about to receive. The blue and grey bars cover any additional costs due this month.

Bill breakdown
Bill breakdown
Here's where you'll find details of last month's bill and any payments made against it.
If an amount is still outstanding when we finalised this bill, you could be charged a late payment fee. For more details on our charges, just head to our price guide.
Payment not showing?
Sometimes a payment doesn't reach us in time to show up on your current bill. Check the date your bill was generated, if you paid on or just before this date, the payment won't have been recorded in time. If you paid at the bank or via cheque, it can take up to 14 days to clear and show on your account.
Don't worry, any payment made will show up on next month bill.

Your package
Your package
Package price
All services included in your Virgin Media bundle and any extra Personal Picks will be grouped by product type and listed here. The price displayed is the full package price without any discounts or offers
If you've added some personal picks to your bundle, we'll show you how much those extras cost.
Promotions & discounts
When you join us, we may give you a promotional discount or special offer which is applied to your whole bundle and will reduce your monthly price for a set period of time. This is why you won't see your monthly price broken down for each service.
Please take note of any expiry dates. Once your offer ends, your bundle price will increase automatically to the normal monthly price for your services.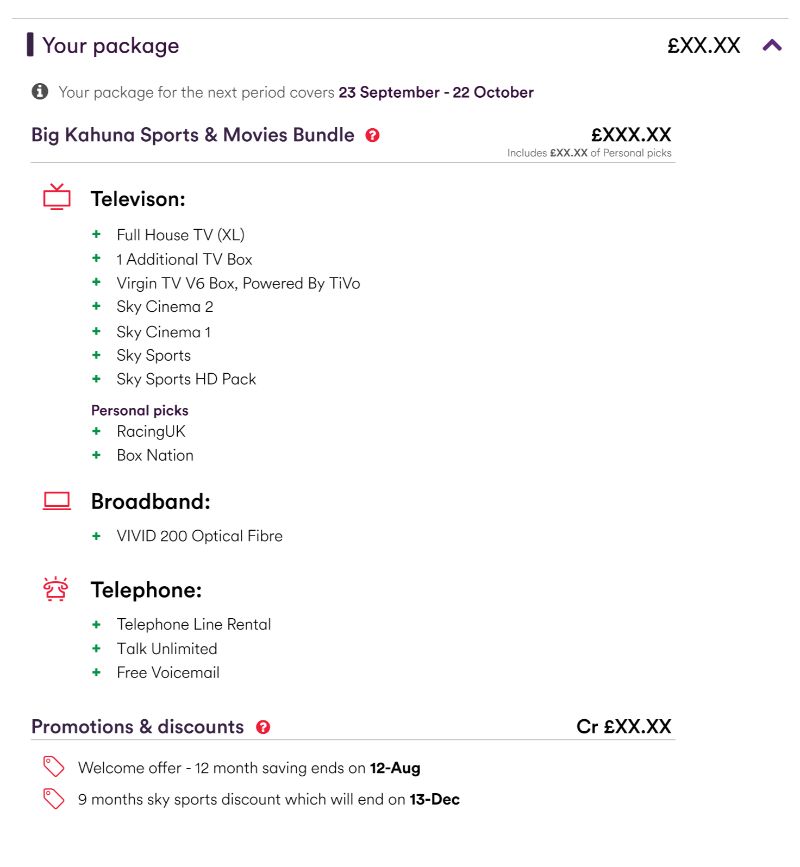 Usage charges
Usage charges
If you've purchased any movies or played any interactive games in the last month, you'll see those charges in this section. You'll also see any call charges that are outside of your Talk plan.
On demand charges
On demand charges include any movies, music or pay-per-view viewings. We'll show you a brief description of the item, the day ordered and the cost you would have been asked to confirm at the time of purchase.
Interactive games
Interactive games will have been played through the set top box, red button orders or TV voting.
Interactive game credits
If you've been playing interactive games and won, congratulations! If you win under £10, we'll credit your winnings to your bill. Anything greater will be sent to you directly via cheque.
Call usage charges
Chargeable calls made outside of your phone package will be detailed. When your account was created you would have selected an itemisation level, the default is 50p. We will display the calls above and below that threshold in the itemised call breakdown section.
Also, as your calls are displayed exclusive of VAT, we'll list that charge separately.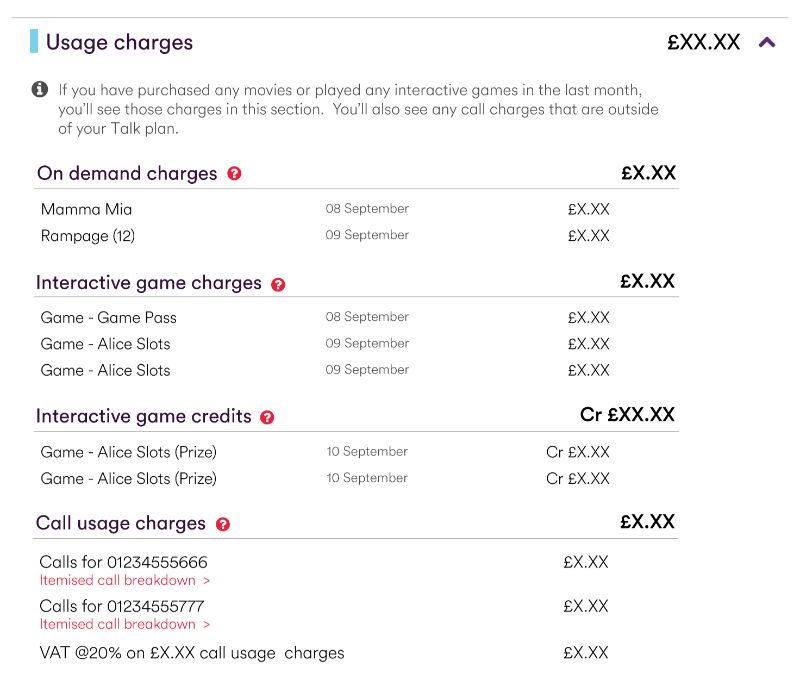 Other charges & credits
Other charges & credits
One-off charges & credits
If we need to apply any charges or credits that are not directly linked to one of your service charges, we'll apply them here so you can see them all together in one place. If you receive a charge, it would commonly relate to things such as activation or setup. Credits are commonly used for things like adjustments or bill corrections.

Billing & payment fees
Payment handling
Unless you pay by Direct Debit you may be charged a payment handling fee. Payment can also be made by cash, cheque, credit and debit card, but may be subject to this fee.
Paper bills
Most of our customers receive their bills via eBilling. If you choose to receive a paper version of your bill, you will normally be charged a paper bill fee. To be able to receive an eBill, you need to provide us with a valid e-mail address.
If you need an alternative format bill, such as braille or audio, you won't be charged