Skip to main content
Cancelling my Virgin Media contract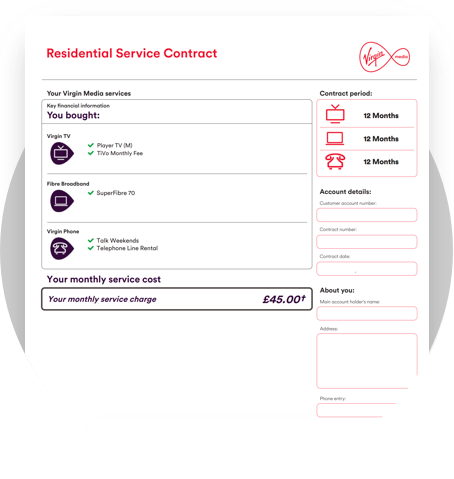 How do I cancel my Virgin Media contract?
We're sorry to hear you're thinking of disconnecting your Virgin Media services and if we've done something wrong, we'd love the chance to put it right.
We've added more information on how to get in touch at the bottom of this page, but there are a few things we think you should know before you contact us.
Four important things you need to know before you leave
Before you make your decision about leaving, there are a few things we want you to be clear about.
Still need some help?
Due to the quarantine measures brought about by the coronavirus outbreak, some of our call centres and customer support teams have closed or are now working at a reduced capacity.
Unfortunately, this means our lines could be very busy, so if your request isn't urgent it'd be best to call us at another time. If you need to talk to us give our team a call on 150 from your Virgin Media phone or mobile, or 0345 454 1111 * from any other phone.
*For details about how much it costs to call our team from a Virgin Media home phone, visit virginmedia.com/callcosts. Call costs from other networks and mobiles vary.

Something else?
If you've still not found the answer you're after, perhaps these pages can help.
For everything else, please visit our help pages.