Skip to main content
All good things come to an end: Celebrating our five year partnership with Scope
2 December 2020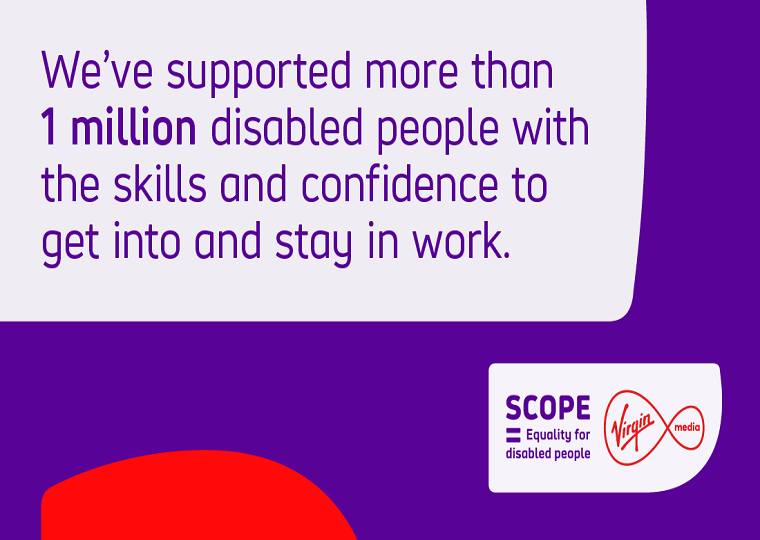 After five years of focused activations, campaigning, innovation and team play, our five year partnership with the disability equality charity, Scope, is coming to an end.
I am, like everyone at Virgin Media, incredibly proud of everything we have achieved together. We have gone beyond the standard corporate charity model, and instead, ambitiously set out to co-create societal change for disabled people across the UK.
Back to the beginning
Our partnership Scope is spearheaded by our brilliant sustainability team – who over the past five years have implemented a wide-reaching and award-winning programme that has changed the lives of many disabled people across the UK and transformed our employee and customer experience for the better.
The partnership began after we spoke to our employees and customers about how we could drive the biggest impact in communities up and down the country. A common theme emerged around how we could use our connectivity and digital technology to help people become more independent.
It was therefore a natural fit for us to join forces with Scope to support disabled people.
As our partnership began, it became clear there was a single issue affecting so many disabled people – one which prevented them from having independence and experiencing equality: disability unemployment.
Supporting a million disabled jobseekers
The UK's disability employment gap – the rate at which disabled people are employed compared to non-disabled people – has remained static for more than a decade, with disabled people's employment still stuck about thirty percentage points behind.
In response to this, we launched a pioneering campaign to support a million disabled people with the skills and confidence to get and stay in work.
We helped to co-create and fund Scope's Support to Work service – the first employment service of its kind for disabled people in the UK – which offers either online resources or a 12-week tailored programme to support disabled jobseekers with essential advice, such as how to write a CV, interview practice skills and guidance on how to discuss workplace adjustments with an employer.
I'm delighted to say that we've now reached our ambitious milestone and supported more than a million disabled people.
And, thanks to the fantastic fundraising efforts of our people, we've directly funded a jobs board for disabled people with vacancies from a number of inclusive employers, including Virgin Media and Scope.
Leading from the front
To help drive long-lasting societal change, we've been working with a range of large and small businesses to enable them to become more inclusive employers of disabled people. Our aim is to bring businesses together to provide practical tools and resources to help short-cut process and cultural change needed in workplaces.
More than 100 businesses have joined our #WorkWithMe community – from companies as diverse as Deloitte, Ford, Legal & General and Unilever – where their People and Sustainability teams have the practical tools and confidence to put polices in place to better support disabled employees.
Levelling up Virgin Media
Perhaps one of the most important pieces of work we've carried out over the past five years is the steps we have taken to better support our disabled employees and customers.
We have more to do. We're not perfect and there is still plenty of room for improvement. But, with Scope's help, we are making positive progress in transforming all areas of our business; from recruitment to employment, to our customer service as well as the products and services we sell.
This includes the dedicated training we've rolled-out to 8,500 of our frontline workers, the streamlining of our workplace adjustment process, and by simply helping our people to have more confident conversations about disability.
Putting disability front and centre
We've also used our brand to put disability in the spotlight, and twice donated our shirt sponsorship of Southampton Football club to Scope.
We've hit the headlines too, with the media highlighting our campaigns and shining a spotlight on the inequality disabled people face.
We've also proudly become a gold tier sponsor of ParalympicsGB, as well as a strategic partner of the Valuable 500 – an organisation that is aiming to put disability on the board agenda of 500 global businesses. This has helped to accelerate our work in this space and strengthen our partnership with Scope.
The beginning not the end
Although our formal relationship with Scope ends in just a matter of weeks, our work to become a more inclusive employer is only just beginning. We have a long way to go before we reach the ambition of disability equality. And we won't stop.
I want to use this opportunity to pay dedication to the team at Scope who we've learnt so much from.
And I want to thank our amazing Virgin Media people for embracing our strategic partnership, for embedding it into their divisional plans, for raising vital funds and for becoming true advocates of what we've been trying to achieve.
Next year we're going to take a different direction and build on this work. I know we'll take the values and lessons we've learnt (and there are lots!) over the past five years and incorporate them into our thinking and plans as we seek to build connections that really matter for our people and communities across the country.
Jeff Dodds is Virgin Media's Chief Operating Officer