Skip to main content

Posted by Brigitte Trafford, Chief Corporate Affairs Officer
Swotting-up on online safety before going back to school
04 September 2018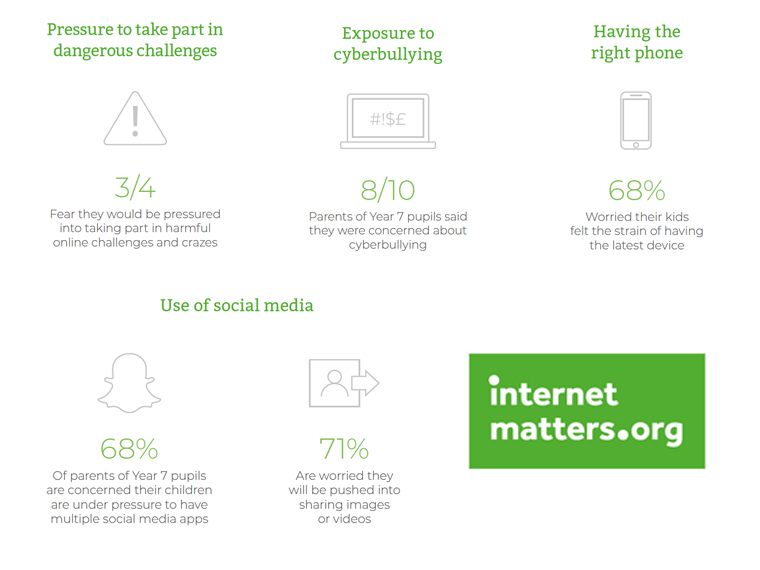 The new academic year is a big moment for many families. For children, it's an exciting time as they make new friends and start new classes, but the return to school also brings a whole host of digital challenges including managing friendship groups, pressure to have social media or even pressure to play certain games.
New research from Internet Matters, the not-for-profit organisation that works to help keep children safe in the digital world, has found that the first year of secondary school has become a particular pinch-point for online safety with 11-year-olds facing a "perfect storm" of digital pressures.
Their latest research found nearly seven out of 10 (68%) parents of Year 7 pupils are concerned their children are under pressure to have multiple social media apps and 71% are worried they will be pushed into sharing images or videos. An overwhelming majority of Year 7 parents (73%) said they were anxious about their child's ability to manage online relationships, while three quarters (74%) feared they would be pressured into taking part in harmful online challenges and crazes.
Of course, it's not just children starting secondary school that might need support in managing their digital lives: Internet Matters provides advice to parents and guardians on how best to support children throughout their schooling, right through from starting primary school to when their children are tech-savy teenagers navigating secondary school.
As a founding member of Internet Matters, Virgin Media is proud to support their back to school campaign which provides parents and guardians with the latest academic backed guidance on a range of child online safety topics, from cyberbullying to sexting. Find out more about how you can protect your family online with the Internet Matters online back to school guide.
-ENDS-