Skip to main content
Scottish school to hit the limelight after winning Virgin Media's national TV competition
19 December 2019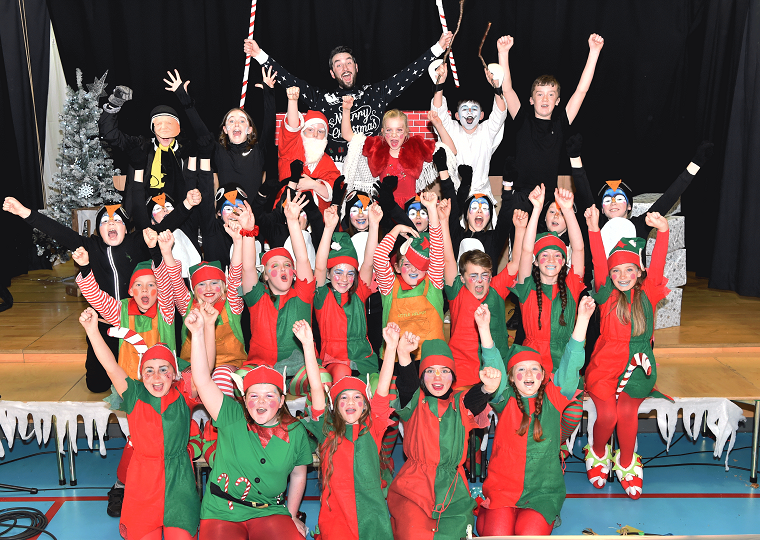 Stanley Primary School is the winner of Virgin Media's Christmas Stars competition 2019
The school's festive play 'Secret Agent Santa' is being televised to the nation this Christmas
The play also stars TV presenter, Stephen Mulhern and is being made available, via On Demand, to four million Virgin TV customers
The school has won £10,000 and fantastic prizes from Andrew Lloyd Webber's hit West End show, School of Rock the Musical
A Scottish primary school's Christmas play is being taken from the lunch hall to TV screens across the nation after being crowned the winner of Virgin Media's Christmas Stars competition 2019.
Stanley Primary School in Ardrossan, on the south west coast of Scotland, is getting its big break by having its festive play, 'Secret Agent Santa', televised to four million Virgin TV customers this Christmas.
The North Ayrshire school scooped the top prize after a panel of judges, including TV presenter Stephen Mulhern, declared their entry was the most creative and entertaining - seeing off stiff competition from schools across the UK.
The play was professionally recorded at the school in front a packed audience of family and friends, and will be made available, via On Demand, to all Virgin TV customers from today (Thursday 19 December).
Secret Agent Santa
Stanley Primary School's 'Secret Agent Santa' stars a class of Primary 7s who are aged between 10 and 12-years-old.
The play is set in the South Pole and features a gang of disgruntled birds, known as the 'Cheeky Penguins' who kidnap Santa's elves from the North Pole and force them to work in an ice cube factory.
It's left to Santa, Mrs Claus and Elf-in-training, Peggy, to go undercover and infiltrate the penguin's ice palace to rescue the elves and save Christmas.
TV star, Stephen Mulhern, adds extra magic to their fantastic festive tale by introducing the play. It features perfect performances, laugh-out-loud moments and sing-a-long songs.
David Bouchier, Virgin Media's Chief Digital Entertainment Officer, said:
"Huge congratulations to Ardrossan's Stanley Primary School for being crowned the winner of Virgin Media's Christmas Stars competition 2019.
"Its winning play, 'Secret Agent Santa', is being made available to millions of Virgin TV customers this Christmas. It's a fantastic festive tale full of laughter, brilliant performances and heart-warming moments – perfect viewing for all the family.
"Well done Stanley Primary School – you truly are Christmas stars!"
Stephen Mulhern said:
"I absolutely love Stanley Primary School's 'Secret Agent Santa' and I know it'll entertain millions of Virgin TV customers this Christmas.
"The children give an incredible performance and I'm thrilled to be part of their special festive play.
"It's brilliant to give the children the opportunity to shine in front of the nation, and I can't wait for you all to see it. Merry Christmas, everyone!"
Prize surprise
As well as having their Christmas play televised to the nation, Stanley Primary School has won a host of epic prizes.
Virgin Media surprised the school on the night of the recording by doubling the winner's prize money from £5,000 to £10,000. The school has already used part of the prize money to treat all of the school's 500 pupils to watch a pantomime at a local theatre.
In the New Year, a group of pupils will also travel to London and receive an unforgettable experience thanks to Andrew Lloyd Webber's hit West End show, School of Rock the Musical. The children will have an exclusive performance masterclass and then will be treated to tickets to watch the blockbuster show at the Gillian Lynne Theatre.
To keep the Christmas spirit going, School of Rock the Musical is also generously giving the school 10 ukuleles.
James Hughes, head teacher at Stanley Primary School, said:
"I wish to congratulate all of the children who entered the competition, and winning it has been a truly amazing and wonderful experience for the whole school community. From the excitement of seeing a professional film crew working around the school recording the children's work, speaking to the press, to the impending trip to London to work with the cast of School of Rock the Musical and then see the show, it has been a tremendous experience for the children.
"Our parents were equally excited and thoroughly enjoyed watching their children's performances. Five hundred children, staff and parents benefitted from the prize money when the whole school attended the pantomime at Ayr's Gaiety Theatre. The winning package provided by Virgin Media will, I am sure, inspire children to make ambitious future career choices.

"Finally I would like to take this opportunity to publicly thank all of the staff at Stanley Primary School who work so hard to provide inspirational and motivational learning experiences for the children. The partnership we have with our parents makes for a special school community. I am sure that everyone at Stanley Primary School will join me in thanking Virgin Media for what has been a once in a lifetime, never to be forgotten experience."
Freya, aged 11, who plays one of Santa's elves, said: "It felt so weird to find out that the story that me and my friends wrote was going to come to life. It felt like a dream. I think when I grow up I'd like to be an author."
Leesa, aged 11, who plays one of the Cheeky Penguins, commented: "I thought it was an amazing experience to meet the crew and see what they did in real life. You just don't realise how much work goes into it all."
Brody, aged 11, who was part of the backstage crew, concluded: "The fact that we're going to London and that I get to go with all my pals is really exciting. I can't wait to see the city and watch School of Rock the Musical!"
Virgin TV customers can watch 'Secret Agent Santa' until 31 December.
ENDS
Note to Editors
A panel of judges including Stephen Mulhern and representatives from Virgin Media and School of the Rock the Musical, selected Stanley primary school from a shortlist of 24 entries from primary schools across the UK
Virgin Media and School of Rock the Musical is also providing prizes to the runner up and 22 semi-finalist schools.
About School of Rock the Musical
Unleash your inner rock god at School of Rock the Musical in the West End and witness a band of insanely talented kids play live at every show! It's 'The most enjoyable few hours money can buy' (The Daily Telegraph), with the Sunday Times branding it 'A five star triumph'.
Featuring 14 new songs from Andrew Lloyd Webber and all of the original songs from the hit movie starring Jack Black, this high-octane smash delivers face-melting guitar riffs and touching romance in equally awesome doses.
About Virgin Media
Virgin Media offers four multi award-winning services across the UK and Ireland: broadband, TV, mobile phone and landline.
Our dedicated, ultrafast network delivers the fastest widely-available broadband speeds to homes and businesses and we're expanding this through our Project Lightning programme, which could extend our network to up to 17 million premises.
Our interactive TV service brings live TV, thousands of hours of on-demand programming and the best apps and games to customers through a set-top box, as well as on-the-go through tablets and smartphones.
Virgin Mobile launched the world's first virtual mobile network and offers fantastic value and innovative services with 4G connectivity. We are also one of the largest fixed-line home phone providers in the UK and Ireland.
Through Virgin Media Business we support entrepreneurs, businesses and the public sector, delivering the fastest widely available broadband speeds and tailor-made services.
Virgin Media is part of Liberty Global, one of the world's leading converged video, broadband and communications companies. Liberty Global connects 11 million customers through operations in six countries across Europe subscribing to 25 million TV, broadband internet and telephony services. It also serves 6 million mobile subscribers.