Skip to main content
Virgin Media and Southampton FC make away tickets a tenner for Saints fans for Everton match this weekend

01 May 2018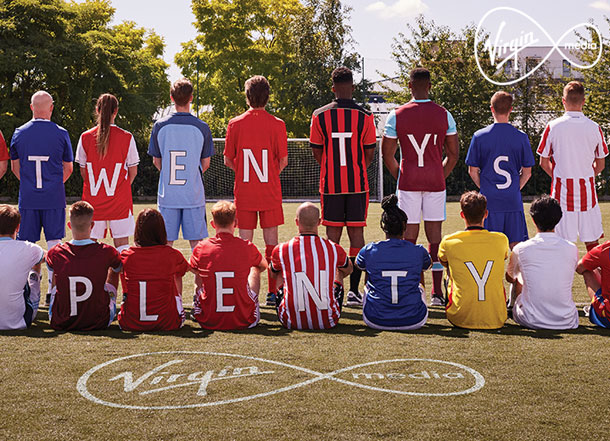 Saints fans will want to be in that number this weekend as supporters travelling to the Premier League fixture against Everton will pay only £10 to watch their side in action, thanks to a joint incentive by club sponsors Virgin Media and Southampton Football Club.

Virgin Media, the main club sponsor, and the club will each contribute £10 to reduce individual ticket costs from the usual price of £30.

In addition, Virgin Media is also cutting the usual cost of coach travel to the game by £5. Return coach travel, through Southampton's official coach service, will now only cost £23 per person. All in all this means Saints fans can attend the match and get to and from Goodison Park in Merseyside – a round trip of over 450 miles - for as little as £33.

Virgin Media has carried out a number of initiatives to get behind football fans. Earlier this season, the company subsidised tickets (£20) and coach travel (£15) for more than 2,000 Saints fans when they travelled to Wembley to take on Tottenham Hotspur on Boxing Day.

Since the beginning of last season, the company has also subsidised the tickets of all Premier League fans who visit St Mary's to just £20. This is part of its work with the Football Supporters' Federation's 'Twenty's Plenty' campaign.

Brigitte Trafford from Virgin Media said: "We're proud to once again reward Southampton fans for their passionate support this season by working with the club to provide subsidised tickets and travel for this match. Football supporters are at the heart of the game and we know the level of commitment they make to watch their team on the road so we hope this will help make their day-out that much better."

Full ticket information > https://southamptonfc.com/matches/2017-18/everton-v-saints-2018-05-05/ticket-info

ENDS

Ticket prices:
Virgin Media had already committed to subsidising Adult and Over-65 tickets by £10. Southampton Football Club will match this subsidy by £10 on all tickets and, as such, tickets for this fixture will now be priced as follows:
£10 for Adults (was £30.00)
£10 for Over-65s (was £23.00)
£10 for Under-18s
Note to editors
Virgin Media became the official main club sponsor of Southampton at the start of the 2016-17 season in a three-year deal.
The company aims to be a different type of football sponsor and has carried out a number of initiatives to get behind football fans, such as subsidising away tickets to £20 for Saints' fans travelling to Manchester United, Middlesbrough and Chelsea.
The company also supports the Football Supporters' Federation's 'Twenty's Plenty' campaign and subsidises all Premier League away fans' tickets to St Mary's to £20.
Virgin Media is the UK's only TV provider to offer all the football on Sky Sports and BT sports in one package.
About Virgin Media
Virgin Media offers four multi award-winning services across the UK and Ireland: broadband, TV, mobile phone and landline.
Our dedicated, ultrafast network delivers the fastest widely-available broadband speeds to homes and businesses and we're expanding this through our Project Lightning programme, which will extend our network to 17 million premises.
Our interactive Virgin TV service brings live TV, thousands of hours of on-demand programming and the best apps and games to customers through a set-top box, as well as on-the-go through tablets and smartphones.
Virgin Mobile launched the world's first virtual mobile network and offers fantastic value and innovative services with 4G connectivity. We are also one of the largest fixed-line home phone providers in the UK and Ireland.
Through Virgin Media Business we support entrepreneurs, businesses and the public sector, delivering the fastest widely available broadband speeds and tailor-made services.
Virgin Media is part of Liberty Global, the world's largest international cable company. Liberty Global serves 27 million customers across 14 countries.
For all Virgin Media press enquiries please contact;
jamie.clarke@virginmedia.co.uk / 0333 000 2984 @VirginMediaCorp

Recommended press releases