Skip to main content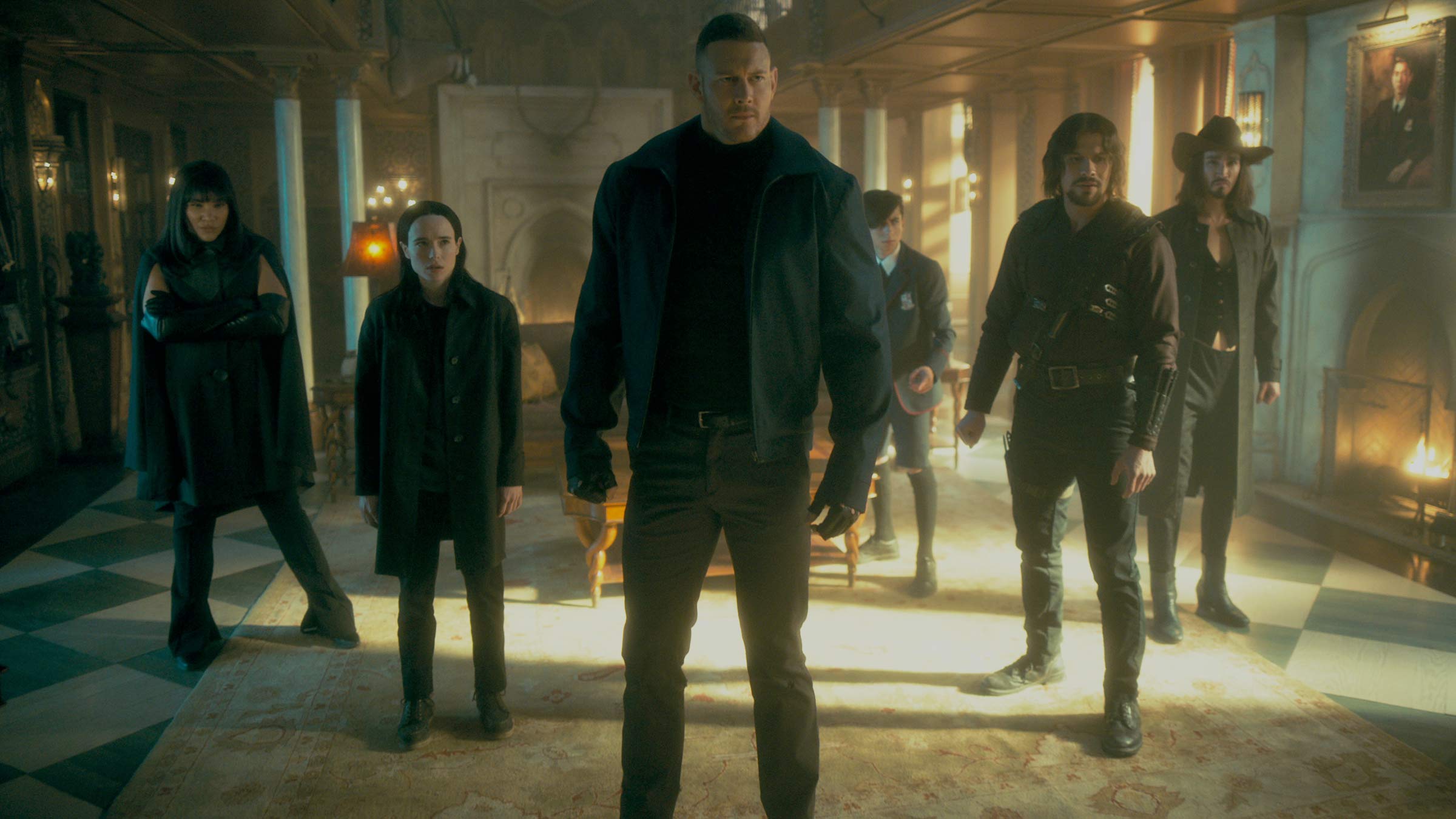 After facing the apocalypse, the Hargreeves family have a new challenge to deal with in season 3 of The Umbrella Academy – and this one is a lot closer to home…
By Chris Miller, Writer
It takes something special to stand out among the numerous superhero shows these days, and there's definitely something special about The Umbrella Academy. It was a huge hit when it premiered on Netflix in 2019 – and after the second season ended with some serious fireworks all the way back in July 2020, the third season is finally here!
The series, based on a comic book written by My Chemical Romance singer Gerard Way, isn't just about a group of powered-up young people struggling to cope with their abilities and figuring out their responsibilities. It also touches on themes of loss, grief, sexuality, mental health and the emotional minefield of family dynamics. Plus there's weird science, mind-boggling time travel, apocalypses, androids, mysterious assassins and a hyper-intelligent chimpanzee. Everything you could ever want in a TV show, basically.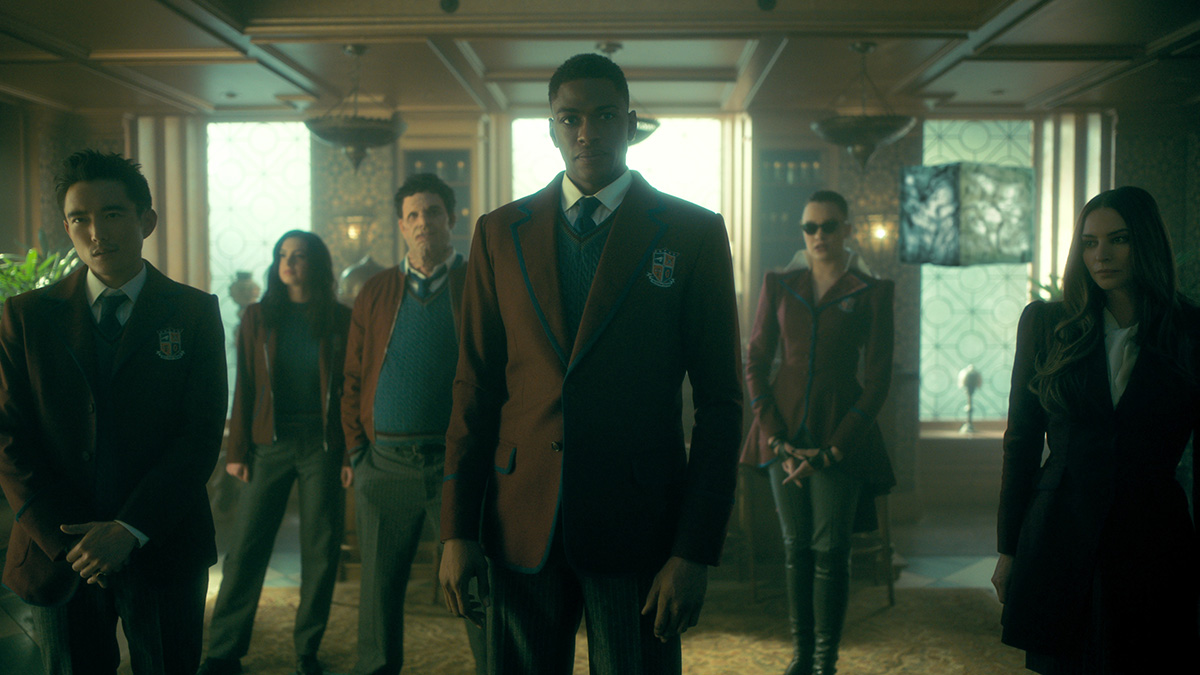 As we discovered at the very end of season 2, the third instalment of TUA is going to shake things up by introducing a whole new collection of characters with superhuman abilities. Let's meet them – after a quick recap…
What happened in The Umbrella Academy season 1?
(Spoilers, obvs)
In 1989, 43 children were born simultaneously, many of whom exhibited unusual abilities. We then fast-forwarded to 2019 and met the Hargreeves family, seven of these children who were adopted by mysterious billionaire Reginald Hargreeves and grew up in the Umbrella Academy, each assigned a number from one to seven. They were gathered for Reginald's funeral when the shocking arrival of Number Five (Aidan Gallagher), who had been missing for 16 years, kicked off a quest to find the truth about their father's death.
The Hargreeveses travelled back and forth in time as they searched, while doing their best to steer clear of temporal hitmen snet by an authority called the Commission. Meanwhile Number Seven (Elliot Page, Flatliners), then known as Vanya, who did not appear to have superpowers, worked as a violin teacher. But it turned out that one student had some seriously dangerous secrets…
The family members managed to avert disaster – only for Number Five to reappear from the future and warn of an even bigger catastrophe to come: the apocalypse.
What happened in season 2?
Even more time-travel shenanigans, as our heroes headed back to the 1960s to stop the events that lead to global destruction. It… didn't go smoothly. Hippyish cults, civil rights movements, deadly missions, ghostly possession and Scandinavian assassins all combined in a wildly unpredictable narrative, culminating in a shoot-'em-up showdown on a Texas farm.
With the apocalypse averted again, for now at least, the Hargreeves family returned to 2019 to discover that – gasp! – their past meddling created a new timeline with a different Hargreeves family. This is the Sparrow Academy.

Umbrella Academy Hargreeves #1: Luther
Sparrow Academy Hargreeves #1: Marcus
Luther (Tom Hopper, Game Of Thrones) is the leader of the Umbrella Academy team, with not only superhuman strength but also the kind of moral fortitude that makes him suited to the role. However, he's also prone to moments of despair, and turned to violence and narcotics as a distraction in season 2.
His Sparrow counterpart Marcus (Justin Cornwell, I Am The Night) is evidently just as strong but also smart, charismatic, virtuous and able to keep the family together in ways Luther can't. Surely Luther won't feel threatened by him? Spoilers: yes, yes he will.

Umbrella Academy Hargreeves #2: Diego
Sparrow Academy Hargreeves #2: Ben
It's a shock to find that Sparrow Academy's Number Two is Ben (Justin H Min, After Yang), who was Number Six in the Umbrella Academy but perished in mysterious circumstances. This Ben is significantly different, though, and not just because he's still breathing. Umbrella Ben is sweet and sad; Sparrow Ben is a Machiavellian schemer and a brutal fighter, with vicious tentacles he can unfurl at will. Blade-manipulator Diego (David Castañeda, The Guilty) isn't that stable at the best of times – will he cope with this new rival?

Umbrella Academy Hargreeves #3: Allison
Sparrow Academy Hargreeves #3: Fei
Allison (Emmy Raver-Lampman, Dog) has the power to make things true just by starting a rumour. It's a power that causes as many problems as it solves. However, it's a less chaotic one than that wielded by Fei (Britne Oldford, Blindspot), which – the trailer suggests – involves summoning up a load of crows. Maybe these two can bond over their scars – both physical and emotional.

Umbrella Academy Hargreeves #4: Klaus
Sparrow Academy Hargreeves #4: Alphonso
Klaus (Robert Sheehan, Misfits) has arguably suffered more from his own powers than any of his siblings: his gift for communicating with the dead often sends his mental health reeling, and the emotional rollercoaster of a time travel love affair didn't help. Alphonso (Jake Epstein, Suits) could hardly be more different, a pizza-and-beer-loving bruiser whose twisted abilities have left him disfigured.

Umbrella Academy Hargreeves #5: Number Five
Sparrow Academy Hargreeves #5: Sloane
Number Five disappeared from the Umbrella Academy before he could be given a human name, and although his time travels mean he has lived much longer than the 2019 crew, he's stuck in the body of a 13-year-old. Cynical and ruthless, he's proved willing to break all the rules for the greater good.
In contrast, Sloane (Genesis Rodriguez, Delirium) is a romantic and a dreamer, but represses her sense of adventure because of the responsibility she feels to her family. We haven't seen any sign of Sloane's power, although the comics indicate she may have a healing touch.

Umbrella Academy Hargreeves #6: Ben
Sparrow Academy Hargreeves #6: Jayme
In both Academies, Number Six is the most enigmatic member, because Ben (Min again) is dead and communicates almost exclusively through Klaus's chaotic mind, and Jayme (Cazzie David) is a loner who expresses her feelings mainly through snarls. Maybe she can be persuaded to turn her analytical brain to solving the mystery of Ben's death. Maybe not.

Umbrella Academy Hargreeves #7: Viktor
Sparrow Academy Hargreeves #7: Christopher
The Umbrella Academy's Number Seven has really been through it – from an unexpected eruption of powers to a brief but intense relationship with a farmer's wife – and in season 3, we'll see Vanya's transition to become Viktor, reflecting Page's real-life transition. Christopher's life seems a little more stable: he's wise and loyal, and often performs the role of family mediator. He's also an existential dread-inducing psykronium cube. Which is nice.
When is season 3 of Netflix's The Umbrella Academy on TV?
All episodes will be available to stream on Netflix on Wednesday 22 June. Seasons 1 and 2 are available to watch now.
How to watch Netflix with Virgin TV
If you have a TiVo® box or Virgin TV V6 box, powered by TiVo®:
Press home on your remote
Select Apps & Games
Select All Apps
Select Netflix
If you're already a Netflix subscriber, you can also access the app through Search & Discover or by pressing Red on channel 204. Just sign in with your existing login and start watching. And you'll only have to log in the first time you use it.
If you're new to Netflix, then you'll need to subscribe to use the app. The easiest way to do this is by going to netflix.com/virginmedia. You can also subscribe using the Netflix app in Apps & Games.
TV channels: Channels, content and features available depend on your chosen package. Channel line-ups and content are subject to change at any time and to regional variations.
HD: HD TV set, V HD Box, TiVo box or Virgin TV V6 connected with HDMI cables required for HD channels. Number of inclusive HD channels depends on package.
Netflix: Netflix subscription required at extra cost.