Skip to main content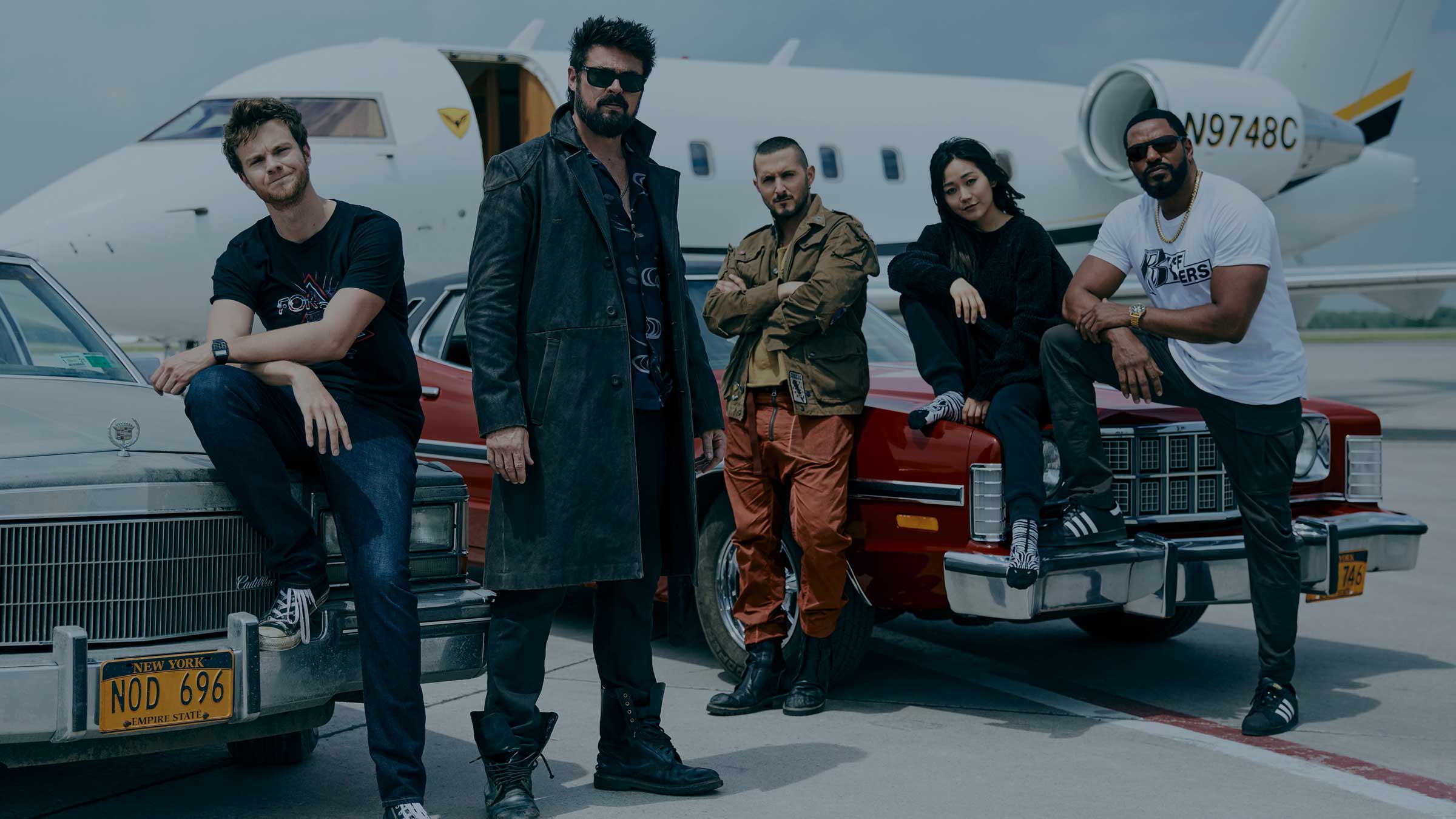 Welcome to the Long Story Short on The Boys as it returns for season 3. Whether you've got ten seconds or three minutes, we'll take you from zero to hero…
By Laura Rutkowski, Senior Staff Writer
Got seconds to spare?
Anti-superhero superhero series The Boys flips the genre on its head and makes the good guys the bad guys. It focuses on The Boys (who are not all actually boys, and some of them have powers), vigilantes who are trying to bring down the self-important supes (as they're called), who use their powers for their own gain. It's expletive-ridden, gory, and darkly hilarious.
Have a minute more?
So this is like Marvel, but with corrupt superheroes?
Sort of. If you love Marvel movies, you'll relish the Easter eggs and in-jokes in The Boys. Homelander is a milk-swigging psychopathic version of Captain America or Superman, cape and all; A-Train could be likened to a less friendly version of The Flash; Queen Maeve is essentially Wonder Woman if she was wracked with self-doubt; and it doesn't take a genius to figure out that Starlight is a play on Supergirl or Stargirl.
The Deep, of course, is inspired by Aquaman, and in the superhero world, anyone with aquatic powers is always the butt of the joke, which he most certainly is. We're still not over the gill reveal…
These formidable and influential celebrities have their own merchandise, sponsorships, film deals, energy drinks – the list goes on. In fact, their latest film, Dawn Of The Seven, is due to be released in The Boys this season and it has already received one hell of a stamp of approval from Justice League director Zach Snyder.
Where did the idea come from?
The Boys is based on the comic by Garth Ennis and Darick Robertson, who also serve as executive producers on the series.
What happened in season 1?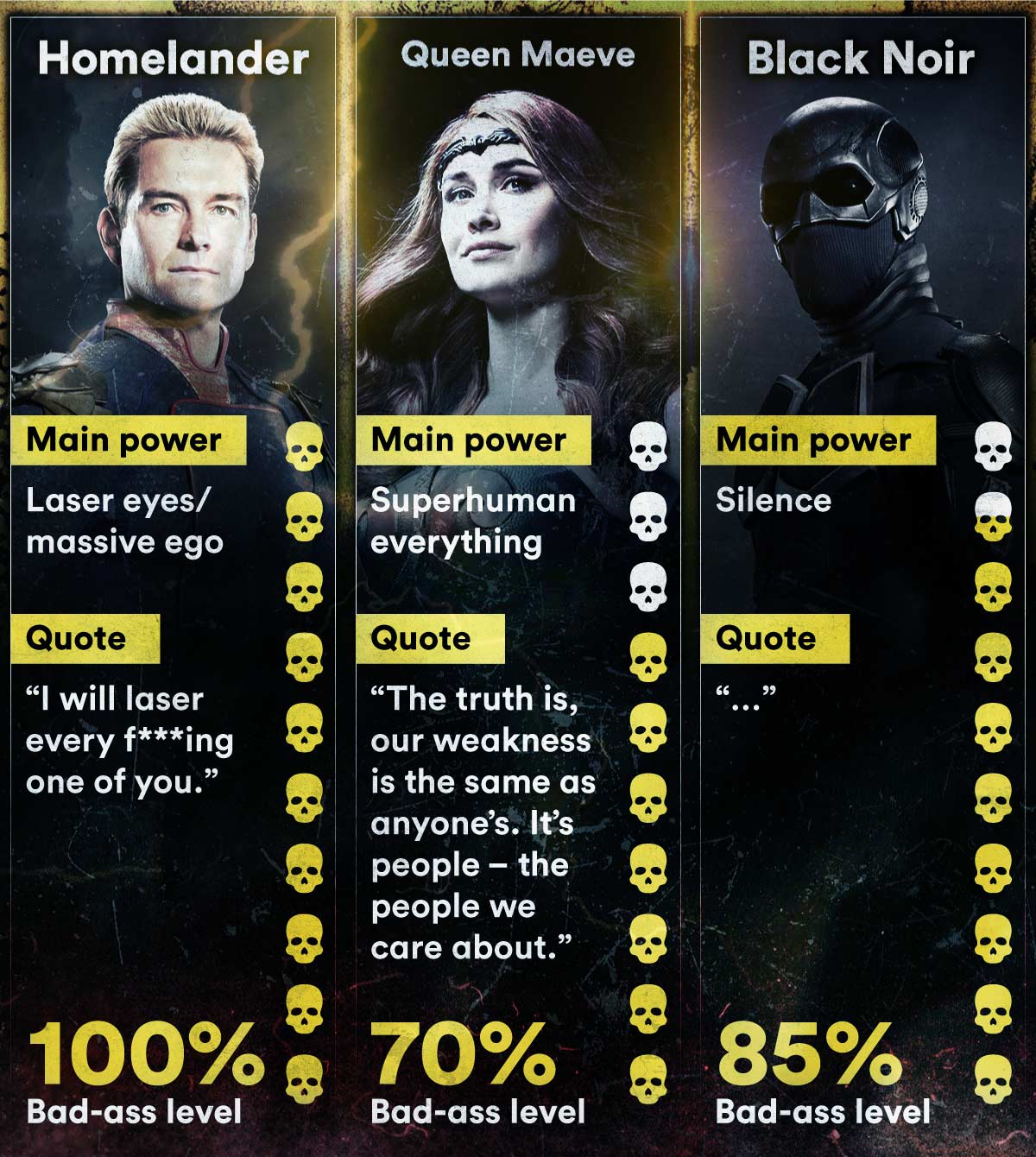 The Seven, led by Homelander, are a superhero team owned by Vought International, which manages them as they fight crime and raise their public profile. Starlight joined Homelander, The Deep, Translucent, Queen Maeve, Black Noir and A-Train as the Seven's newest recruit in season 1.
The Boys are a ragtag group commanded by lovable rogue Billy Butcher, who has it in for anyone with superpowers, because he believes Homelander is responsible for the disappearance of his wife Becca. Hughie Campbell, an electronics salesman, joined the crew – which includes Mother's Milk and Frenchie – when his girlfriend was killed by a drugged-up A-Train. Kimiko, who harbours incredibly dangerous powers, and the disillusioned Starlight are also part of the gang.
It's discovered that the drug Compound V, created by Vought, is injected into babies to give them their powers. Maybe they're born with it, maybe it's Compound V… Homelander, however, was indeed grown in a lab.
The big bombshell to end the season was that Homelander has fathered a child with Becca, who is still alive and raising their son in secret.
What about season 2?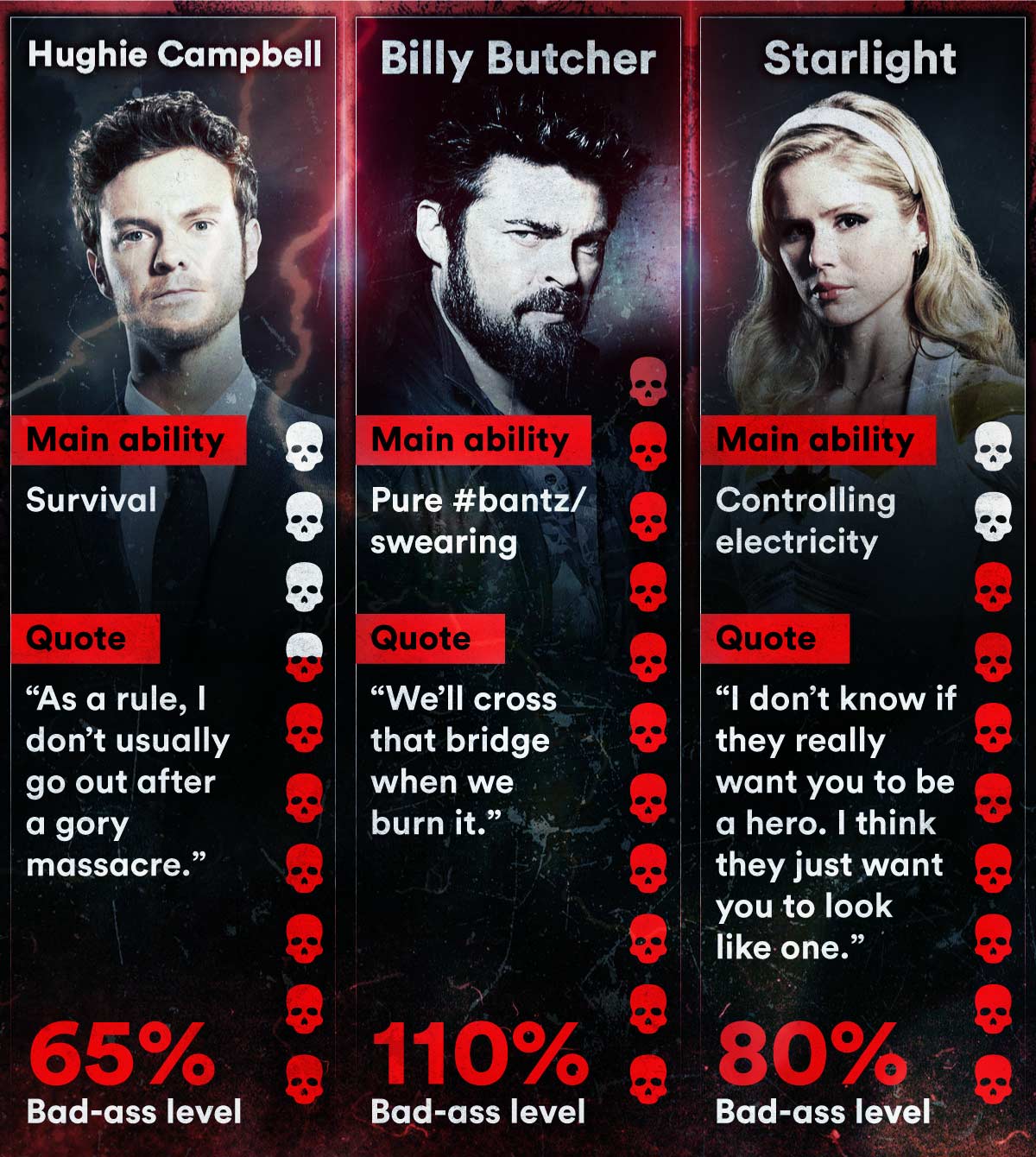 Stormfront, the first successful Compound V subject (and Homelander's love interest), joined The Seven, but she turned out to be a non-aging Nazi. She was dealt with swiftly by Becca's son Ryan, who has powers, including laser eyes – but not before Stormfront killed Becca.
The Seven is currently made up of… er… five supes, because Stormfront is incapacitated and The Deep joined the Fresca-loving The Church of the Collective, although he's now left.
Queen Maeve turns out to be an ally to The Boys, as she finally stood up to Homelander, who had laser-eyed a whole airplane of people who he forced Maeve to abandon in season 1. Then there's Congresswoman Victoria Neuman, who is secretly a supe and is responsible for many of the deaths in season 2. Hughie asks for a job with Neuman's office to fight Vought in the "right way". Plus, Hughie and Starlight are officially together – yay!
What's going on in season 3?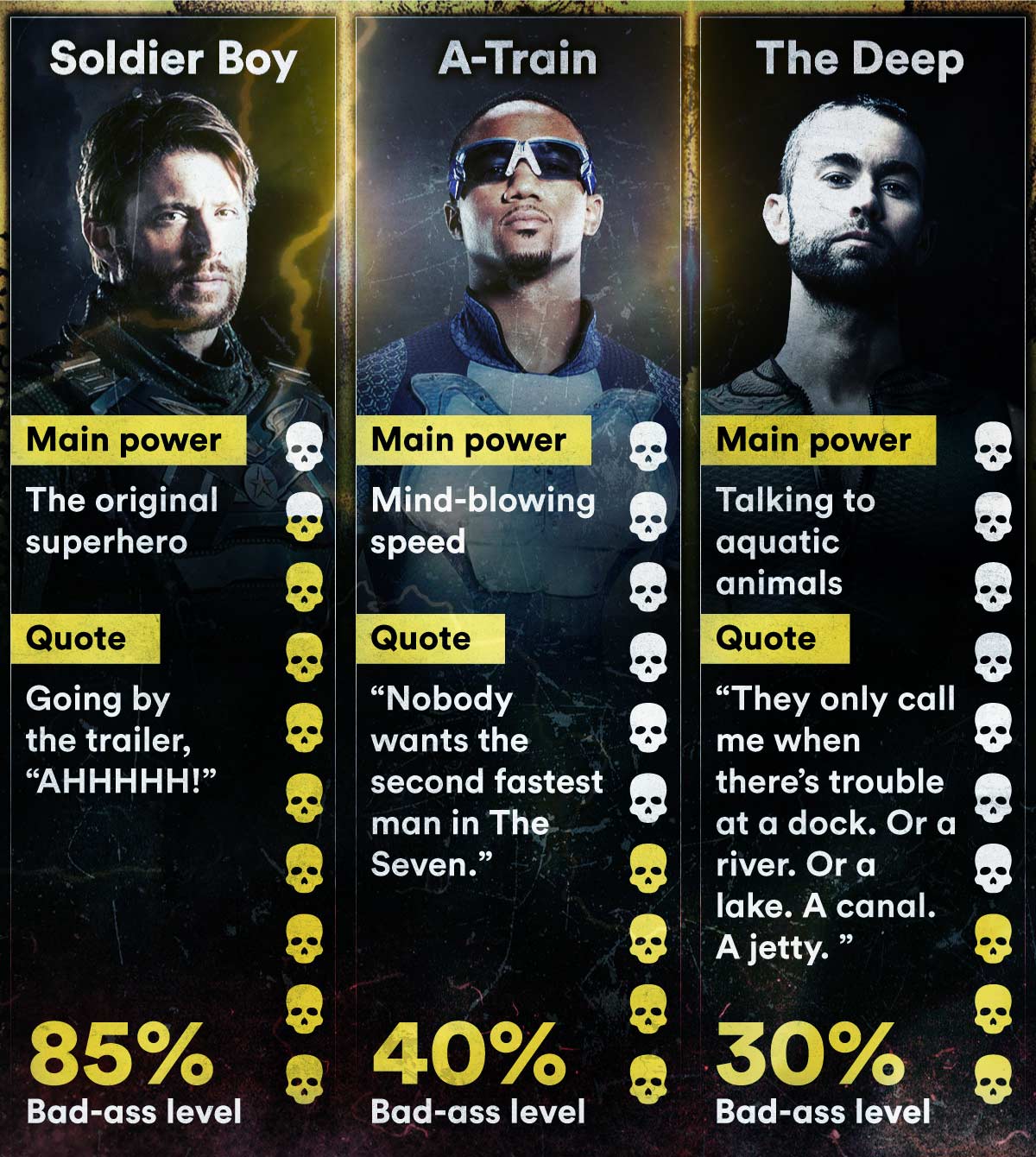 The Boys is getting its very own origin story uncovering how Vought and The Seven came to be, and – you've been warned – it's not pretty.
Butcher is working for the government, with Hughie as his superior, much to Butcher's annoyance. Homelander is out of the picture for the time being, being all Homelander-y and weird (more milk drinking and some cow milking *shudders*). Then... The Boys discover an anti-supe weapon.
Their desire to bring down The Seven returns stronger than ever and they go out in search of the first superhero: Soldier Boy, who was Homelander before Homelander. He's woken from what appears to be a cryogenic chamber. Soldier Boy led the original supe team, Payback, which was made up of Stormfront, Eagle the Archer, Tek Knight and Crimson Countess.

In the trailer, Butcher also seems to acquire laser eyes of his own by taking a serum that turns him into a supe for 24 hours… and he thinks he's finally "levelled the playing field". Homelander, look out…
Who are the stars?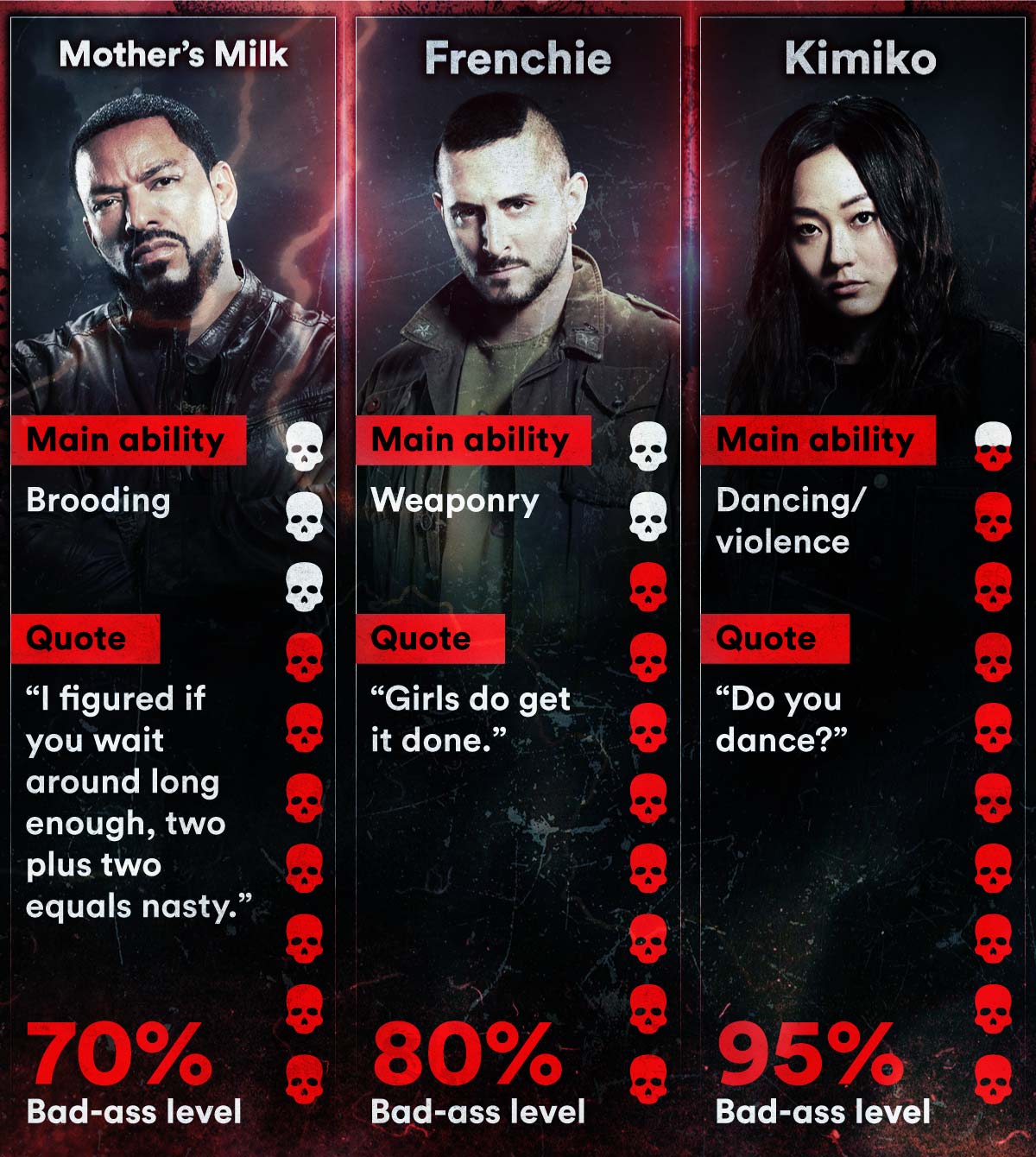 Antony Starr (Homelander), Jessie T Usher (A-Train), Karen Fukuhara (Kimiko), Nate Mitchell (Black Noir), Jack Quaid (Hughie Campbell), Laz Alonso (Mother's Milk), Erin Moriarty (Starlight), Chace Crawford (The Deep), Dominique McElligott (Queen Maeve), Claudia Doumit (Victoria Neuman), Karl Urban (Billy Butcher), Giancarlo Esposito (Stan Edgar) and Tomer Kapon (Frenchie) all reprise their roles in season 3.
Supernatural's Jensen Ackles joins the cast as Soldier Boy, with Laurie Holden (The Walking Dead) as the Crimson Countess, Katia Winter (Dexter) as Little Nina and Frances Turner (The Man In The High Castle) as Monique, Mother's Milk's wife.
Characters created for the TV series who appear this season are Gunpowder (Sean Patrick Flanery, Dexter), Blue Hawk (Nick Wechsler, Revenge) and Supersonic (Miles Gaston Villanueva, Nancy Drew).
Can't get enough?
Want even more supe-r action? You can watch the very NSFW trailer for season 3 here at your own risk. Check out the official Dawn Of The Seven website, and if you haven't already, watch animated anthology series The Boys Presents: Diabolical in Apps & Games > Prime Video.
There's also an immersive experience (not for the faint-hearted) called Get The V taking place from 2 June to 5 June in London, where it's up to you to help The Boys infiltrate Vought's London HQ.
When is The Boys on Prime Video?
Find the first three episodes of The Boys season 3 in Apps & Games > Prime Video from Friday 3 June. New episodes of the eight-part series will be available each Friday, with the finale released on Friday 8 July. Seasons 1 & 2 are available now.
How to watch Amazon Prime Video with Virgin TV
Prime Video is available to all Virgin TV customers with a V6 box, powered by TiVo®. Simply sign up to Amazon Prime Video via their website, and you can log in on the box. And because Prime Video is fully integrated into TiVo®, you can search without even going into the app. Just select Search & Discover from the Home menu and type in the name of the show or movie you're after.