The singing trio were best known for crooning in kid's TV show Rainbow in the 80s. They also had their own self-titled show where they sang about all manner of things, from germs to the weather. They composed and sang over 2,500 songs for telly. That's quite impressive!
Where are Rod, Jane and Freddy now?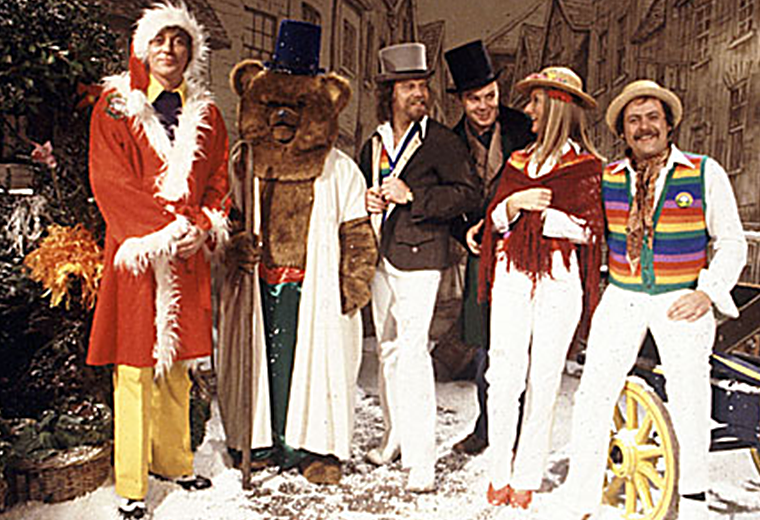 Unbelievably, the threesome is still together, appearing at events and in panto around the country. It was recently revealed that Rod and Jane had been married, but Jane and Freddy are now in a long standing relationship. Now that must be awkward…
Floella Benjamin (Play School)
In the 70s Floella was one of the main hosts of top kids TV shows Play School and Play Away. When she wasn't looking through the square window or talking to Big Ted, Floella was teaching the nation's kids how to do everything from counting to dancing.
Floella hasn't been resting since she left mainstream children's telly. She's been in shows as diverse as The Sarah Jane Adventures and Bergerac and has dedicated her life to charity. She was given an OBE in 2001 and was a cultural ambassador for the 2012 Olympics.
Carole Hersee was the young girl immortalised on Test Card F, which ran on TV from the late 60s to 1998. The card was used when there were no programmes showing. Carole was picked for the role because her father, George, had developed the card.
Where's the Test Card girl now?
Carole shunned the limelight to become a respected theatre costume designer with many West End shows under her belt. She still owns the clown, Bubbles, who appeared on the card with her, and who gave us several sleepless nights (seriously, clowns are scary!).
PJ and Duncan (Byker Grove)
Scamps PJ and Duncan appeared in Byker Grove back in the early 90s. Sporting dodgy haircuts and totally whack clothes, their biggest storyline involved PJ going blind after being hit in the face at a paintballing event. This led to the immortal line, "Geoff man, I cannae see!"
Where are PJ and Duncan now?
Unless you've been hiding under a rock for the past decade, you'll know PJ and Duncan morphed into the legendary televisual duo that is Ant and Dec. We still can't tell them apart (which one was PJ?) but they're now firmly embedded in our hearts and minds.
Emu and his 'owner' Rod Hull were notorious during the 70s and 80s for accosting celebrities, most notably Michael Parkinson. Emu also enjoyed fame and fortune with his two kid's shows, Emu's World and Emu's All Live Pink Windmill Show.
After Rod Hull passed away in 1999 Emu retired from showbiz for a while. However, Rod's son Toby decided to resurrect the blue bird and he returned to children's TV screens in 2007.
Colin Matthews (Press Gang)
Colin was one of the main characters in Press Gang, a 90s TV show about a young person's newspaper office. Colin was in charge of the finances and advertising and was always coming up with daft schemes. He was also very 'dad-chic' in his fashion sense, often wearing rather loud shirts.
Paul Reynolds has had a steady career since leaving Press Gang. He appeared in Let Him Have It and Croupier, and was recently in Lark Rise to Candleford, with fellow Press Ganger Julia Sawalha. Other alumni from the show include Dexter Fletcher and Lucy Benjamin.
Gary had a very successful TV career. He starred in numerous kids shows during the mid-80s, including Saturday Gang. A talented impressionist, Gary also appeared alongside Bob Monkhouse and Keith Harris in their TV shows.
Although we may not see him on telly much anymore, Gary actually has a phenomenally successful career in musical theatre. He's appeared in countless West End shows, including Me and My Girl, Oliver! and Chicago and he's released several top selling albums.
Supergran was a Scottish granny with superpowers who, in her tartan clothes and hat, would solve mysteries and help those in trouble. The character was once voted the Most Scottish Person in the World, which must have annoyed Billy Connolly!
Gudrun Ure played Supergran and although she retired from acting, is still going strong. After the show she had minor parts in Casualty and Midsomer Murders, but further fame eluded her.
Peter Duncan (Blue Peter)
Peter was one of the hosts of Blue Peter in the 80s. He earned a reputation as the show's daredevil and fitness fanatic, running marathons and jumping out of aeroplanes.
Peter left the show in 1986 and started a long-running career in musical theatre. He also appeared in a series of travel docs with his family and reality show The Games. He served five years as Chief Scout, a title he recently relinquished to Bear Grylls.
Billy Ryan (Children's Ward)
Children's Ward ran from 1995 to 1998 and tackled lots of serious issues, including cancer and drugs. Billy-Bob Ryan (also known as 'Meg') was a young alcoholic, battling his addictions and filling his coke bottles with booze.
After Children's Ward, Tim Vincent went on to host Blue Peter before returning to acting with parts in Dangerfield and Emmerdale. Never quite reaching the heady heights of fame, he now presents on telly, was booted off Dancing on Ice, and is a DJ on Magic FM. Still, that's better than drinking hooch out of coke bottles!