Channing Tatum - scorched crotch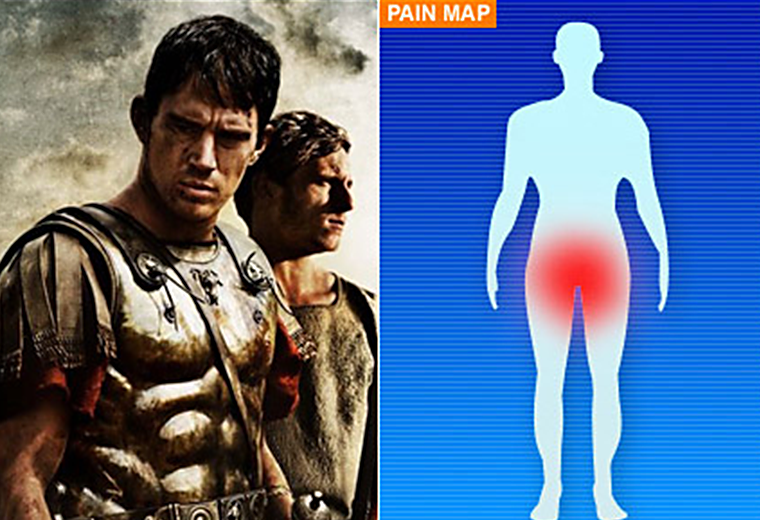 While filming swords and sandals historical epic The Eagle of the Ninth, burly hunk Tatum had a unique way of keeping warm while shooting river scenes… He had an assistant on hand to pour warm water down his wet-suit. Sadly for Channing (and indeed 'mini-Channing'), his lackey forgot to cool the boiling water. Ouch!
Sienna Miller - burnt boobs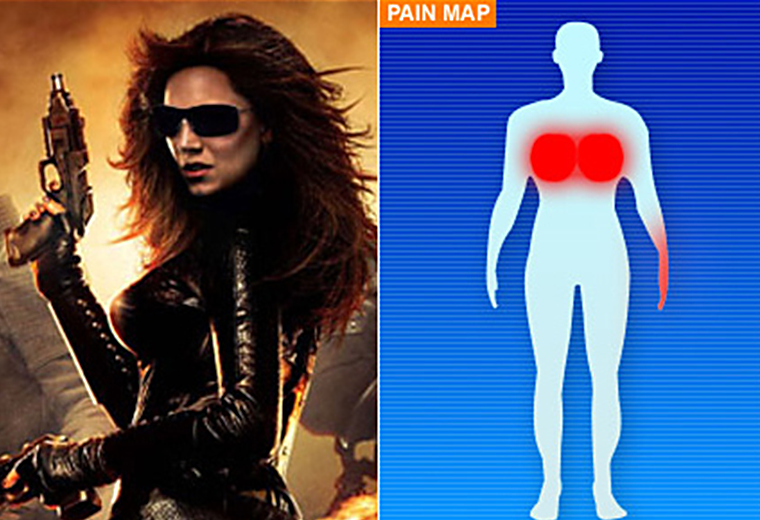 Filming action extravaganza G.I. Joe was no walk in the park for Sienna. On her first day of shooting, Miller slipped on a rubber bullet and had to be taken to hospital for a swollen hand. Later, she scorched her boobs during a scene when an errant spark landed in her cat-suit's cleavage.
Daniel Craig - teeth knocked out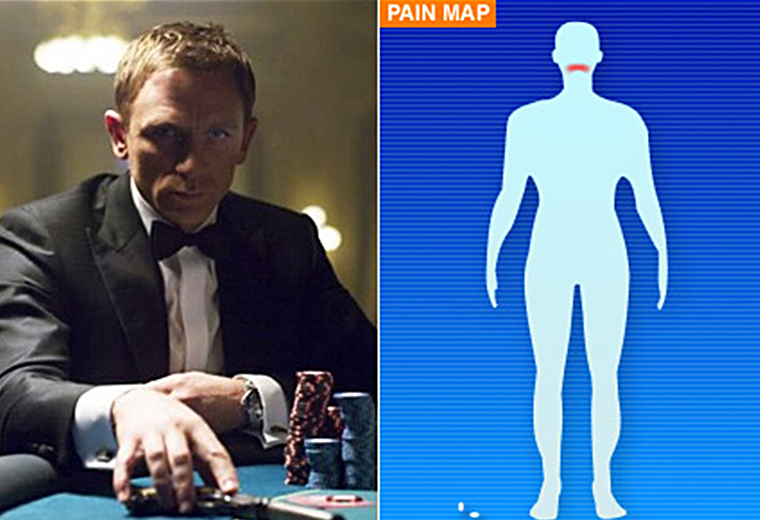 Craig had a tough time shooting Casino Royale. Not only did he have to contend with being labelled James Blonde/Bland by the tabloids, but he had his teeth rattled during a fight scene. Some reports suggest he had two teeth knocked out. Others claim it was merely a loose cap. The movie itself was a success, but we still enjoyed the headline: "The Man with the Broken Gums".
Hilary Swank - hit by flying suspender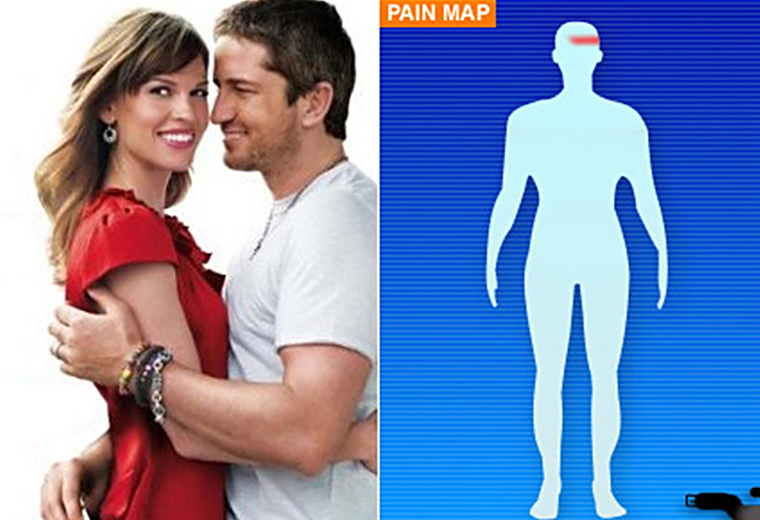 You'd think a tame romance like P.S. I Love You would be a safe environment for an actress, but not Hilary Swank. While filming, Gerard Butler accidentally twanged a suspender at his co-star and opened up a huge gash above her eye. "I had a perfect suspender-clip mark on my forehead, with the little teeth in it," Swank said.
Ben Stiller - bitten by ferret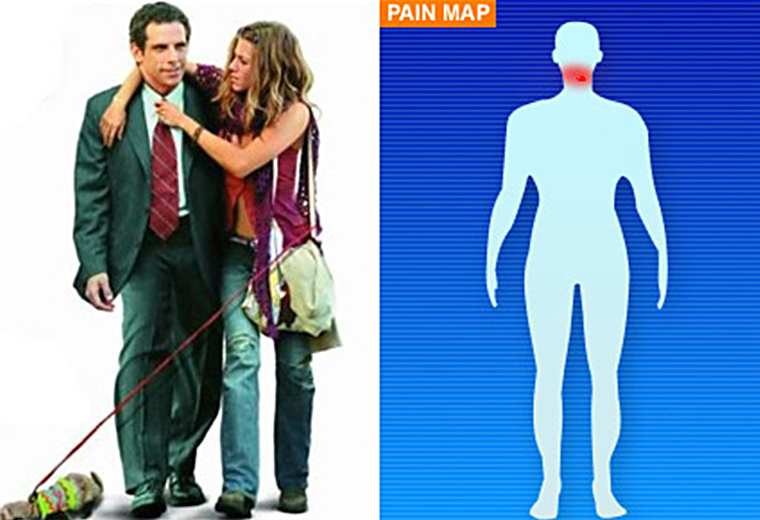 Stiller's suffered his share of indignity on screen, but in real life, he's fallen victim to an injury even worse than his infamous 'zipper scene'. While shooting Along Came Polly, Jennifer Aniston's pet ferret took a dislike to the funnyman and bit him on the face. "He literally attached himself to my chin," Stiller said, after receiving a rabies shot. We've got to track down that blooper reel.
Malcolm McDowell - scratched eyeball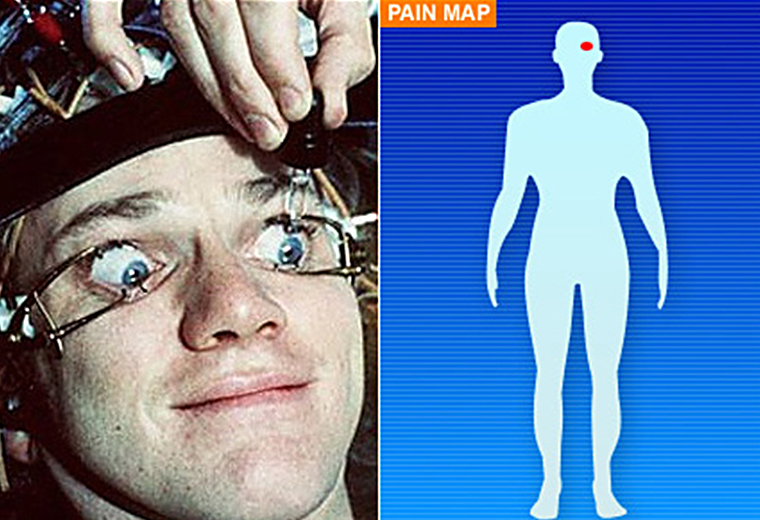 Director Stanley Kubrick would do anything to achieve a perfect shot, quite often to the detriment of his actors' physical and mental well-being. For the pivotal brainwashing scene in A Clockwork Orange, McDowell suffered for his art by having his eyes pinned open – a procedure that left him with a scratched cornea and temporary blindness, but a very happy director and an iconic scene.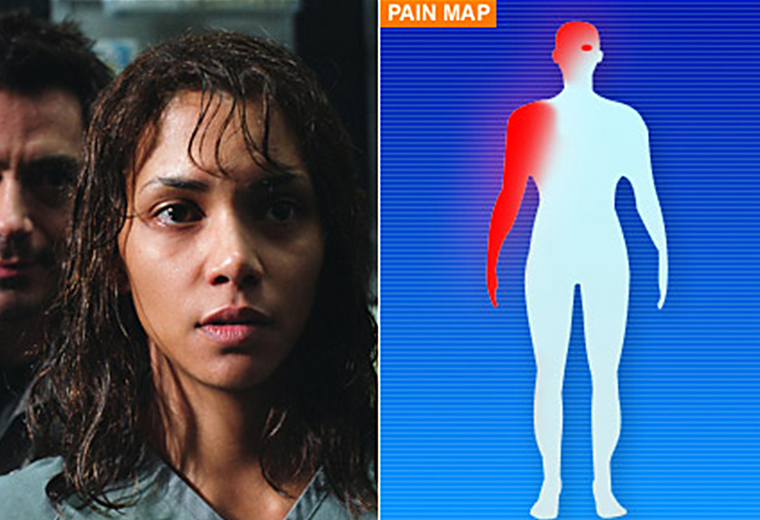 Berry is a walking calamity on set. She was hit on the head by a lighting rig during Catwoman and had a fragment of a smoke grenade stick in her eye while filming Die Another Day. It's not just props that have it in for her either. While filming Gothika, co-star Robert Downey Jr was so effective in twisting her arm for a scene, he snapped the bone. Ouch.
Brad Pitt - torn Achilles tendon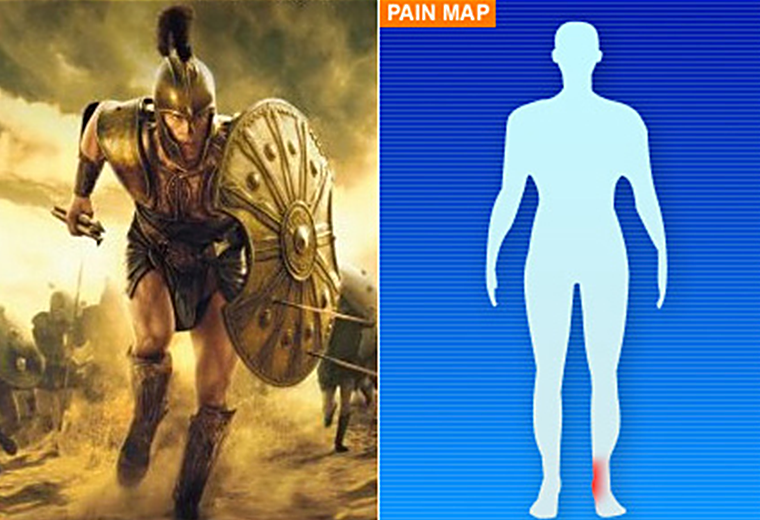 How about this for irony? At his muscled peak while shooting Troy, Brad Pitt looked every inch the Greek God when playing Achilles, the most feared warrior on Earth. However, like the myth, Pitt had one weakness… Tearing his left Achilles tendon delayed the movie's final scenes for months. "It's a true story," Pitt later revealed. "It's sad, it's stupid, but it's true. It's so wrong. It's such a bad headline."
Robert Pattinson - sore bum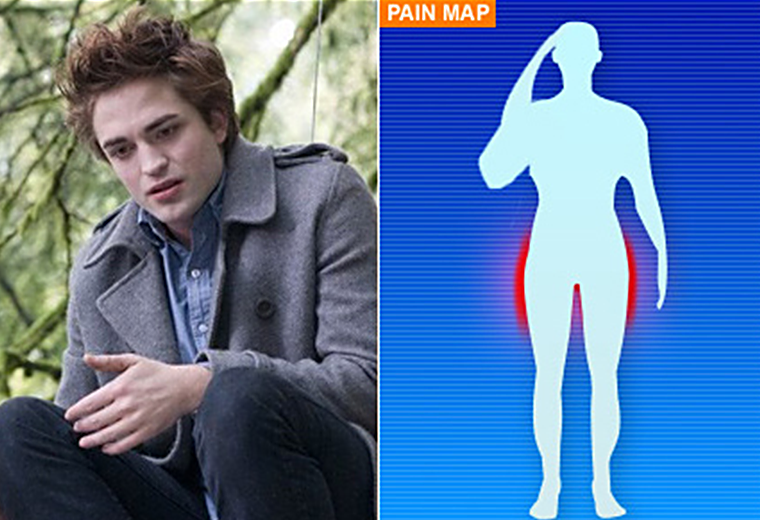 He might be the 'Sexiest Man in the World', but even the most beautiful people come crashing down to Earth from time to time. During his first day's filming on Twilight, Pattinson was hoisted into the air via harness and promptly pulled a muscle in his backside.
Viggo Mortensen - broken toes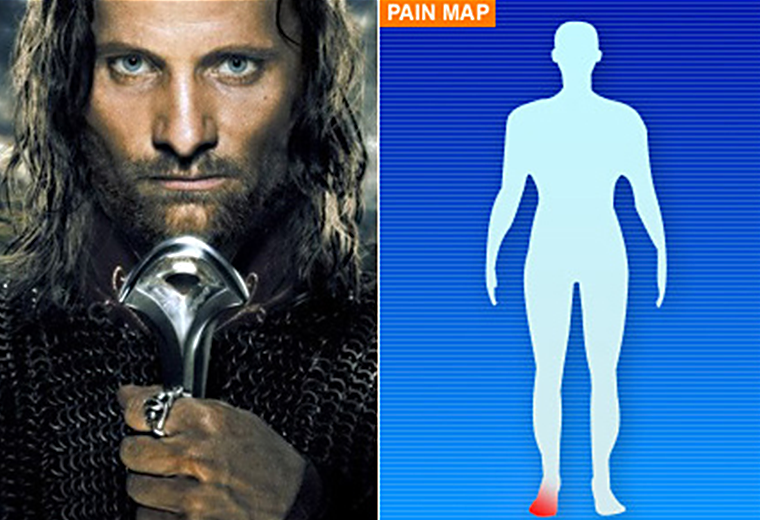 Aragorn faced many battles across The Lord of the Rings, but it was an act of petulance that brought him the most pain. After discovering a pile of corpses in The Two Towers, Mortensen booted an Orc helmet in rage and was rewarded with two broken toes. "Normally, an actor would yell 'Ow!' if they hurt themselves," said Peter Jackson. "Viggo turned a broken toe into a performance."
Anne Hathaway - shredded shins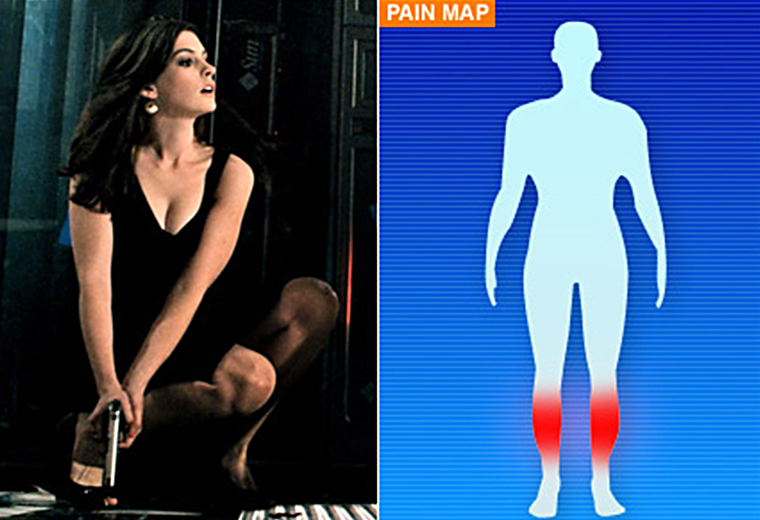 Like her character in Get Smart, Hathaway is a tough cookie. She was supposed to kick a man in the chest during a fight scene, but Anne booted a metal bar instead, exposing her shin bones. "If I could have an extra strength pain killer, I could do the shot," a game Hathaway panted. Unsurprisingly, she was overruled and sent to the hospital, where she received 15 stitches and a stern telling off. Still: what a pro.
James Caviezel - struck by lightning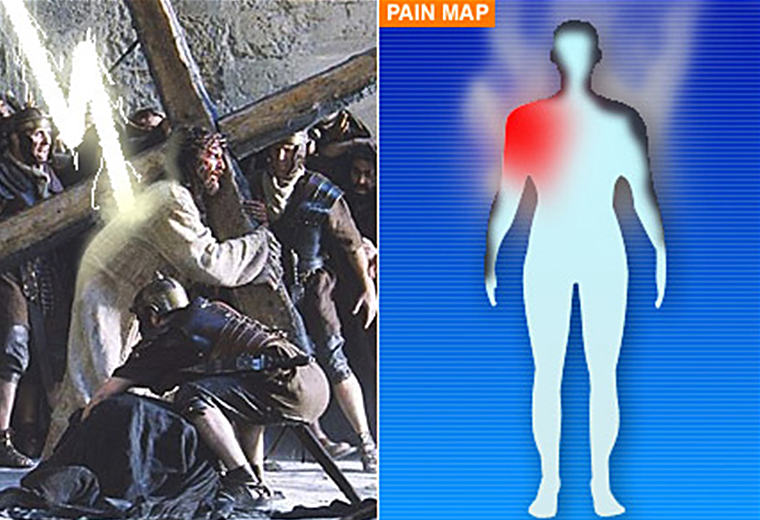 Mel Gibson expected a firestorm when directing the last days of Jesus for The Passion of the Christ. What he didn't realise was that the big guy upstairs had a few criticisms too. Jesus actor Caviezel had a tough shoot – he dislocated his shoulder while hung on the cross – but being struck by lightning while filming the 'Sermon on the Mount' sequence must have been more than a little unsettling.
Chan has broken more bones over the years than the rest of Hollywood's action elite combined. The closest he came to snuffing it was fracturing his skull after falling out of a tree in Armour of God, but he's broken his fingers, toes, his nose, both cheekbones, hips, sternum, necks, ankles and ribs amongst other appendages. It's no surprise insurance companies are terrified of him.