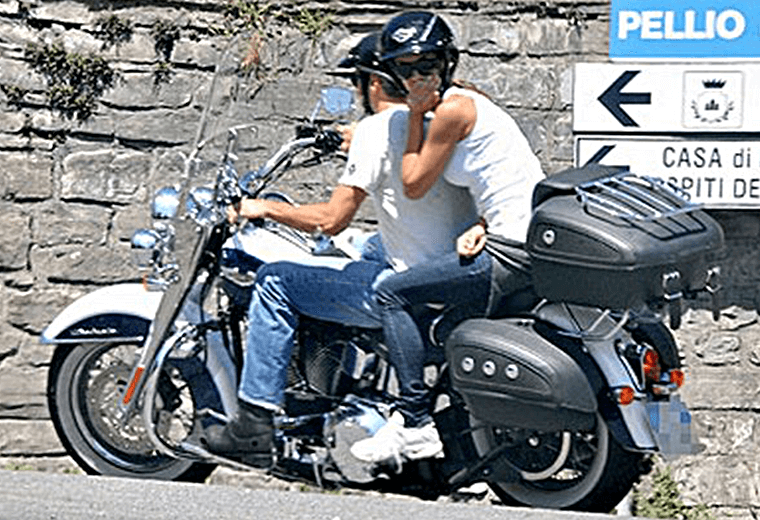 Known as the world's most eligible bachelor, Ocean's Thirteen star George Clooney is a massive motorcycle enthusiast. His bike of choice, the Harley-Davidson, is well-known for being the most bad-ass of motorcycles. Could George be looking to join the Hells Angels?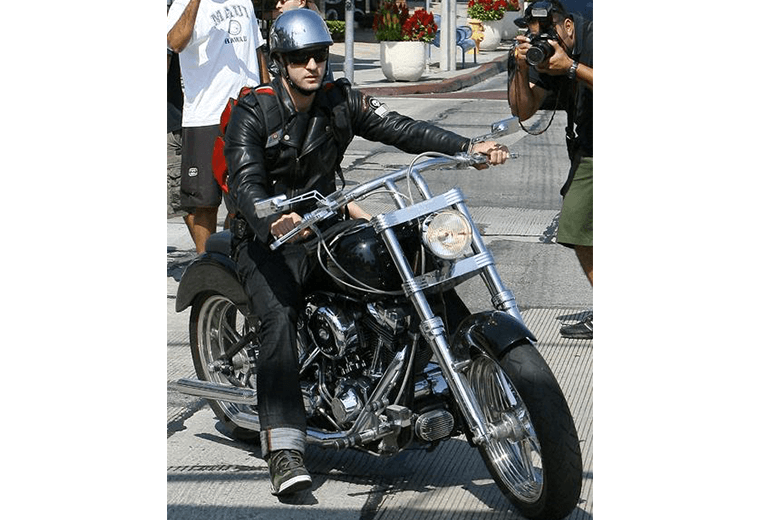 Pop star Justin Timberlake (famous for such hit songs as Cry Me a River and SexyBack) is the latest to be showing off a Harley-Davidson on the streets of Hollywood.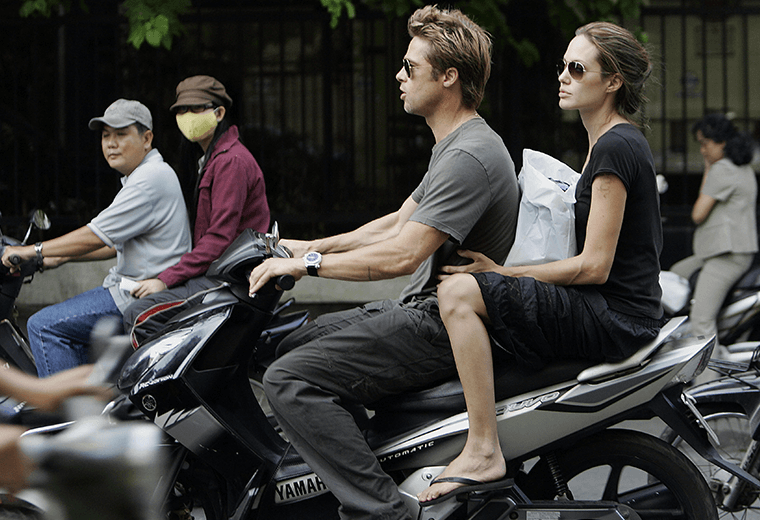 George Clooney's pal Brad Pitt is also a mad motorcycle fan, and has been spotted riding everywhere from Vietnam to Paris to LA on a wide range of bikes. Brad's a bit of a Ducati fan though, and reportedly got the hump over Tom Cruise getting the first Ducati Desmosedici in the States.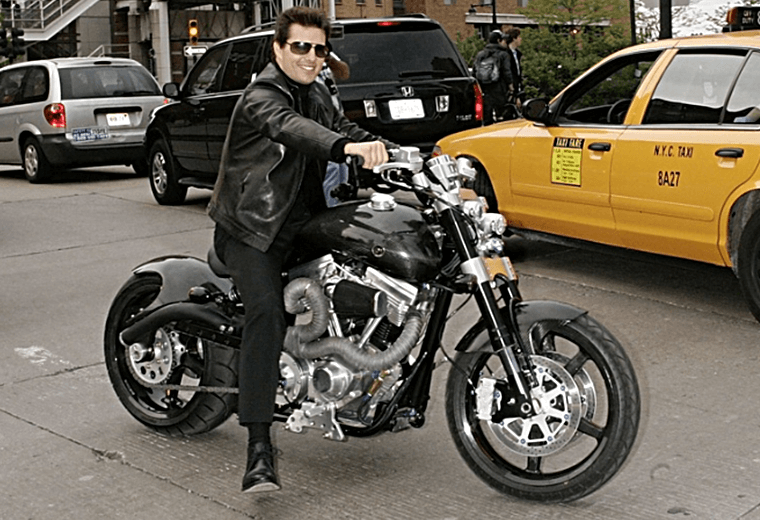 When it comes to Tom Cruise and his many peculiarities, perhaps his love for motorcycle is the one thing we can identify with. Cruise reportedly paid $72,500 to have the first Ducati Desmosedici in the States (much, as we mentioned, to the chagrin of Brad Pitt) and has been spotted on a variety of other motorcycles too.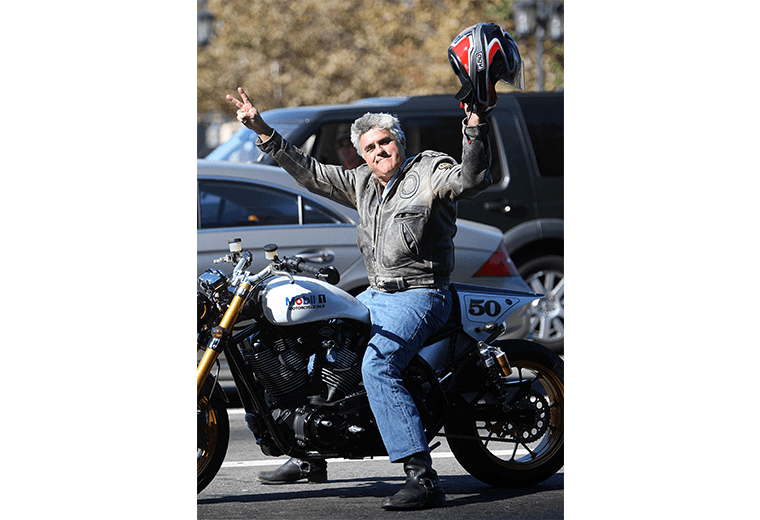 Jay Leno is well known for his devotion to motorcycles. He even has his own car and bike website! Leno, whose first job was as a mechanic, owns several Harley-Davidson motorcycles and not surprisingly is reputed to be a dab hand at fixing his own bikes.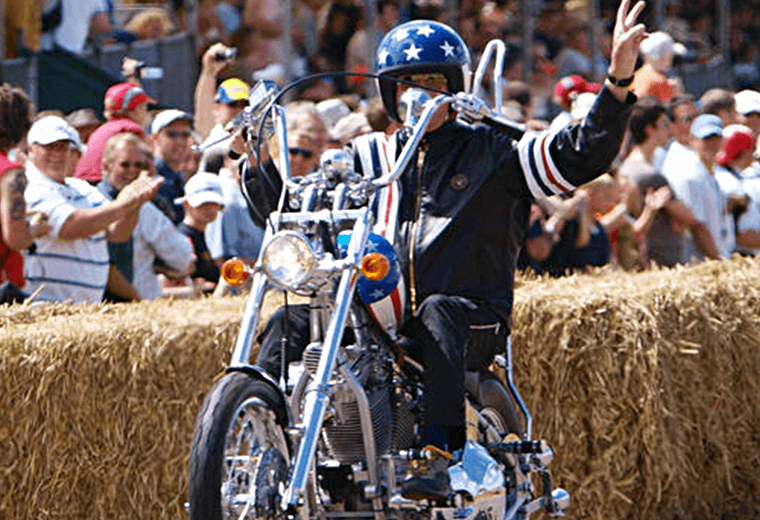 Peter Fonda, who produced and starred in the iconic biker film Easy Rider, is another celebrity who has been a lifelong enthusiast of motorcycles. Even though he's broken his back twice in motorbike accidents (better slow down on those corners, Pete), nothing stands in the way of Peter and his wheels.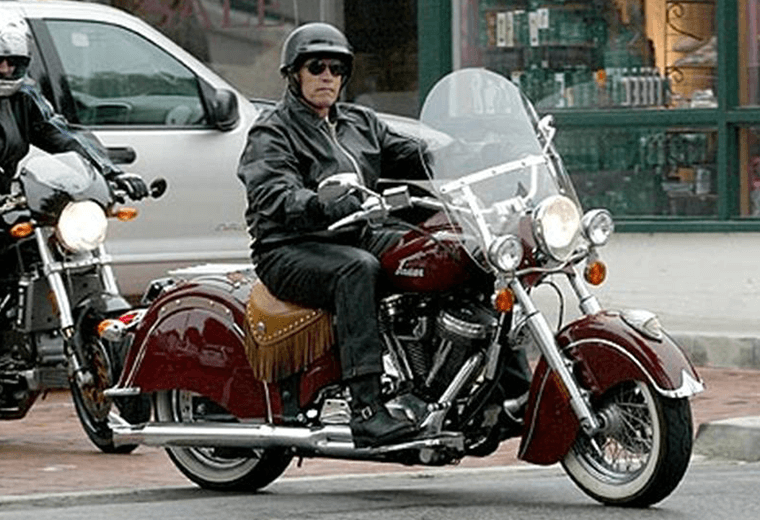 The 'Governator' is a huge fan of motorcycle riding. In 2006 he had a minor accident while out on his Harley-Davidson sidecar with his young son in LA. Arnie reportedly didn't have his motorcycle license at the time (what a bad terminator), but 15 stitches later, he has taken the test and is now licensed to ride.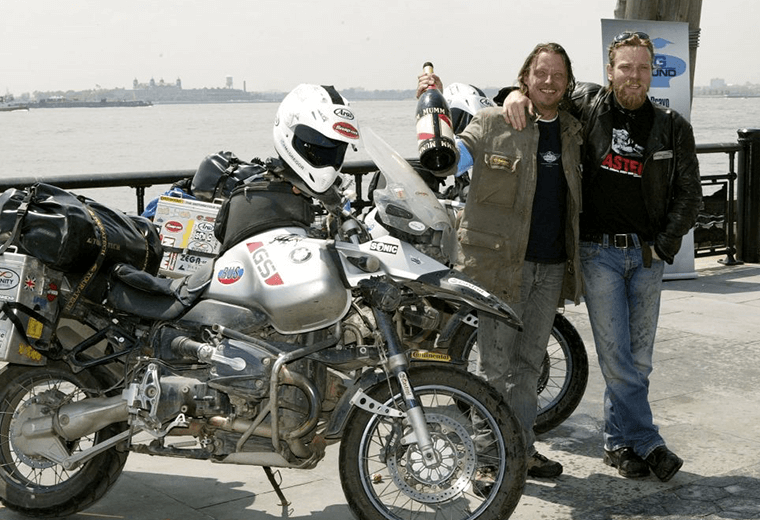 Ewan McGregor is perhaps the most adventurous of all the stars in our fantasy celebrity motorcycle gang. His series Long Way Round and Long Way Down, filmed with best friend Charley Boorman, took him though some of the world's most hostile and dangerous terrain on top of BMW motorcycles.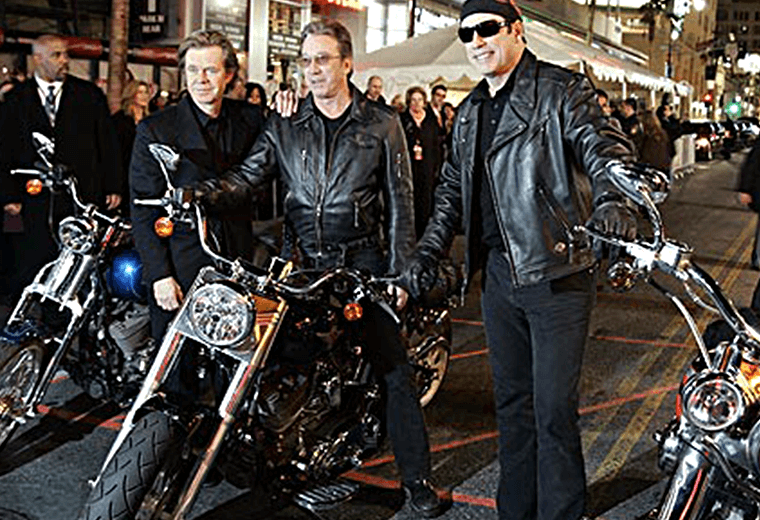 John Travolta has been riding motorbikes since he was 18 years old. The star of Wild Hogs took a Harley-Davidson to the opening of the movie in Florida, and afterwards it was auctioned off to help restore the theatre in which the film premiered.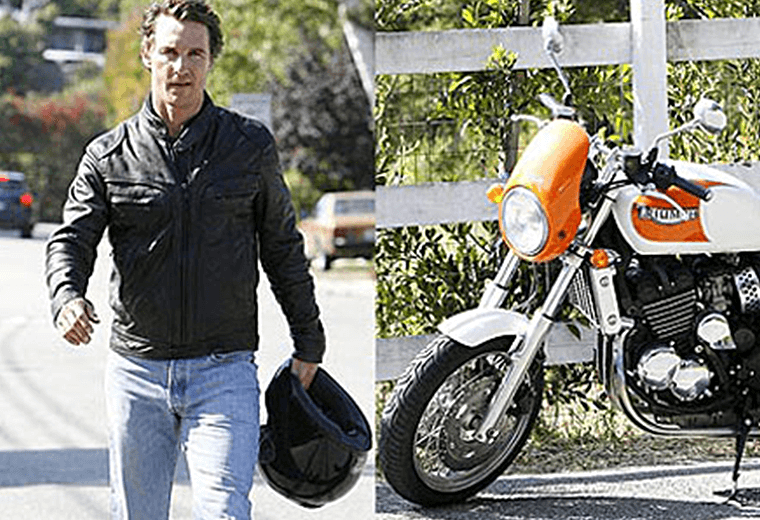 You're just as likely to see Matthew McConaughey pictured on top of a motorcycle as you are pictured shirtless – and that's saying something about his fondness for riding high-powered bikes! Matthew once auctioned off his own custom-made orange-and-white bike to support an after-school program teaching kids the importance of health, education and active living. What a nice guy.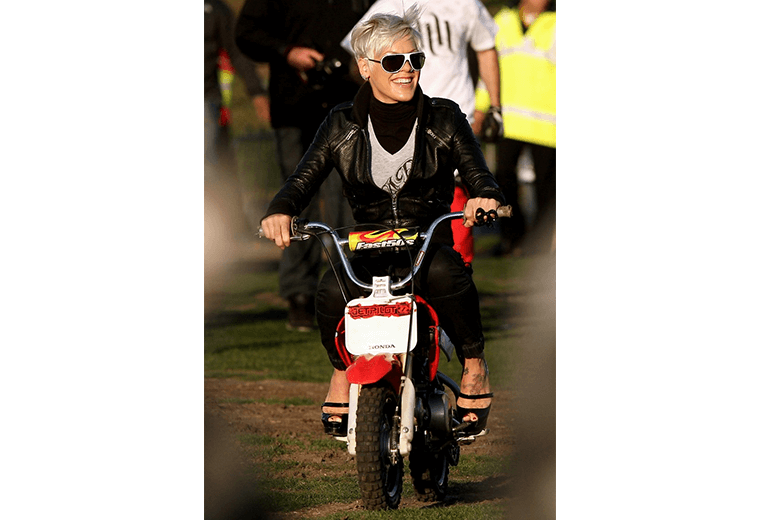 Pop star Pink, born Alecia Beth Moore, is no stranger to motorcycle riding, and is often seen riding around LA aboard a Triumph. She once proposed to professional motocross racer Corey Hart during a race by holding up a "Will you marry me?" sign on his pit board. That's something any motorcycle fan can appreciate.
Orlando Bloom was down under visiting the parents of his girlfriend Miranda Kerr when he stepped into a bike shop to pick up a very impressive custom ride. He's set female hearts fluttering, getting around Sydney and NYC on bikes by Harley-Davidson and BMW.