The search for a director to bring Star Wars back from the dead was a long one, but according to franchise guru Kathleen Kennedy, there was only ever really one choice: the man who performed the same trick for Star Trek. Jeffrey Jacob Abrams, as his mother probably calls him, was always the man for the job, even if luminaries like Brad Bird and Guillermo del Toro came close to landing the gig. We'll find out if JJ has done the saga proud on December 18th when Star Wars: The Force Awakens debuts.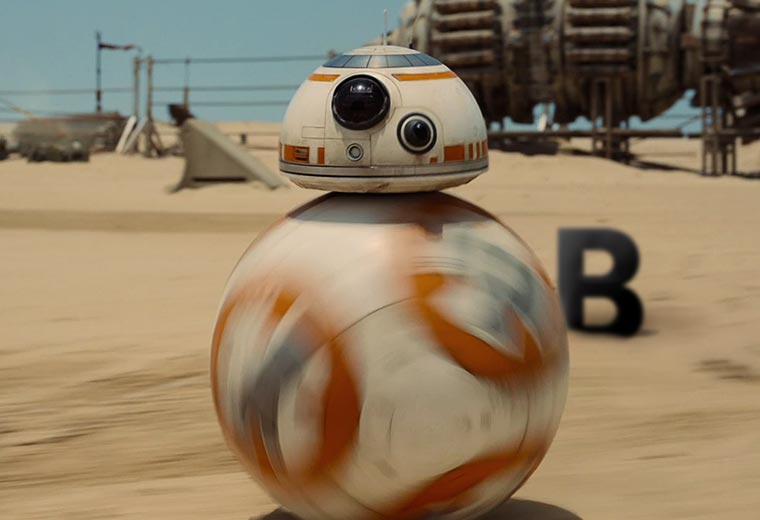 The first trailer for The Force Awakens had many cast reveals in it, but there was only one real star: the small spinning robot who we would later learn was called BB-8. The ball droid, who belongs to Daisy Ridley's character, was an instant hit with fans from his few short seconds of screen time. The reason BB-8 was so popular? He's a 100% real practical effect: the droid is a fully-working companion, whose head spins independently from his spherical body using magnets and gyroscopes. And magic, probably.
C is for... Crawl, Opening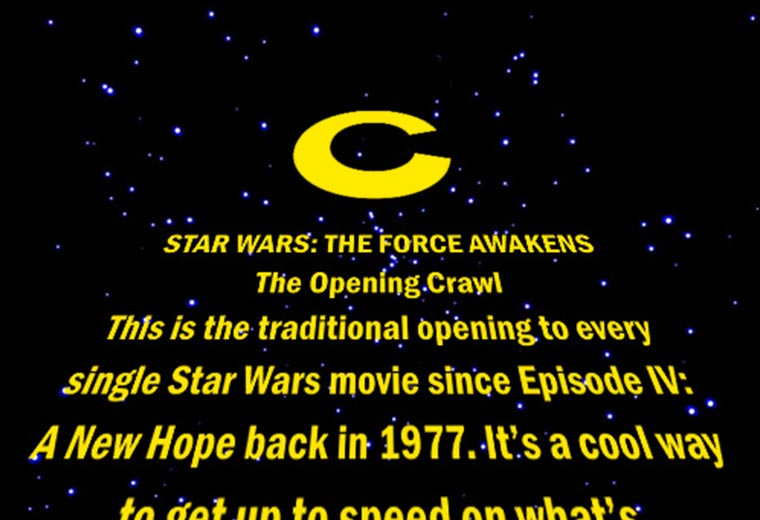 Abrams would be a fool to abandon Star Wars' opening crawl, the traditional method of kicking off every single movie since 1977. The crawl typically gets the user up to speed with that's been happening across the galaxy since the last time we saw our heroes, and given it's been 30 years since we last heard from them, it could be a long one. We don't know what the crawl might reveal, but according to JJ Abrams, the first spoken word in the movie will be "This". Sorry, should have put a spoiler alert before we revealed that.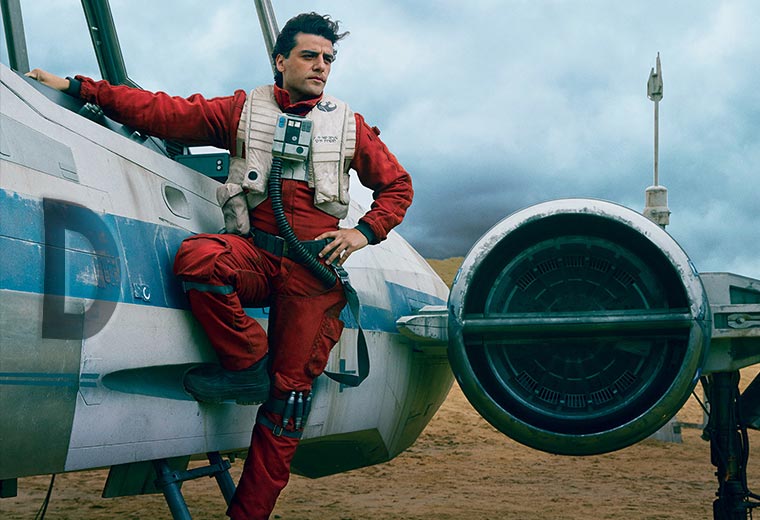 Every era of the space-faring saga needs its Han Solo (even if this one has the actual Han Solo) and we reckon that Resistance X-Wing pilot Poe Dameron could be The Force Awakens' trump card. Played by Oscar Isaac, Dameron is your typical Star Wars rogue, complete with mad piloting skills, a possibly duplicitous nature and a fine line in call signs (he's Black Leader, commanding the Black Squadron against the First Order). Trailers seem to suggest he'll be captured at some point... can he be trusted?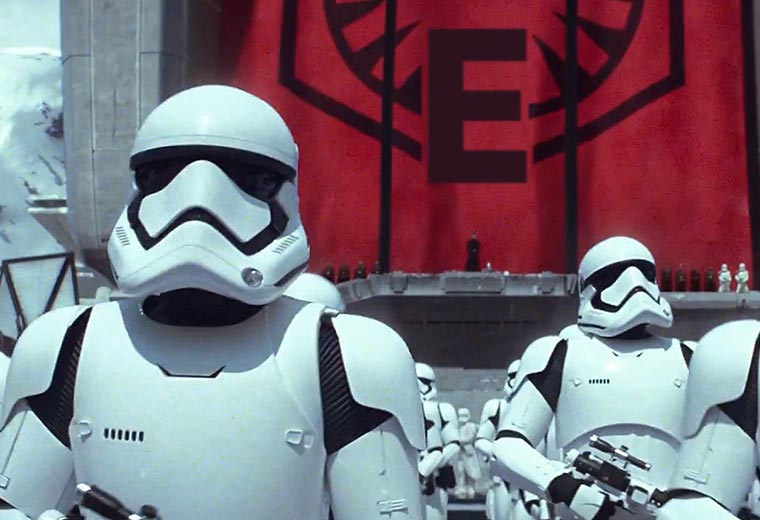 But the Empire were defeated at the end of Star Wars: Episode VI – Return Of The Jedi... weren't they? The presence of hordes of Stormtroopers in The Force Awakens suggests that the destruction of the Death Star didn't totally wipe out the Empire, thanks to a number of shadowy forces attempting to relive the good old days of planet-destroying, galaxy-ruling, throat-crushing action. Will they succeed? And what does this mean for the Jedi? It can't be denied, however, that they'll look good doing whatever evil deeds they do.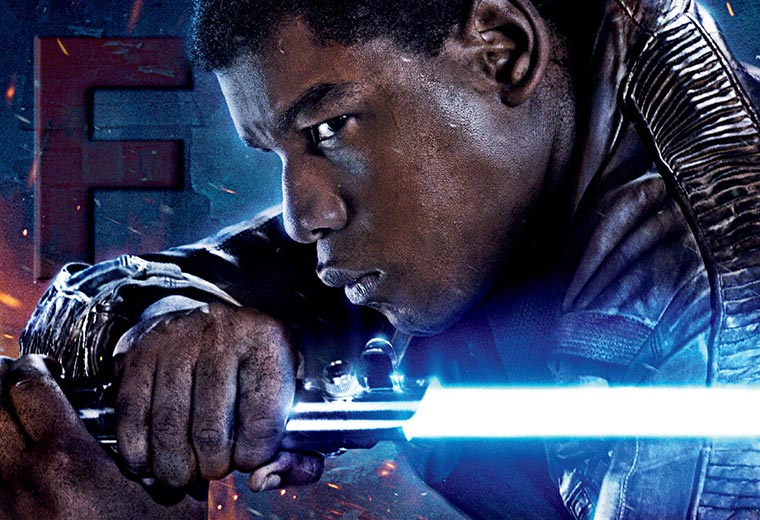 The first true lead of The Force Awakens, Finn – whose last name remains mysteriously unrevealed – is not necessarily a hero from the start: the first time we saw him he was wearing a Stormtrooper outfit after all. It's thought that he's a 'trooper who turns from Dark Side to Good, and the way he's wielding a lightsaber in the trailers suggests he might even be potential Jedi material. As for what wider role he plays in the saga? JJ won't say. Spoilsport. We imagine he'll return for Episode VIII.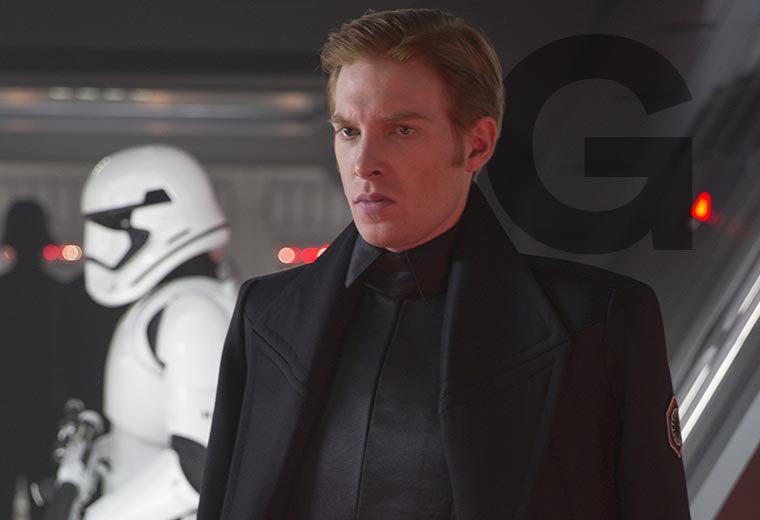 Domnhall Gleeson plays General Hux, suited and booted First Order military man and judging from his first promotional photo, above, a prissy twerp. Hux is in command of First Order space station Starkiller Base, which doesn't exactly sound like a holiday camp: expect him to do some serious damage with that British accent of his. Gleeson claims Hux is "evil, like, full on evil" but it looks like he plays third fiddle behind Kylo Ren and Captain Phasma in terms of Force Awakens meanies.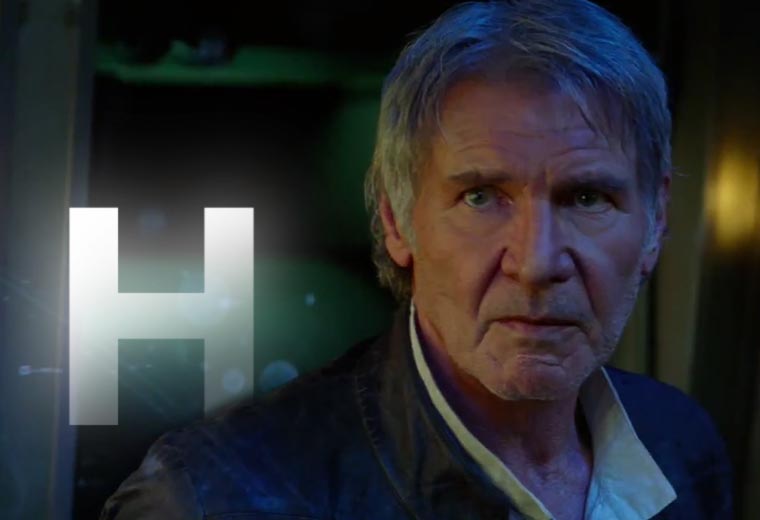 "Chewie," Han muttered, misty-eyed in the trailer. "We're home." Welcome back, Mr Solo! It's like you never left! The galaxy's favourite space pirate returns for The Force Awakens 30 years after he helped bring down the Empire, but it looks like he's still running into trouble along with his walking carpet best buddy. Han is now a fully-fledged believer in the force and the Jedi ("It's true... all of it!") but hokey religion is still no match for a good blaster by his side: don't expect Solo and the Wookiee to go down without a fight.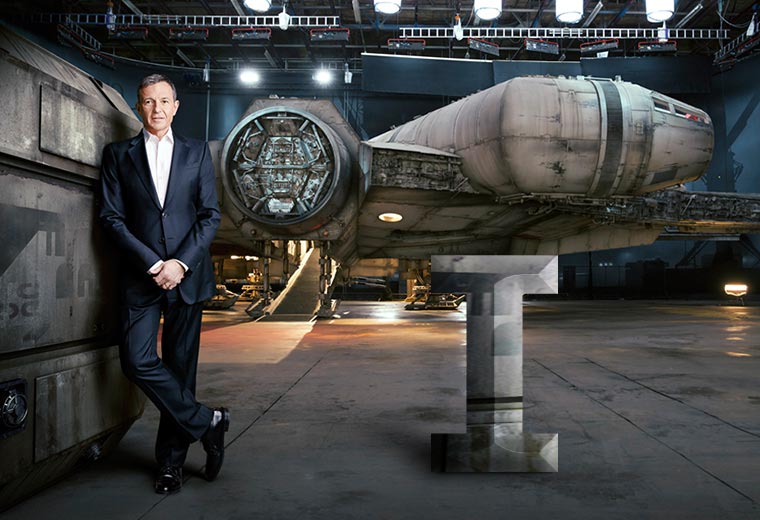 Disney CEO Bob Iger has been a driving force behind the making of The Force Awakens: for starters, it was his cash that allowed the Mouse House to purchase LucasFilm and kickstart Episode VII in the first place. Says JJ Abrams: "They let us make the movie we wanted to make... I cannot say enough about how Bob Iger and Alan Horn have understood this thing that is now part of the Disney company. And they're not trying to Disnify it." Abrams also claims he and Iger have talked story beats together. "He's been an incredible collaborator on it and has great ideas and mandates nothing." Somewhere, George Lucas weeps into his beard.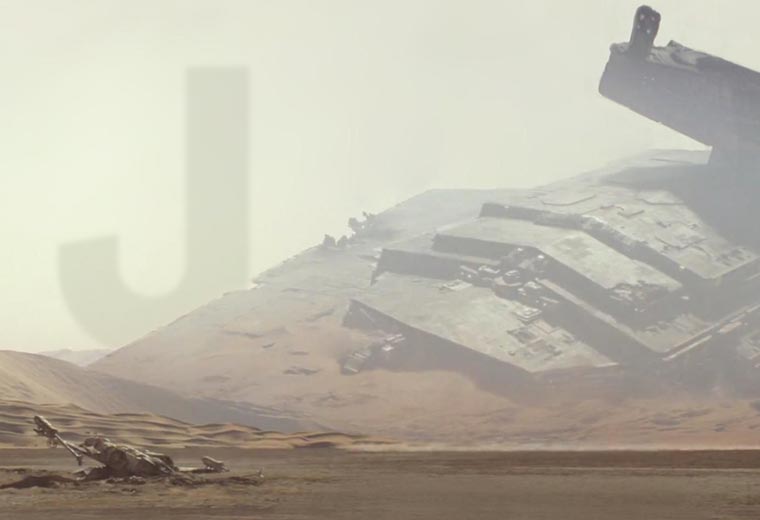 Star Wars is capable of creating some breathtaking landscapes, and desert planet Jakku – perhaps closely related to Tattooine – is home to some of the most striking images yet seen in the Star Wars franchise... and we haven't even got a proper look at it yet. The home to Rey and BB-8, Jakku is a scavenger's paradise: it's home to a gigantic crashed Star Destroyer which lies dormant in the sand. Tie-in videogame Star Wars: Battlefront has an add-on pack called 'The Battle Of Jakku' which promises to reveal how ship went down.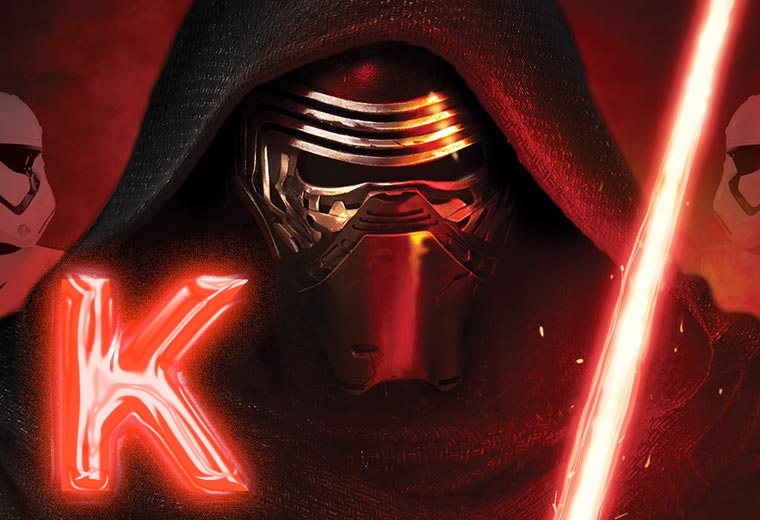 Enter the true villain of the piece. Kylo Ren, played by Girls star Adam Driver, is a misguided Darth Vader obsessive with the will and the means to bring the Dark Side to the universe once more. Though he's apparently not a Sith Lord – he belongs to a group called the Knights of the Ren – Kylo is one very bad dude, typified by his badass silver grill and hooded cloak, not to mention his homemade 'broadsaber' which takes Star Wars' iconic lightsaber up to another level. Kylo's lineage is very mysterious – does he have some previous relation to an existing Star Wars character?
All everyone wants to know about The Force Awakens is one thing: where's Luke? We looked in the trailers: no Luke. We looked in the posters: no Luke. We looked in the film stills: no Luke. Is he even in this thing? According to JJ Abrams, yes of course he is, but the part he plays is being purposely kept from audiences until release. All we know is that Mark Hamill has grown a totally awesome salt-and-pepper beard, and he's the perfect age to fulfill the role that Alec Guinness played in the original movies – that of the wise old Jedi sage on hand to coach a young padawan. It just wouldn't be Star Wars without Skywalker.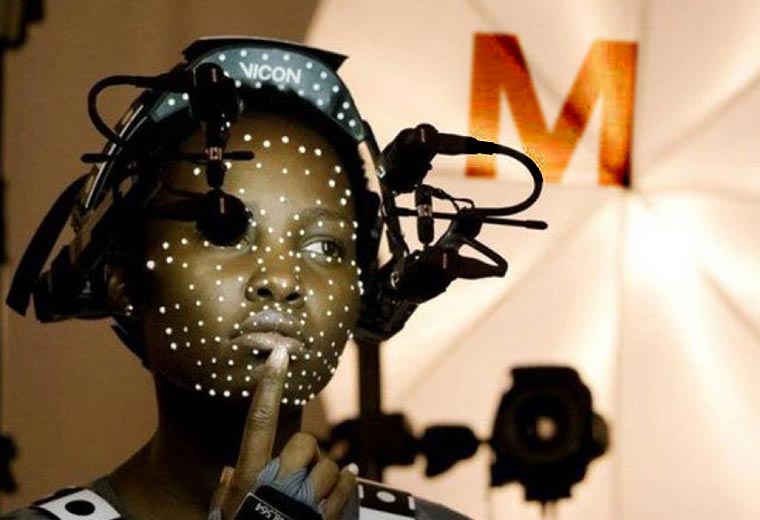 We've seen very little of space pirate Maz Kanata so far from The Force Awakens' marketing materials, save for a very small pic on the film's poster and possibly her hand in the trailer as she gives a character a lightsaber. Kanata is an extremely old rogue, who plays host to an array of smuggler types at her home on Takodana Castle – it's possible that Han Solo is an old friend. She's a CG creation, motion-captured and voiced by Oscar nominee Lupita Nyong'o, who wears some very odd eye-wear. "I had this pitch about these goggles that she wore," says Abrams. "Her eyes are an important aspect of her character."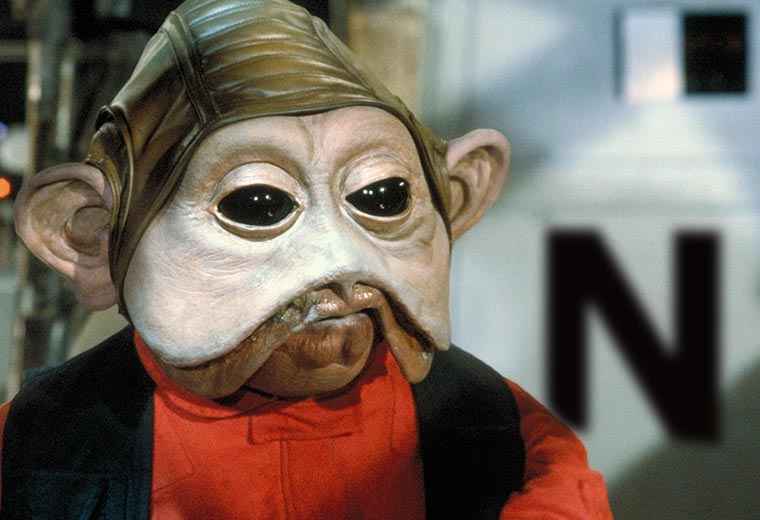 The latest trailer for The Force Awakens revealed the return of an old friend not seen since Return Of The Jedi – Lando Calrissian's Millennium Falcon co-pilot, Nien Nunb. The Sullustan arms dealer makes a triumphant return, seen flying a Starfighter craft for the Resistance – because you just can't keep a good pilot on the ground. Will Lando return for a ROTJ reunion? Here's hoping.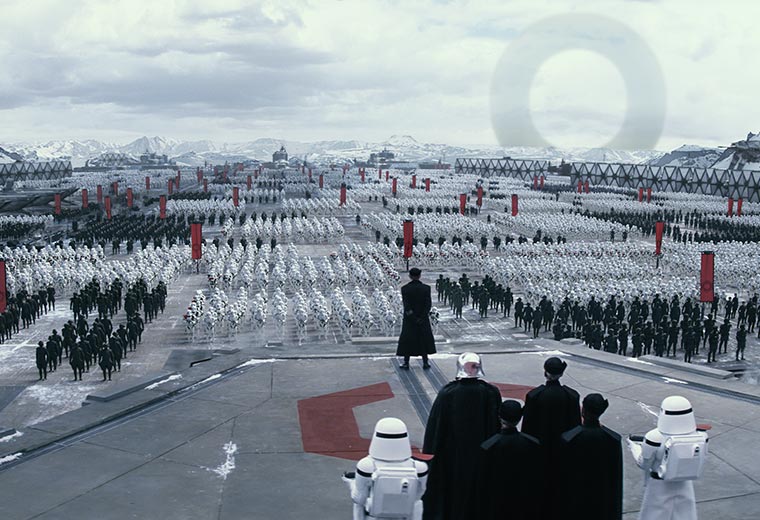 The Empire is dead. Long live the First Order. Out of the smouldering ashes of the Emperor's army grew and new and devastating threat, led by Supreme Leader Snoke. Abrams grounded the First Order on a terrifying historical what if: "What would have happened if the Nazis all went to Argentina but then started working together again? What could be born of that? Could The First Order exist as a group that actually admired The Empire? Could the work of The Empire be seen as unfulfilled? And could Vader be a martyr? Could there be a need to see through what didn't get done?"
Played by Game Of Thrones actress Gwendoline Christie, Captain Phasma has every right to lay claim to being the coolest-looking villain Star Wars has ever seen – yes, your reign of terror is over, Darth Maul. Phasma is Kylo Ren's second-in-command and is never seen outside of her distinctive chrome-plated Stormtrooper armour. Brienne of Tarth has become Brienne of Darth – and we bet her experience in swinging a bloody great sword around will come in useful when running gruesome errands for the First Order.
Q is for... McQuarrie, Ralph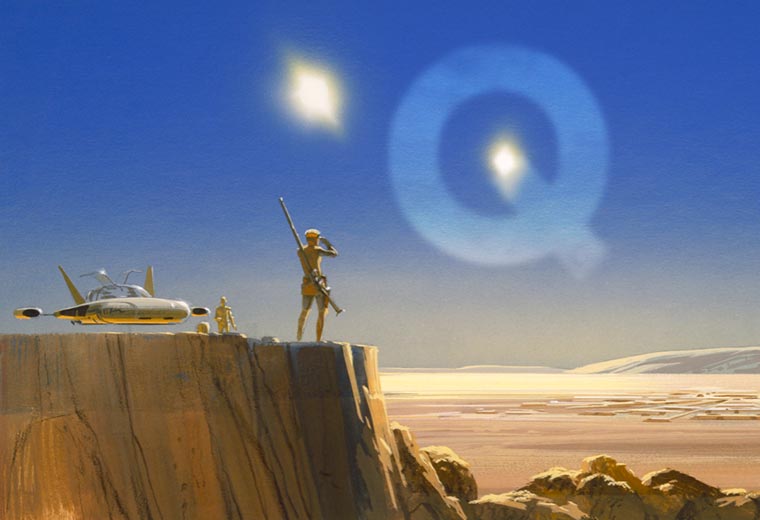 When it came to creating a Star Wars universe with a tangible connection to the original trilogy, Abrams and co looked no further than the concept art of Ralph McQuarrie. The American artist created almost every iconic Star Wars visual you know and love, including the character styles for Darth Vader, C3P0 & R2-D2 and Chewbacca, plus numerous spacecraft, planets and set designs. Abrams and his set design teams hued very close to the original Ralph McQuarrie concept art and the result is a movie that looks new and exciting while still appearing familiar.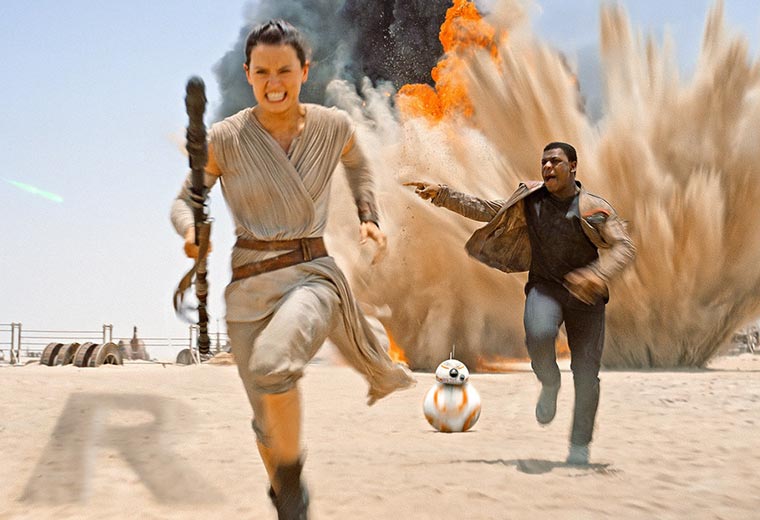 Our second new lead, Rey – also lacking an official surname – is the de facto hero of The Force Awakens, judging by her relative size on the movie's poster. A desert scavenger from Jakku, she claims she is "no one" but the galaxy clearly has plans for her. At some point in the movie, she teams up with outlaw Finn and the pair embark on their adventure together, with astromech droid BB-8 in tow. We reckon the way she wields that staff of hers, combined with the rumour that she could be the daughter of Han Solo and Princess Leia, means she's the character most likely to fulfill the destiny of becoming a Jedi and bringing light to the Dark Side.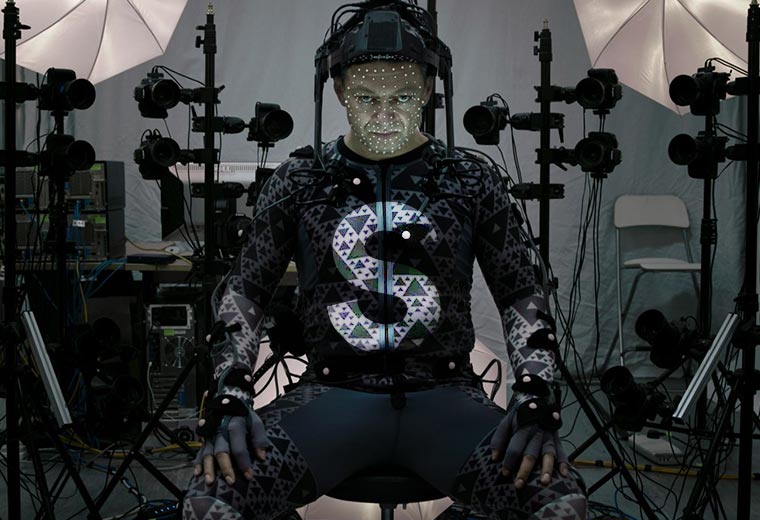 Here's a character that JJ Abrams has purposely kept secret – perhaps because of the character's wider part to play in the story, but probably mostly down to the fact he's a motion-captured creation who is probably still rendering on a hard drive somewhere on LucasFilm ranch. Played by Andy Serkis (obviously), Snoke is Supreme Leader of the First Order and could be considered the Emperor of the piece in terms of villainy. "He is severely damaged," says Serkis about Snoke's appearance. "Although he's a powerful leader, he comes across as vulnerable. Very scarred and disfigured." Is he a Gungan? He's a Gungan, isn't he.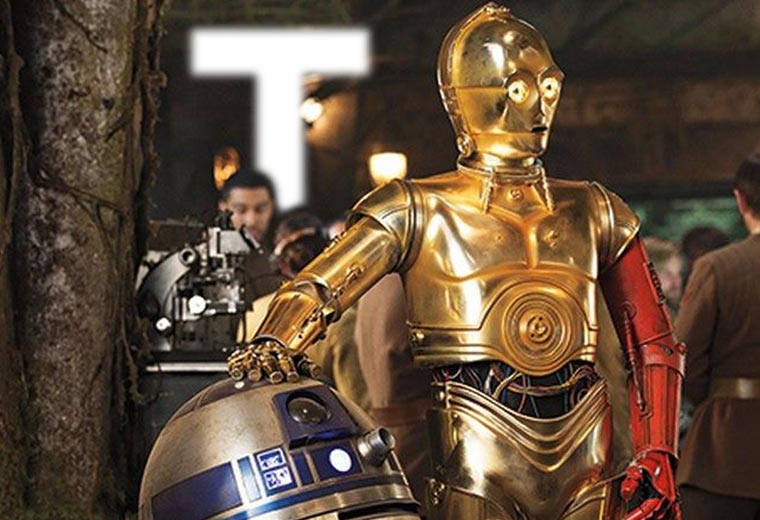 Yes! Fulfilling Anthony Daniels' destiny of appearing in literally every Star Wars thing ever since the beginning of time, C-3PO returns for The Force Awakens alongside his screen wife, R2-D2. Threepio has been given a makeover for Episode VII – his silver leg has finally been painted gold, but he appears to have lost his left arm: it's now replaced with a red one. As for Artoo, the only shot we've seen of him so far is with a metal hand that looks suspiciously like that of Luke Skywalker. Typically, both droids are in the mix – don't count on them sitting this one out on the sidelines.Developer SNK has always been forced to play second fiddle to Capcom and Street Fighter - if only because their games have been harder to get hold of. Other cult SNK titles include Fatal Fury, Samurai Shodown, Art of Fighting and The Last Blade.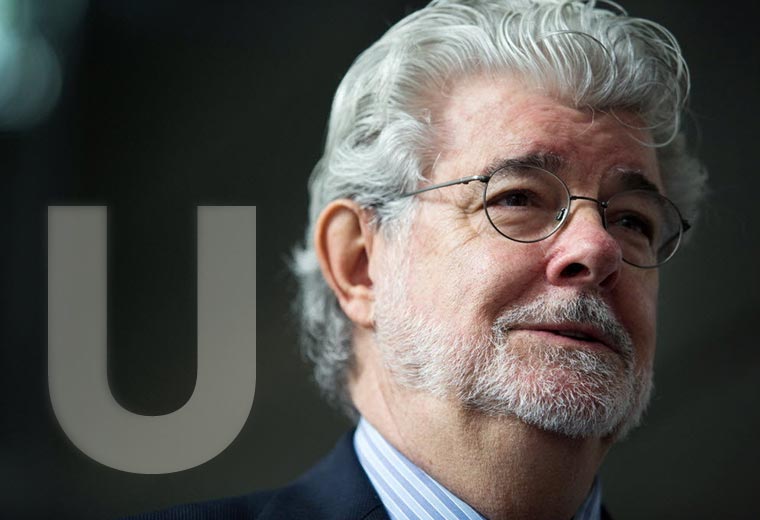 Star Wars creator George Lucas has made no bones about the fact that his ideas for Episode VII were not welcomed with open arms after he sold his company to Disney. "The issue was they looked at the stories, and they said we want to make something for the fans," said newly-minted billionaire Lucas. "All I wanted to do was tell the story of what happened. They decided they didn't want to use those stories, they decided they were going to do their own thing, so I decided fine." It's been far from an unharmonious break-up, however: Lucas has been a "constant source of advice" says director JJ Abrams.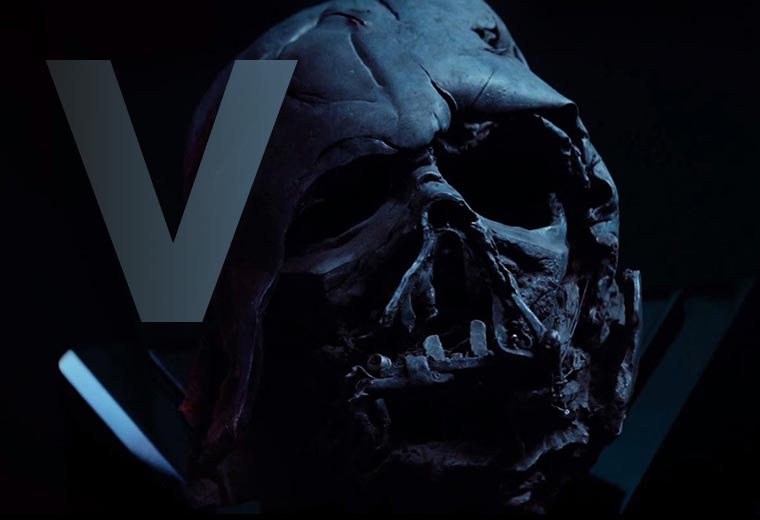 You can kill a man but you can't kill a concept – Darth Vader may be gone, but his work lives on. From the way he's cradling Vader's helmet – presumably rescued from Anakin Skywalker's funeral pyre somehow – Kylo Ren appears to want to finish what Darth Vader started all those years ago and use the Dark Side of the Force to bring the galaxy under his control. Ren's look is even inspired by Vader: you can't put a look together utilising black helmets without drawing the comparison. Vader is gone, but his legacy remains.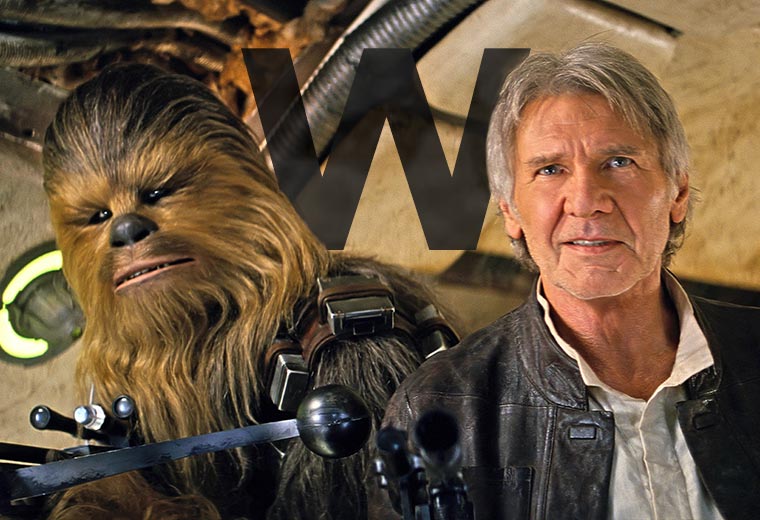 You can't separate a man from his dog, and there was no chance that Han Solo would be returning for The Force Awakens without bringing along his furry pal for the ride. Chewbacca – who is displaying a hint of grey in his Wookiee fur but is in otherwise amazing shape – is again played by Peter Mayhew, and continues to fight on the side of good, bowcaster and gun belt once more present and correct. Those poor First Order Stormtroopers don't know the first rule of intergalactic combat: let the Wookiee win.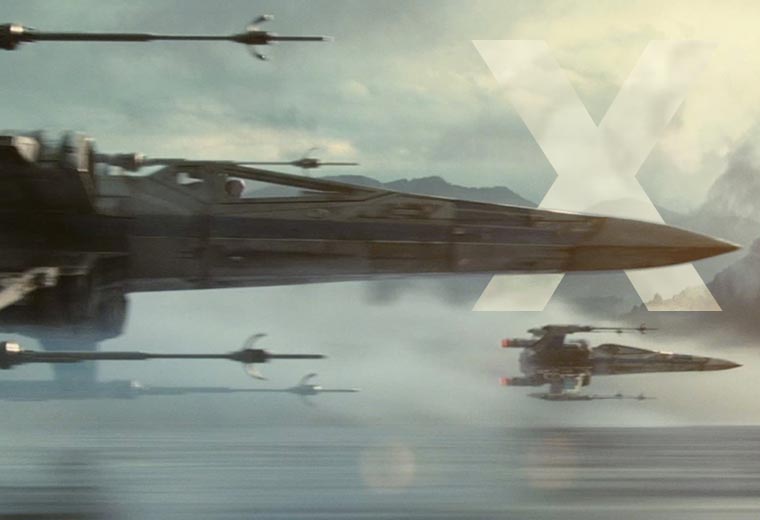 Perhaps the most iconic spacecraft in Star Wars lore outside of the Millennium Falcon, the humble X-Wing makes a triumphant return in The Force Awakens, with early footage showing off battle scenes within a planetary atmosphere instead of deep space. Poe Dameron will be your pilot, and his Black Squadron can do things with X-Wings that the Rebel Alliance only dreamed of, including skimming lakes, presumably for reasons other than the fact that it just looks really cool.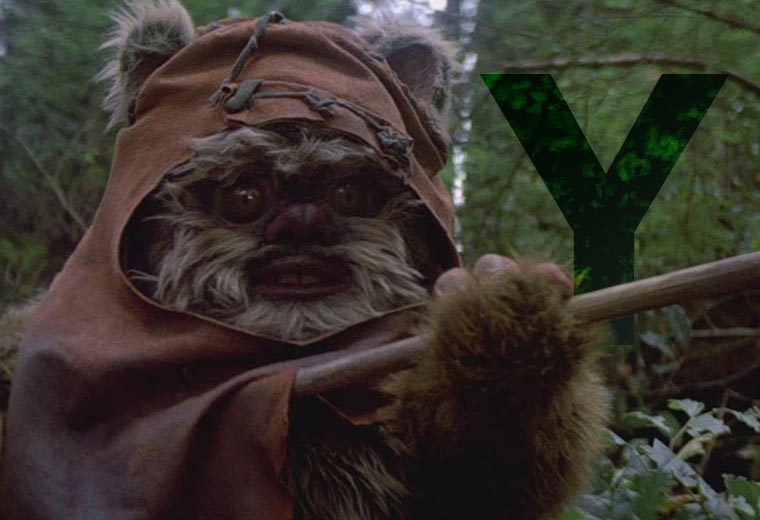 Rest easy: you will not hear the Ewoks' jubilant victory cries in The Force Awakens – nor will you see the Ewoks. Having faced a million probing fan questions in the three years since Episode VII was announced, JJ Abrams – not wanting to reveal too much to audiences ahead of time – has been forced to tell us what isn't in the movie as opposed to what is. Things that won't be in The Force Awakens include Ewoks, Benedict Cumberbatch and Jar Jar Binks. (Yeah, but he said that about Khan in Star Trek, didn't he?).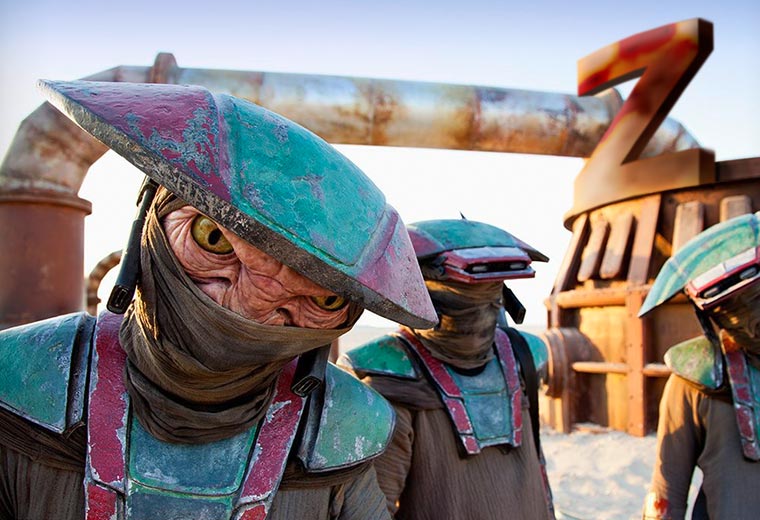 And finally, we come to arguably the least important character actually appearing in The Force Awakens – a sinister-looking fellow called Constable Zuvio, who is apparently a "humourless constable of Niimo Outpost" on the planet Jakku, where he'll be a spanner in the works for Finn and Rey. Mostly though, Zuvio is a godsend for anyone writing a Force Awakens A-Z. Thanks, JJ!