Bowie set out his stall early in one of his first full movie roles, playing the ever-living and decrepit lover of Catherine Deneuve's vampire queen in Tony Scott's eerie 80s thriller The Hunger. It didn't do Bowie's image – that of a supernatural weirdo – any harm and it turned out that Bowie could act as well as he could sing. It was a daring choice at the time, showcasing Bowie's ability and his willingness to play risky and leftfield roles, but it has stood the test of time and remains one of the decade's most palatable vampire movies. Fun fact: so eager was he to appear authentic for director Tony Scott, Bowie actually learned how to play the cello. (It's less impressive when you remember he was basically already a musical genius, but still: it's the thought that counts).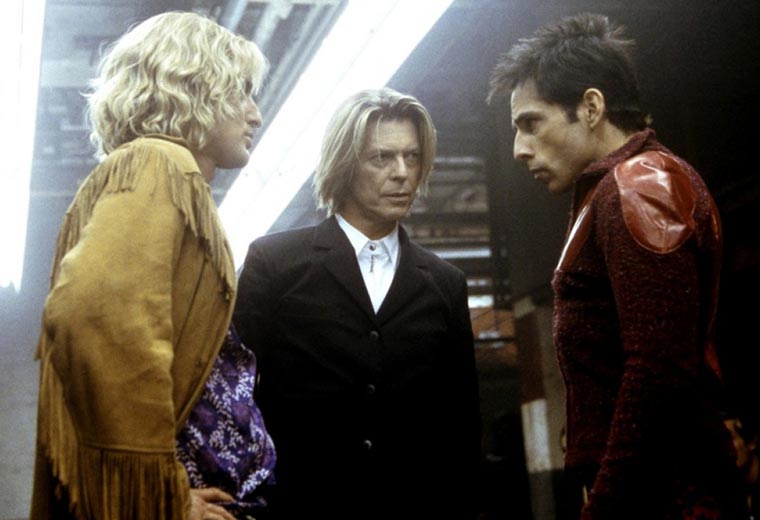 "If nobody has any objections, I believe I might be of service." David Bowie, circa early 2000s and long of hair, whips off his sunglasses and reveals himself as the volunteer judge for the male model walk-off in Ben Stiller's none-more-silly catwalk comedy Zoolander. "Now, this'll be a straight walk-off, old school rules," he continues, apparently an old hand. "First model walks; second model duplicates, then elaborates. Okay, boys - let's go to work!" It's a supremely silly scene made all the more delirious by the inclusion of the Thin White Duke, but it's a measure of David Bowie's popularity that he was able to lend his image to a work of such lunacy – which ends, if you remember, with a man giving himself a wedgie – without it reflecting badly on himself. Justin Bieber's cameo in the forthcoming Zoolander 2 probably won't hold quite the same cache of cool.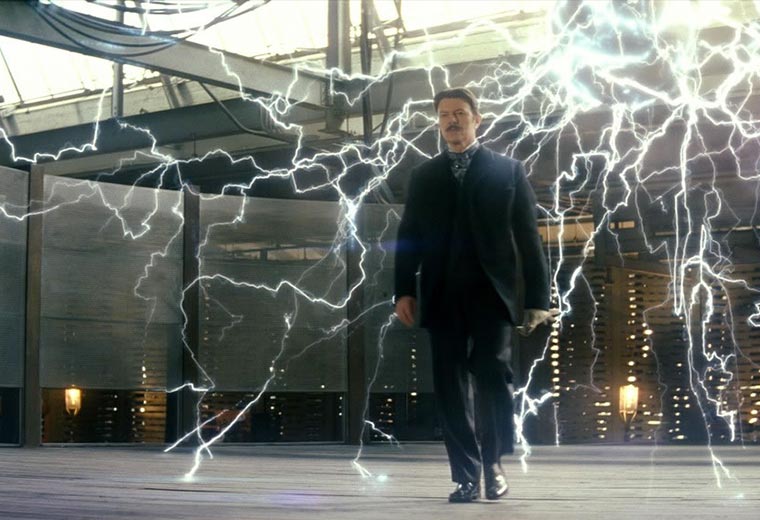 Bowie never really seemed cut out to play the common man, and he generally avoided playing real people – because when you have different coloured eyes and have a look that says 'I was born from the heat of a collapsing star' it's quite hard to play normal. Bowie found an admiral middle ground in Christopher Nolan's magic thriller The Prestige, playing the very-real Nikola Tesla, yet the inventor and the singer had much in common: both were men ahead of their time, both were fascinated with emerging technology and both had an air of mystery that preceded them. It was perfect casting on behalf of Nolan: with superheroes Christian Bale and Hugh Jackman as the rivalling magicians, Bowie's oddball Tesla provided palpable electricity between them.
Let's cut to the chase: to paraphrase This Is Spinal Tap, David Bowie's character in Labyrinth has an armadillo in his trousers, and it's really quite frightening. Bowie, the elusive, quasi-conceptual nutter, realised that what he really needed to do was subvert the norms in the form of an otherwise cuddly Jim Henson fantasy film, and so there stood Jareth the Goblin King in Labyrinth: baby-napper, mullet-sporter, terrifyingly-tight-trouser-wearer. Of course, playing the villain was an absolute cake walk for Bowie: all he had to do was smile that crooked smile and twiddle his balls (you're thinking about the trousers again, aren't you). It's not known exactly how many children were scarred for life watching Jareth do the Magic Dance in his tight grey pants but it's thought to be in the billions. Nonetheless, it's a memorable performance in a total genre classic.
1. The Man Who Fell To Earth (1976)
This seminal 1976 sci-fi from director Nic Roeg is how many people were introduced to Bowie, and the persona stuck: the otherworldly visitor who felt like he was holidaying from the neighbouring star system and just popped into our galaxy to borrow a cup of sugar. Bowie plays alien Thomas Jerome Newton who's on a mission to save his dying planet by taking back some of Earth's water, and he does so by becoming an indsutralist billionaire, earning money for his return trip home. Adapted from the novel by Walter Tepis, The Man Who Fell To Earth was simpatico with both Bowie and the 70s: it's clever, challenging sci-fi which asks difficult questions about what it means to be alien and what it means to be human. It's the defining screen performance from a true artist and icon, who would one day inspire people to look at the stars a little differently once he'd returned home.
---
We love a good fight, when the fists are flying and the swords are slicing. Not in reality of course – in cinema!
Top 20 movie fight scenes