Were you at V Festival 2015? If you had the good fortune to be at Hylands Park, Chelmsford or Weston Park, Stafford over the weekend of 22/23 August 2015 you'd have caught pop royalty like Ellie Goulding, Jess Glynne, Sir Tom Jones, Mark Ronson and headliners Kasabian and Calvin Harris, as well as a typically British mix of blazing sunshine and bucketing rain. Fancy doing it all again? Or for the first time?
As V prepares to release tickets for this year's festival next Tuesday (23 February), let's go all the way back to – ooh, choices, choices… – Hylands Park to relive a fantastic Essex weekender. Here's how it went down.
SATURDAY
A glorious opening day for V Festival's Chelmsford punters – with temperatures reaching the top 20s – hit its true peak with headliners Kasabian. Leicester's lairiest electro-rock crew flattened the Virgin Media Stage crowd with their sonic power, an exhilarating finish to a splendid Saturday.
Opening the MTV Stage at midday, indie Dubliners The Coronas turned up somewhat understaffed. Singer Danny O'Reilly shuffled on sheepishly to announce they'd arrived "just 30 seconds ago" because of a ferry delay so hadn't had time to set up. The net result? We were treated to an acoustic set from O'Reilly alone. Happily, he had the impressive chops to carry this.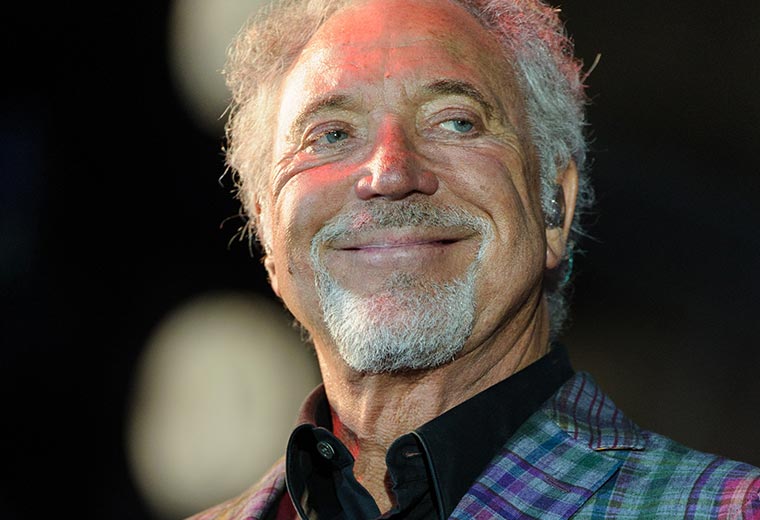 Things were running more smoothly at the Sure Arena where Sinead Harnett was introducing an inquisitive throng to a potent new voice. The London R&B singer guested on Disclosure's 2012 track Boiling and Rudimental's 2013 single Hide – both of which were included in a kind of megamix primer for the audience. "I'm really excited you're such a warm crowd," Harnett gushed.
Going head to head at lunchtime were the similarly named Marina And The Diamonds (at the Virgin Media Stage) and Reverend And The Makers (MTV Stage). You'd think that was where the link ended, but these days the Welsh pop star and the Sheffield dance-rock curate are ploughing vaguely comparable furrows, leaning on bassy electronica to get the people moving.
Reverend Jon McClure took time out to lecture the members of the audience who had the cheek to be sitting down: "I don't want to be one to moan but imagine telling your kids, 'I went to a festival and sat under a tree.'"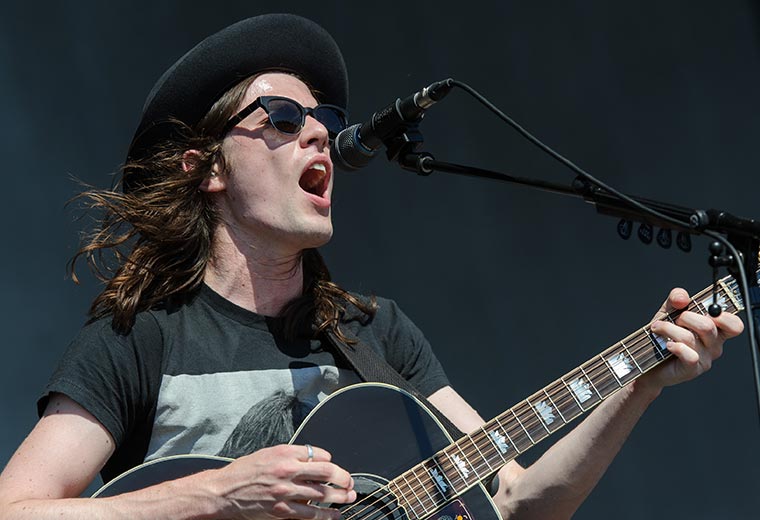 Newer kids on the block James Bay and Tove Lo took vastly different approaches to grabbing the Chelmsfordians' attention. Bay, at the main stage, was reeling out the classic blues riffs and holler-alongs like Hold Back The River (and, of course, wearing his hat), while Lo, at the Sure Arena, was flashing her breasts to a slightly disbelieving audience. "Are you melting?" Lo asked the crowd. We pretty much were by this point.
Blistering temperatures didn't stop what felt like most of the festival's ticketholders trekking over to the MTV Stage to catch 2015's pop sensation Jess Glynne. Seems like anything Glynne releases leaps straight to number one these days and that kind of fandom was reflected in a vast crowd. This was Glynne's first gig back after vocal cord surgery and she allowed herself a little tear (of joy, we're sure) between belting out dance-pop beauties Right Here, Rather Be and Hold My Hand.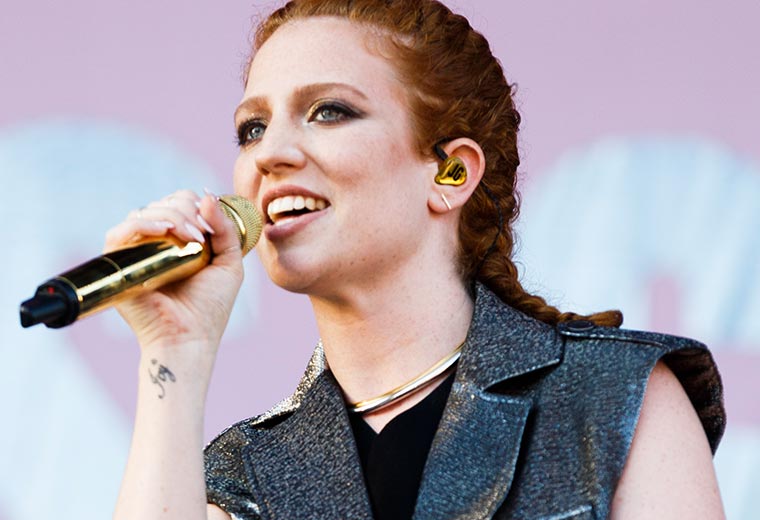 The Courteeners' Liam Fray wasn't blubbing at the Virgin Media Stage, but he did make an emotional dedication to mates' The Maccabees, before capping his own band's gritty, kinetic set with their stone cold classic Not Nineteen Forever.
Glasgow's Chvrches are gathering their own cache of crystalline pop classics, but singer Lauren Mayberry seemed surprised that anyone had come to see them at the MTV Stage at all. "We're up against Hozier, and he's massive," she marvelled. "Maybe people confused Take Me To Church and Chvrches." Gun, The Mother We Share and new track Leave A Trace are enough reason to turn up without being fooled.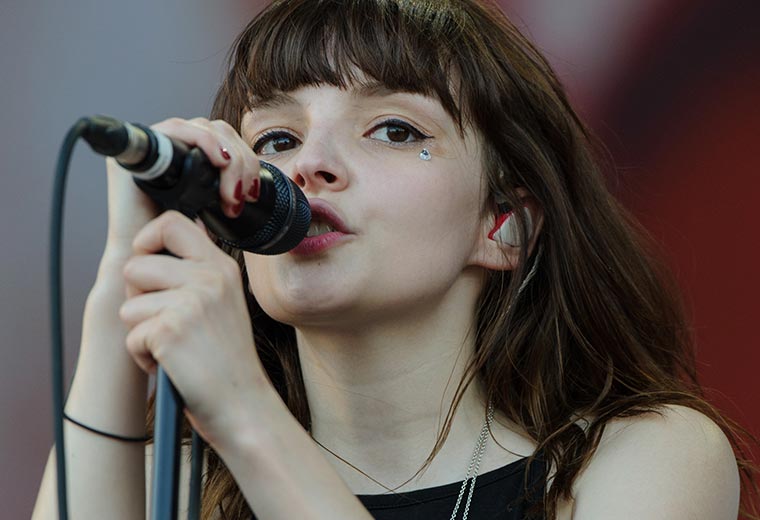 Holding his own against Sir Tom Jones in the early evening was Sam Smith, providing unlikely support for Kasabian at the main stage. It was an emotional night for Smith – let's face it, most nights are emotional for Smith – who declared this was the last show promoting huge debut album In The Lonely Hour before he sets to work on a follow-up. The hefty crowd (heftier even than Kasabian's, later) greeted souped-up versions of Money On My Mind, Lay Me Down and grandstanding closer Stay With Me with rapt devotion.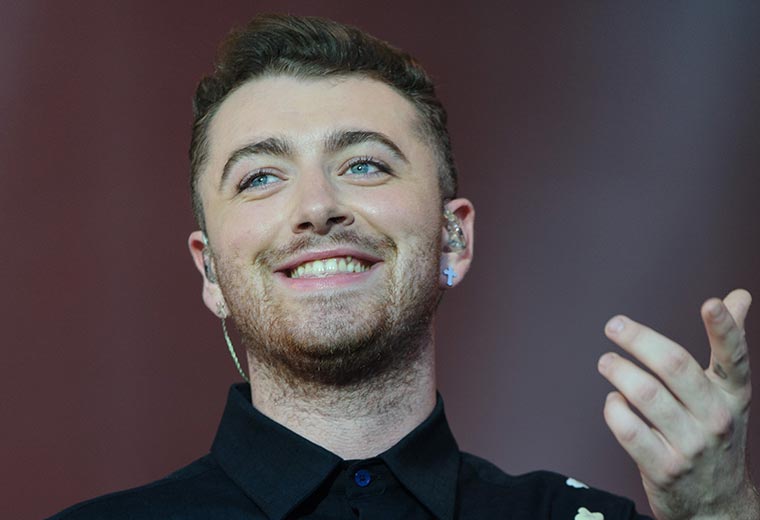 Then the countdown began. Kasabian's most recent album is called 48:13 so, yes, you guessed it, they whacked up a great big clock on the screen at the back of the stage and set it running. On the beat of 00:00:00, Tom Meighan, Serge Pizzorno and band loped on stage and launched into the chunky, thrilling 1-2-3 of Bumblebee, Shoot The Runner and Eez-Eh. What a punchy start, but maintained by more gargantuan crowd-pleasers in Days Are Forgotten, Fire and Club Foot. There was even time to dedicate Goodbye Kiss to the late Cilla Black before Pizzorno received a 'phonecall' from Stafford, laying down the gauntlet to their Essex counterpart. Kasabian would do it all again up there the next evening.
SUNDAY
After Saturday's scorching temperatures, it was odds-on the deluge would come – and so it did, but little could drench spirits on the day Chelmsford got its dance on.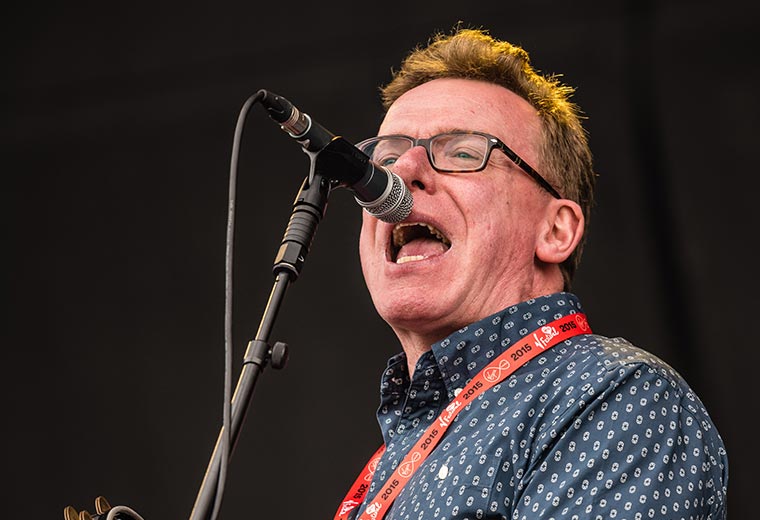 The Virgin Media Stage was bookended by unlikely bedfellows. EDM's new overlord Calvin Harris would headline later on, but the day was kicked off by Scots folk-pop veterans The Proclaimers. Twins Charlie and Craig Reid cannily began with Letter From America and finished with the inevitable stomping singalong I'm Gonna Be (500 Miles), but there was plenty in between to remind a few hundred enthusiastic early-risers how good they've been over the past 30 years, from Sunshine On Leith to Rainbows And Happy Regrets.
More old-timers could be found on the MTV Stage, where Liverpudlian mystics Echo And The Bunnymen were sweeping through their drizzly psychedelic rock in the, er drizzle. But rain suits Ian McCulloch and co – Mac obviously kept his shades on anyway – and stalwart anthems like The Killing Moon and Nothing Lasts Forever cut through the damp.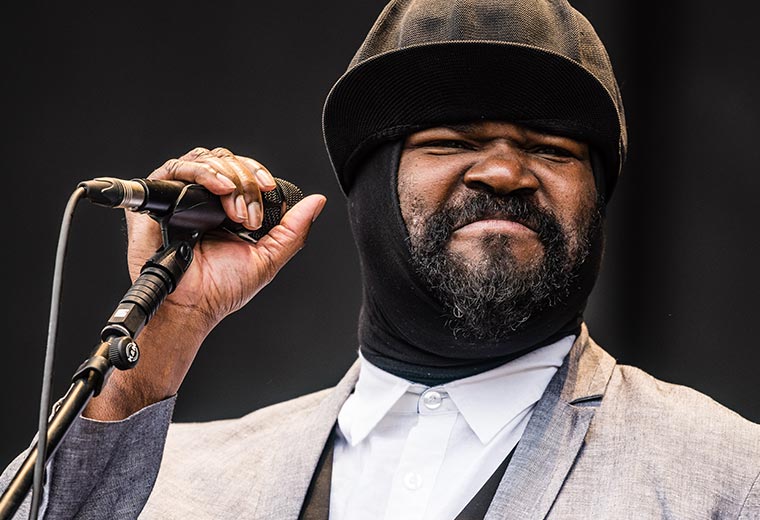 New-ish jazz sensation Gregory Porter was also fighting off the rain on the main stage, well-protected by his trademark flying cap and, of course, the power of smooth jazz. Porter has a stage presence that borders on the schmaltzy but his warm charisma lets him get away with a hackneyed introduction to No Love Dying and an ironed-out cover of The Temptations' Papa Was A Rollin' Stone. Everyone left happy.
Or, indeed, everyone stuck around for Ella Henderson, who sounds as if she's going to attack that difficult second album head-on. It was absolutely pelting it down by the time she took to the Virgin Media stage, but she's an infectious performer with an easy rapport ("Oh, V, I'm so sorry about the rain – if I could take it away I would") and conjured up two of the moments of the festival with her huge Sigma collaboration Glitterball and an ecstatic Ghost.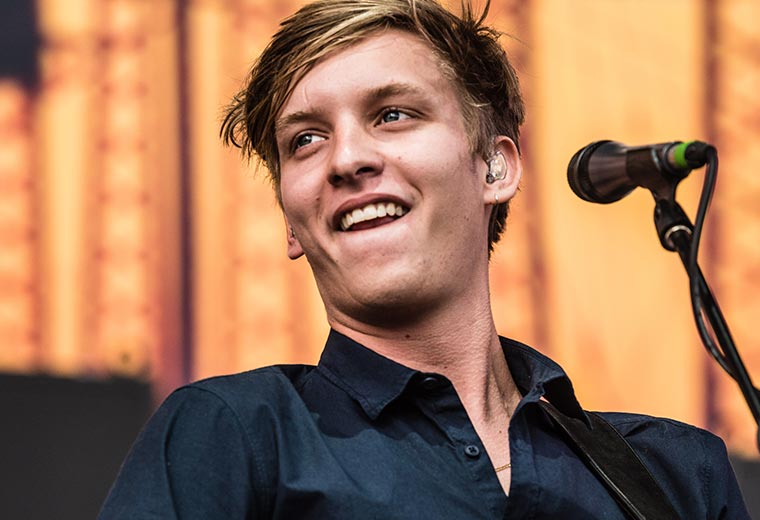 It brightened up a bit for The Kooks, who captivated with mid-Noughties hits She Moves In Her Own Way and Naïve, but true salvation and sunshine came with George Ezra, who was on a kind of victory lap of the festivals last summer after the extraordinary sales of debut album Wanted On Voyage. Everyone at V loved him, and even if they didn't, he had an answer: "Find my video for Blame It On Me online; in the first few seconds a bird [defecates] on me…"
Back to the old school at the MTV Stage, where baggy Mancs The Charlatans were running through a virtual greatest hits set – one of the highlights of the weekend for some of the more wizened punters. A small crowd was bolstered when Tim Burgess beckoned more down from the slopes, and by the end a couple of hundred were shaking to the barrelling One To Another.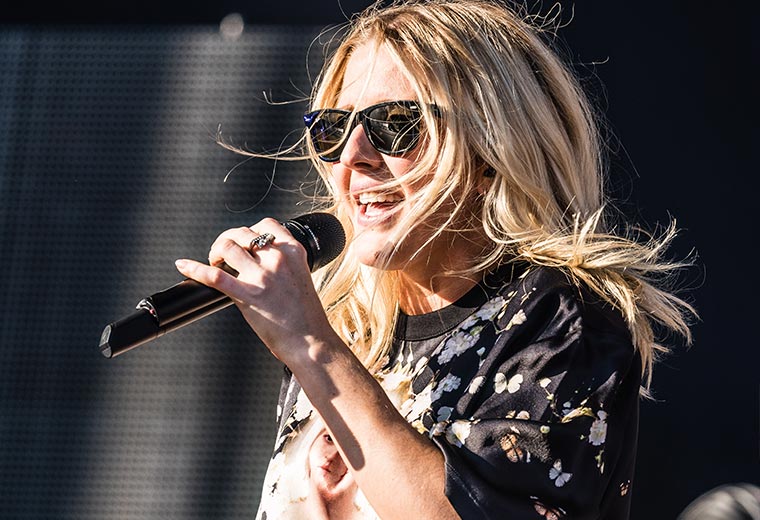 Over in the 21st century, Ellie Goulding was showing why she's one of the brightest stars around right now. Her rave-pop bangers verge on the identikit here and there, but as a performer she's come miles out of her shell in the last few years, and songs like Anything Could Happen, Burn and Starry Eyed – joyous rushes, all – revealed what she's really made of.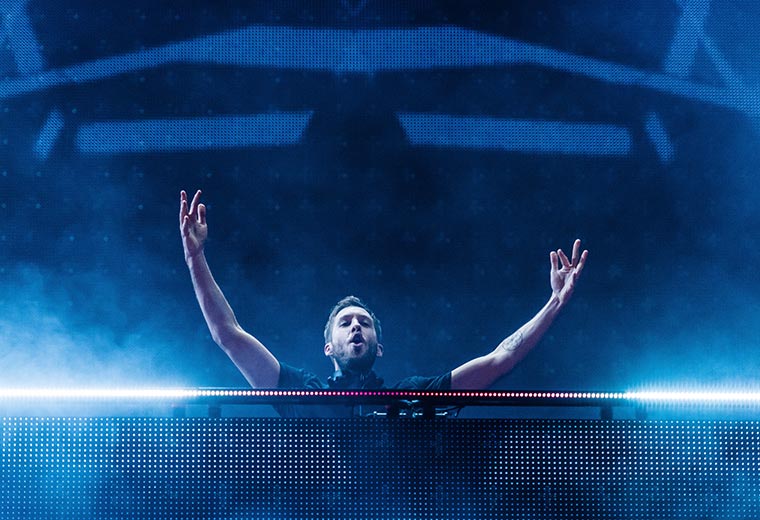 He's taken a while to get there, but Calvin Harris is now one of the biggest DJs (and artists overall) in the world, and he's got the fireworks to prove it. V Chelmsford went off with a bang – although not quite as big a bang as at Stafford the previous night, where Harris blew a generator – as our man brought his rave to the main stage, hurtling through hits from We Found Love to Spectrum, and imploring the crowd to get their hands in the air. No need; they were doing it anyway. Harris might get some backs up but he knows how to work a crowd and V was the perfect place to show his strength. Shame he didn't bring Taylor Swift though.
What an end to an awesome weekend. Can V Festival 2016 top it? Make sure you're there to find out.