The opening graphic illustrates with stark simplicity that we're in end-of-the-world territory. It consists of two lines – one red, one blue – which surge in relative harmony; however, as the line representing oil production falls away, that representing the global population quickly follows suit. It's an appropriate introduction to a film that's as stripped-back as such stories come.
Such cinematic flair means Fingleton's impressive calling-card may well stay with you
We emerge into a forest as our hero, of sorts, drags his latest victim back to his homemade graveyard. Never named, this survivalist (played with quiet resolve by up-and-comer Martin McCann, from 71 tends to a small secluded farm and for a time we watch him silently go about his business as he employs various ingenious, and disgusting, methods to keep himself and his crops alive. He's less living, more simply existing – seemingly, at any price.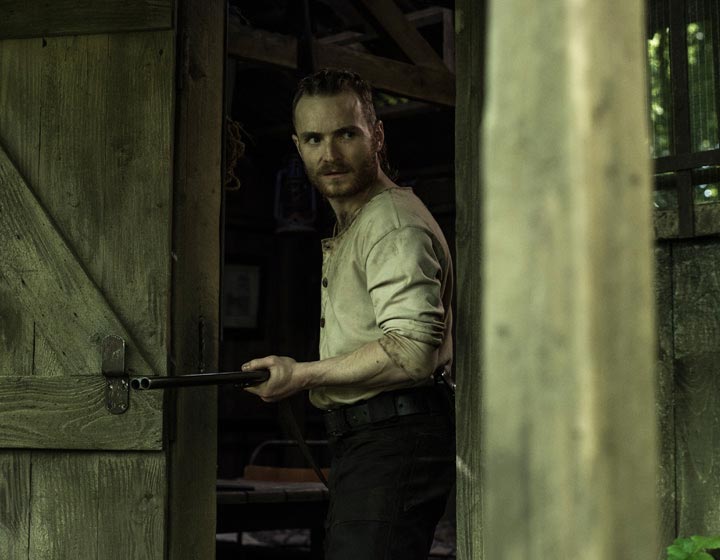 When two women arrive looking for food – willowy young seductress Milja (Mia Goth, best known for Nymphomaniac: Vol II) and her hard-faced mother Kathryn (veteran Irish actress Olwen Fouere, This Must Be the Place) – he's right to be mistrustful but the three form a fragile alliance, cemented by an exchange of sex for shelter, with threats from both inside and outside the cabin punctuating and driving the narrative.
Inspired by Chris Smith's 2009 documentary Collapse, which led Fingleton to research mankind's dependence on fossil fuels alongside various survival strategies, The Survivalist ignores the sci-fi elements of the story and focuses instead on a narrow but fraught situation.
It avoids many of the clichés of dystopian thrillers but, by denying us a context and by setting its action near-entirely in apparently ordinary woodland, its world-building is a little thin and the details designed to encourage us to fill the gaps in for ourselves feel inadequate. Moreover, knowing nothing of what they've been through means The Survivalist never quite captures the traumatised mindset of the participants, despite the subtly impressive work of the leading trio, and although such restraint gives it somewhere to go as it draws to its conclusion, it doesn't really go there, meaning intrigue may turn to frustration.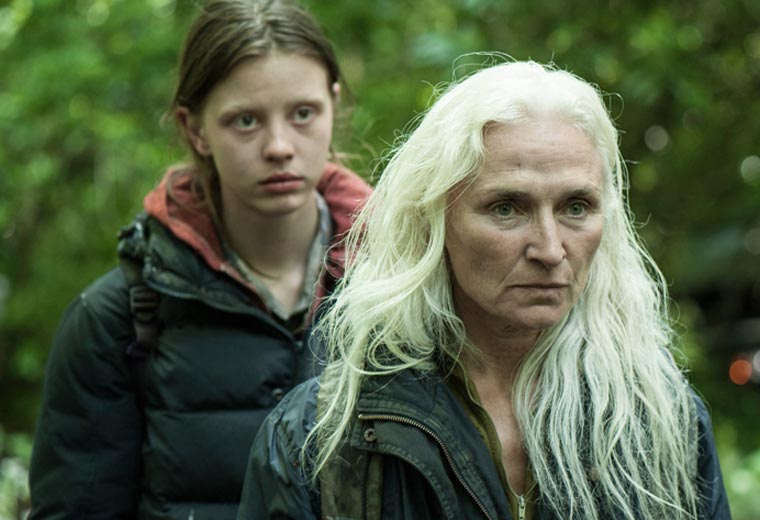 It's a film that's characterised by its participants' despondency, only occasionally bringing to the fore their will to live, and the story is so spare and the characters so enigmatic that there's little to inspire contemplation. Nevertheless, the frank approach to sex and violence adds authenticity, as does the use of natural light and the suitably grimy set and costume design, while frequently arresting work from cinematographer Damien Elliott helps keep things compelling.
This is a film that's as stripped-back as such stories come
If there's an odd lack of atmosphere (in part down to the choice to eschew music in favour of a more credible soundscape), the film does deliver a number of tense scenes. These striking sequences include the sudden arrival of a flurry of ominous lights which punch through the pitch darkness, and a moment of western-esque audacity as the camera rises out of long grass, where our protagonist lays in wait, and picks out his concealed adversary located just paces away. Such cinematic flair means Fingleton's impressive calling-card may well stay with you, but for a film about the dog-eat-dog desperation of survival it could've done with being a touch gutsier.
The Survivalist is in UK cinemas and available on Virgin Movies from Friday 12th February.