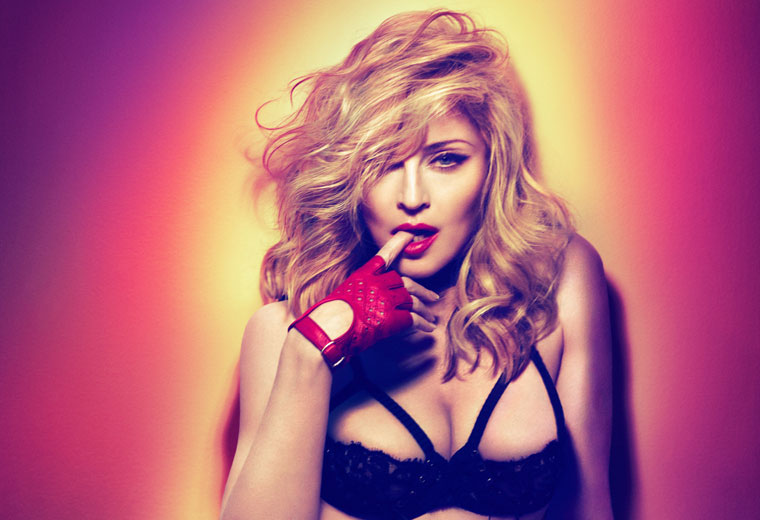 Express Yourself
The tour's final leg, which featured her first Australian dates in 23 years and first ever gigs in New Zealand, got hijacked by her personal life. Madonna has always been an artist who lays herself bare, not a soulless pop automaton, so we shouldn't be surprised that she referenced her ongoing custody battle on stage by dedicating songs to son Rocco, who is currently living with his father.
When she played a deliberately lighthearted bonus show for Aussie super-fans called Tears of a Clown, in which she rode a tricycle, sipped a cocktail (gasp!) and told some pretty ropey jokes, the gossip blogs responded by insinuating she was losing the plot. Savvy as ever, Madonna hit back at a subsequent live show in Sydney. "I hope you all don't think I'm having a meltdown," she drawled sardonically to laughter and applause. "God forbid a mother should miss her son. I'm glad you all have a sense of humour, because if I didn't have one, I couldn't survive."
B**** I'm Madonna
As nasty as some of Madonna's recent press coverage has been, it's still a testament to her continued relevance as a pop culture figurehead. As ever, the way she chooses to present herself is making us question society's norms: how a mother should behave, how a woman of a certain age should behave, how a veteran performer should be approaching the fourth decade of her career.
When she accidentally exposed a fan's breast on stage, there was a collective flinch, but then we were left wondering if we'd have reacted differently to this grisly mishap if Madonna were a younger or male pop star. With The Rebel Heart Tour, Madonna pushed more buttons than she has done for a decade.
---
When pop stars stick childhood photos of themselves on their album covers
Wasn't I cute?