---

An epic few days of sporting action delivered rousing rugby, fast footwork, goals galore and some unexpected romance in the FA Cup. We round up 11 of the weekend's most notable performances...
1. England's engine
England rugby union coach Eddie Jones was so keen to stop the hype surrounding Maro Itoje going to the young lock's head, he likened him to a Vauxhall Viva ahead of this weekend's crucial Six Nations clash against Wales. Sturdy. Reliable. Unexciting. Jones couldn't have been further off the mark. In only his third game for England, the 21­-year-­old Saracens forward twice yoinked the ball from Welsh lineouts, twice stole it from the breakdown, and was England's top tackler on the day (with 14 takedowns). His Man of the Match performance was integral to his side's victory, and more akin to an Aston Martin Vanquish crossed with a Challenger 2 tank than a dependable little run-around. Itoje was pure power as England claimed their first Six Nations title since 2011.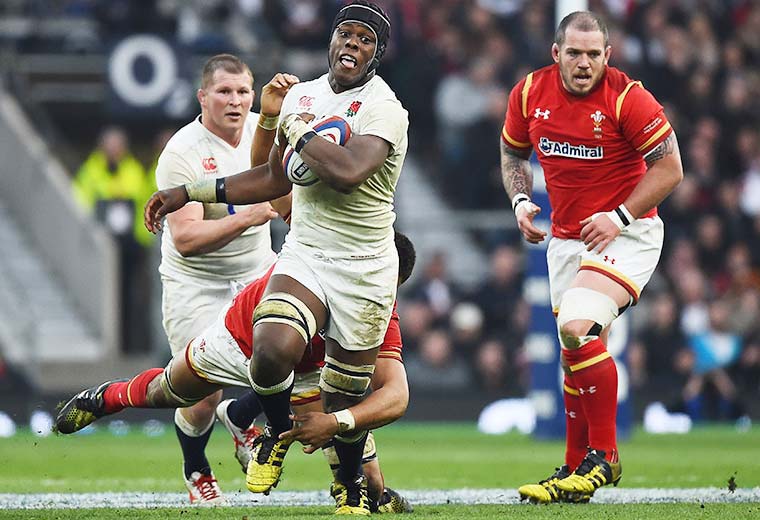 2. PSG's Ligue of their own
"Anything you can do, we can do better" seemed to be the order of the day among the giants of European football. Bayern Munich stuck five goals past Werder Bremen to extend their lead at the top of the Bundesliga to eight points. Not bad. Barcelona then responded by thumping Getafe 6­-0, to widen the gap between them and second­-place Atlético Madrid to a whopping 11 points. Decent effort. But Paris St­-Germain took the proverbial biscuit, as four Zlatan Ibrahimović goals contributed to a mind­-blowing 9-­0 win over Troyes, sealing the Ligue 1 title with eight games to spare. It sure puts English title hopefuls Manchester City's 0-­0 draw away at Norwich into perspective...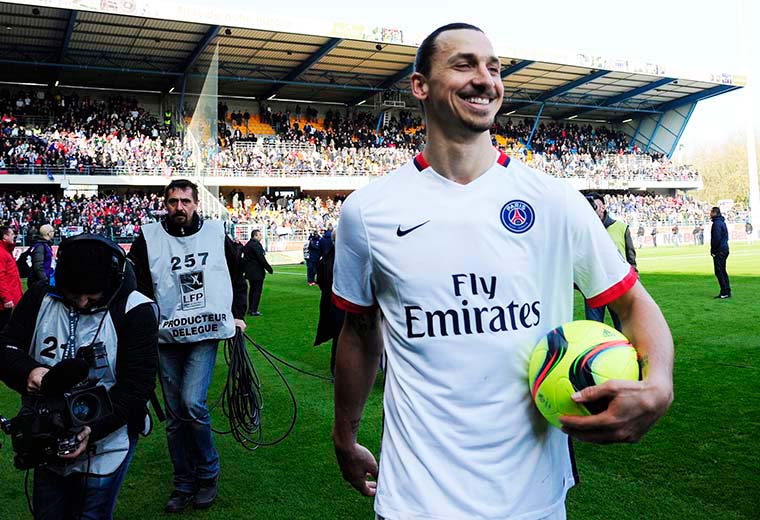 3. Kane's gold rush
Before Sunday evening's clash, with 16 goals in his last 20 Premier League appearances, Tottenham Hotspur striker Harry Kane had scored more times by himself than the entire Aston Villa squad had managed between them in the same number of matches. And true to form, with a goal either side of half-­time at Villa Park as Spurs cruised past their hosts, Kane joined Jamie Vardy on 19 goals as the league's top scorer. After a slow start from the Tottenham forward, the battle between the two men is now well and truly on – for the league title, for a starting spot in Roy Hodgson's side at Euro 2016, and for the Premier League's precious golden boot. Happy days for England fans.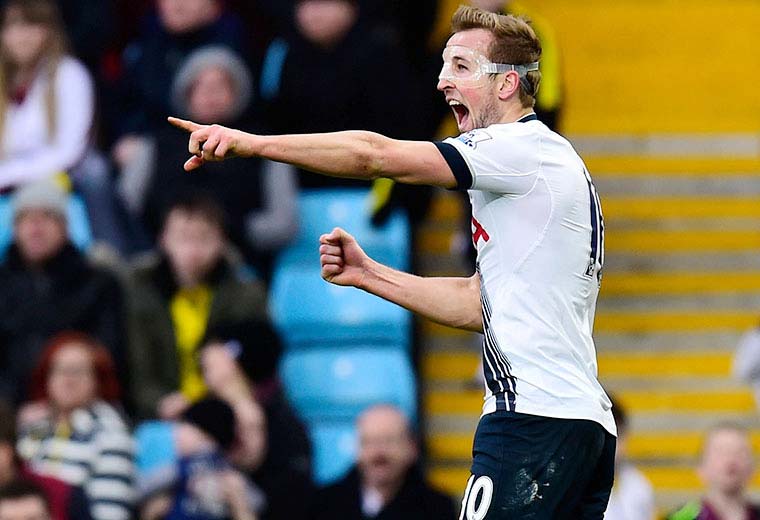 4. Barry's love bite
Diego Costa is notorious for getting under the skin of the opposition, but he just couldn't sink his teeth into the game during Chelsea's FA Cup quarter final against Everton. His infamous passion was eventually ignited, though, after he found himself on the receiving end of what he perceived to be a dirty challenge from Toffees' midfield enforcer Gareth Barry. Instead of lashing out, however, Costa embraced the Everton midfielder and appeared to nuzzle at his opponent's neck. They say the romance has gone out of the FA Cup, but clearly no-­one told a smitten Diego Costa.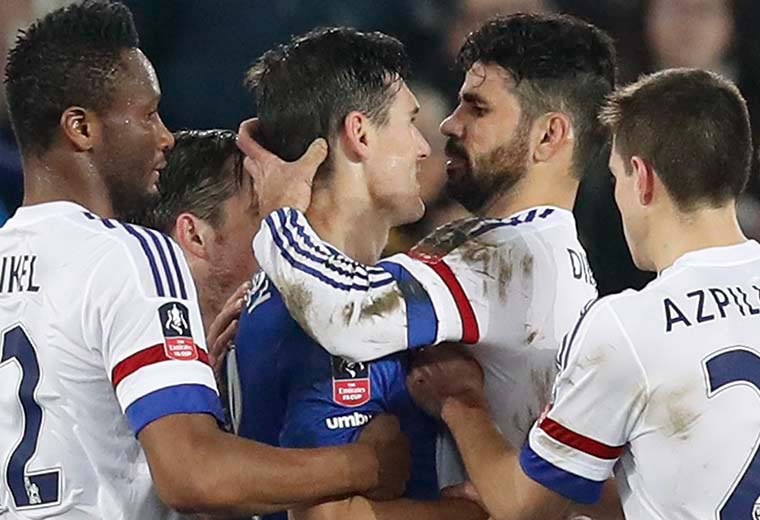 5. Van Niekerk's fast feet
There are certain benchmarks in track & field that only the very best will ever accomplish. Running 100m in under 10 seconds is one; 200m in under 20 seconds another; and a sub­-44­second 400m a third. A handful of sprint superstars – a certain Usain Bolt among them – have managed two out of those three, but no-­one had ever looked likely to achieve all three. Enter 400m world champion Wayde van Niekerk, who this weekend added a 9.98­second 100m to his 19.94s 200m and 43.48s 400m, to become the first person in history to break all three barriers.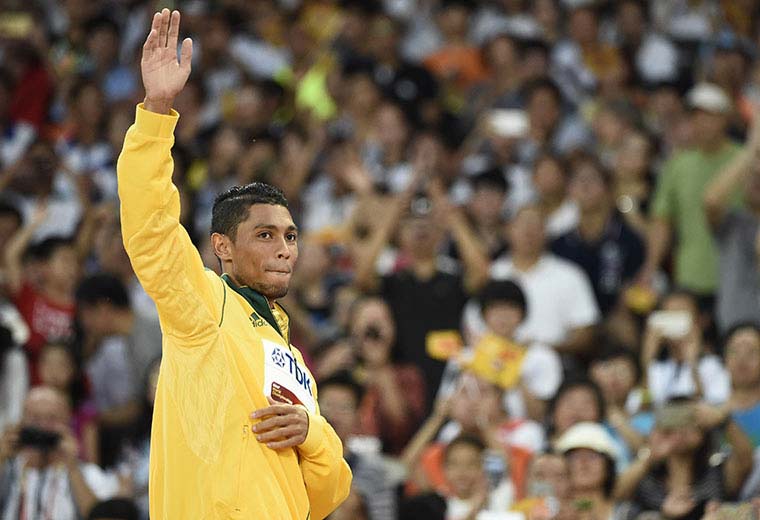 6. Guedioura's laces
For the past few weeks, Arsenal's midfield mastermind Mesut Özil has been playing with cutting-­edge laceless boots. They may give the World Cup winner a greater feel for the ball, but a fat lot of good that has done him or the Gunners lately as the North London side have continued to struggle for form. After all, everyone knows that if you want to strike the ball with real pace and power, you've got to put your laces through it, as Watford's Adlène Guedioura demonstrated with the screamer he fired into the top corner of the Arsenal net to seal the Hornets' FA Cup semi­-final place at Wembley. Yet another slip-­up for Arsenal and their slip-­ons.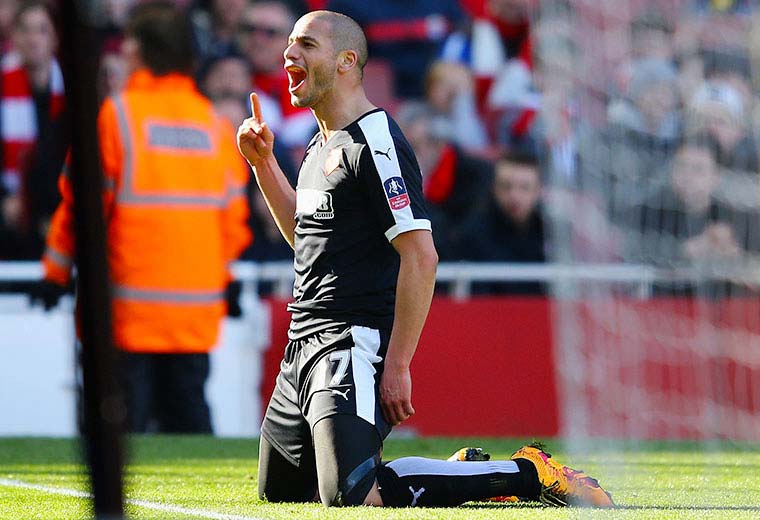 7. Southampton's tall order
When you're taking on the team with the most Champions League winners in England (yep, Stoke City), you've got to rise to the challenge. And that is exactly what Southampton did in their 2­-1 win against the Potters, as indeed they have done all season – Graziano Pellè's opener was the Saints' twelfth headed goal of this Premier League campaign, more than any other side. It was further proof that when it comes to aerial abilities, Ronald Koeman's men are head and shoulders above the rest.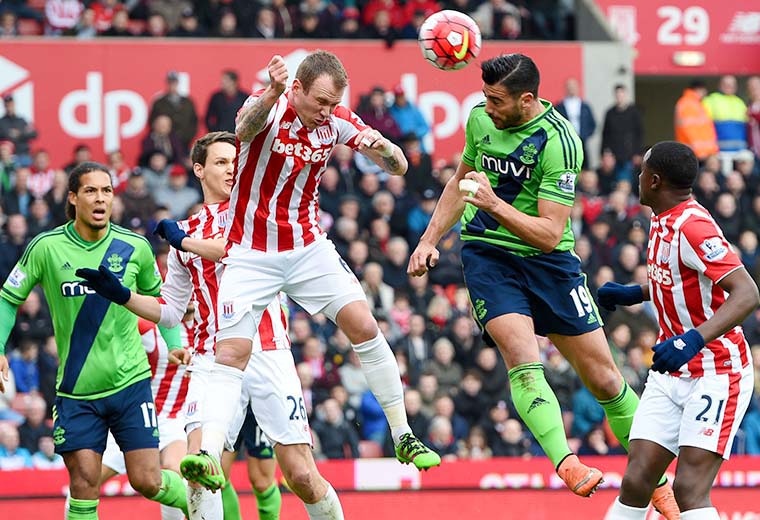 8. Thomas' road trip
Granted, most Welsh sports fans will have had their eyes firmly fixed on goings on at Twickenham as the national rugby team took on (and narrowly lost to) England in the Six Nations. But if they'd cast their gaze a little further afield, to the other side of the Channel, they would have seen one of their countrymen recording a truly historic win, as British Cycling's Mr Nice Guy, Geraint Thomas, became the first Welshman ever to win the prestigious week-­long Paris­-Nice bike race, beating giants of the sport including Tour de France winner Alberto Contador and former teammate Richie Porte in the process. Welsh national pride: officially restored.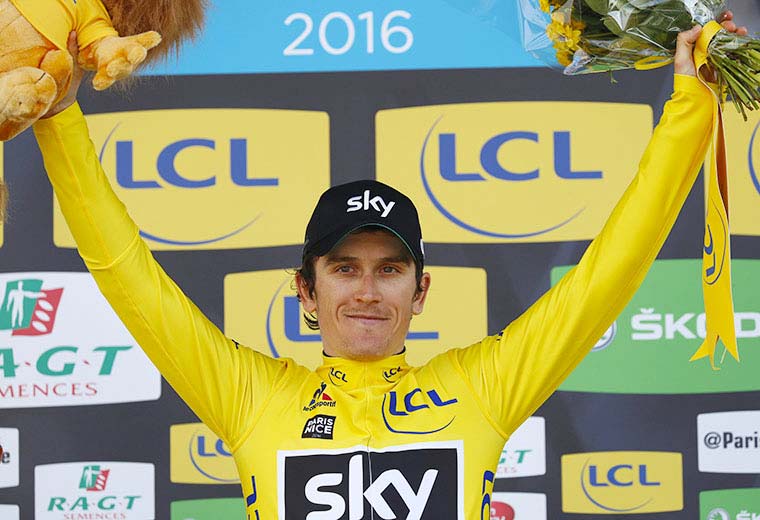 9. Gradel's broken curse
It's not uncommon to hear pundits talk of players having "bad spells", though they generally don't mean ​literally​. But when Bournemouth winger Max Gradel tore his anterior cruciate knee ligament back in August 2015, there were concerns reported that a member of his own family had used witchcraft to scupper his career. Fortunately for Gradel and Cherries fans alike, the curse appears to have been lifted, as the Ivorian marked only his fourth game since returning from injury with a well-­taken goal and a smart assist. Just in time too – with Bournemouth edging ever closer to the all-­important 40­-point mark, the Vitality Stadium would have welcomed a bit of good juju.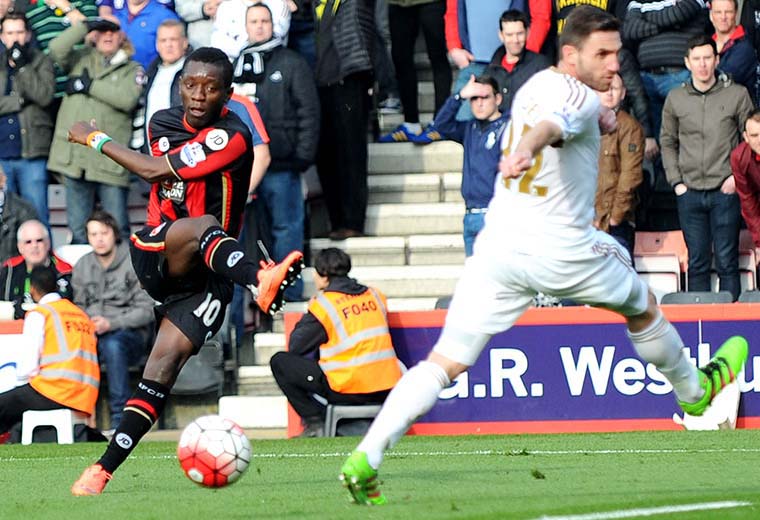 10. Romelu's revenge
Knocked out of the Champions League midweek and almost certain of no more than a mid-­table finish in the Premier League, Chelsea have had a season to forget. And if there was one man at Goodison Park, where Everton hosted the Londoners on Saturday, who was eager to add to their misery, it was Romelu Lukaku. During his three seasons as a Chelsea player, the Belgian made only 10 Premier League appearances, and was incomprehensibly overlooked by a succession of managers at Stamford Bridge. This season though, he has flourished as a full­time Toffee, scoring 25 goals in 36 games for Everton, including the two this weekend that ended his former employers' FA Cup dreams.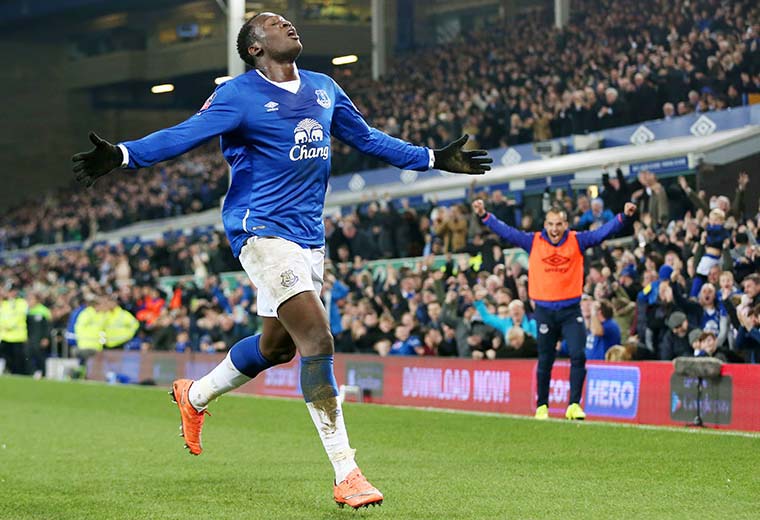 11. Hart's low bar
Talk about shifting the goalposts – this weekend players up and down the country would have sworn that the goalkeepers' union had been secretly shrinking them. Maybe it's got something to do with the woodwork contracting with the changing weather, or maybe, like chocolate bars, the goal frames are being downsized over time, in order to save a few bob on the cost of the timber. Call us conspiracy theorists, but it's the only logical explanation for the number of players – Southampton's Ward-­Prowse, Bournemouth's Andrew Surman and Norwich's Patrick Bamford amongst them – all rattling the woodwork with perfectly-­struck shots. The truth is out there.