We just love this: at the start of the first film, Po imagines his life as a mighty warrior of Kung Fu. This is where we first get introduced to our very favourite panda and his inimitable sense of humour, as well as his awesome dream of becoming an epic martial arts master. And who wouldn't? He's got a cool, mysterious hat and cape, and all the lines: "There is no charge for awesomeness, or attractiveness."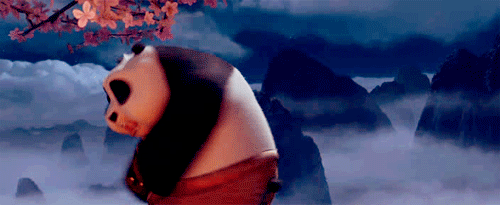 Against all expectations, Po is chosen to be the Jade Palace's next Dragon Warrior. No one believes in him, least of all himself (although you can't say he lacks enthusiasm). After his first long and difficult day of training, Po seeks refuge by the Sacred Peach Tree of Heavenly Wisdom (what a name!).
While he munches away on the sacred peaches ("I eat when I'm upset, okay?") Kung Fu legend Master Oogway shares some ultimate Kung Fu wisdom.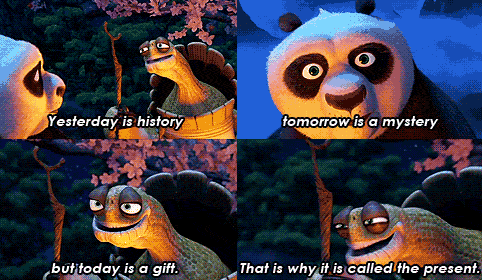 "You are too concerned with what was and what will be. There is a saying: Yesterday is history, tomorrow is a mystery, but today is a gift. That is why it is called the present."
Villain Tai Lung has escaped from his well-guarded prison and is on his way to our hero's valley. Po needs to learn how to fight, and fast. Thankfully, Master Shifu, ultimate Kung Fu expert, has found a way to train his student: with food! The panda becomes totally awesome when dumplings are at stake. Witness this chopstick battle, where he truly challenges his teacher for the first time.
4. The secret ingredient of the secret ingredient soup
As Tai Lung wreaks havoc on the village, Po doesn't know what to do. Sure, he has the Dragon Warrior secret scroll… but it's blank. How can he fight, and win?
It's only when his Dad reveals to him the secret ingredient of his secret ingredient soup (there isn't one!) that he finally gets it - it's all about believing in yourself and having a good heart, not some mumbo jumbo superpowers. Our favourite panda at last finds the confidence to face his terrifying opponent.
5. The Wuxi finger hold
The fearsome Tai Lung might have underestimated Po, but it's surprising how far unorthodox, panda style Kung Fu can get you, with a little help from the Wuxi finger hold. At last, Po has his enemy cornered, and when he lowers his pinky, Tai Lung is gone. Po finally becomes the warrior he was destined to be, and we get to discover his trademark line: "Skadoosh".
6. Master Shifu's not-so-final words
After his victory, Po rushes to the temple, only to find Shifu weakened. As the Master closes his eyes, Po is convinced that his teacher is about to leave this world…
But Master Shifu has other things in mind.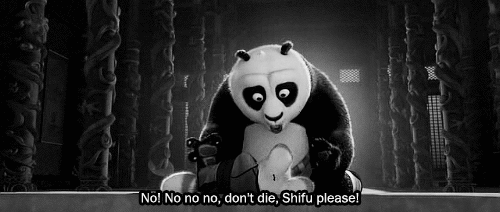 For a lovely moment, the two lie side by side, Shifu at peace with himself.
And then, Po inevitably asks: "Want to get something to eat?"
7. Saving the musicians' village
"Tell those musicians to start playing some action music, because it is on!"
Kung Fu Panda 2 kicks off in style. For the first time, Po battles alongside the Furious Five - and they look awesome as a team. It's a real treat to see how their fighting styles work together, and of course, Po hasn't lost his feel for drama. In this first encounter, they attempt to save the village from a pack of wolves plundering for metal. They're of course working for the new villain Lord Shen.
8. Baby Po
How cute is a baby panda? As it turns out, lots of cute. Po's Dad tells us all about our hero's childhood, but we're really just obsessing over on the tiny, hungry panda doing silly things during this montage. It's almost too easy to forget that this is a big reveal - Po finds out he is adopted, and here begins his quest for identity.
9. The drop of water
After failing to stop Lord Shen's evil plan, Po finds himself in his native village, struggling to remember his childhood. All of a sudden, he lets go, and finds his 'inner peace'. While manipulating a drop of water in his hands, the memories of his parents unfold - making for a beautiful sequence. We discover that it was Lord Shen that chased his parents out of their land, forcing Po's mother to leave him behind to save his life.
10. Hand on fire
Po put his new mastery to good use when he's brought face to face with Shen's cannons. At first, it looks like he's entirely powerless. This is until he starts re-enacting the steps of his 'inner peace' move, manipulating the explosion's power and throwing it back into his opponent's boats. Talk about serious Kung Fu skill. And it's only a tad awkward when he realises that his hand has caught fire. When he deals the final blow, it's time for another "Skadoosh".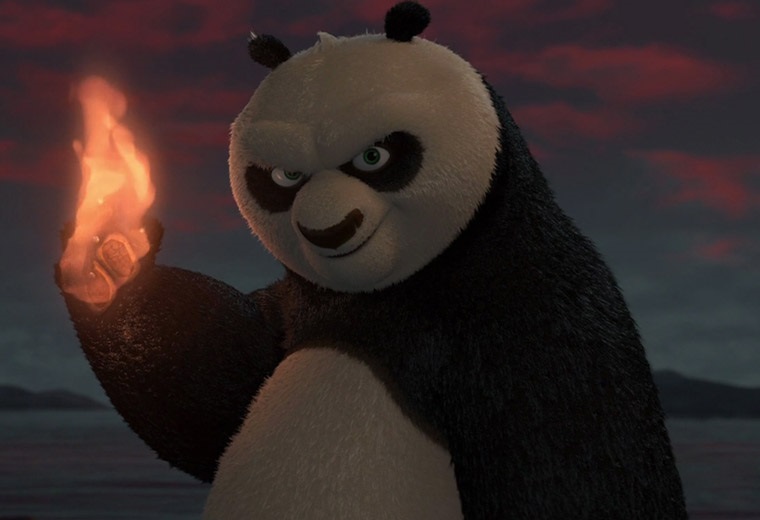 Kung Fu Panda 3 is released in UK cinemas on Friday 11th March